NBA Win Total Odds & Pick: The Young Orlando Magic Can Make a Jump
Credit:
Fernando Medina/NBAE via Getty Images. Pictured: Franz Wagner #22, Paolo Banchero #5, and Cole Anthony #50 of the Orlando Magic.
Check out this post for updated season win total odds for all 30 NBA teams.
---
Orlando Magic Win Total Odds
| | |
| --- | --- |
| 2023-23 Win Total | 26.5 |
| Previous Season's Wins | 22 |
The Case for the Over
Paolo Banchero
They're Quietly Talented
Pace Last Season Before Tanking
Paolo Banchero went from "probably the third-best guy in the draft" to "might be the best guy in the draft" to "No. 1 pick" to "wow, why did anyone think he shouldn't go No. 1?" between early June and the end of Summer League.
Banchero's fit in Orlando is perfect. They need an engine, someone who can score on his own to force help and make things easier for the rest of the offense. He's not reliant on guards setting him up like fellow rookie Jabari Smith and doesn't face physicality questions like Chet Holmgren did before his injury.
Banchero has shown he can create with the ball in his hands (albeit in summer league) and looked like an absolute beast among mortals, too. The NBA is different, but Banchero's build combined with his skillset makes him the kind of talent that can turn this team in the other direction.
Your friends probably cannot name multiple members of the Magic. They are nondescript, mostly made of young castoffs. Franz Wagner isn't moving into the top-10 in jerseys sales (yet), but there's talent here.
Wagner averaged 15-5-3 on 47-35-86 splits last season, and there's a ton of room for improvement. Wagner rated 50th percentile or better in nine different play types per Synergy Sports.
He's good in pretty much any capacity you need. He shot 51% on 2-pointers and 55% at the rim. He also looked tremendous in EuroBasket play for Germany. He's got real shake off the dribble.
Wagner-Banchero is a legit two-man scoring combo.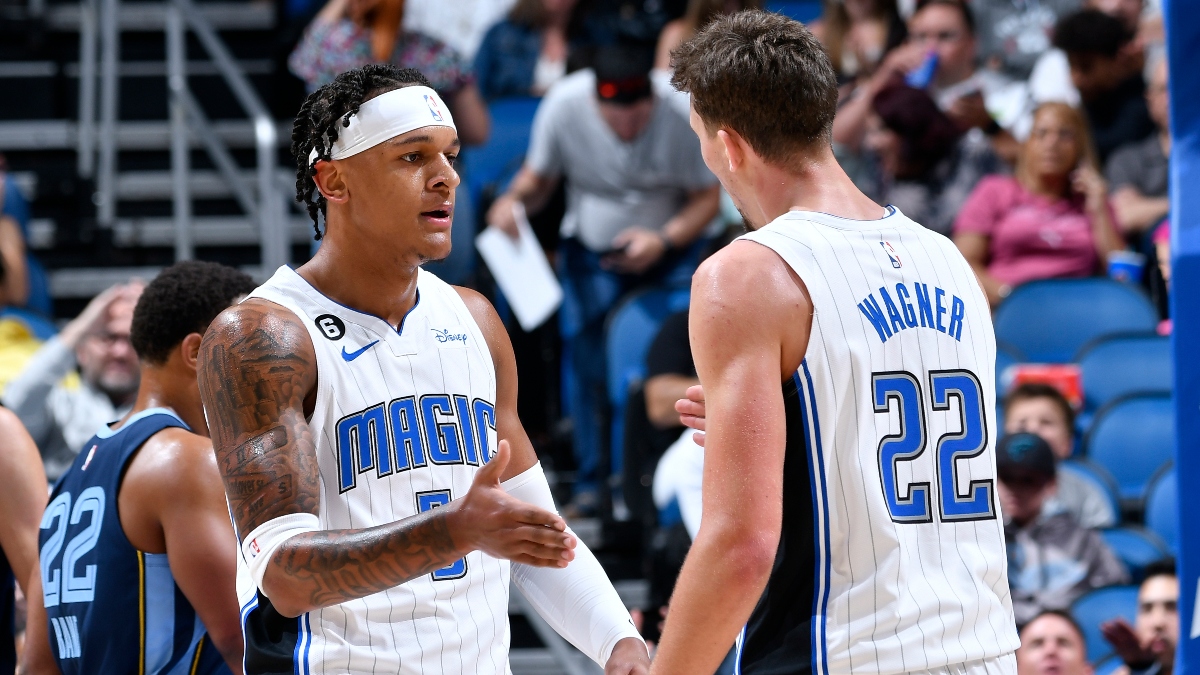 Orlando's best attribute last season, despite their youth, was their defense. The Magic ranked 17th in adjusted defensive rating at DunksAndThrees.com.
Wendell Carter Jr. grades out incredibly well defensively. The Magic defense was 4.7 points per 100 possessions better with Carter on the floor, and opponents shot 11.3% worse with WCJ defending within 6 feet.
Jalen Suggs had a rough rookie season offensively but was surprisingly good defensively. His shot was disastrous last year, and it didn't improve as the season went on. It's honestly hard to believe he can be that bad again, but I'm not willing to count on it.
The Magic had 20 wins on March 20, and then proceeded to lose seven of their last nine to set up their draft position. Say you don't think the Magic will be much better than last season, but three wins better at 25. That might honestly put them out of the bottom-four category with how some teams are telegraphing a tank this season.
If they're outside of that range, the team is likely to try and push for as many wins as possible.
Orlando has the fourth-toughest strength of schedule, but it gets easier as the season goes on. After the All-Star break, they have just two back-to-backs, tied for fewest, the most rest advantage games, and the 10th-easiest schedule overall. This sets up well for the Magic to finish with momentum heading into next season with, potentially, the Rookie of the Year in Banchero.
Teams that finished bottom-five in offensive rating the previous season are 22-18 to the over in the last nine years (55%) not counting the COVID-interrupted season.
---
The Case for the Under
Young Roster
Offense Is Gross
Trends Say the Jump Is Too High
Here are the players on Orlando with at least four seasons of NBA experience: Terrence Ross, Gary Harris, and Markelle Fultz who in those four seasons has played 131 games, and outside of the 72 games in 2019-20, has never played more than 19.
There are inexperienced teams and there's the Magic. You very rarely want to have your trust in extremely young teams to out-perform expectations.
This was the worst offense in the NBA last season, adjusted for schedule. I want to stress that this is after the Detroit Pistons started the season for the first month and a half with the worst eFG% since 2005.
Banchero can be great, maybe even a franchise changer, and this team can still score below 105 points per 100 possessions, which in modern terms is like tossing wet garbage at the net. Not solid garbage, wet strained cabbage and the like.
Markelle Fultz broke his toe in preseason and while it's really unfortunate for a guy who just cannot seem to get any luck in his career at all, it's yet another in a long list of maladies that have kept him off the floor.
This was the worst pick-and-roll team in the NBA last season. There's no timeline for Fultz' return, so even with Cole Anthony back, it's unlikely to improve.
I'm a big RJ Hampton guy, having covered him in Denver, but he was dreadful last season for the Magic in every capacity. Orlando was 14.5 points per 100 possessions worse with Hampton on the floor last season. It was rough.
There's no realistic candidate to make a leap here, unless Suggs is comfortable playing point.
Magic Win Total Bet
This is a big jump. A five-game jump for a team that lost its point guard for an undetermined amount of time, relying on almost entirely young players?
Funny thing about that jump. The books usually know the right direction to adjust the number. In the past 10 season, when teams have a bump of five games or more to their win total year-over-year, the over is 8-4 when their win total is listed below 30.
There are number reads and there are team reads. This is a team read for me and I like the over. The return date for Fultz is likely closer to December than March. I think Banchero will have a monster season. Defense is systemic and I don't expect it to be worse. Wagner is a possible star.
The talent doesn't make you want to be the over, but I believe in the structural strength. It's a small play for me — 2 units — but I like the over.
How would you rate this article?
This site contains commercial content. We may be compensated for the links provided on this page. The content on this page is for informational purposes only. Action Network makes no representation or warranty as to the accuracy of the information given or the outcome of any game or event.