NBA Win Total Odds & Pick: The Smart Way to Bet the Philadelphia 76ers
Credit:
Jesse D. Garrabrant/NBAE via Getty Images. Pictured: Joel Embiid #21 and James Harden #1 of the Philadelphia 76ers.
Check out this post for updated season win total odds for all 30 NBA teams.
---
Philadelphia 76ers Win Total Odds
| | |
| --- | --- |
| 2023-23 Win Total | 51.5 |
| Previous Season's Wins | 51 |
The Case for the Over
Most Talented Sixers Roster
All Upside
This is the best roster the 76ers have built around Joel Embiid. It is not really close. They just upgraded so many positions with veteran talent (and will continue to look to do so).
PJ Tucker gives them a versatile power forward who can space the floor and can single-handedly shut down opposing teams' pick-and-rolls. Danuel House gives them a legitimate wing defender who isn't an offensive liability like Matisse Thybulle, though they still have the frenchman if they need him.
James Harden is in better shape than he was last season and should be over the hamstring issue that plagued him the past two seasons. He also seems to have accepted that the next phase of his career sees him as a pure point guard. He can still manipulate the defense out of position and punish them with passes, and he'll hit enough 3-pointers and layups to keep them honest.
Tyrese Maxey is a huge component to this over. If you watched the playoffs, you saw Maxey torching the Raptors with the attention drawn to Embiid and Harden.
The Sixers still have shooters and scorers like Tobias Harris and Shake Milton, but they added De'Anthony Melton and Montrezl Harrell for depth.
Harrell is a popular target for criticism because he's been unplayable in the playoffs. But in the regular season? He's a fully capable beast who can turn games with his scoring and physicality. He just won't be targeted enough by defenses in the pick-and-roll until the playoffs to make him unplayable.
Melton adds defense and a capable ball-handler to run the second unit or play in stagger units with Harden or Maxey.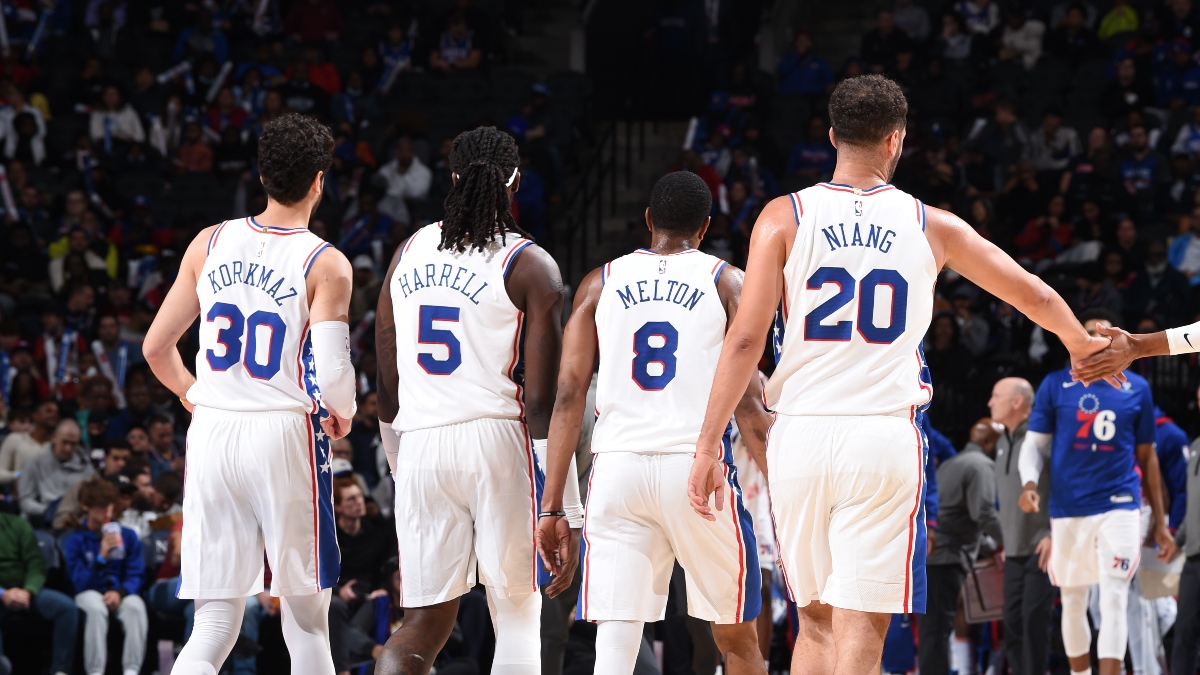 This roster is also better built to handle injury and rest maintenance than ever. If Embiid can't go, they have enough firepower to win vs. lesser opponents. If Harden needs the night off, Maxey and Melton can handle the perimeter scoring.
More than anything, you just get the sense that this team is full going for it. This was the first offseason for Daryl Morey to really reshape the team as he wanted. (Granted, apparently, he wanted to mostly shape it like his old Houston Rockets teams, but still.)
Two years ago, they had COVID interruptions, and Embiid had an injury. Last season there were Ben Simmons distractions at the start and Harden's injury and conditioning hampered them in the postseason. Nothing is really set against the Sixers yet, all the momentum is with them.
The Sixers won 1.6 more games than they should have based on Pythagorean expectations last year. (Point differential as a win percentage.) Over the past 10 years, those Pythagorean win numbers have more closely correlated to the following season's win total than the actual wins.
As a result, the win totals are a little skewed in those directions. Teams with a +1.6 differential or more of over performance that didn't have a 75th percentile close-game record (the Sixers were 6-6) are 21-10 (67.7%) to the over in the last 10 seasons.
To make that make sense if the win total is placed too high and the team wasn't likely to regress in close-game performance, teams tend to go over in recent history.
---
The Case for the Under
The 50-Win Barrier
Injuries, Injuries, Injuries
Doc Rivers
Fifty wins is something of a key number in recent win totals history. Teams with a win total of 50 or more are 31-16-1 (64.5%)  to the under the last 10 years. It's just hard to hit that number consistently.
Even teams with that +1.6 mark of difference in Pythagorean expectation cited above are 7-4 to the under.
The Sixers have a huge injury liability. Embiid played 68 games out of 82 last year and 55 out of 72 the year prior. He's never played more than the 68 he played last season and will continue to have nights where he just doesn't play to manage his knee soreness.
And that's as long as nothing significant (God forbid) were to happen, which is obviously always a bit more of a concern with him, given his history.
Harden has a ton of miles on him, and while he's in better shape than in recent history, as he gets older, he'll continue to have stretches where he needs time off. PJ Tucker is no spring chicken, nor is Tobias Harris.
In Doc Rivers' career, his teams are 5-3 to the under against a win total of 50 or more. He squeaked over by a half-win last year.
76ers Win Total Bet
There's better value, but it's a small bet over. Some books have it at 50.5 if you don't mind the juice.
I've made the case against those 50-win teams a lot across these previews, but 37% of the time, the 50-plus-win-totals go over. I have to feel pretty confident to go over.
There's just a lot in their favor. They're better built to sustain the injuries and absences with their roster.
There's better value here, though. The Sixers are +260 to win the division and are +500 to finish with the No. 1 seed in the East.
That's a better return on their over. It's a strong lean over, but I'd rather bet them to win the division against a Boston Celtics team I'm fading and a Brooklyn Nets team I don't trust.
How would you rate this article?
This site contains commercial content. We may be compensated for the links provided on this page. The content on this page is for informational purposes only. Action Network makes no representation or warranty as to the accuracy of the information given or the outcome of any game or event.