What Front Office Changes in Portland Could Signal: 'Everything is Very Much On the Table'
Credit:
Abbie Parr/Getty Images. Pictured: Damian Lillard #0 and CJ McCollum #3 of the Portland Trail Blazers.
Things are finally changing in Portland.
The Trail Blazers relieved longtime general manager and president of basketball operations Neil Olshey of his duties Friday. The move came after several weeks of investigation into a toxic atmosphere in Portland's front office.
In the wake of Olshey's removal, and with the Blazers floundering below .500 one quarter through the season, the question now becomes what happens next and if Portland will finally shake up their core of Damian Lillard, CJ McCollum, and Jusuf Nurkic.
Going into the season, there was a consensus in league circles that Lillard would not be available in talks this season and that he was resolute in giving the situation a chance with new head coach Chauncey Billups at the helm.
That was only reinforced by the interview Lillard gave Chris Haynes of Yahoo Sports early this season that outlined his recommitment to the franchise.
As it stands, there's no expectation that the situation has changed with regards to Lillard's intentions. No trade request is expected from Lillard.
This doesn't mean that Lillard won't be traded, but it would be on the discretion of ownership and the front office. The team's business side has maintained that owner Jody Allen has no intentions to sell the team despite reports to the contrary.
If ownership was considering a sale, moving Lillard would lower the value, if only marginally and in the short term. There are other considerations if the team isn't considering a sale.
Ownership isn't signing off on a Dame trade. They're already getting killed on ticket sales as it is. You do that, you might as well just move the team to Seattle.

— Sean Highkin (@highkin) December 6, 2021
Shams Charania of the Athletic reported Monday that Lillard has expressed interest in playing with beleaguered Philadelphia 76ers star Ben Simmons.
Those interests are unsurprising. Simmons is a superstar repped by Klutch, LeBron James' agency. Lillard met with James and Davis, two Klutch clients, before deciding to stay with the Blazers (Lillard is repped by Aaron Goodwin of Goodwin Sports).
Furthermore, league sources have felt a Sixers-Blazers deal was inevitable for some time.
"It just makes the most sense. The Sixers have an impact guy, no matter what you think of Ben, and the Blazers need a shake up. You don't need to be a rocket scientist to see the fit," one executive said this week.
A Complex Deal
A potential deal for the Trail Blazers faces multiple challenges. First, there has be clarity on whether the Blazers will hire a general manager midseason to approach any roster changes or if longtime Blazers executive and interim GM Joe Cronin will manage the team through the season.
Several executives polled this week said they felt it was likely there would be a thawing of trade reluctance from Portland no matter who's in charge.
"Under (Olshey), there was an understanding of his reluctance to deal certain members of the team and his confidence in it. Now, the sense is that everything is very much on the table," one executive said.
"There have been the usual casual discussions this season, but it never felt serious. Now it feels like there's a serious chance they commit to talks at the very least," another commented.
Then there's the fact that any deal would likely be met with strong disagreement on leverage. Charania reported that the Sixers counter-offered a Blazers offer of McCollum, a young player, and a pick with an offer that demanded multiple picks and multiple pick swaps.
This has been the going process from the start with Simmons talks, as 76ers president of basketball operations, Daryl Morey, is not seen as moving off his sky-high price tag. That may change if the market reaches a point where the gulf between the asking point and offers isn't as wide.
Sources indicated that, with players signed this summer coming available in the next two weeks and teams reassessing their seasons, the Sixers will be fielding significantly more calls.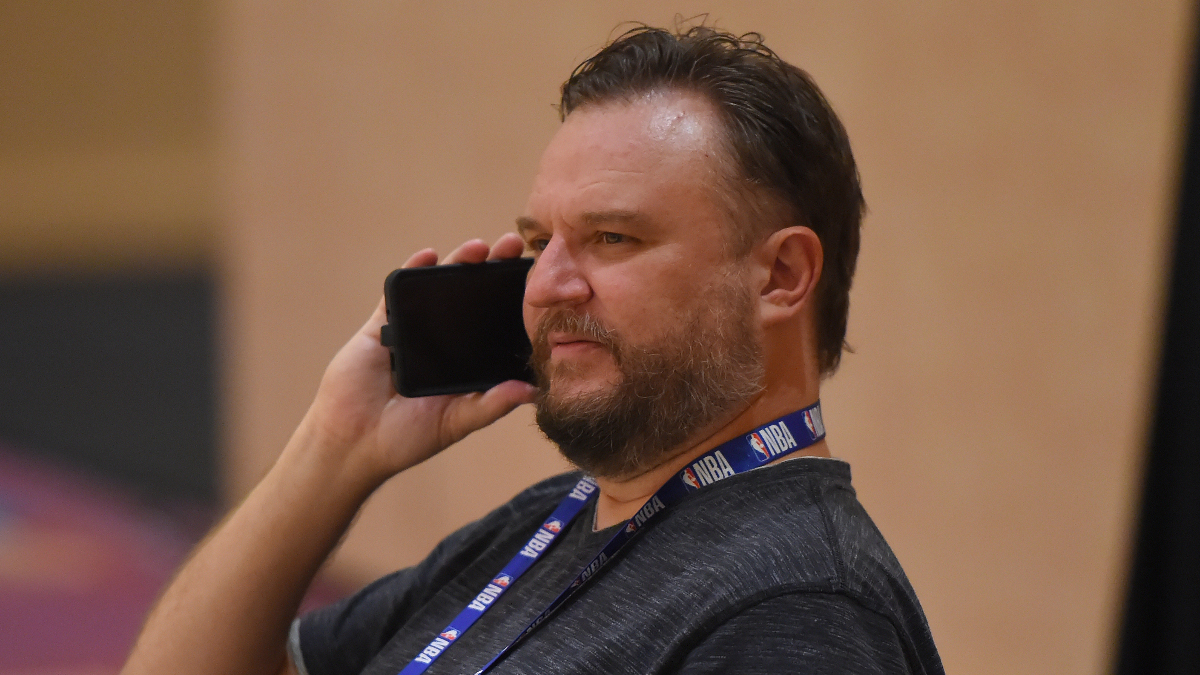 However, an offer the Sixers might be interested in that includes McCollum along with a wing (Robert Covington or Norman Powell) may result in the Blazers seeking draft compensation.
McCollum's fit with Philadelphia is apparent. It gives them an off-dribble scorer who can play next to Embiid. Even that comes with complications; Tyrese Maxey has emerged as a major threat on the perimeter with actual defensive input. Maxey is averaging 17 points per game while shooting 36% from behind the arc.
McCollum's numbers are better, but Maxey is shooting better from inside the arc and is more of a true point guard rather than McCollum's combo guard. Seth Curry is also enjoying a career season, shooting 51% from the field, 43% from behind the arc and 90% from the line.
Do you move Maxey or Curry? Do you move either one to the bench for McCollum? Can McCollum operate as a full-time point? Will the defense be good enough if their backcourt is McCollum and Curry?
Health may also play a factor. Charania reported Tuesday evening that McCollum is being evaluated due to a collapsed lung.
More Than One Move
Is moving McCollum, for Simmons or another deal, enough to change the Blazers' fortunes? Bear in mind that while Nurkic's defensive numbers in a vacuum are good, they worsen considerably when Nurkic is involved in defensive actions with Lillard.
For example, this season when Nurkic is defending the screener in pick and roll with any rotation wing or guard except Lillard, the Blazers give up just 0.986 points per possession. When Lillard is defending the ball handler, and Nurkic is defending the screener, that number jumps to 1.07 points per possession.
To simplify, Nurkic doesn't have the foot speed or agility to play at the level of the screen and contain, or switch, effectively. However, he can operate as a traditional "drop" big in pick and roll to great success. For that to work, the guard has to clear the screen, and Lillard struggles with this more than anything.
If the Blazers want to solve their defensive issues, they need to reconfigure the combination of Lillard and Nurkic.
Nurkic made odd comments after the Blazers' loss to the Nuggets in the first round last year about "not knowing what the future holds" despite being under contract for this season. Perhaps that was about his deal not being fully guaranteed at the time or the last year of his deal.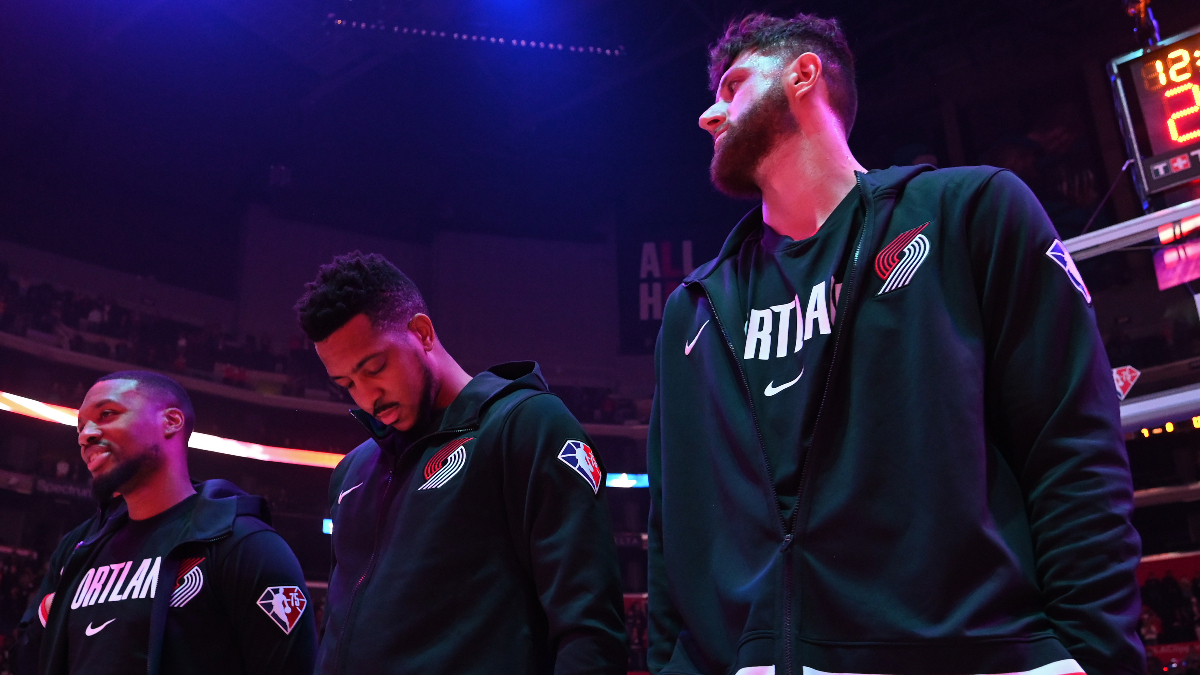 Either way, if the Blazers are really looking to make the kind of changes Lillard has seemed to indicate he's looking for, but stopping at McCollum would not be enough.
There's also the lingering issue of Lillard's abdominal issue which has kept him in and out of the lineup and is thought to be a long-term ailment he's played through.
With the Trail Blazers in a tail spin, and their two stars struggling to get healthy, does the team pivot to riding out this season and reassessing this summer? At that point, Lillard is eligible for a super max extension at 32 years old.
Charania asked the question of whether Lillard, despite his desire to win a title in Portland and remain with one team, would sign such an extension. Adrian Wojnarowski of ESPN, on the other hand, has commented several times on whether Portland would want to commit a super max extension to Lillard at that age given the franchise's situation.
Teams have grown more and more reluctant to hand out those deals, even for franchise icons, but Lillard's consistent greatness suggests it won't ultimately be much of a debate.
But all of this adds to the instability.
For now, don't expect Lillard to be moved unless he abruptly changes the position he has firmly held and reasserted this season, but be prepared for Portland to look very different from the current construction by the time the trade deadline passes.
How would you rate this article?
This site contains commercial content. We may be compensated for the links provided on this page. The content on this page is for informational purposes only. Action Network makes no representation or warranty as to the accuracy of the information given or the outcome of any game or event.