NBA Win Total Odds & Pick: Can the Sacramento Kings Finally Break Through?
Credit:
Lachlan Cunningham/Getty Images. Pictured: De'Aaron Fox #5 celebrates with Harrison Barnes #40 of the Sacramento Kings.
Check out this post for updated season win total odds for all 30 NBA teams.
---
Sacramento Kings Win Total Odds
| | |
| --- | --- |
| 2023-23 Win Total | 33.5 |
| Previous Season's Wins | 30 |
The Case for the Over
Motivation, Motivation, Motivation
Poised to Overperform
Low Number
The Kings want to make the playoffs. Their general manager Monte McNair said at media day that there is no mandate for them to make the playoffs, which sounds an awful lot like there's a mandate for them to make the playoffs.
"So what? Lots of teams want to make the playoffs!"
Yes, but not many teams really really want to make the playoffs as they have the longest drought in North American sports and have a number that is below 35.
This roster was not built to go half way. They can't effectively hedge and pivot to a rebuild. They have too many guys. It's not that the roster is great, it's that the roster is not able to effectively tank.
"But they only won 30 last year, which is below the win total with this same roster!"
First, it's not the same roster. Fourth overall pick Keegan Murray and trade acquisition Kevin Huerter help on the wings. Malik Monk and Kent Bazemore provide veteran depth. The Kings got legitimately better.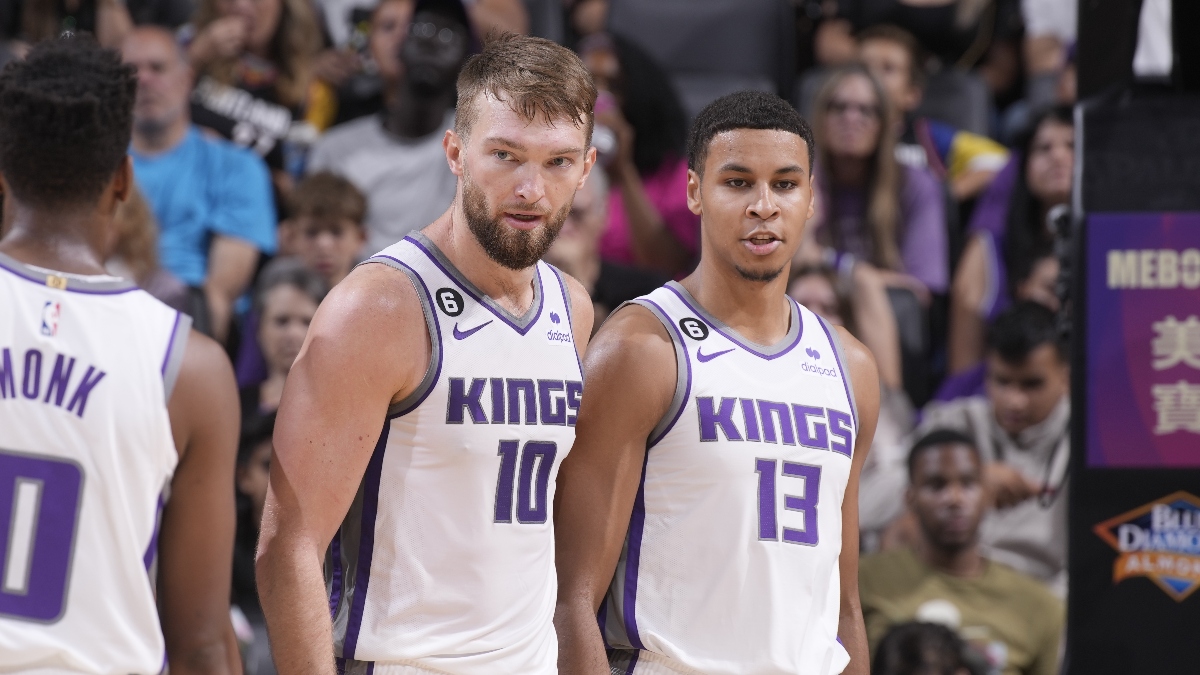 The Kings only went 5-8 when Domantas Sabonis and DeAron Fox played together. Not great! That's a 31-win pace last season. But they were still getting accustomed to one another and by the time the schedule looked like it might soften, it was too late and they had to shut guys down to pivot to the draft.
Again, this combination doesn't have to be gangbusters, it just has to be good enough to win 41.4% of their games.
The team is also looking at a substantial coaching upgrade. Mike Brown was brought in as a veteran voice with a lot of championship experience as an assistant.
Brown's teams went 3-2 in Cleveland to the over, including an over in his first season. His first season with the Los Angeles Lakers, they went under by just one game in the lockout shortened year.
When the team is not a train wreck as it was in L.A. and his second Cleveland stint, Brown's got a good track record of success. That fits perfectly with this team. Brown has never faced a win total below 40 before.
The Kings were 3.4 wins better than they "should' have been by Pythagorean expectation. Those teams are the ones you should want to fade. Except I looked at those teams over the past 10 years.
Teams with at least a +3.5 win differential in their actual from their expected mark, with a win total less than 50, are 10-6 to the over (62.5%).
The way to look at this is that the market takes point differential too much into account and as a result the teams are typically better than accounted for if they're supposed to regress.
The Kings also fit this criteria: 75th percentile Pythagorean overperformers with a sub-75th percentile close game record are 21-10 (67.7%) to the over in the last 10 years.
It's a low number for a team with high motivation and capable NBA players at or around the star level.
---
The Case for the Under
It's the Sacramento Kings
Sacramento is 13-7 to the under on their win total over the last 20 years. The under is 7-2 the last nine seasons. They are a perennial loser.
They made the ultimate win-now, shortsighted, desperation move in trading Tyrese Haliburton for Domantas Sabonis. You have to feel pretty confident that a team without a top-15 player is going to compete in a brutal Western Conference in the best division in basketball.
Fox just hasn't proven he can be counted on to win games. He puts up numbers at the cost of efficiency.
The numbers with Sabonis and Fox weren't great. They weren't good in record, they weren't good in net rating, they weren't good in any discernible category. There's just not a lot to get excited about here.
Fox is a pretty good player, Sabonis is a pretty good player, Harrison Barnes, Keegan Murray, Kevin Huerter, Malik Monk, and on and on, they're all pretty good. Not great.
If you play Sabonis with a center, you're in the same problem you had in Indiana with Myles Turner. If you play him without a center, your defense is terrible.
They need young players to contribute in meaningful ways with Davion Mitchell and Keegan Murray. Even with their veterans, those two guys have to increase the ceiling.
You have to actually say, "I'm going to sink long-term money on the success of the Kings" and that's a tough sell.
Kings Win Total Over
To me this is the best value on the board. If I break this team down by all the things I care about they check all the boxes:
Experienced, skilled talent vs. a low under ✅
Overperformer with an overly adjusted low line ✅
Small market that won't attract money ✅
Veteran coach who's been around ✅
Shooting ✅
High ceiling, low floor (compared to the number) outcomes ✅
It's just a market inefficiency. The West is tough. The division is tough. But the number is too low for a team that won't pivot to tank and will scrape and claw to try and defy the odds and make it in.
It's time to bet the Kings.
How would you rate this article?
This site contains commercial content. We may be compensated for the links provided on this page. The content on this page is for informational purposes only. Action Network makes no representation or warranty as to the accuracy of the information given or the outcome of any game or event.