Sunday NBA Odds & Picks: Our Staff's Best Bets for 76ers vs. Pacers, Magic vs. Raptors (Jan. 31)
Credit:
Jesse D. Garrabrant/NBAE via Getty Images. Pictured: Joel Embiid #21 of the Philadelphia 76ers.
The NBA takes center stage on Sunday with a six-game slate and no NFL action to compete with.
Our staff is honing in on multiple games on Sunday, beginning with a matinee at Madison Square Garden between the Clippers and Knicks. 
NBA Odds & Picks
Los Angeles Clippers vs. New York Knicks
| | |
| --- | --- |
| Pick | Knicks +9.5 |
| Tipoff | 1 p.m. ET |
| TV | NBA League Pass |
Malik Smith: There's a trend at play here that I've been eyeing for a while: Fading West Coast teams playing in early games.
According to Bet Labs, teams the five teams on the West coast (Lakers, Clippers, Warriors, Kings, Trail Blazers) don't typically cover in games that start between noon and 4 p.m. ET — 134-151-5 (47%) against the spread since the start of the 2005-06 season.
As road favorites in that situation, teams are 13-24-1 (35%) ATS over that span. In the Kawhi Leonard and Paul George era, the Clippers are 2-7 ATS in these early games.
The Clips are playing the fourth game of a six-game road trip at Madison Square Garden Sunday in a game that will pit the NBA's third-most efficient offense (115.7 points scored per 100 possessions) against the league's second-most efficient defense (106.5 points allowed per 100).
The Knicks are still a work in progress on offense (to put it kindly), but they've found an identity under head coach Tom Thibodeau as a team that grinds opponents down. It also helps that New York has been surprisingly good in this spot over the past two seasons (4-1 ATS).
This line opened at +8 and is now +9.5 at some books, so I'll grab the value at PointsBet and back the Knicks to cover in the matinee.
---
» Return to the table of contents «
---
Utah Jazz vs. Denver Nuggets
| | |
| --- | --- |
| Pick | Jazz -1 |
| Tipoff | 3:30 p.m. ET |
| TV | NBA League Pass |
Matthew Trebby: Since suffering double-digit losses to the Nets and Knicks on Jan. 5 and 6, the Jazz have covered in every game of their 11-game winning streak. They have won 10 of those games by double digits.
On the season, Utah is now an NBA-best 14-5 against the spread (ATS). The Jazz also enter play on Sunday tied for the NBA lead with 15 wins.
Utah has won its last two games, both against the Dallas Mavericks, without star guard Donovan Mitchell. Head coach Quin Snyder told reporters after Friday night's win that he was hopeful that Mitchell and big man Derrick Favors will be available against Denver.
The Jazz and Nuggets are always an intriguing matchup. Even without Mitchell, Utah has a better answer than most teams for Nikola Jokic in Rudy Gobert and a veteran point guard against Jamal Murray in Mike Conley.
Both teams are playing very well at the moment, but I have to back the Jazz until they give me a reason not to.
Eleven straight covers? You kidding me? Sign me up for Utah to make it a dozen.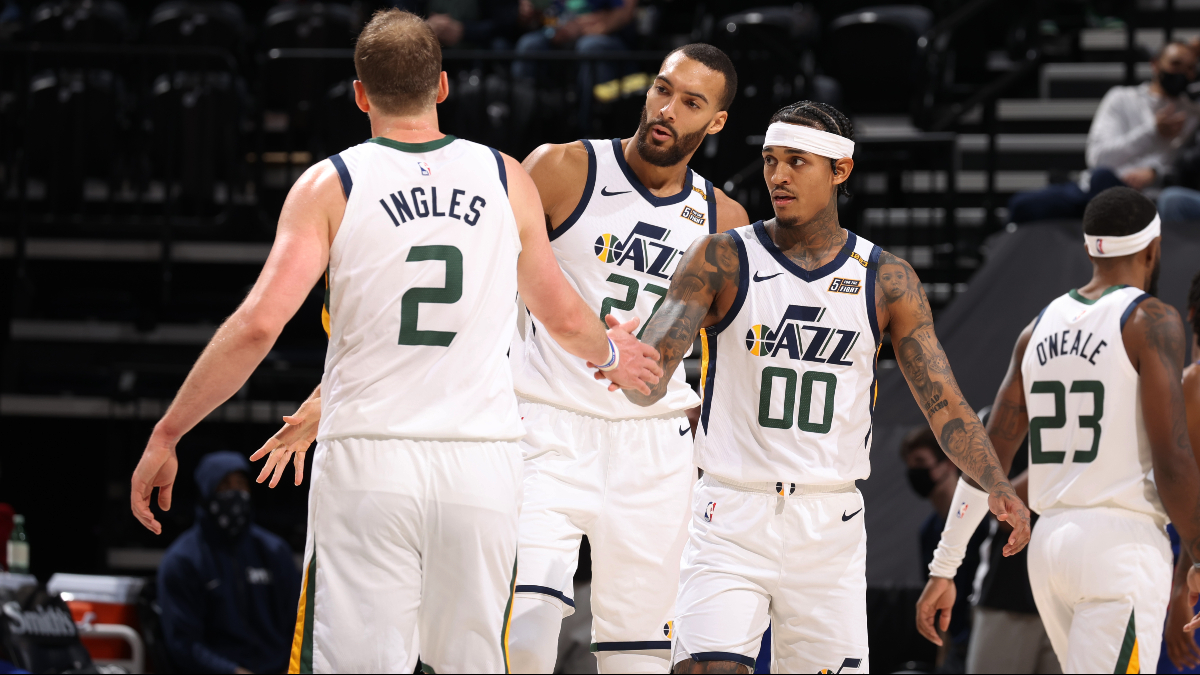 ---
» Return to the table of contents «
---
Philadelphia 76ers vs. Indiana Pacers
| | |
| --- | --- |
| Pick | 76ers ML |
| Tipoff | 7 p.m. ET |
| TV | NBA League Pass |
Kenny Ducey: Joel Embiid has been a driving force when it comes to the Sixers' improvement in shooting. Over the past five games, Philly has risen to 10th in the NBA in three-point percentage, and its two biggest guns over that span have been Tobias Harris (61.9%) and Embiid at 55.6 percent.
You've got those two shooting well, with Seth Curry appearing to find his rhythm in the win over Minnesota via a pair of 3s on as many tries. Indiana's inability to stop the 3 here may be called out by Philadelphia as well, as it has difficulty rebounding the basketball.
In the end, the matchup is great on paper for the Sixers. On the one hand, we have a team that has really found its footing. On the other, there's a team that still needs to establish its identity.
Philadlephia should make it six wins in seven games here. Even with the potential of Embiid being sidelined, I'm confident in Dwight Howard's ability to rebound and keep that advantage for the Sixers.
---
» Return to the table of contents «
---
Orlando Magic vs. Toronto Raptors
| | |
| --- | --- |
| Pick | Evan Fournier Over 17.5 Points |
| Tipoff | 7 p.m. ET |
| TV | NBA League Pass |
Brandon Anderson: Hello again, old friend.
If you've been following my picks over the last couple weeks, Evan Fournier is no stranger in this space. Fournier missed the first three weeks of January with an injury, and the Orlando Magic missed him dearly. The Magic were missing three starters for most of that stretch, with both Markelle Fultz and Jonathan Isaac out for the season, and the team was struggling mightily to find shooting and scoring.
It was clear upon Fournier's return that he would be asked to provide a whole lot of both. In his first game back, in only 28 minutes, Fournier fired up 21 shots and scored 24 points. I was ready to fire the next Orlando game. I played Fournier over 14.5 points and recommended it in the props piece, and he put up 26, nearly doubling that number. The books adjusted next game, but not enough. I played the over 15.5 and he got 21. The over 16.5 was a sweat the game after but made it to 19 in the final minutes, and the over 17.5 hit in the first half the game after en route to 25 points. An easy four overs in one week with the books slowly adjusting upward, but not fast enough.
I stayed away from Fournier his last time out. Kawhi Leonard and Paul George were back for the Clippers after a week away, and it was a disastrous game for the Magic. The game was done and dusted early in the second half and the backups finished the game out. Fournier's minutes dropped and he scored only eight points, going under his points prop for the first time since his return — giving us opportunity today!
I still think this number is too low. The Magic need Fournier to jack shots all game. He's averaging 20.5 points on 15.5 shots per game, even after that bad Clippers outing, since his return from injury. That's still way up from 10.5 shots per game before the injury, and the books still haven't adjusted enough.
A game against Toronto shouldn't be a blowout, so Fournier should see a full load and get his usual shots up. Based on recent history, that should mean around eight 3-point attempts, that many 2-pointers, and six to eight free throws. That's a lot of volume and it means we're going over again.
Evan Fournier has carried us through these late January weeks. Let's let him close our month out strong and play once more before the books adjust for good. We project Fournier at 18.9 points, and while you should never ever google Fournier, you should definitely keep profiting off his points over. I'll play to -120.
---
» Return to the table of contents «
---
How would you rate this article?