NBA Win Total Odds & Pick: Will the Toronto Raptors Exceed Expectations Again?
Credit:
Cole Burston/Getty Images. Pictured: Scottie Barnes #4 and Pascal Siakam #43 of the Toronto Raptors.
Check out this post for updated season win total odds for all 30 NBA teams.
---
Toronto Raptors Win Total Odds
| | |
| --- | --- |
| 2023-23 Win Total | 45.5 |
| Previous Season's Wins | 48 |
The Case for the Over
They Are Inevitable

The Bench Has (Slightly) Improved
The Raptors have gone over in nine of the past 11 seasons, with the exceptions being the COVID-shortened season (they topped the number but it was voided), and the following season that they spent in Tampa thanks to COVID.
Other than that, just overs every year. Overs every year of the Nick Nurse tenure. Overs every year of the Fred VanVleet tenure. Overs ever year of the Pascal Siakam tenure.
This isn't a coincidence. It isn't random. It's the product of a system that has been reinforced at every level by one of the best front offices in sports. Their players are disciplined on both sides of the ball, and they've hit just enough doubles and inside-the-park home runs with FVV, Siakam, Gary Trent Jr., and Scottie Barnes to keep out-gaining market expectations.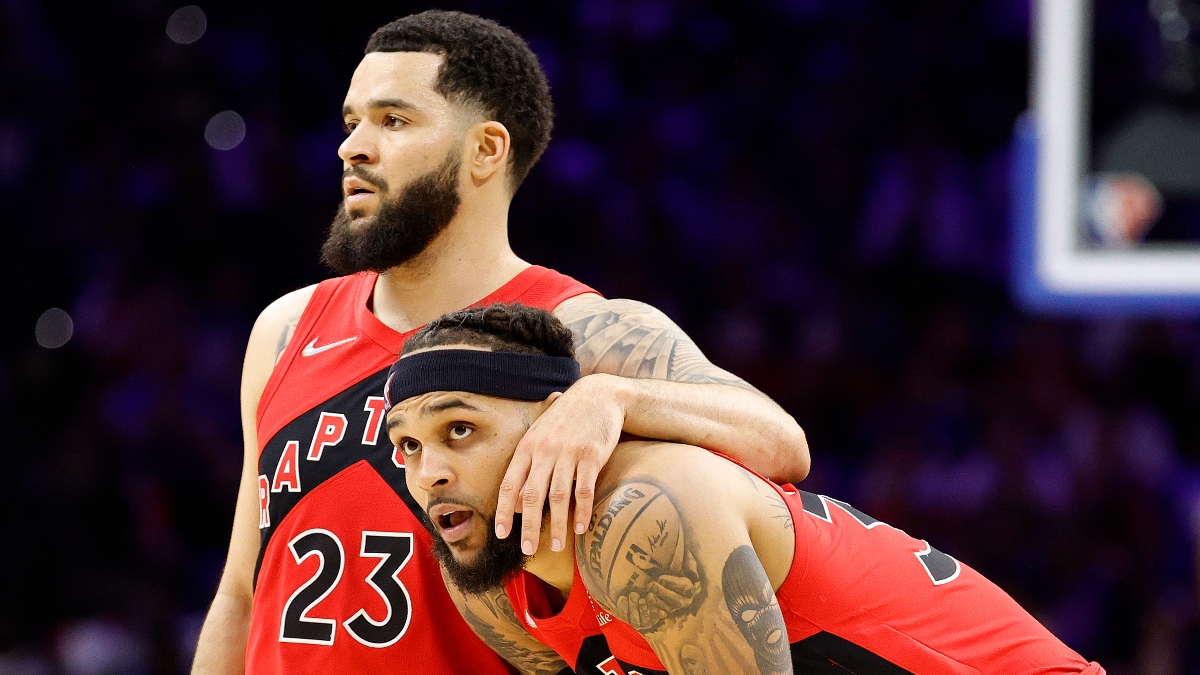 The Raptors also showed last season that they're willing to go however far they need to win regular season games. Raptors starters averaged over 35 minutes per game last season, the most of any starting unit. They played to the bone to make sure they reached the playoffs.
Why? Who knows. But there's no easing off for this team. I thought they might have pivoted to a rebuild last year, but that hasn't happened.
Toronto has added a little bit of veteran depth to help a severely underwhelming bench, too. On top of Thaddeus Young, acquired at the deadline last season, Toronto brought in Otto Porter Jr. from the reigning champs, Josh Jackson, and Juancho Hernangomez. Meanwhile, Precious Achiuwa, Chris Boucher, and Dalano Banton are all expected to make strides this season.
This line presumes they'll be worse. What evidence is there that the Raptors will be worse? You can make an argument they won't be much better, but worse feels less likely.
---
The Case for the Under
They're Good, Not Great
Success Might Be Unsustainable
The Raptors were 34-30 on March 6, playing their starters unsustainable minutes and on pace for just 43 wins and a play-in appearance.
They finished 14-4, knocking the Chicago Bulls and Cleveland Cavaliers, who had been better than Toronto the entire season, down lower in the standings.
The Raptors had more losses vs. teams under. 500 than any team in the top 10 in the East except for the maddening Atlanta Hawks. They had more wins vs. teams over. 500, despite so often being outmatched, than all but the Miami Heat and Boston Celtics.
This team was fluky last year. Barnes put up good numbers and should be an All-NBA caliber player for years. But he won Rookie of the Year thanks to a late slide from Evan Mobley, mostly caused by injuries.
Siakam was All-NBA worthy last year and put together a phenomenal season after a rough start in Nick Nurse's doghouse, again, and an injury that derailed him midseason.
FVV is just a metronome of 3s and assists, a tremendous two-way player who should be appreciated for more than he is. FVV is, in some ways, the modern Tony Parker, disregarded for his individual talent due to his team's systemic strength.
Then there's OG Anunoby, the greatest player who never seems to actually make an impact. Anunoby was involved in trade rumors last season and through the summer, but Toronto never pulled the trigger.
A belief persists in league circles that, eventually, Toronto will move on from both Anunoby and Trent, but they're looking for the right big-move deal.
(The Raptors turned down an offer of the No. 7 pick in the draft for Anunoby from Portland, multiple league sources said.)
If all the expected improvements don't come from the Raptors bench, they'll be at the same point as last year, playing their guys to the bone to get short-term results.
The Raptors were an afterthought in the playoffs until Joel Embiid's thumb injury briefly gave them life. Will Toronto really be fine with another 45-plus season and another first-round out?
Raptors Win Total Bet
I'll stay away, but I lean over. I'm a Raptors skeptic who has been burned too many times. At some point, the fact that this combination of coaches and players has gone over literally every year except the cursed Tampa year matters.
Teams with a top-10 defense and a win total the following season below 50 have gone 22-14 (61%) to the over in the last 10 seasons. I keep waiting for the formula to go stale, or Nurse to lose the locker room or the law of diminishing returns to force Ujiri's hands into something dramatic.
But for whatever reason, Toronto has remained full proof to all the rot that usually seeps into teams over time. Barnes can make a leap in his second season, the roster is still really good, Nurse is top-five, and they just simply find ways to win.
It's a soft over or nothing for Toronto and DraftKings has the lowest total for them at 45.5 wins.
How would you rate this article?