Warriors vs. Clippers Game 3 Betting Preview: Will Golden State Rally Without Cousins?
Credit:
Kyle Terada-USA TODAY Sports. Pictured: Draymond Green (23) and guard Stephen Curry (30) .
Game 3 Betting Odds: Golden State Warriors at LA Clippers
Spread: Warriors -8.5
Over/Under: 236.5
Time: 10:30 p.m. ET
TV Channel: TNT
Series Score: Tied 1-1
---
>> All odds as of Wednesday evening. Download The Action Network App to get real-time odds and live win probabilities on your bets.
---
You've heard it on every talk show by now: The Warriors blew a 31-point lead to the 8-seed Clippers and lost DeMarcus Cousins along the way. How will they rebound on the road? Our analysts answer.
Trends to Know
The Warriors shot 40-of-75 (53.3%) from the field in their Game 2 home loss to the Clippers. They led by 31 points in the third quarter and lost by four after the Clippers scored 85 points in the second half. In the Steve Kerr era, the Warriors are now 187-7 (96.4%) straight-up when shooting above 50% from the field. –– Evan Abrams
The Warriors will look to bounce back in Game 3 on the road in L.A. Under Kerr, the Warriors are 12-3 straight-up and 11-4 against-the-spread (ATS) the game after a loss when facing a Western Conference team in the playoffs. — Abrams
The Warriors opened as 7.5-point road favorites. Large road favorites (six or more points) have been profitable in the postseason, going 30-15-2 (66.7%) ATS since 2005. Under Kerr, the Warriors are 9-0 ATS in this situation. — John Ewing
---
Locky: How I'm Betting this Game
Is it weird that I kind of like the Clippers here? Golden State has taken all the early money; this number opened -7 and is now -8.5 or even -9 as of this writing. That is essentially no adjustment for DeMarcus Cousins, and even an extra point or so in favor of the Warriors compared to the first two games.
Game 2 closed -13.5, and even if you assign three points for playoff home court each way, this should be about -7.5 here in Game 3 with no other considerations whatsoever, right? You could argue Oracle should get even more than three points in the playoffs (while Staples is merely average, at best), and if that's the case this number is even more off. Why no credit for the Clippers?
Meanwhile, not only is Cousins hurt, but whoever his replacement is fits perfectly into what Doc Rivers wants to do: guard three with five. If it's Kevon Looney, you will see so much space between a defender and him, as well as between a defender and Draymond Green, that it might get downright funny at times.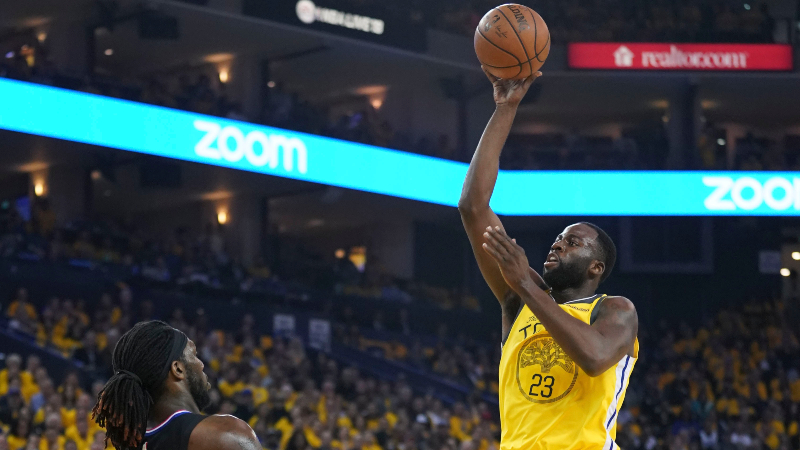 On a few possessions in Games 1 and 2, Green would just eventually drive and lay it in or dunk it, and then of course shout something to the Clippers bench, because he's Draymond Green. He was just too open that he HAD to do that.
But without Cousins on the court, you try to guard Steph Curry, Klay Thompson and Kevin Durant with all five guys, and try to keep throwing Durant off his game with Patrick Beverley. It may not work, but it has to at least work a little better with no Cousins at all, right?
I don't think this number is crazy far off from what I have, but at +9 I think the Clippers are worth something, and if it keeps going up, I'll keep liking it more. — Ken Barkley
---
Mears: How I'm Handicapping Tonight's Game
I'm actually somewhat interested in the other side. First, I don't think DeMarcus Cousins should be worth anything to the spread; if bookmakers did indeed ding the Warriors for his absence, that's immediate value. On the year, the Dubs have actually been 3.8 points per 100 possessions worse with him playing. That doesn't mean he's bad — he's just on a superteam and taking offensive possessions away from historically good teammates.
Further, there's a lot about Game 2 that is unlikely to continue moving forward. The biggest — and I literally had to check multiple places to confirm this was accurate plus watch the film with my own eyes — is that the Clips shot 18-of-19 (94.7%) from the rim. That … is insane efficiency.
Of course, the caveat is that the Dubs were also crazy efficient there, too, scoring all 16 of their attempts at the rim. What a game. But look at the full season of data: The Warriors ranked first in the league in field goal percentage at the rim; the Clippers ranked 26th. Which is likely to regress?
Some of the Warriors' defensive problems were laziness:
And more of it was poor help defense:
The Warriors did struggle defending the rim in the regular season, but they also allowed the second-fewest attempts there. Perhaps the subtraction of Cousins means a bit more Hamptons 5, and that will certainly clear up any help defense problems.
And finally, a couple of trends. First, the Warriors are 13-8 ATS in the Stephen Curry era coming off a playoff loss. And they're typically awesome bets on the road in playoff games anyway, going 13-5 ATS since Kevin Durant came to town. I get the skepticism around the Warriors after Game 2, but if anything, I'd lean for them to rebound and get the road cover. — Bryan Mears
---
Moore: Why I'm Betting the Warriors
I'm also on the other side. Golden State will stray from its gameplan, its focus, its mindset, its intensity. I'm the only one over here at The Action Network who's legit uncertain about the Warriors' title hopes. But I believe they're winning this game, and I'd lay 15.5 on it.
Here's part of the dynamic of that Game 2 collapse: They shot too well. When the Warriors get going from the field and it's easy — they had a 137 Offensive Rating in the first half, for crying out loud — they start focusing on making all the 3s and running up the score, and they forget things like, "Hey, we should stop the other guys." They had a 96.2 Defensive Rating in the first half… and a 149.1 Defensive Rating in the second half.
That's too far from who the Warriors are. DeMarcus Cousins' impact on defense was nonexistent; he won't hurt there. They're going to win this game with defense, and cover with defense as well.
Here's Golden State's playoff Defensive Rating marks after a loss in the Durant era:
vs. Houston 2018, Game 6: 91.0
vs. Houston 2018, Game 5: 106.6
vs. Houston 2018, Game 3: 89.9
vs. New Orleans 2018, Game 4: 85.8
vs. San Antonio 2018, Game 5: 97.2
vs. Cavaliers 2017, Game 5: 121.4
The overall numbers:
Durant-era Warriors' playoff Defensive Rating: 105.3
Durant-era Warriors' playoff Defensive Rating following a loss: 98.7
Durant-era Warriors' playoff Defensive Rating following a loss to teams without LeBron James: 94.1
I'm preparing big moves for Game 4 on Sunday, but I think Golden State crushes the Clippers here. The most vulnerable are always the most desperate to disguise their flaws. – Matt Moore
---
Editor's note: The opinions on this game are from the individual writers and are based on their research, analysis and perspective. They are independent of, and may not always match with, the algorithm-driven Best Bets from Sports Insights.
How would you rate this article?