2023 Big Ten Basketball Tournament Betting Preview, Bracket & Odds
Credit:
Photo by Zach Bolinger/Icon Sportswire via Getty Images. Pictured: Big Ten Logo
One of my favorite things to do every year is to recap my Big Ten preseason preview piece at the end of the regular season. This conference is such madness that I so often wildly misread teams.
For example, this is what I wrote about Purdue:
"Projections make Purdue a high-octane offense with a questionable defense. I believe this is the ceiling. The floor is a backcourt collapse and Edey can't replicate his efficiency with higher minutes."
I mean, yeesh.
I also made some alright reads, like how I predicted Indiana was an overrated preseason favorite or Michigan State would look great in the early season.
But overall, I fell behind the unpredictability and chaos of this conference.
Then again, I wrote this in my Big Ten update article:
"Nothing is as you expect in the Big Ten. If I had one general piece of betting advice for the Big Ten, I'd sell the teams trending up and buy the teams trending down. It's counterintuitive, but ultimately, that's how the Big Ten works."
That advice rings true in advance of the tournament. You never know what will happen in the Big Ten, and that's why we love it so much.
However, the conference tournament is often easier to feel out. I called that Iowa would win it last season, and I have a feeling I can find another winner this year.
Or at the minimum, I can find you some other Big Ten Tournament betting angles worth digging into.
Let's begin.
---
2023 Big Ten Tournament Bracket
---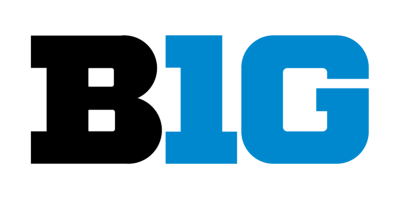 2023 Big Ten Tournament Odds
---
---
How to Beat Big Ten's Best Team?
I am selling Purdue. Honestly, everybody should be selling Purdue.
The scout on Purdue is simple.
On defense, you contain Zach Edey the best you can and make the Edeyettes beat you. And Purdue's freshmen backcourt often flails under pressure, which is likely why the Boilermakers went 6-7 ATS on the road this year.
On offense, Purdue struggles to stop the dribble, and Edey struggles to defend in space. You want to run high pick-and-roll repeatedly, and coach Matt Painter usually doesn't make adjustments.
That said, there's a reason the Boilermakers went 26-5 and won the Big Ten regular season title. Executing the scout against Purdue is a different challenge, mostly because Edey is so dominant.
That said, I'll likely be fading Purdue in the tournament. This conference is too chaotic to bet on the favorite.
It's also worth mentioning how much less scary the Boilermakers are away from West Lafayette. I could see their young backcourt struggling in a neutral-court environment.
I'd look to fade the Boilermakers as big ATS favorites, especially in potential rematches with Rutgers and Michigan State.
---

Best Buy Team: Indiana Hoosiers
One team that executed the Purdue scout perfectly was Indiana, something the Hoosiers did twice in a season sweep of the Boilermakers.
Of course, it's pretty easy to exploit Purdue's dribble-drive defensive issues when you have Jalen Hood-Schifino.
The freshman point guard has become one of the nation's elite high/middle pick-and-roll guards.
It's easy to score when you're distributing to All-American Trayce Jackson-Davis, but JHS is elite at scoring when defenses run drop coverage.
Look at how dominant he was against Purdue in the second meeting.
Most impressive part of Hood-Schifino vs. Purdue was the in-game adjustment. Painter dropped Edey deeper on ball screens, accounting for TJD lobs, and JHS took advantage every time: pic.twitter.com/kzHJMeqDWQ

— Eli Hershkovich (@EliHershkovich) February 27, 2023
Try and stop TJD, and JHS will score over the top. Try and stop JHS, and he'll find TJD on the roll. It's almost impossible to stop Indiana in these sets.
I always thought Indiana's ceiling was capped by its guard play. When Xavier Johnson and Rob Phinisee were cooking, Indiana could beat anyone in the country. But the tandem was so inconsistent.
Personally, I never believed in either of them, even when Indiana ran its hot guard play into a Big Ten title game appearance and a first-round tournament win.
However, with Hood-Schifino running the show, the Indiana backcourt's ceiling is much higher. In turn, Indiana's ceiling is much higher.
Combine the new-look Indiana offense with its usually-elite defense, and I'm suddenly convinced the Hoosiers can beat any team in the country.
Additionally, the Hoosiers got a pretty favorable draw in the tournament. It's hard to bet on Indiana at such a low number (+440), but I do think the Hoosiers will eventually come out on top in Chicago this week.
Plus, I'm targeting another team on that side of the bracket with better odds.
---
Better Value Buy Team: Illinois Fighting Illini
At its peak, Illinois is the best team in the league. But the Illini never seemed to play to their potential, resulting in the tournament's seven seed.
That said, I'm pretty happy to bet on Illinois' potential in a one-and-done tournament setting like this.
It's also nice to back Terrence Shannon Jr., one of the league's best bucket-getters. If you need a guy to get you two points towards the end of a close game, I'm not sure I would take anybody over Shannon.
And, even after his recent caffeine-related incident, I'm still high on Matthew Mayer.
The forward is just too much of a mismatch to sell.
Despite Illinois losing two of its final three games, the Illini have been playing solid ball, specifically those two.
SENIORS

Over the last 4 games, Terrence Shannon Jr is averaging 19 ppg

Over the last 5 games, Matt Mayer averaging 19 ppg and nearly 7 Rebs pic.twitter.com/Ke8ipRbG2r

— Dariush Takhtehchian, M.D (@takhtehchianmd) March 5, 2023
I think the Mayer-Shannon duo is bringing plenty of momentum into March.
The Illini also got a pretty nice draw. The most dangerous team Illinois will have to face is probably Penn State in the first round, as the Nittany Lions waxed the Illini twice this season.
But if Illinois gets past PSU, the Illini have already proven they can beat anyone on that side of the bracket.
At 10-to-1, Illinois is a solid bet to win this tournament.
---
Bid Stealer Nebraska?
Screw it, let's address the elephant in the room.
Is Nebraska a potential bid stealer?
Honestly, yes. The Fred Hoiberg-led Cornhuskers could win this tournament.
College basketball, where the unexpected becomes the ordinary.
Nebraska put together a solid interior scoring offense behind Sam Griesel and Derrick Walker. However, the development of Keisei Tominaga has completely changed the team's outlook.
Tominaga is unbelievable. He can score from all three levels, but his range makes him an impossible cover. He's the Steph Curry of the Big Ten.
Over the season's final seven games, Tominaga averaged 21.3 points per game on 55% / 45% / 73% splits. Predictably, Nebraska went 5-2 down the stretch.
With Tominaga making every shot from every area of the floor, the Cornhuskers have become a legitimate threat in the Big Ten.
And with Tominaga making every shot from every area of the floor, Nebraska carries so much momentum into the tournament. The Huskers are the perfect team to target entering the March tournaments.
Nebraska's defense is very underrated, as ShotQuality's metrics grade the Huskers as the Big Ten's fourth-best half-court defense, second-best ball-screen defense and best post-up defense.
And while the offensive numbers are still gross overall, those metrics are dragged down by the pre-Tominaga Huskers.
I can't believe I'm writing this, but Nebraska is the most dangerous team in the Big Ten Tournament.
Additionally, the Huskers don't have the worst draw in the world. They only have to beat Minnesota and "road" Maryland (2-9 away from home) to set up a quarterfinal matchup with Indiana.
From there, it's a brutal draw. Nevertheless, I'm still willing to take a shot with Tominaga and Co. at 100-to-1 in this usually chaotic tournament.
---
---
A Bit About Every Other Team
Michigan State Spartans
I'm bullish on Sparty, as the Tyson Walker-A.J. Hoggard backcourt is one of the best in the nation. Great guard play is how you win in March, and these guards can ball.
I'll probably bet Sparty in potential games against Iowa and Purdue. However, I'm unsure if they can win the whole thing, and the +650 odds are too brutal to consider.
---
Northwestern Wildcats
The Wildcats' uber-compact defense and relentless post trapping is a perfect matchup for some of the more dominant big men in this conference.
And speaking of great guard play, Boo Buie is playing like one of the Big Ten's best point guards.
And the final day shook out so that the Wildcats claimed the No. 2 seed in the tournament. Northwestern feels like a great buy.
However, I also think that the Wildcats may have peaked early, as they lost momentum and three of four down the stretch.
Plus, I'd rather bet Illinois at 10-to-1 than Northwestern, and the two would have to play each other.
---

Maryland Terps
If Jahmir Young can't dribble penetrate, the Terps can't score. Young looks like an all-conference guard in some games and then looks useless in others.
It's also impossible to back Maryland on the road, and I don't feel great about it in a neutral-court tournament.
I'm definitely fading the Terps against Nebraska, as outlined above.
---

Iowa Hawkeyes
Another typical year from Fran McCaffery, who coached up the league's best offense and worst defense. Minnesota finished below Iowa in overall defensive efficiency, but the Hawkeyes' eFG% allowed was three points higher than any team in the league.
Iowa's electric offense can overpower anyone — look at Iowa's improbable win over Sparty last week — but it's almost impossible to trust its defense in a tournament setting.
The Hawkeyes brought a ton of momentum into last year's tournament win, and this year's team is severely lacking in that department.
And if Iowa wanted to make a run, the Hawkeyes would have to play Michigan State in a big revenge spot for Sparty. And that's only if the Hawkeyes don't falter against the ever-annoying Badgers or playing-slightly-better-lately Buckeyes.
Iowa also got swept by Nebraska this year. Yikes.
---

Michigan Wolverines
I have never been able to get a read on Michigan. The Wolverines are the most perplexing team in the country.
I think the key for Michigan is solid wing play, especially in Juwan Howard's system. However, the Wolverines often get inconsistent play from Jett Howard and Kobe Bufkin.
I have no plays on Michigan for the Big Ten Tournament. However, I could easily see the Wolverines sneaking into the field of 68 and somehow managing another Sweet 16 appearance with a favorable draw.
---

Rutgers Scarlet Knights
Once upon a time, the Scarlet Knights were 11-4 overall and 3-1 in Big Ten play, with wins over Indiana, Purdue and Maryland. The Knights finished 7-8, including three uncharacteristic home losses.
The Knights got a little unlucky, with three February losses graded as analytical wins by ShotQuality.
However, that "elite" defense is overvalued, and they can't create consistent offense outside of Cam Spencer, finishing last in the conference in eFG%.
If they get past Michigan, I'd probably back the Scarlet Knights against Purdue. While you could argue it's a solid revenge spot for the Boilermakers, it's a tough on-court matchup for them too, and I don't expect them to stop Spencer's dribble.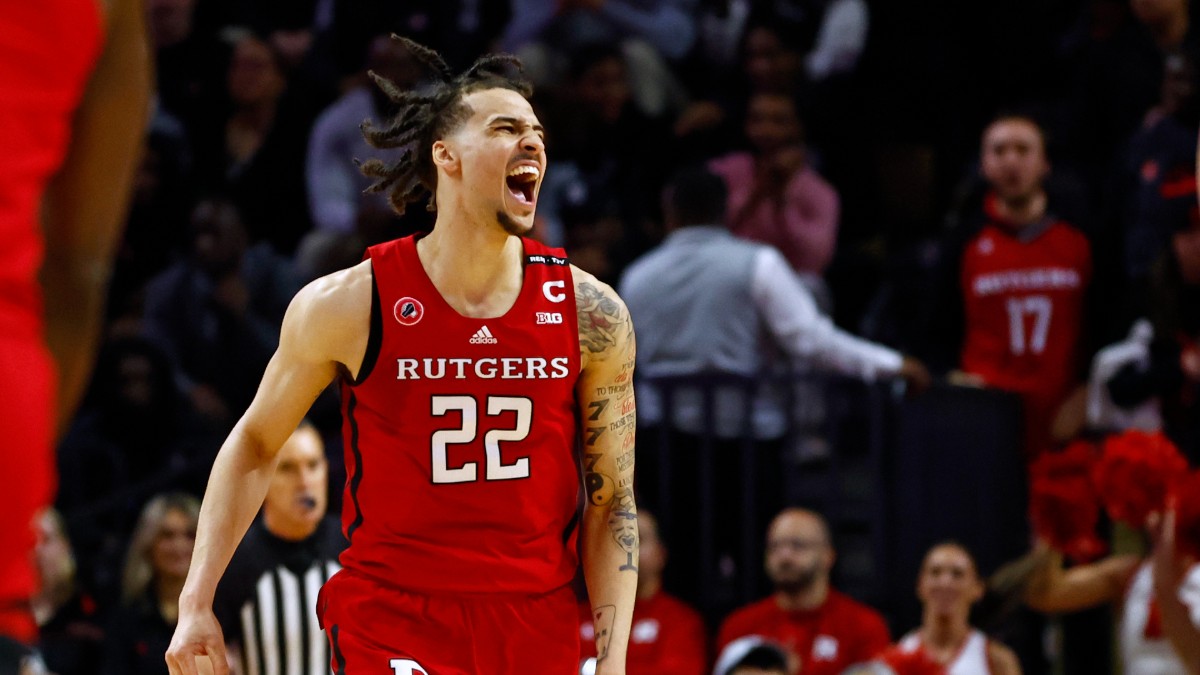 ---

Penn State Nittany Lions
The Nittany Lions' offense is electric. All-American caliber Jalen Pickett spearheads a lethal spread pick-and-roll scheme that led the league in eFG%.
However, the Nittany Lions' defense is a disaster. Penn State can't stop a nosebleed, leading to 10 losses in league play.
However, Penn State enters this tournament firmly on the bubble with plenty of momentum.
Camren Wynter hit monster shots in back-to-back games to end the year, saving the Nittany Lions' at-large hopes and capping off a 5-1 regular season finish.
---
Wisconsin Badgers
The Badgers had so much hope, winning 11 of their first 13 games, including non-con victories over Dayton, USC and Marquette.
The Badgers finished the year losing 11 of their final 16.
Injuries played a role, with Tyler Wahl and Connor Essegian missing time in the middle of the season.
Ultimately, this is one of Greg Gard's least-talented squads.
---

Ohio State Buckeyes
Is there a bigger dumpster fire in college hoops than the one in Columbus? My goodness, what a disaster.
The Buckeyes' issues stemmed from a lack of two-way players, but then Zed Key went down and things spiraled out of control.
However, the Buckeyes are probably undervalued entering Big Ten Tournament play. They ended the season with two outright wins over Illinois and Maryland, alongside a road cover against Sparty.
Honestly, OSU is probably worth a sprinkle to win this tournament. The Bucks' frontcourt rotation is rounding into form, and they still feature some of the better shotmakers in the conference.
---
Minnesota Golden Gophers
Minnesota ended the season in style with a crazy buzzer-beater win over Rutgers.
Unfortunately, that was just one of two conference wins for Minnesota. Dawson Garcia and Jamison Battle both missed some time, which sunk any chance the Gophers had of being remotely competitive.
How would you rate this article?
This site contains commercial content. We may be compensated for the links provided on this page. The content on this page is for informational purposes only. Action Network makes no representation or warranty as to the accuracy of the information given or the outcome of any game or event.