Action App March Madness Betting Primer
Credit:
March Madness Betting Primer featured image
An upset is when a team seeded 12-16 beats an opponent of a higher seed for the purposes of this article.
With the fever-pitch of football season behind us, sports fans across the country have set their attention to one of the most beloved sporting events: March Madness. 68 schools will compete in the frenetic, upset-fueled tournament starting on March 14th. 
While we all love watching the on-court action in and of itself, March Madness bracket challenges and betting are cornerstones of the tournament. Bettors are inundated with opportunities to make a wager as 67 games unfold over the course of three crazy weeks.
We decided to take a look back at past March Madness betting data in the Action App to identify historical trends that could help make picks for the 2023 NCAA Tournament. Here's what we found.
March Madness Bets On a Steady Incline Since 2018
Legalized sports betting became widely available after the repeal of the Professional and Amateur Sports Protection Act (PASPA) in May 2018. Since that repeal, nineteen states have passed legislation allowing residents to place legal online sports wagers. 
It is no surprise that legal bets placed on March Madness have continually increased year-over-year since 2018 as more states have come online.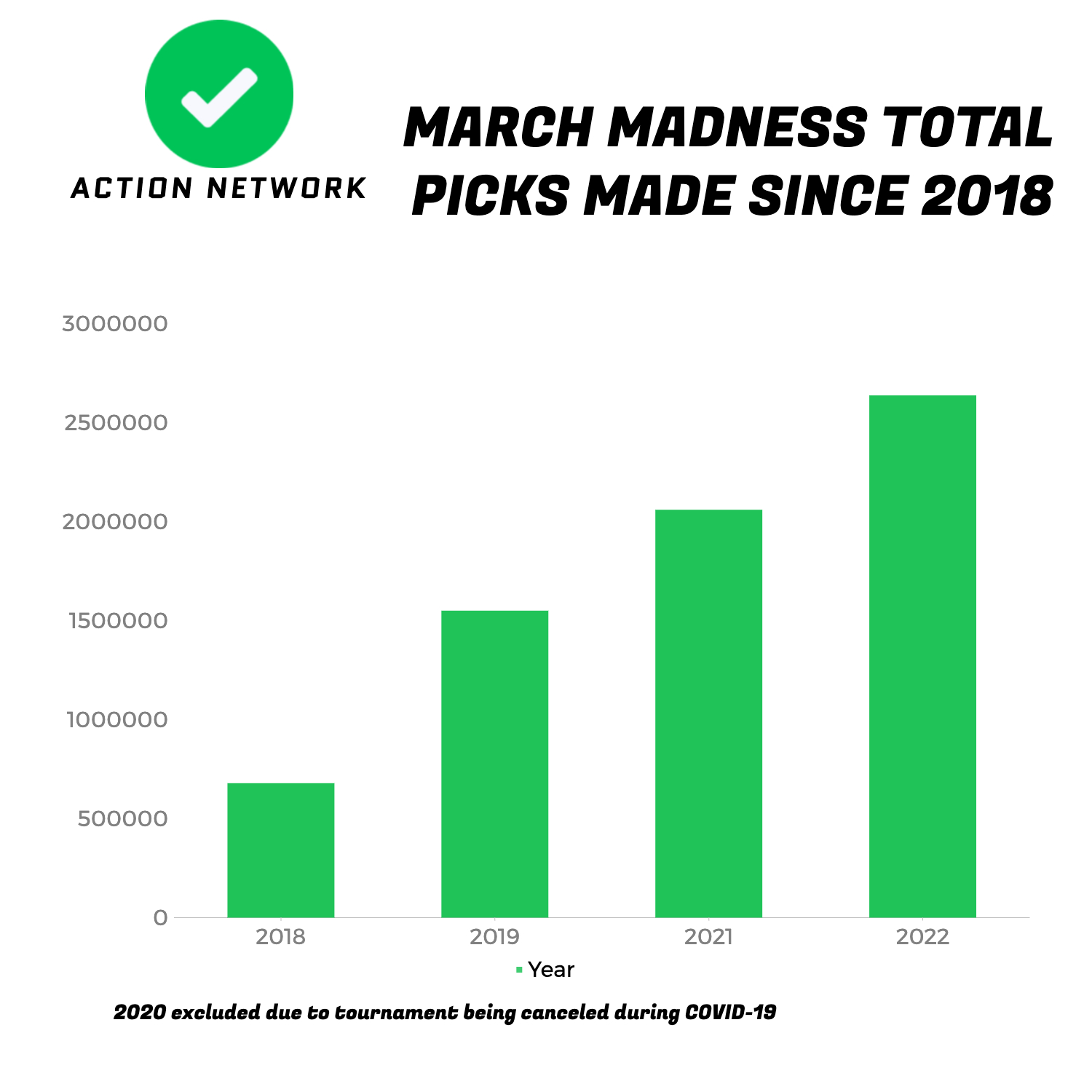 It is expected that 2023 will continue the trend, making this the highest legally bet on NCAA Tournament to date. 
With all of those wagers coming in, the burning question is how will people bet? The Action App archives give us a pretty good idea.
Bettors Love Chasing March Madness Upsets
The NCAA Tournament is known for its wild upsets. Why else do you think it has been nicknamed March Madness? So, it was really no surprise to see that Action App users have picked underdog upsets at an extraordinarily high rate in the first round of the tournament since 2018. 
Approximately 46% of the 2,190,682 picks tracked in the Action App for the first round of the NCAA Tournament have been for underdogs to either win or cover over the last five years.
Favorites still get the majority of picks, but you'd be hard pressed to find this rate of underdog action in any other major sporting event.
What Are the Most Popular NCAA Tournament Upset Picks?
According to our data, the most popular upset picks come from the 5 vs. 12 seed match-ups in the bracket. In fact, 54% of all picks tracked by Action users on a 5 vs. 12 match-up since 2018 have been on an underdog. Here's the full breakdown: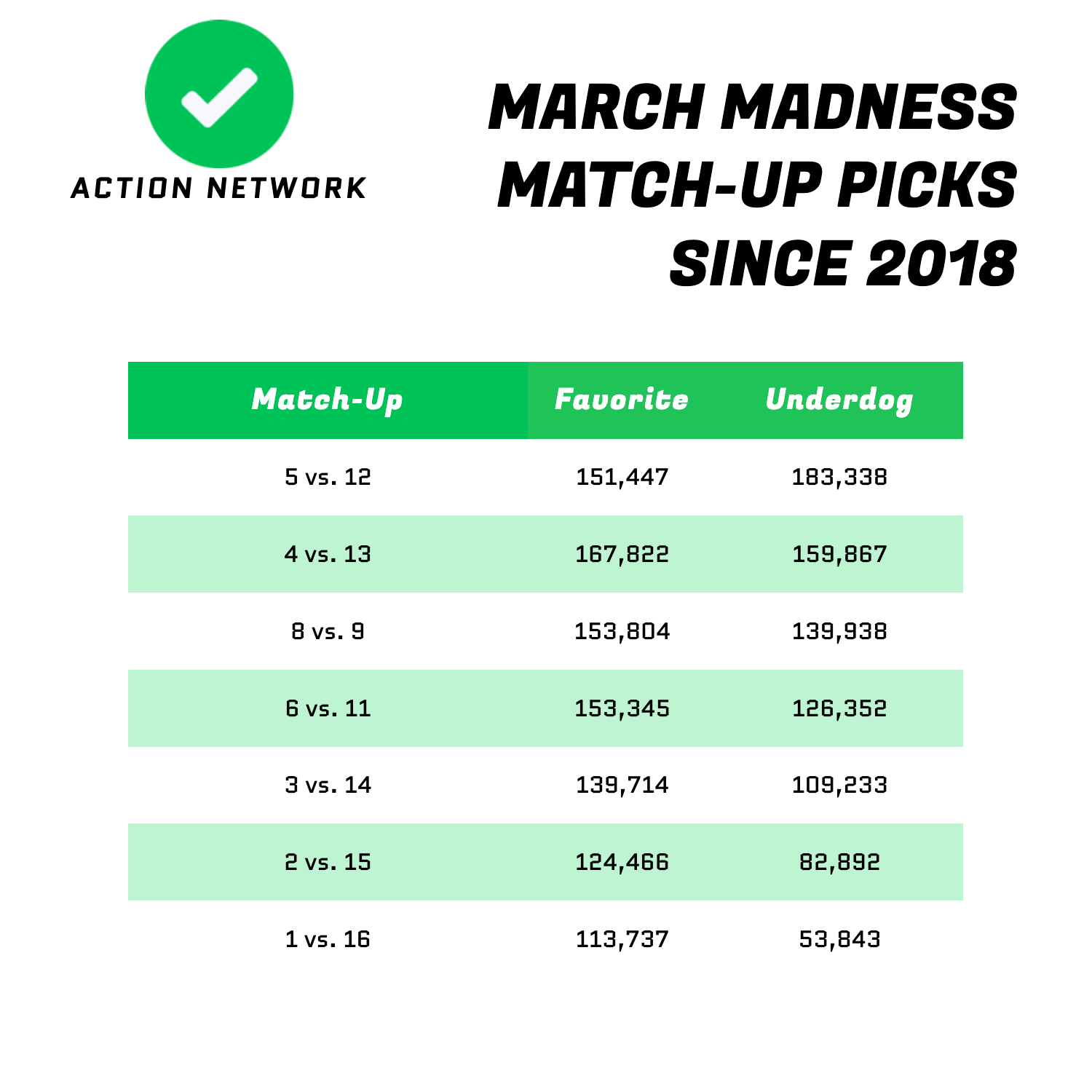 Top Picked Upsets by Year
The 5 vs. 12 seed games may get the most total pick volume in the Action App, but the top picked 1st round upset in each of the last four tournaments has come from a 4 vs. 13 game.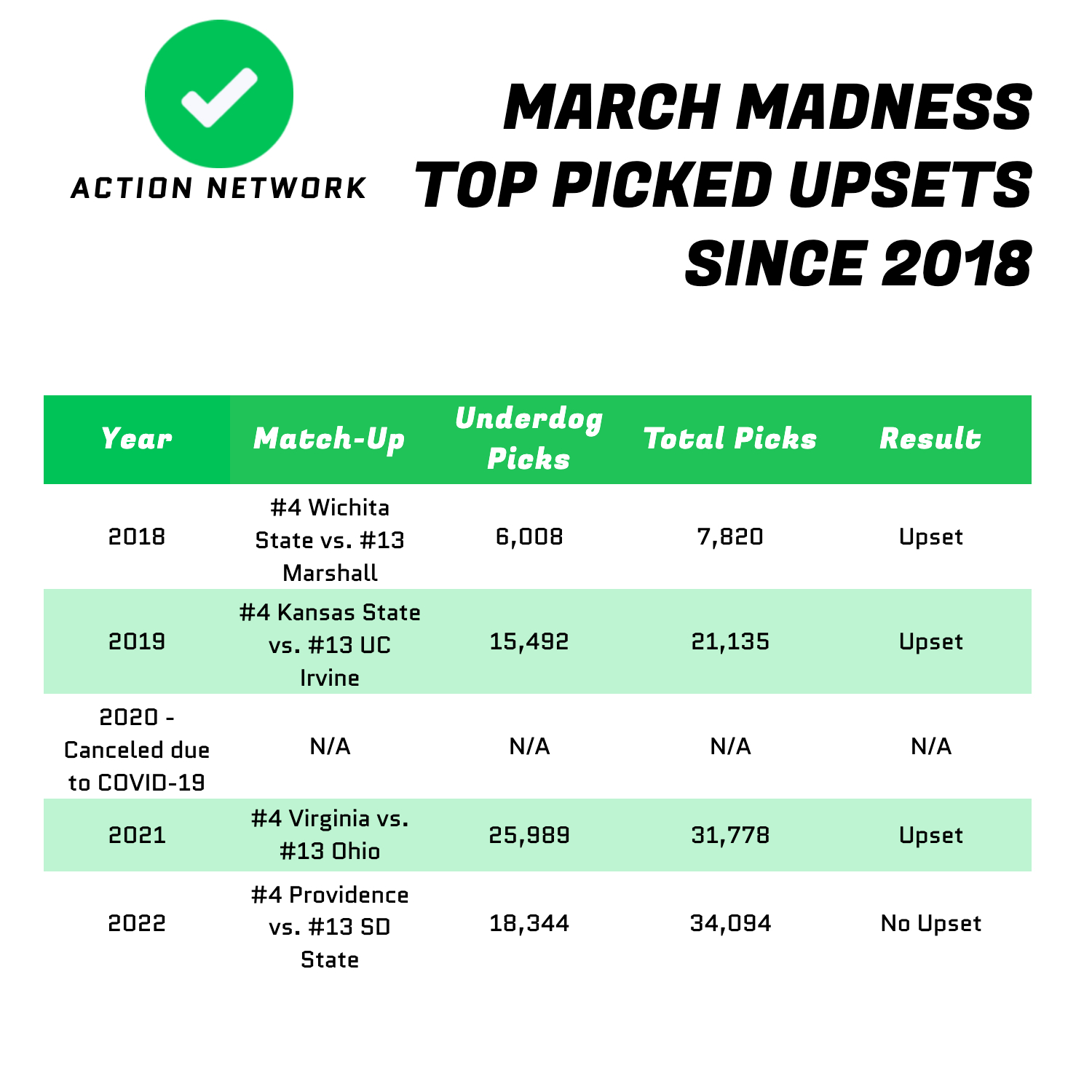 The real question is, though, how did bettors fare with their upset picks? 73% of wagers placed on the four top-picked upset games listed above went on to win. Not a bad showing for the Action App users!
Bottom line: The data clearly indicates that March Madness bettors should be scouring the 5-12 and 4-13 bracket lines for a potential upset bid in 2023.
Which Conference Do Bettors Have the Most Confidence in When Picking Upsets?
One of the best parts about picking March Madness upsets is that you're potentially more likely to select a team you don't know much about in the hopes they become the next Cinderella.
Small schools like St. Peter's or Loyola Chicago capture our attention with improbable runs into the later rounds. But, how much do bettors really trust schools from lesser-known conferences? Turns out, not much.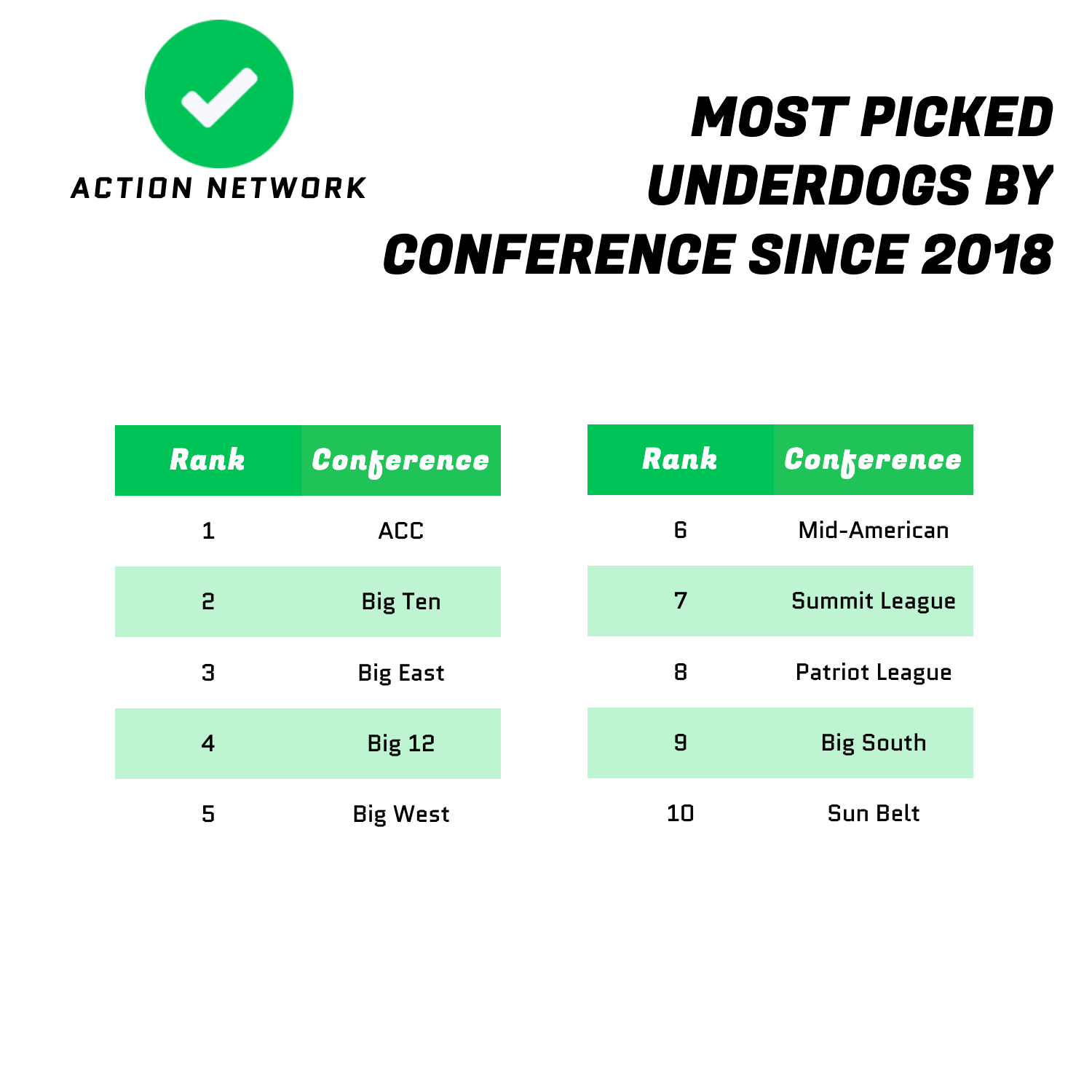 Schools from the major power conferences, led by the ACC, are more likely to be selected to win as underdogs by Action bettors compared to smaller conferences. 
Bottom line: Power conferences will always be more represented in the tournament, so there are more chances to pick a team from one of those rather than a smaller conference. That doesn't necessarily mean you shouldn't trust a smaller conference school if you've done your research and get a good match-up.
March Madness Picks for 2023
Now that we know how users have bet in the past, let's take a look at early tracked picks for the 2023 NCAA Tournament. 
Overall Top Picked Teams to Win the Tournament
Action bettors are all-in on Creighton early, with Houston following closely behind. The Big Ten is noticeably absent from the Top-5 picks after several disappointing tournaments in a row.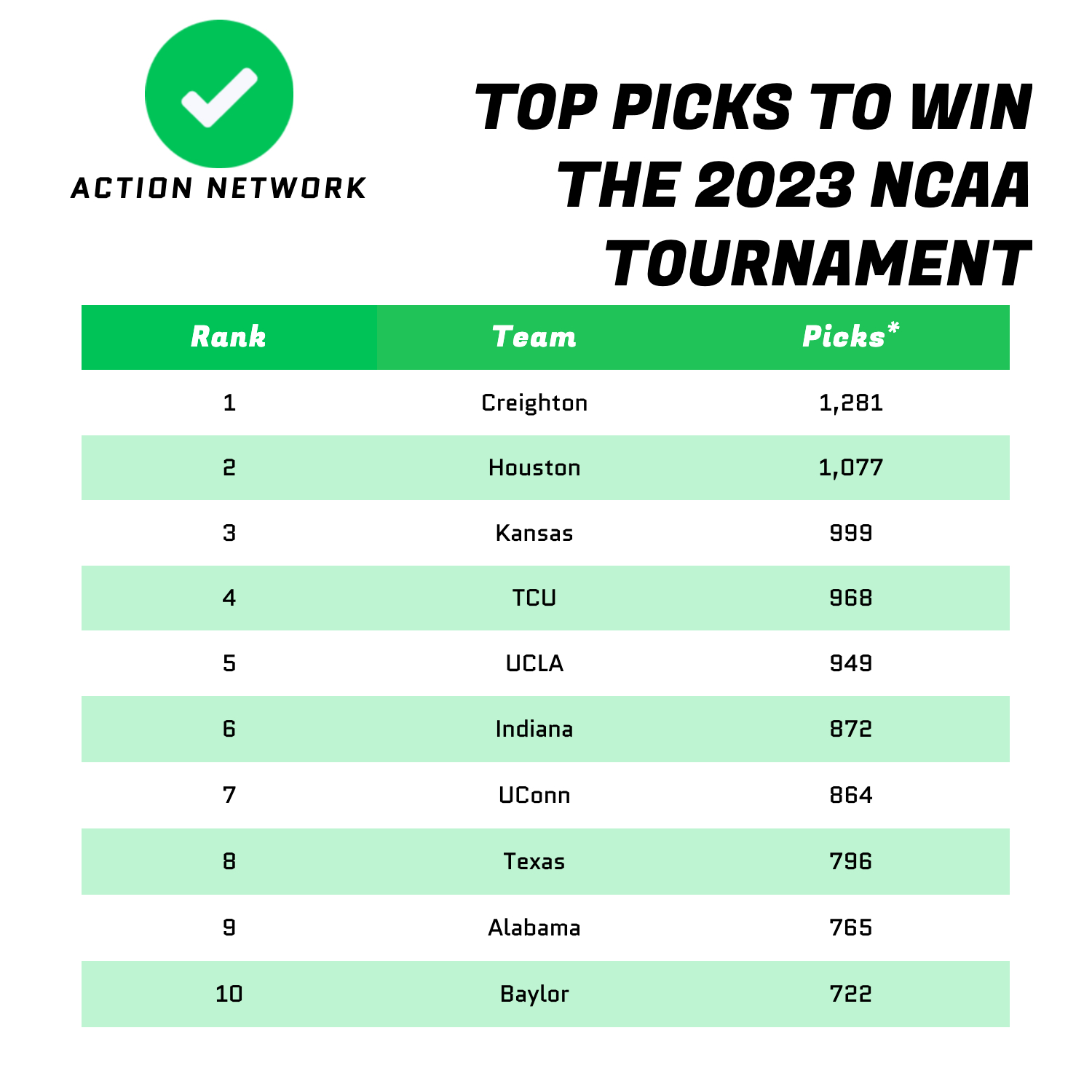 *Picks current as of March 8, 2023.
Plenty could change as the field of 68 gets finalized on Selection Sunday!
Top Picked Teams by State
There are some interesting state-specific favorites on who is going to win it all in 2023. Creighton is still the favorite choice among Action bettors by state, at this time.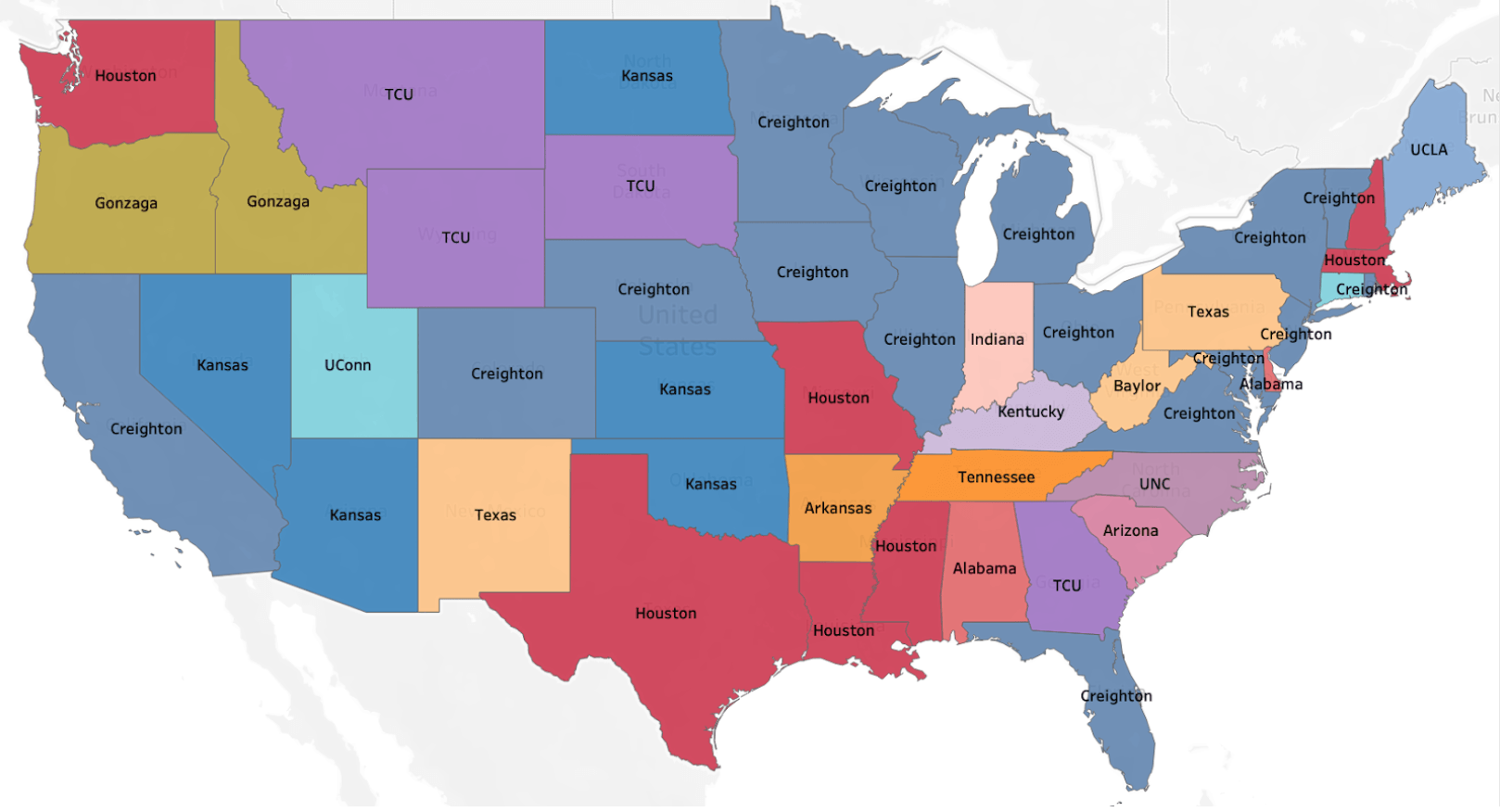 How to Bet on March Madness
If you want to bet on this year's NCAA Tournament, be sure to check out the Action Network's College Basketball homepage for all the bracketology analysis you need to pick wisely! 
For those new to online sports betting, be sure to also take a look at our sportsbook review hub to find the best new user promos and analyses.
How would you rate this article?
This site contains commercial content. We may be compensated for the links provided on this page. The content on this page is for informational purposes only. Action Network makes no representation or warranty as to the accuracy of the information given or the outcome of any game or event.