Contrarian Betting Strategy for Thursday's College Hoops Slate
Credit:
Erik Williams-USA TODAY Sports
The marquee matchup on the Thursday night slate is No. 1 Villanova vs. Creighton in a Big East showdown. No. 13 Saint Mary's, No. 14 Gonzaga, No. 16 Wichita State and No. 25 Arizona State are also in action. These are the games recreational bettors will target but further down the board is a C-USA contest contrarian gamblers can exploit.
Florida International (9-13, 3-6 C-USA) hosts Southern Miss (11-11, 4-5 C-USA) at FIU Arena in Boca Raton. Unless you wager on this game you won't be watching. The outcome will have little impact on the conference race and though not officially eliminated, each squad is a longshot to make the NCAA tournament.
What is intriguing about the clash between the Panthers and Eagles is each team's propensity to go Over the total. FIU and Southern Miss rank outside the top 100 in KenPom's defensive efficiency and have surrendered 70.0 points/game and 72.9 points/game, respectively. Combined, the Over is 19-11-2 (63.3%) when FIU and Southern Miss have hit the hardwood this season.
Since 2005, in more than 40,000 games, the Over has received a majority of bets 59.5% of the time. It's natural for casual bettors to lean toward the Over. It is more fun to cheer for points to be scored than a defensive struggle. Given each team's recent success going Over the total and the historical tendencies of bettors, you can guess where the money will be.
A simple contrarian strategy is to take the Under when two good Over teams play. Oddsmakers know the Over for FIU-Southern Miss will get action and will inflate the line anticipating public money. Sharp bettors willing to go against the grain not only get the benefit of fading the squares but pick up an extra point or more on the Under.
Trend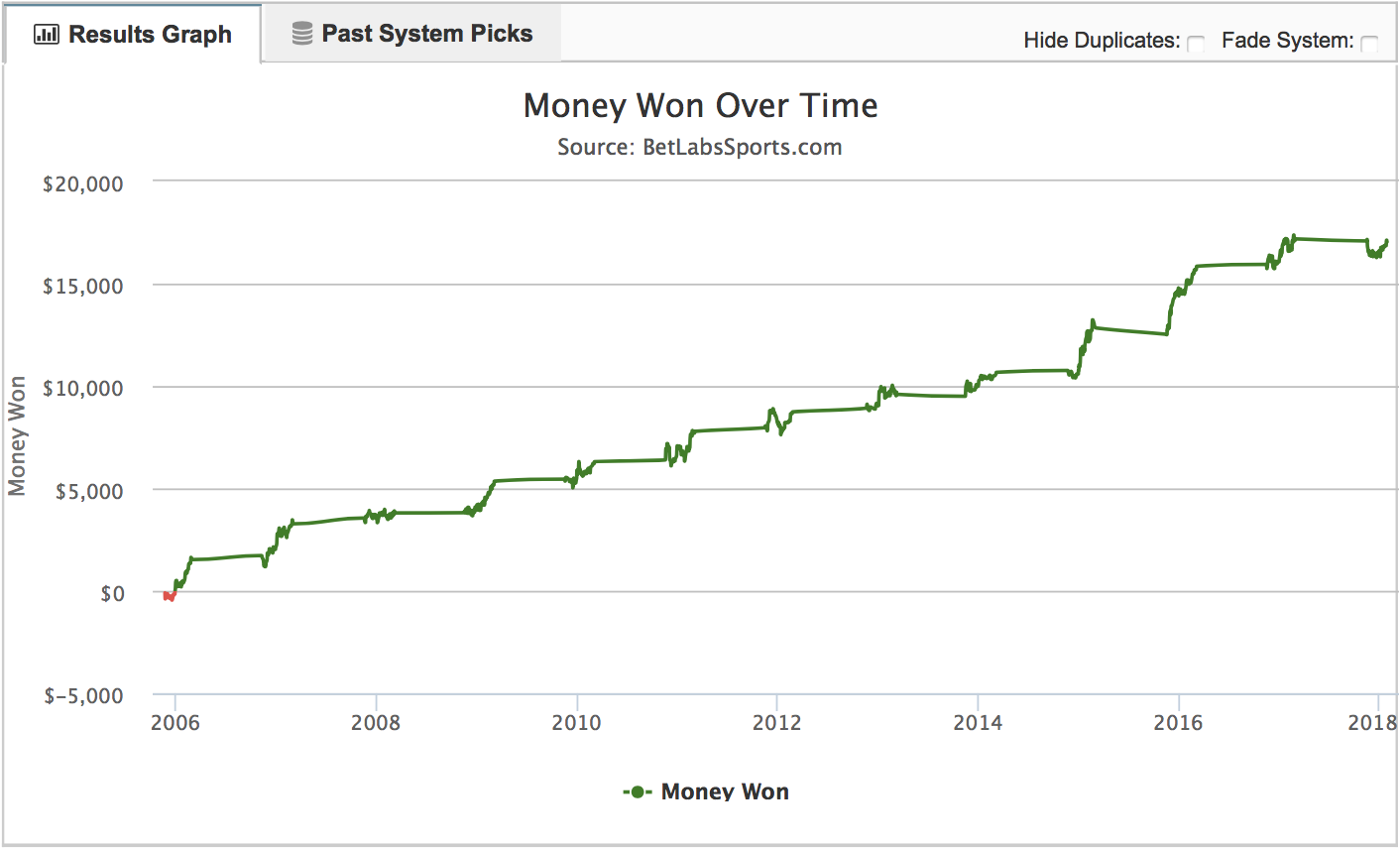 The Under when good Over teams play has gone 928-697-19 (57.1%) since 2005. A $100 bettor would have returned a profit of $17,024 following this betting strategy.
Our Pick
Bet the Under with confidence. This system has a +1,500-game sample and has been profitable 13 straight years. Like most fans, I enjoy watching a shootout, but I love money more, that's why I'm taking the Under.
Not a Bet Labs user? Try it for a month, get picks for this system and more!
Photo via Erik Williams-USA TODAY Sports