Big Monday Mega Preview: Will Trae Young and OU Upend Kansas Again?
Credit:
Trae Young vs Devonte' Graham
The good news? March is 10 days away. The bad news? There aren't too many appetizing matchups on tonight's college basketball card. The exception on Big Monday is the following Big 12 showdown that we will provide an in-depth preview for in today's betting guide:
Oklahoma at Kansas (-8.5) – 9 p.m. ET on ESPN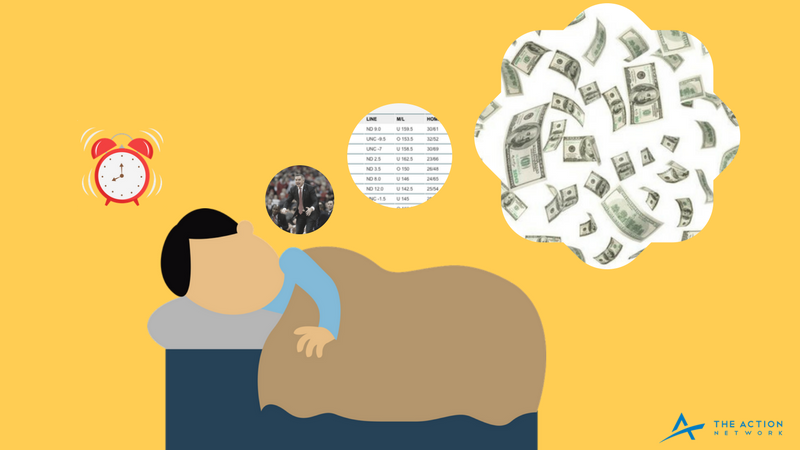 ---
Oklahoma at Kansas (-8.5) | O/U: 165.5
9 p.m. ET | ESPN
The Setup
By Stuckey
Oklahoma comes into this matchup after a bad home loss to Texas, which was its fifth consecutive defeat. In fact, Oklahoma is just 2-8 in past 10 ten games. The two wins came against Baylor and Kansas, both at home in games it trailed with a little over a minute to go. In that first meeting with Kansas, the Sooners actually came back to win after trailing by double digits with 9:12 remaining. Trae Young (pictured above) was sensational, scoring 26 points on just nine shots.
What does it mean for tonight's matchup?
The Sooners looked like road warriors in 2017, securing wins at TCU, Wichita State, and USC. However, they have since dropped seven straight away from home in 2018. They have at least been competitive in their past five road losses, with an average margin of defeat of just 6.2 points. The only one they lost by more than 8 points was a 10-point loss to Texas Tech, which was much closer than the final score indicates.
Kansas, meanwhile, has looked more vulnerable at the Phog this season than in recent years, compiling a 6-2 home record in league play. The two home conference losses are pretty unusual, but it could easily be more. Two of its home wins came after epic collapses from Baylor and West Virginia. Kansas State also missed a shot at the buzzer to beat its in-state rival in Lawrence. In fact, only one of Kansas' six home Big 12 wins has come by more than 8 points (11 against Texas A&M). Despite an extremely misleading 7-point margin against WVU on Saturday, its average margin of victory in those six games is just 5.8 points.
The Stakes
By Stuckey
Could the Sooners really go from a No. 4 seed in the initial NCAA tournament committee's reveal of the top 16 teams to on the bubble? If they don't end this losing streak soon, they just might. At this point, Oklahoma is just trying to finish in the conference's top six to get a coveted first-round bye for the Big 12 Tournament. Kansas has no such concerns, as the Jayhawks are more focused on jumping from a 2-seed in the aforementioned NCAA Tournament initial reveal to the 1-line.
Things always seem to work out for Kansas in Big 12 play. Its 13-year streak of having at least a share of the Big 12 regular season title was in serious jeopardy last week. Then Saturday happened. The Jayhawks rose from the dead to beat West Virginia, while Baylor barely pulled out a win against a shorthanded Texas Tech team. As a result, Kansas now sits in a tie for first with the Red Raiders. If each team can win its only game during the week, it will set up an enormous Big 12 showdown next Saturday in Lubbock.
Sharp Report
By PJ Walsh
Early betting has been very balanced so far with very little line movement or sharp action to speak of. We'll continue to monitor the betting market and update throughout the day as more money comes down on this matchup.
What I'm Watching For
By Bryan Mears
The Sooners aren't exactly tough to figure out: They play at the third-fastest pace in the nation and rank fourth in percentage of shots in transition. The Jayhawks' defense matches up well with Oklahoma's offense. They're solid in limiting effective transition opportunities, and good at defending near the rim. The Sooners will need another inspired performance from Young or they'll struggle to put up points in Lawrence. Hopefully he'll be up to the task: After OU's weekend loss to Texas, Young talked about bumping knees with Longhorns guard Kerwin Roach. Trae said, "My knee was hurting me the whole game. I wasn't getting the same burst I usually get." That could be a death knell for the Sooners Monday evening.
Situational Angle
By Stuckey
Kansas does have revenge, but it could be a little flat out of the gates after that emotionally draining epic comeback win against West Virginia just two days ago. I favor the Sooners from a situational perspective, as they are absolutely desperate for a win.
Schematically Speaking
By Jordan Majewski
I previously wrote about the OU-KU matchup a few weeks back before the first meeting. Not much has changed scheme-wise, but I'll re-hash some of the high-level points from that analysis for your reference.
When Oklahoma has the ball
Bryan mentioned the matchup in transition, which will be key.  In the half court, I still don't trust any Kansas secondary defender to swarm Young in ball screens, which seems to be the formula to slowing him down. Lagerald Vick gets lost easily on the defensive end and Svi Mykhailiuk lacks lateral quickness. If Self does choose to swarm with either, Young should be able to get to the rim or find an open shooter. I also expect Lon Kruger to run a lot more pick-and-pops with Brady Manek. The Sooners didn't utilize that action as much as I thought they would in the first meeting, but it did essentially win them the game.
Ultimately, Kansas wants to wall off the lane to keep Udoka Azuibuike out of foul trouble, which means the Sooners will get looks from the perimeter. They certainly have the shooters to take advantage, as they shoot 37.3% from behind the arc (75th best in the country). That shooting ability will also prevent Self from ever going to a zone defense, which he has done a number of times, either because of foul trouble or just overall poor defensive play.
When Kansas has the ball
Kansas should score at will. Oklahoma has a very subpar defense in almost every area. The Sooners will struggle to get stops against an elite Jayhawks offense that is especially deadly in transition. They also have a point guard in Devonte' Graham, who almost never makes a bad decision in pick and roll. Oklahoma's best hope defensively might be to just pray the Jayhawks have an off shooting night.
Stat to Monitor
By Stuckey
I will be closely watching Trae Young's first few 3-point attempts. As Jordan mentioned earlier, Oklahoma will get open looks from the perimeter. Kansas allows 24.1 three point attempts per game, which ranks 297th nationally. And only two players in the country attempt double digit three pointers per game: Young and Oakland's Kendrick Nunn. Young is shooting 36.9% from behind the arc, which is impressive given the volume. However, over his past three games, he is just 4-of-27 (14.8%).
Yes, teams are getting better at defending Young the second time around, but he has missed quite a few open looks, as well. If he sees the first few go down, look out. If he starts out cold, the mental and physical fatigue he seems to be carrying may creep into his head.
Getting Trendy
By Evan Abrams and John Ewing
After playing on Saturday, Kansas and Oklahoma will roll the ball out two days later (student-athletes?). The Jayhawks are 32-19-2 ATS on short rest (two days or fewer between games). They are the third most profitable team in this situation since 2005.
Oklahoma has lost seven consecutive games ATS (last covered vs. Kansas on Jan. 23). Since 2005, road teams on ATS losing streaks of more than five games have profited a $100 bettor more than $3,000 (55.6%). When the road team is an underdog, it has covered 56.5% of the time since 2005 (a sample size of more than 300 games) and 62.7% over the past three seasons.
What's Your Favorite Bet?
Stuckey: Oklahoma +8.5
Jordan: Lean Oklahoma +8.5
Mears: Trends favor Oklahoma +8.5, but Trae's knee scares me. Pass.
Editor's note: The opinion on this game is from the individual writers, and is based on their research, analysis and perspective. It is independent of, and may not always match with, the algorithm-driven Best Bets from Sports Insights.
Top photo via Rob Ferguson-USA TODAY Sports