Saturday College Basketball Betting Previews: Kentucky-Florida, Kansas State-Oklahoma State
Credit:
Nicole Sweet-USA TODAY Sports. Pictured: PJ Washington
February features huge road challenges for the top college basketball teams.
Both No. 7 Kentucky and current Big 12 leader Kansas State find themselves in that exact situation on Saturday.
Will they pass the test? Let's take a look.
Betting Odds: Kentucky Wildcats at Florida Gators
Spread: Kentucky -3.5
Over/Under: 129.5
Time: 4 p.m. ET
TV: ESPN
Kentucky (17-3) is playing its best basketball of the season, winning 10 of its past 11 games (including seven in a row). The Wildcats are only 11-8 overall against the spread, but have covered five consecutive games.
Meanwhile, Florida (12-8) has been plagued by inconsistency this season. The Gators are 4-3 in the SEC and 2-2 in their past four conference home games. And they're only 7-11 ATS, including an awful 4-8 at home.
Momentum is an important part of predicting conference games, and no team in the nation is hotter than Kentucky.
The Wildcats have won six consecutive SEC games by an average of 13 points per game. They're 17th in the nation in adjusted offensive efficiency with a balanced offensive attack, with four players averaging between 12 and 14 points per game.
They're even better on the other side of the ball, ranking ninth in the nation in adjusted defensive efficiency. They also rank inside the top 10 in the country in blocks with 5.5 per game.
On the surface, Florida appears to be Kentucky's equal defensively, ranking 10th overall in adjusted defensive efficiency. But a closer look at the Gators' SEC ranks reveals a different story.
In their seven conference games, the Gators rank 12th among the 14 teams in the same adjusted defensive efficiency category. They're just 13th against 3-pointers, allowing opponents to shoot a robust 36.4% from deep.
The Gators' offense has been below conference average (eighth), and now faces a Kentucky team featuring the best SEC defense in conference play.
Kentucky's defensive weakness has been against the 3, but the Wildcats actually rank third overall in SEC play, allowing only 32.5% to their opponents.
The key to the Kentucky hot streak has been sophomore forward PJ Washington (13.4 PPG, 8.3 RPG). He's averaging 22.3 points, 10.3 rebounds, 2.1 blocks and six made 3-pointers over his past three games.
Kentucky's defense has been fantastic in SEC play and Florida's offense has been well below conference average. The Wildcats' superior efficiency on both sides of the ball and momentum is too much for the Gators to match.
With a minimum line of 3.5 points, grab a Kentucky team that has easily covered four of its five SEC games.
THE PICK: Kentucky -3.5
Betting Odds: Kansas State at Oklahoma State
Spread: Kansas State -3.5
Over/Under: 124
Time: 6 p.m. ET
TV: ESPNU
Kansas State (15-5) has found its stride, winning five straight Big 12 conference games. The Wildcats are just 9-9 overall ATS, but have covered all four conference games since center Dean Wade (13.6 PPG) has returned from injury.
Oklahoma State (9-11) is in a rebuilding season and has lost three of its past four games. The Cowboys are 2-5 in the Big 12 and have lost three of their four home games. They're also only 7-11 ATS, including 4-5 at home.
Kansas State has been a different team since Wade's return. The Big 12 Preseason Player of the Year had 17 points, seven rebounds and shot 3-of-6 from beyond the arc in the Wildcats' most recent game.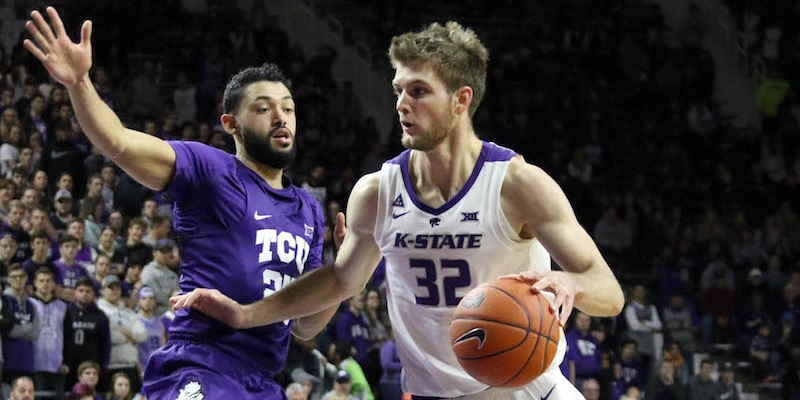 He's desperately important to a Kansas State offense that has only ranked seventh in conference play.
The key to the Wildcats' success is their defense. They rank fourth overall in adjusted defensive efficiency in the nation and are second-best within the Big 12. Kansas State is also best in the Big 12 in turnovers forced since conference play began.
Oklahoma State is the complete opposite of Kansas State defensively.
The Cowboys rank only 252nd with 12.6 turnovers forced per game. They also rank last in the conference (214th in the nation) with just six steals per game.
The Cowboys aren't much better on offense, either. They rank last in conference play with just a 42.4% 2-point shooting percentage and are terrible on the free throw line, shooting only 68.4%.
Kansas State has been scalding hot in the conference since Wade's return. The Wildcats' offense is much improved and is always complimented by one of the best defenses in the nation. With wins at Iowa State and Oklahoma already, playing at Oklahoma State will not be a problem.
This is a bad matchup for the Cowboys. The Wildcats were upset by Texas A&M and won't be caught napping. They'll score at will against the Cowboys' defensive sieve, and the defense always shows up.
Kansas State extends its conference win streak to six games with an easy win at Oklahoma State.
THE PICK: Kansas State -3.5