College Basketball Odds & Picks: 8 Best Bets for Thursday's Late-Night Conference Tournament Games
Credit:
Photo by Rich Schultz/Getty Images. Pictured: Jon Harrar (Penn State)
The best part about Championship Week is that every day feels like a college basketball Saturday. Obviously, the stakes are raised dramatically, but there are games from late morning to almost midnight, making it a bettor's dream.
After touching on the early matchups and the evening affairs, our staff is back to give you eight best bets for Thursday's late-night conference tournament games.
Below, we touch on the SEC Tournament in Tampa, the Big Ten Tournament and many other events!
---
Thursday's Late-Night Conference Tournament Best Bets
The team logos in the table below represent each of the matchups that our college basketball staff is targeting from today's slate of games. Click the team logos for one the matchups below to navigate to a specific bet discussed in this article.
---
Vanderbilt vs. Alabama (SEC Second Round)
Vanderbilt continues to fly under the radar and is a team that is quietly playing really solid ball right now.
The Commodores absolutely dominated Georgia last night and now enter this second-round matchup against Alabama with some momentum.
When these two teams met earlier in the year in Nashville, it was a back-and-forth affair that the Tide ultimately won, 74-72.
I expect another highly competitive game again tonight. Alabama has struggled with lesser competition throughout the season, largely because its defense sits outside the top 90 in adjusted efficiency.
When the 3-point shots aren't falling, the Tide have proven they can be very vulnerable.
Scotty Pippen Jr. went for 26 against Bama in the first meeting, and the junior should be poised for another big night this evening.
I don't know if the Dores have enough firepower to pull off the upset outright, but expect them to hang inside the number here.
Pick: Vanderbilt +5.5 (Play to +5)
---
---
McNeese State vs. New Orleans (Southland Quarterfinal)
By Jim Root
If it was an option, my best bet here would be the over on combined free throw attempts. These two teams assault the rim with reckless abandon, and both defenses are quite prone to hacking.
One of these teams is just better at that strategy, though. That would be the New Orleans Privateers, who rank first in the entire country in free throw rate.
McNeese's defense ranks 340th in defensive free throw rate. Given those numbers, it should come as no surprise that New Orleans took 107 ([) total free throws in three meetings this year. Of course, McNeese took 95 in those games.
This will truly be a foul fest. Therein lies the other clear edge: making those free throws.
New Orleans knocks down 73.7% of its freebies, 102nd nationally. McNeese, meanwhile, converts 65.5% of its attempts — which ranks 344th. This will basically be a free throw contest, so I happily will take the demonstrably better team at that particular aspect of the game.
One extra edge: the McNeese Cowboys are in a tough schedule spot for their legs. They are obviously on a back-to-back, but they also played a quadruple-overtime game on Saturday.
Yes, that was a few days ago. But the cumulative effect of those two games could catch up against a fresh New Orleans team that has been resting since the weekend.
Pick: New Orleans -5 (Play to -6)
---
---
Penn State vs. Ohio State (Big Ten Second Round)
​​I adore this Penn State team — specifically, as underdogs, a spot in which the Lions have gone 11-6 against the spread this season.
Micah Shrewsberry's team plays at a slow pace (354th in tempo) and plays excellent interior defense (first in the conference in 2-point defense, 45.2%). Moreover, with human vacuum John Harrar anchoring the interior, Penn State is a great rebounding team.
Harrar is averaging 10 points and 10 rebounds per game while also ranking top-15 nationally in both offensive and defensive rebounding rate. He's one of the elite rebounders in the Big Ten.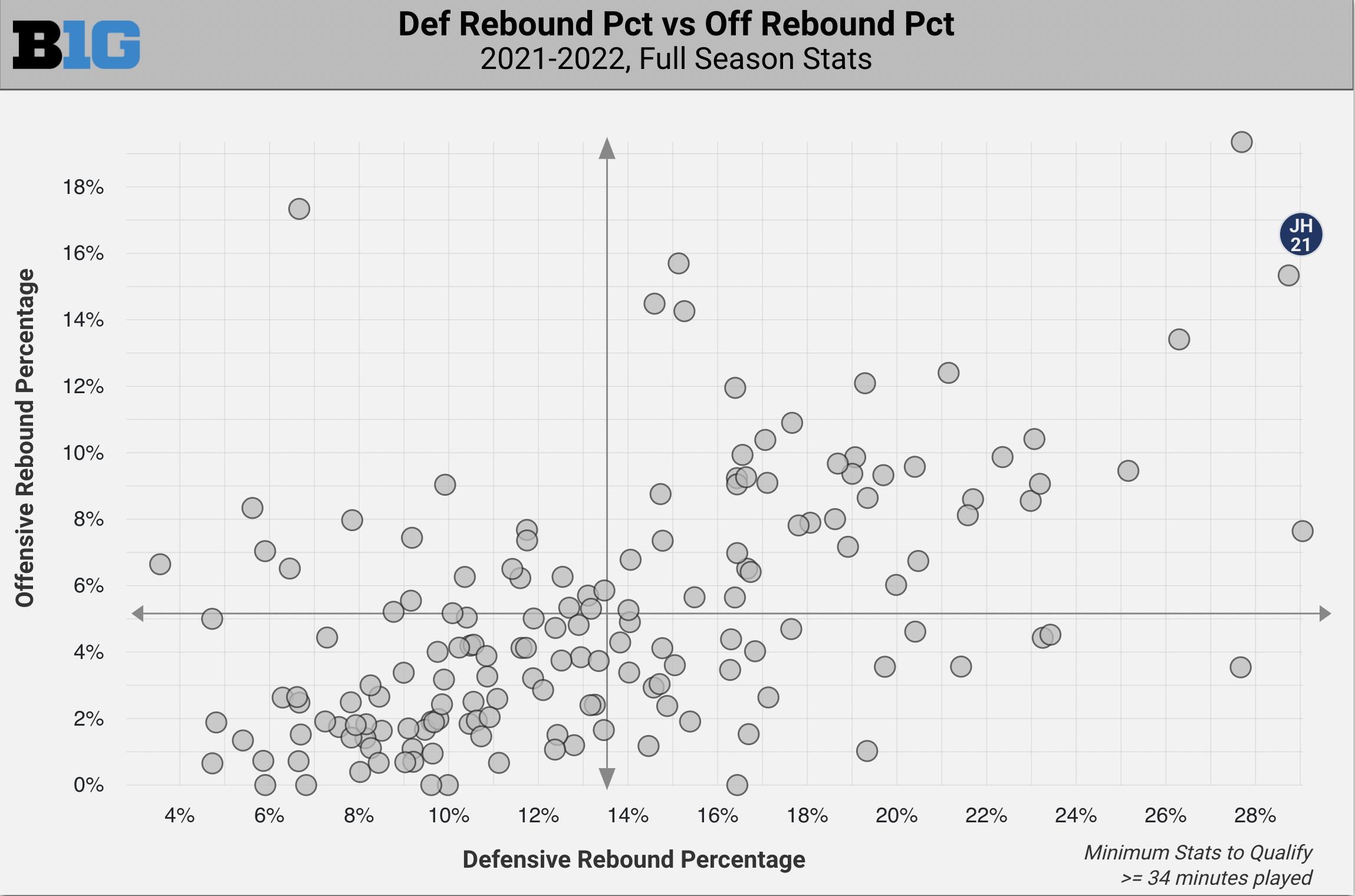 Additionally, Penn State is analytically smart on defense. Only one team in the country (Illinois) has forced a lower rim-and-3 rate on that end of the floor, with PSU's opponents at 72%.
I am a little worried about Ohio State just posting up over and over. OSU goes to the post at a top-10 rate nationally, and E.J. Liddell, Kyle Young and Joey Brunk eat in that situation. The Buckeyes score 1.0 PPP posting up, and Penn State's post-up defense is nothing to write home about.
But Ohio State has not been impressive down the stretch. The Buckeyes lost 3-of-4 to close the season, all as favorites of five points or more. The losses dropped OSU's ATS record to 10-11 when laying points.
I'm willing to take the post-up risk with PSU given how impressed I've been with Shrewsberry's approach. The Nittany Lions kept it within five against OSU in Columbus — why not in Indianapolis?
Pick: Penn State +5.5 (Play to +5)
---
---
UTEP vs. Middle Tennessee (Conference USA Quarterfinal)
By Keg.
The Miners ended the regular season on a high note, notching wins over Rice and North Texas. They were able to keep the streak alive in their first game of the C-USA Tournament, taking down Old Dominion, 74-64.
UTEP seems poised to make a run in this event. As the fourth-ranked team in the West, the Miners may not be at the top, but that's due in large part to playing in a division that has been significantly more difficult than the East.
And while they did just play yesterday, the Miners have a ton of talent all the way down their bench.
The Blue Raiders are a decent team when it comes to rebounding, but the Miners have a solid advantage in height, which I believe will absolutely play a factor.
The Miners are also the best team in terms of defensive turnover percentage in league play.
I will be backing the Miners down to a two-point underdog.
Pick: UTEP +3 (Play to +2.5)
---
---
Niagara vs. Monmouth (MAAC Quarterfinal)
With Rider pulling the upset over Iona, the stakes have been raised for this matchup between Niagara and Monmouth. The winner will be the favorite to make it to the MAAC Tournament title game.
Niagara is led by the second-leading scorer in the conference in Marcus Hammond, who is averaging 18 points per contest. Hammond has had a streaky career shooting the basketball, but has found a groove by converting on 37% from 3 this season.
Monmouth has a triple threat offensively, with three players averaging over 14 points per game. Seton Hall transfer Shavar Reynolds and North Carolina transfer Walker Miller have made an immediate impact, and sit among the top-10 players in the conference in scoring.
These two programs split the season series, with each side winning on the road, and the defenses owning a clear advantage over the opposing offenses.
Monmouth has more offensive options, which will be crucial in a matchup that's expected to be a lower-scoring game. The Hawks were able to put the clamps on Hammond in the first matchup, holding him to 2-for-9 from the field. As a result, the Niagara offense failed to eclipse 50 points in that game.
If you shut down Hammond, you shut down the Purple Eagles' offense. I'm backing Monmouth, which has more scoring depth. That will be on full display tonight.
Pick: Monmouth -2 (Play to -3)
---
---
Alabama A&M vs. Florida A&M (SWAC Quarterfinal)
No. 5 Alabama A&M and No. 4 Florida A&M meet on day two of the SWAC Tournament.
The season series is split 1-1 between the two schools, with both teams getting a road victory. Alabama A&M lost 65-his 60 in Huntsville on Jan. 29 before winning, 71-63, in Tallahassee on Feb. 21.
Alabama A&M has the third-ranked defense in the SWAC, with an AdjD of 101.7 points. This compares to the seventh-ranked defense of Florida A&M that has an AdjD of 108.2 points.
Alabama A&M ended the season as one of the hottest teams in SWAC, winning seven of its last six contests. Its only loss was a 50-49 defeat to Southern.
I am projecting Alabama A&M as very slight favorites, and I find value on a moneyline play here. Back the hot Alabama A&M Bulldogs.
Pick: Alabama A&M ML +120 (Play to +115)
---
---
Abilene Christian vs. Stephen F. Austin (WAC Quarterfinal)
By Ky McKeon
Two of the four former Southland squads square off in a quarterfinal battle for the chance to play Seattle on Friday. Abilene Christian used an impressive second half and scorching outside shooting to take down Utah Valley, while Stephen F. Austin has been off since March 5.
These teams met twice in the regular season with SFA winning both matchups in close fashion.
In the first game, the story was defense. ACU forced 26 turnovers but scored just 0.78 PPP. In the second, SFA dominated the offensive glass by grabbing 44% of its misses and buckled down on the turnovers by committing just 17 over 40 minutes.
SFA is the hotter team. The Lumberjacks have won 10 straight, and head coach Kyle Keller has done a terrific job adjusting his style of play to compensate for the loss of star guard Roti Ware.
Ware went down with a season-ending injury in the non-conference portion of the schedule, and SFA struggled to cope with his loss for several games.
Now, the Jacks are firing on all cylinders.
There's motivation from the Jacks' standpoint. This is their first postseason game since 2018. In 2019, the Jacks had an uncharacteristically poor season. In 2020, COVID-19 hit. In 2021, SFA was banned from the postseason due to academic issues. This is its chance to shine and get back to the Big Dance.
SFA forward Gavin Kensmil will be a huge mismatch against the small ACU interior, and the Jacks in general should destroy the offensive glass.
But as ACU showed against UVU, the Cats can make up for this weakness with stifling perimeter pressure. SFA needs to take care of the ball, which might be a tall task for a team that turns it over at one of the highest rates in the WAC.
On the other end, SFA is a tough matchup for ACU. The Jacks are ballhawks, athletic, and super quick — basically everything ACU usually uses as an advantage. SFA is one of the few teams that can match ACU's intensity on this end, and that should throw the Cats off their game.
Take SFA as a short favorite and look to back the Jacks against Seattle in the semifinals.
Pick: Stephen F. Austin -1.5 (Play to -2.5)
---
---
UC Riverside vs. Hawaii (Big West Quarterfinal)
By Keg.
UC Riverside may have beaten Hawaii at home earlier this season, but I think this game will be very different on a neutral court.
The Rainbow Warriors have won three of their last four games heading into this matchup. And while UC Riverside has had most of its success as a result of rebounding, Hawaii has the size to challenge the Highlanders around the basket.
Both teams rely heavily on their defense to be their driving force, but the Rainbow Warriors have been consistently more efficient on both ends.
Hawaii is 25th in the nation when it comes to defensive rebounding, as well as the best team in the conference in 3-point shooting.
I think the Rainbow Warriors can win this game outright in a close fight.
Pick: Hawaii +2 (Play to PK)
---
---
How would you rate this article?
This site contains commercial content. We may be compensated for the links provided on this page. The content on this page is for informational purposes only. Action Network makes no representation or warranty as to the accuracy of the information given or the outcome of any game or event.