College Basketball Odds, Picks, Predictions: Stuckey's 10 Favorite Bets on Saturday (January 15)
Credit:
Chris McDill/Icon Sportswire via Getty Images. Pictured: Shakeel Moore (3).
It's Saturday. That means all the college basketball.
Stuckey has looked up and down the full slate of games and made 10 picks he likes the most.
Check out his predictions and breakdowns below.
With college football in the rearview mirror, it's all systems go for college basketball through the end of the NCAA Tournament.
That means more time to break down these beautiful full college basketball Saturday slates. Throw in some NFL playoff betting, and it's a beautiful time of the year.
Here are 10 spots I had circled for Saturday's card.
---
Noon ET on ESPN2
What a past seven days it's been for the Red Raiders, who have wins over Kansas, Baylor and Oklahoma State — all without one of their best players. Impressive stuff.
However, it might now be time to sell in a very sleepy spot for a noon tip in Manhattan.
While Texas Tech may come out a little flat after three massive efforts (with a rematch against Iowa State on deck), I expect a desperate effort from a Kansas State team that has lost four straight to fall to 0-4 in Big 12 play.
Despite the losing streak, Bruce Weber's bunch has still been very scrappy. They've just come up a tad short in a number of games with three of those four losses coming by three points or less — two of which came away from home.
From a matchup perspective, the Wildcats haven't been coughing up the basketball, owning the lowest turnover rate in conference play. That's important against a Texas Tech defense that ranks first in that category.
They've also excelled in transition D, where Texas Tech has thrived when it gets a chance to get out and run. It's an excellent Kansas State defense
Also, keep in mind that Texas Tech struggles from the free-throw line, which could come into play late.
Yes, the Red Raiders should see Terrence Shannon return to the lineup tomorrow, but that could actually work against them in his first action in over a month as he shakes off the rust and works his way back into the lineup.
This is my favorite sell-high spot on the board.
1 p.m. ET on NEC Network
I'm sure Bryant has had this game circled after getting upset at home by Mount in the NEC title game with a shot to go to the Big Dance.
Bryant has had a disappointing start to the season but has dealt with some COVID-19 issues and now should have its full arsenal available.
The Bulldogs should also have some positive shooting regression coming their way. On the season, they're shooting just 28.3% from 3 and allowing opponents to hit 36.5% of their attempts from beyond the arc. Both rank outside the top 300 just one season after they finished in the top-20 in both categories. Some regression was certainly due, but they are a much better shooting team than they've shown.
The Bulldogs are also much better equipped to handle Mount down low with the addition of George Mason transfer Greg Calixte.
Plus, I'm just not a fan of the Mounts, who I have power rated at 315th in the country. It's an absolutely abysmal offense that no longer has Damian Chong Qui to bail them out late in possessions and games as he did so often last season.
Lastly, I love the Bryant coaching staff, led by head coach Jared Grasso, who will have over a week to prepare for this revenge spot.
Mount will try to ugly this up, but Bryant should roll if the shots are falling.
2 p.m. ET on ESPN2
Time for another donation to the fade LSU fund.
The Tigers have raced out to a 15-1 start thanks to a defense that ranks No. 1 in the country in adjusted efficiency by a wide margin. You have to give a lot of credit to head coach Will Wade for what he has done with this team after losing a number of pros from last year's squad.
That said, they've been extremely fortunate from an opponent shooting perspective.
From a shot quality perspective, LSU grades out as the second-luckiest team in the country with a projected record of 10-5. Teams have shot just 26.3% from 3 and 62% from the line, which both rank in the top-five nationally. That's even more critical considering LSU gives up a ton of 3s (353rd in 3P rate) and will foul at a decent clip with its hyper-aggressive defense.
It's simply not sustainable. The regression monster looms in Baton Rouge.
Even in the one game in which I did back LSU this season against Kentucky, the Wildcats lost two of their best guards to injuries and had to play almost the entire first half without star big man Oscar Tshiebwe.
Meanwhile, Arkansas has some positive shooting regression coming its way on both ends. The Hogs are shooting just 29.7% from 3 with a few key players really underperforming in that area.
Also, after a very disappointing start to the season, they made a major lineup adjustment prior to their last game against Missouri, rolling with a starting lineup of five guys who had never played together this season.
That resulted in a 44-point victory over the Tigers. It's still Missouri, but the energy level alone should give Arkansas fans some optimism. I think it was just the spark this team needed.
Matchup-wise, Arkansas can battle on the defensive glass (top-10 nationally) and take care of the ball, which are two necessities against an LSU team that will likely be without guard Xavier Pinson for a second-straight game.
It's also worth noting Arkansas head coach Eric Musselman won't be on the sidelines for this one after undergoing surgery. for a torn rotator cuff
I think the Hogs have a decent shot at pulling off a much-needed high-quality road win here while also avenging last season's SEC Tournament loss. That is assuming they don't shoot 20% from deep and miss every free throw.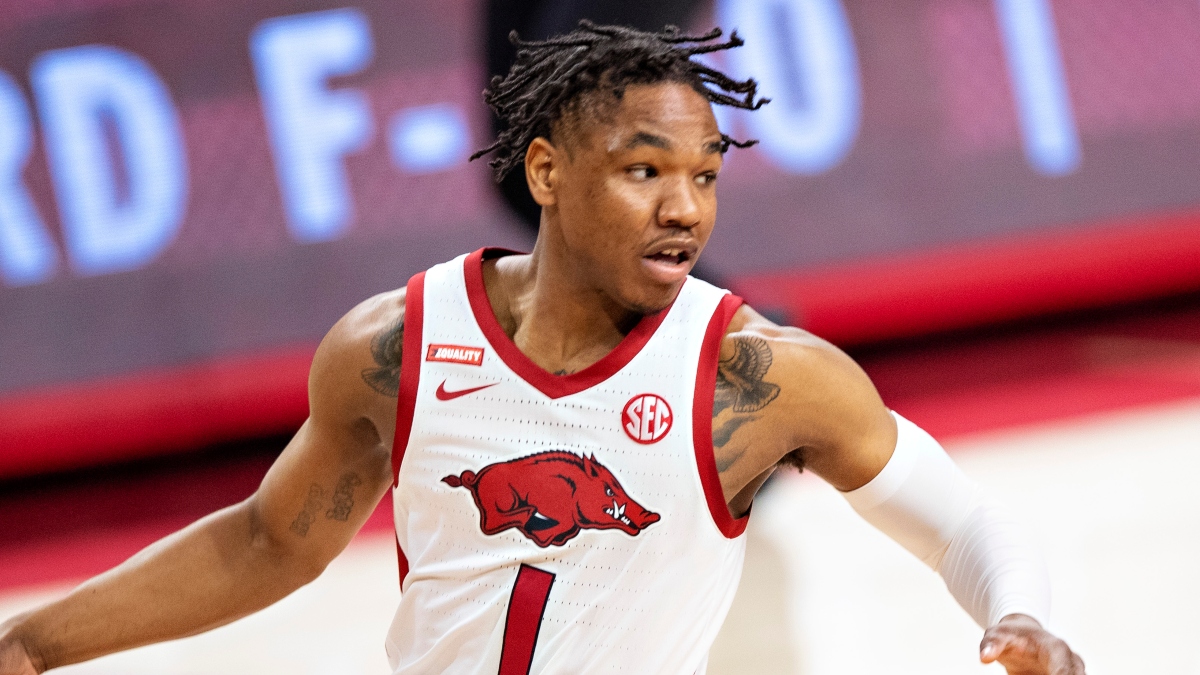 2 p.m. ET on ESPN+
On the surface, this looks like a decent spot for Iowa State in front of its awesome home crowd in Hilton after two straight losses. However, I actually think the market is still overvaluing the Cyclones, who have crashed back down to earth of late after a torrid start that almost nobody saw coming.
These are two elite defenses by every metric, but I actually give the edge to Texas in that department. The Longhorns really have no weaknesses on the defensive end, ranking No. 1 in shot quality. And on the other side of the ball, Texas holds a distinct edge, as Iowa State still has major issues in its half-court offense.
Texas also shouldn't turn it over much against a swarming Iowa State defense, while the Clones have turnover issues of their own. It can also live on the offensive glass and get to line — where it excels — frequently.
Plus, I expect Tre Mitchell to be closer to full strength after playing only two minutes last game coming off COVID-19 protocols. That would be a massive addition.
It won't be easy in a very tough environment, but I'll take the better offense and coach in a battle of two elite defenses.
For what it's worth, I may roll with the Texas ML instead of laying the short spread in a game where points will likely come at a premium. I think Texas gets its first signature win of the season away from home.
3:30 p.m. ET on SEC Network
This is a pretty terrible spot for Texas A&M. After three straight conference wins, it will head out on the highway to take on SEC bottom-feeder Missouri before heading back to College Station to host Kentucky.
Lookahead, sandwich, letdown spot… whatever you want to call it, there's a good chance the Aggies come out a little flat or disinterested for this one.
It's not surprising Missouri has struggled out of the gates with an almost entirely brand new roster against a top-20 national schedule. It's also one of the least talented high-major teams in college basketball, but we should see some improvement with increased continuity as the year progresses.
The Tigers are coming off an embarrassing 44-point loss at Arkansas, but that game came after a huge home win over Alabama against a desperate Hogs squad. It was a terrible spot for a club I have no faith in on the road.
It's a different story at home, where I will occasionally hold my nose and back them in Columbia, where they've won four straight after a six-point loss to Wichita State. I expect maximum effort here.
Meanwhile, the Aggies have been one of the most pleasant surprises this season, jumping out to a 14-2 start with a perfect 3-0 record in league play.
However, Buzz Williams' bunch has benefited from an extremely favorable schedule to date (325th nonconference strength of schedule, per KenPom) with only two true road wins over Georgia (by 2) and Oregon State. Not exactly resume-wowing victories.
I also expect some more 3s to fall for Missouri eventually. The Tigers are shooting just 24.4% from distance. While they do not project as a good shooting team by any stretch, they aren't that bad, especially when you look at career averages.
On the flip side, I don't expect Texas A&M to continue to ht 38.2% from deep. Missouri can also have some success on the offensive glass against an Aggies bunch that can be a bit vulnerable in that department.
And similar to Texas Tech, Texas A&M is woeful from the line (347th), which could play a role down the stretch in a tight game or open up the backdoor if needed.
4 p.m. ET on NBCS-BA
This is simply too many points here for an excellent Santa Clara offense at home in its Super Bowl against a Gonzaga team that will be playing its first true road game of the season.
I'm not surprised there's a tax on the Zags here, especially after blowing out BYU the other night.
An extra day of rest and prep won't hurt the Broncos, who do at least have some size to battle Gonzaga. The backdoor could also be wide open if needed in this one.
4 p.m. ET on Stadium
I'm sure Western Kentucky has been waiting for this rematch after losing in the C-USA title game in excruciating fashion, which prevented a couple of program mainstays from ever getting to the Dance.
After falling behind 17-0, WKU rallied to take a 48-41 lead with three minutes to go before melting down and eventually falling in overtime. Now, it's time for some sweet revenge at home.
North Texas also has some looming regression in regards to opponent shooting. Teams have shot just 64.2% from the line and 28.5% from deep against the Mean Green on the season. Both rank top-25 in the country.
Now, I don't expect much from the 3-point line, considering they are an excellent half-court defense that has allowed the 20th-fewest open jumpers in the country, but that percentage should creep up a bit.
Ultimately, I think Western Kentucky's length and size advantage ends up being the difference. North Texas will also be playing its second game in three days, which limits some of the preparation time for the excellent Grant McCasland.
6 p.m. ET on ACC Network
Virginia Tech has been completely snakebit this season and now finds itself all alone in last place in the ACC at 0-4.
After a 5-0 start against inferior competition, the Hokies have dropped seven of their last 10. Yet, I still have them just inside the top 30 of my latest power ratings. They also sit at No. 31 on KenPom.
This is still a good team that has just come up short in close games and grades out as one of the 10 unluckiest teams in the country, per ShotQuality.
Meanwhile, Notre Dame has won six straight and finds itself at 4-1 in the ACC — just a half-game behind first-place Miami (Yes, the ACC is weird this year).
Unlike Virginia Tech, the Irish have been very fortunate in close games, going 4-0 in games decided by five points or less. They've also been a much different team away from South Bend. They got blown out at Boston College and had super close wins at Georgia Tech (in overtime) and Pittsburgh (by one).
From a matchup perspective, Notre Dame won't pressure point guard Storm Murphy, who can be a bit turnover-prone. Therefore, the Hokies should have no issues getting into their offense in the half-court, where Keve Aluma and company have some clear advantages.
This is my favorite buy-low spot on the board. I think the Hokies take out their frustrations and pick up their first ACC win in convincing fashion.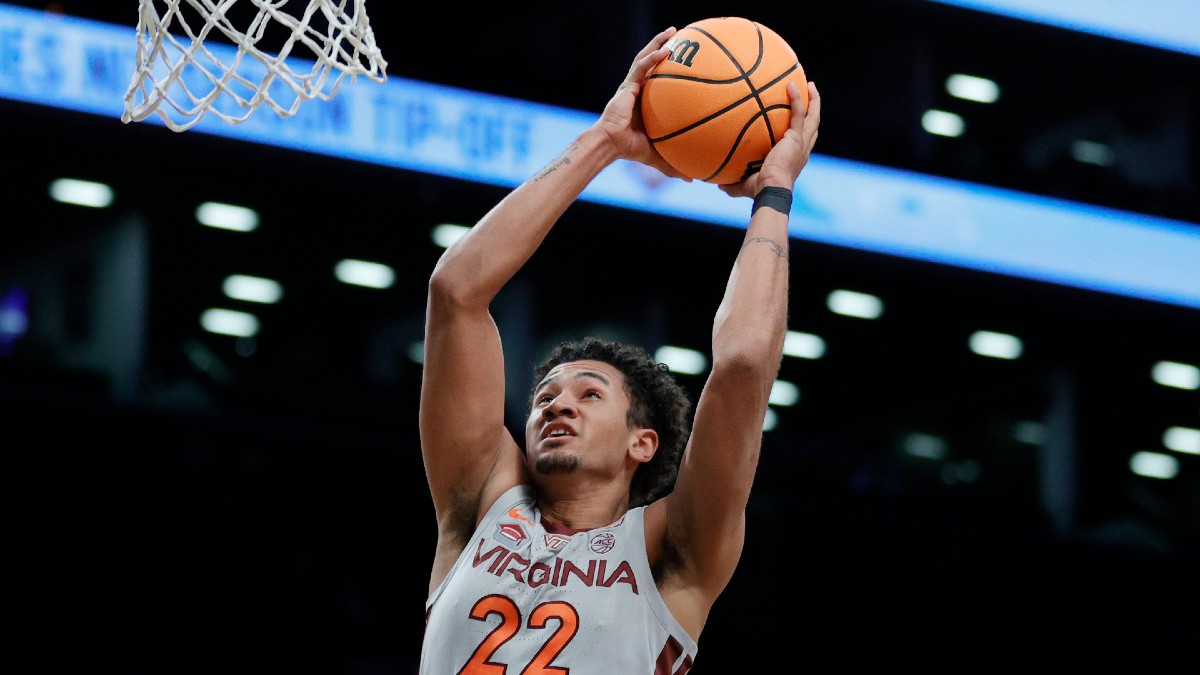 6 p.m. ET on SEC Network
The Tide have lost two straight, but I think that losing streak may move to three after a trip to Starkville on Saturday night.
Despite the two-game slide, it's not an ideal situational spot with this road game sandwiched in between Auburn and LSU. Plus, I'm sure Mississippi State has been waiting for this one after going 0-3 against Alabama last year, including an embarrassing 85-48 loss in the SEC Tournament.
The Miss State defense does allow a ton of 3s (334th in the nation) which is where Alabama wants to live, but the Bulldogs are also solid at limiting penetration, which is how Alabama wants to create its offense.
Both teams have actually shot pretty poorly from 3 in conference play, so don't be surprised to see some positive regression over the next few weeks for both.
Bama also won't turn Miss State over. That's just not the Tide's game. Plus, Iverson Molinar has really cut down on his turnover issues. That means the Bulldogs will at least get shots up on most possessions.
And if they miss, they should dominate on the offensive glass, where they rank 15th nationally against an Alabama team that ranks 241th in defensive rebounding percentage and in the 13th percentile on offensive putbacks.
It also helps that center Tolu Smith is expected to return from COVID-19 protocols.
Look, if Alabama goes bonkers from 3, it could be a long night for Mississippi State. But the Bulldogs should eat inside with a serious post advantage. This could turn into a layup drill, especially if Charles Bediako gets into foul trouble as he's prone to do.
Ultimately, I just think the market continues to give Alabama too much respect. The losses of Josh Primo, John Petty and especially Herb Jones seem to have hurt this team more than I anticipated, especially on the defensive end.
I also don't mind a look at the over here, for what it's worth.
7 p.m. ET on ESPN+
This is a spot to buy low on EKU after three straight losses to drop to 0-3 in league play. You can expect maximum effort at home against first-place Jacksonville State.
It's been a struggle for the Colonels of late, but they've been on the short end of some tough losses.
After a one-point loss to North Alabama in their previous game, they are now 0-5 in games decided by five points or less. Three of those came on the road against respectable competition in West Virginia, Western Kentucky and Bellarmine in addition to a one-point home loss at the hands of James Madison.
Given its frantic style, EKU is a high-variance team. As a result, no outcome would shock me here, but I like the spot.
Plus, the Colonels should force plenty of turnovers against a Jacksonville State team that ranks 316th in the country in turnover percentage. For what it's worth, EKU — which presses at the sixth-highest rate in D-I — forces turnovers at a top-25 clip.
And while Jacksonville State has thrived in transition, it only grades out in the 32nd percentile in press offense, per Synergy.
Bonus: San Francisco catches BYU in a brutal spot with the Cougars playing their second straight road game in three days after taking on Gonzaga on Thursday night.
The Dons should be ready for this one after getting swept by BYU last year.
San Francisco also beefed up its rebounding prowess in the offseason, which really hurt it in this matchup last year. There's a big athletic advantage for the Dons on the perimeter as well.
The problem is this line came out higher than I had hoped after BYU got blown out by Gonzaga, but I don't hate throwing SF in a moneyline parlay if you need a piece or looking for them live at -3 or better.
How would you rate this article?
This site contains commercial content. We may be compensated for the links provided on this page. The content on this page is for informational purposes only. Action Network makes no representation or warranty as to the accuracy of the information given or the outcome of any game or event.