College Basketball Odds, Predictions: Our Staff's 8 National & Conference Futures, Including Alabama & TCU
Credit:
Photo by Michael Chang/Getty Images. Pictured: Nate Oats (Alabama)
The Three Man Weave crew covered the conference futures angle for the 2022-23 college basketball season.
We also have 32 preseason conference previews for you.
But now, our staff (as a whole) is diving deep into both national and conference futures.
And since we're celebrating the start of a new season on Monday, we have eight (!) selections for you.
---
Our Staff's 2022-23 College Basketball National/Conference Futures
The picks in the table below represent the futures bets that our staff members are targeting this season. Click on any of the following picks to navigate to a specific bet discussed in this article.
---

TCU to Win Big 12 Regular Season Title (+1300)
By Keg
The Horned Frogs are flat out being disrespected — there's no other way to say it.
Last season, TCU finished the year 21-13, earning a nine seed in the NCAA tournament. The Frogs then went on to beat Seton Hall by more than 20 in the first round and nearly pulled off the upset against No. 1 seed Arizona.
That same Horned Frogs team beat Big 12 champion and eventual national champion Kansas by 10 in their third-to-last game of the season.
Now heading into this season, TCU returns all five starters from a year ago. In fact, according to Bart Torvik, no team in the country returns more possession minutes than the Horned Frogs.
They begin the season ranked 14th in the AP Poll.
While the Horned Frogs have flown under the radar for years — struggling to break through to the top of the Big 12 — this price still remains outlandish.
For the first time in a long time, TCU basketball has massive expectations — as a team that could not only win the Big 12, but seriously make some noise in March.
I fully expect Schollmaier Arena — which already ranks as the fourth-biggest home court advantage in college basketball — to be even more rowdy this season.
Make sure to shop around on these TCU odds. The Horned Frogs are listed as low as +550 on Caesars, but as of writing, they are still at +1300 on FanDuel. I think there's value on the Horned Frogs at +900 or better.
---
Alabama to Win SEC Regular Season Title (+800) & NCAA Tournament (+5000)
Nate Oats' offensive scheme is well aligned with the modern-day NBA playing style. High-volume 3-pointers coupled with close proximity shots led the Crimson Tide to the eighth-best scoring offense in the country at 80 points per game last season.
Alabama plays at the 11th-fastest tempo in the country and has the ability to score in bunches.
But Oats didn't have the right personnel to fit that playing style last season.
The program took 48% of its shot attempts from behind the perimeter. The Tide converted at just a 31% clip, though, which ranked 303rd in the nation.
The results of last season proved that the offensive scheme works. The Crimson Tide defeated Gonzaga, Baylor, Houston and Tennessee with the run-and-gun style despite having no real shooting threats.
This season, that changes. Despite losing three of their top four scorers in Jaden Shackelford, Keon Ellis and JD Davison, the offense has retooled with some real shooters.
Oats brought in Mark Sears from Ohio, who averaged 20 points per game last season, but more importantly, hit 40% from deep. Dominick Welch also joins the program after hitting 37% from deep with St. Bonaventure.
The offensive playing style will finally have all the pieces it needs to make a run in both the SEC Tournament and the Big Dance.
---

San Diego State to Win MWC Regular Season Title (+100)
Matt Bradley returns for his extra year of eligibility, and he was a massive part of the San Diego State offense last season. He accounted for just over 25% of the Aztecs' points.
At times, it was Bradley-or-bust for this offense, and SDSU became too reliant on him for scoring. However, the offense made significant improvements in the second half of the season around him.
One year after winning Mountain West Defensive Player of the Year, Nathan Mensah is back for the Aztecs in the middle, too.
He doesn't offer a ton offensively, but he will ensure the Aztecs own one of the best 2-point defenses in the entire country. His block rate ranked 11th in the country, and the defense was top-five in Effective Field Goal Percentage Allowed.
San Diego State ranks pretty well in returning production, but also brings in three transfers to help improve its depth.
SDSU's floor is always extremely high because of defense. The offense will decide its ceiling, though.
Either way, the Aztecs are clearly the favorite to win this conference now that Colorado State and Wyoming are dealing with key injures to Isaiah Stevens and Graham Ike, respectively.
---
Notre Dame to Win ACC Regular Season Title (+2000)
In reading most of the headlines surrounding the ACC this offseason, the usual suspects have gotten much of the buzz.
North Carolina is everybody's favorite to win the ACC and is the preseason No. 1 in the country for most.
Then there's the talk of life without Mike Krzyzewski and the loaded freshman class that Jon Scheyer brings in.
Lastly, Virginia is the consensus bounce-back candidate, given Tony Bennett's track record and the amount of talent that returns to Charlottesville.
Quietly, there's a team in South Bend that's about as old and experienced as any in the nation. In fact, Mike Brey's team boasts six graduate seniors on its roster, five of which will be rotation pieces this year.
Of those six super seniors, three of them — Nate Laszewski, Cormac Ryan and Dane Goodwin — were anchors of a team that won two games in the NCAA tournament a year ago and finished tied for second in the ACC.
With freshman phenom JJ Starling joining the fold — as well as Niagara transfer Marcus Hammond — the Irish's backcourt will be able to shoot it and score it as well as any team in the ACC.
After a tough stretch from 2018-2021, Brey and ND got back to winning last year, and the Irish bring back a lot of momentum and some key pieces from that team.
I expect the Irish to be, at minimum, a top-five team in the ACC, and with a 20/1 price to win the league, there is plenty of value in backing the Irish.
---
---
Florida to Win SEC Regular Season Title (+1200)
Former Auburn assistant coach Todd Golden finally got his head coaching opportunity out on the West Coast, and he took advantage.
In three years in the Bay Area, he helped the Dons break through and finally make the NCAA tournament as an at-large bid out of the WCC in 2022. By the end of his tenure, San Francisco was a bonafide top-40 program with an efficient offense and great backcourt.
He heads to Gainesville with a tall task in front of him, but a cupboard that is anything but bare. Thanks to the transfer portal, Golden has a starting five capable of winning the SEC.
Kyle Lofton, a 6-foot-4 point guard with a 6-9 wingspan, is a super senior who can create on his own or facilitate with ease.
Joining Lofton out of the portal, Will Richard arrives from Belmont, where he appeared on the all-newcomer team in the OVC last year. He also gave Vandy 22 points in the NIT.
But the real reason I'm bullish on the Gators is their frontcourt. Colin Castleton was one of the best traditional fives in college basketball last season, posting a 16.2-point, nine-rebound stat line.
If he becomes a touch more efficient around the basket, he could vie for All-American honors.
Alex Fudge, an LSU transfer, gives the Gators a great defensive presence from day one and has the athleticism and pedigree to evolve into a well-rounded starter for them this season.
Golden has surrounded this core with a host of 3-and-D players who will likely determine this team's ceiling.
If Kowacie Reeves and Myreon Jones can provide 3-point shooting percentages in the high 30s, I believe this Gators team will sneak into the SEC title conversation with Kentucky, Arkansas and Tennessee.
---
Illinois to Win Big Ten Regular Season Title (+550)
Illinois loses 10 scholarship players and its top five scorers from last season. However, I adore the roster that Brad Underwood has put together.
Coleman Hawkins returns to take the starting big man job. While he's no Kofi Cockburn, he's a significantly better shooter and a more mobile defender. This creates two-way versatility that Cockburn could never provide in Champaign.
Underwood brought in Texas Tech's Terrence Shannon Jr. and Baylor's Matthew Mayer to surround Coleman. This creates one of the best two-way "big 3s" in the nation.
Shannon is projected to be the Illini's top scorer and the best perimeter defender in the conference.
Mayer is a 6-foot-9 matchup nightmare that can score from all three levels and defend in isolation at an All-American level (.500 PPP allowed).
Wing RJ Melendez, who stands 6-foot-7, fills out the roster after scoring 1.217 PPP on offense (99th percentile) and allowing .750 PPP on defense (79th percentile), furthering the two-way versatility on this roster.
The biggest question mark is point guard Skyy Clark because it's always hard to rely on a freshman to run the offense. But he was once considered the No. 1 overall point guard in the nation before injuries, so his ceiling is high.
The Illini are going to be so versatile and position-less. They can play every which way on offense and can switch everything on defense. While chemistry issues are a concern, the Illini have the talent to beat everyone in a wide-open Big Ten.
For example, Bart Torvik's projections make Illinois the second-best team in the Big Ten behind Indiana.
For what it's worth, I'm looking to sell Indiana. Therefore, I'm buying Illinois.
---
---
Virginia Tech to Win ACC Regular Season Title (+2200)
After starting last year's campaign at 2-7, Virginia Tech clicked and got really hot heading into the ACC Tournament. The Hokies shocked the conference by mowing through Duke en route to the tournament title and an auto bid.
While winning the ACC Tournament wasn't the base case, it wasn't a totally shocking turn of events. The Hokies eventually fizzled out in the Big Dance after winning four games in four days to get in.
However, core pieces return this season.
Head coach Mike Young enters his fourth season at the helm of the program, with a 54-36 record since taking over after Buzz Williams' abrupt departure for Texas A&M.
Young will welcome back two mainstays from last season, big man Justyn Mutts and sharpshooter Hunter Cattoor.
Mutts was second on the team in scoring last year (10.1 points per game) and was the top board grabber (7.4 per game).
Cattoor established himself as a threat shooting from beyond the arc and was an instrumental part of the team's ACC-best 3-point field goal percentage.
Virginia Tech will also welcome Grant Basile from Wright State as the Hokies look to replace outgoing productivity from last year's team.
Basile, a 6-foot-9 paint presence, averaged 18.4 points and 8.5 rebounds last season. He will be relied upon out of the gates to continue to put up big stat lines.
Young's teams have typically been undersized relative to the ACC brethren, but the addition of Basile will help the Hokies size up as we get into conference play.
Look for the additional size and returning productivity to give the Hokies a chance at challenging the ACC's elite.
The Hokies are currently +2200 to win the conference, with Vegas overlooking the Blacksburg ballers for the more traditional blue bloods of the ACC. Transfers and freshmen will be important parts of the equation this year, but I see strong value north of +2000.
At +2200 to win the ACC, this is a deep-value pick in arguably the best conference in college basketball, but the Hokies shocked the conference last year and are presenting a great value at 22 to 1 odds.
---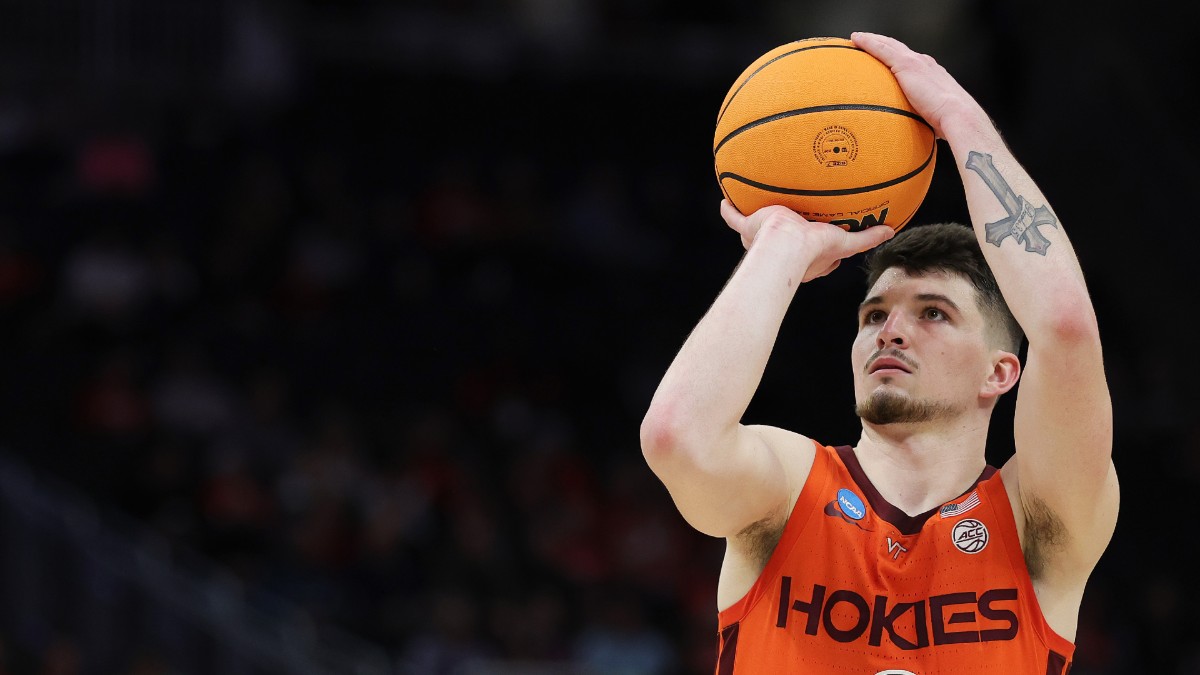 UMass Lowell to Win America East Regular Season Title (+1000)
As Action Network's resident America East expert, you can trust me when I say UMass Lowell to win the conference at 10-1 isn't just my best bet for the conference, but one of my favorite college basketball futures I've placed this preseason.
Head coach Pat Duquette returns an absurd amount of talent, including over 75% of his minutes from last season and the top four scorers.
However, Duquette also gets back forward Connor Withers from injury, a huge boost to an already-talented frontcourt.
Pair Withers with DPOY favorite Max Brooks and two-way threat Allin Blunt, and you have the formula for the league's best frontcourt.
The River Hawks owned the conference's best interior defense last season (44.1 2P% allowed), and that will continue this season. I'd also project MALO's defense to improve if it sees some positive 3-point shooting regression (39.1 3P% allowed is too high).
A top-tier defense means the floor for the River Hawks is third in the AmEast.
The Hawks provide so much value because of those other two teams.
Vermont, the favorite, is going through significant roster turnover and is dealing with an injury to incoming superstar guard Dylan Penn. Penn's injury is brutal because, as a transfer, he won't have as much time to integrate into the new system.
Bryant, the second favorite, is working with a new roster in a new conference. Plus, KenPom still projects UMass Lowell as the better team from an efficiency standpoint.
Both Vermont and Bryant's biggest weakness lies in the frontcourt. So, the Withers-Brooks-Blunt trio could steal a few games from those opposing frontcourts, creating an easy path to the regular-season title.
While UMass Lowell is relatively weaker in the backcourt, it returns starting point guard Ayinde Hikim, who averaged 16/4 in his last 10 games last season. Transfer additions boost the backcourt depth enough to make them competitive with other guard corps.
If I were an oddsmaker, I'd make Vermont the favorite in the -200 range and give UMass Lowell and Bryant close-to-even odds in the +500 range.
But you can bet UMass Lowell at 10-1. And the River Hawks have legitimate advantages over the league's top two teams. This team oozes value.
---
How would you rate this article?