College Basketball Pick & Roll: Calabrese & McGrath's 6 Best Bets & Player Props, Including Auburn vs. Kentucky, Villanova vs. Creighton, More (Saturday, Feb. 13)
Credit:
Mitchell Leff/Getty Images. Pictured: Collin Gillespie (2) and Jermaine Samuels (23).
Tanner McGrath and Mike Calabrese are back for another Saturday.
The duo shares their six favorite bets, player props, and exotic bets for Saturday's college hoops slate below.
Check out each individual pick complete with a full betting breakdown below.
It's 2021.
A pandemic rages throughout the country. So many people around the world have been on lockdown for close to a year. Everything is a mess, and nobody saw it coming.   
However, the most inexplicable thing about this year is just how bad college basketball's blue bloods have been playing.
So, in this edition of Tanner McGrath and Mike Calabrese's Saturday Pick-and-Roll, McGrath is fading two Blue Blood programs today. A wise decision.
 Meanwhile, Calabrese, who hit on all three of his picks in last week's edition, is targeting a Missouri Valley Conference over and the favorite in a massive Big East game. Also, wise decisions.
So once again, take our "Picks" and "Roll" into Saturday's card. Let's have a day!
---
McGrath's Top 2 Saturday Picks
Auburn +1.5 at Kentucky | 1 p.m. ET
---

---
The first blue blood I'm fading today is Kentucky. The Wildcats are extremely bad at the game of basketball.
John Calipari's team is now 5-13 overall, 4-7 in conference play, 81st in NET rankings and will almost certainly miss the NCAA Tournament for the first time since 2013. Kentucky is also just 1-8 in Quad 1 opportunities and have lost four straight games.
Moreover, Kentucky is just 6-12 ATS on the season and 2-6 ATS at home. The Wildcats have covered the spread just once in its last eight games. Betting on the Kentucky Wildcats this season has been an exercise in futility.
Auburn hasn't been great this season. However, the Tigers are a totally different team with Sharife Cooper. When Cooper is healthy, the Tigers become a much more dangerous team.
Since returning from injury on Jan. 13, Cooper has been averaging 20.2 points and 8.7 assists per game. In his 10 games this season, he's scored more than 20 points four times and scored more than 15 points nine times. 
Auburn, again, hasn't been great this season. However, it's had success against Kentucky. Auburn is 6-3-1 ATS when facing Kentucky and 5-3-1 ATS when playing Kentucky on the road.
The Tigers have also seen road success recently. Auburn is 4-0-1 ATS in his last five road games. 
If Cooper plays well, Kentucky continues to play terrible and Auburn keeps playing well on the road, the Tigers should win this game comfortably.
---
Photo by Michael Wade/Icon Sportswire via Getty Images.
---
Duke at NC State +2 | 4 p.m. ET
---

---
The second blue blood I'm fading today is the Duke Blue Devils. The Blue Devils are also extremely bad at the game of basketball.
This season, Duke is 7-8 overall, 5-6 in conference play, 76th in NET rankings and also on the verge of missing the NCAA Tournament. 
Coach K and the Blue Devils haven't missed the tournament since 1995. Since then, Duke has made the Final Four five times and has won three National Championships. 
The last time Duke missed the NCAA Tournament, Madonna's "Take a Bow" was No. 1 on the Billboard Top 100 and "Tommy Boy" was the No. 1 movie at the box office. But I digress. 
If you thought betting on Kentucky was rough, betting on Duke has been even worse. The Blue Devils are 3-12 ATS this season, 2-8 ATS at home and 1-4 ATS on the road. Duke has lost three straight and failed to cover the spread in all three losses.
Duke is continually overvalued by both the books and the public. The Blue Devils lost outright as 11-point favorites to Miami, 2.5-point favorites against North Carolina and 7.5-point favorites to Notre Dame.
Today, Duke is laying three points on the road against NC State. An NC State team that has owned Duke ATS in recent years.
NC State is 6-1 ATS in its last seven games against Duke and 4-1 ATS in its last five home games against Duke. The last time the Blue Devils went on the road to play the Wolfpack, they lost by 22 points. 
This line is dumb. From a gambling perspective, there is absolutely no reason to back the Blue Devils in this game. Yet, I'm still willing to bet Duke will still receive the majority of the spread tickets. 
Fade the public, fade the Blue Devils and back the home underdog today in Raleigh. This is a no-brainer, don't-think-just-go bet, and it will hit.
---
Photo by Fred Kfoury III/Icon Sportswire via Getty Images.
---
Calabrese's Top 2 Saturday Picks
Loyola Chicago at Drake Over 134 | 12 p.m. ET
---

---
When you think of the Loyola Chicago Ramblers, you may conjure adorable courtside moments with Sister Jean. 
But don't be fooled, they're killers this year. The Ramblers hold opponents to 56.8 points per game (first) on 40.7% shooting from the field (47th). 
They pair this nasty defense with a glacial pace that is as slow as it comes. But despite this combination, sportsbooks have set sharp totals against Loyola, with unders cashing out just as frequently as overs (9-9).
Drake has the offensive firepower (80 ppg) to push this game over the closing number, and most importantly, the Pride of Des Moines won't be impacted by a slower pace. 
After all, the Bulldogs have settled into the 200s nationally in tempo. They're not a run-n-gun team and can pick opponents apart in the half-court, inside the arc.    
Last season, these teams met twice, and both games were decided by a total of seven points. 
That razor-thin margin for error has the potential to create a foul-a-thon in the final minute, and these teams have the goods from the charity stripe. Three of Drake's top four guards in minutes per game shoot 78% or better from the line, while Loyola starting guards Marquise Kennedy and Lucas Williamson both shoot 83%. 
In the end, this is all about Drake. 
Loyola has put it's last 10 opponents in a defensive chokehold, but can you guess those opponents' collective offensive efficiency ranking? 190th. Where does Drake check in? Seventh.
Look for more points in this one as Drake pushes Loyola to the brink in the first round of this Missouri Valley back-to-back.
---
Photo by Michael Allio/Icon Sportswire via Getty Images.
---
Villanova -1.5 at Creighton | 5 p.m. ET
---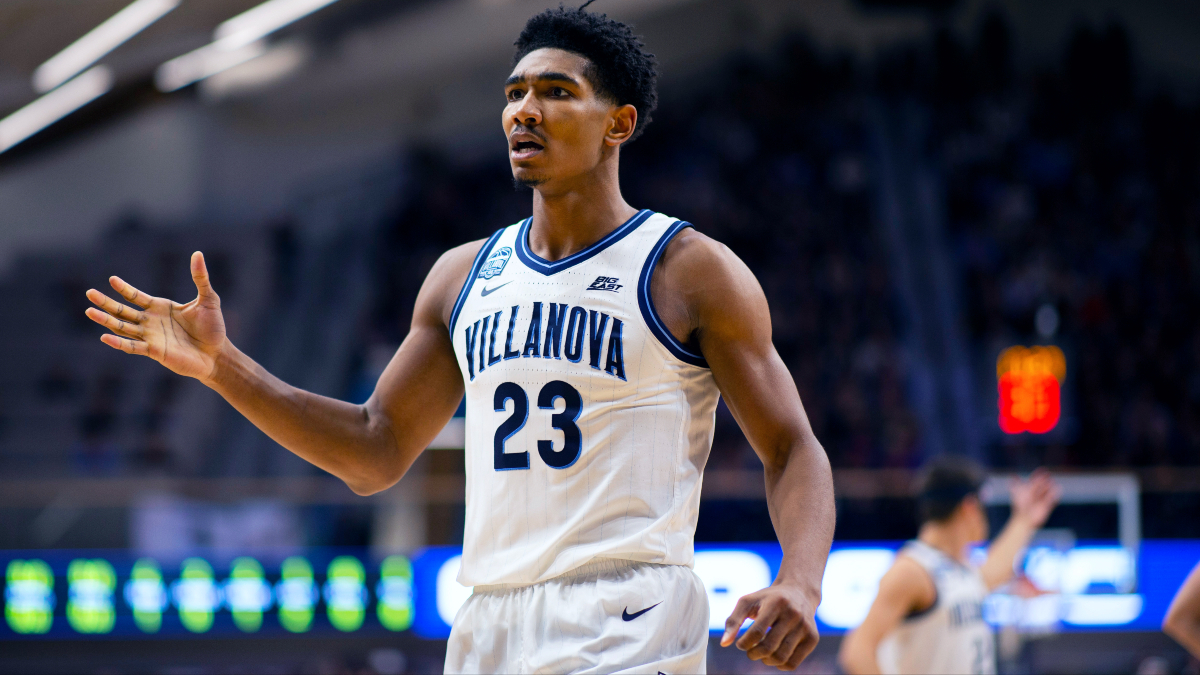 ---
Before the season started, this was likely to be the game of the year in the Big East. 
The press selected Villanova and Creighton to finish 1-2, respectively, and named Bluejays junior guard Marcus Zegarowski the Big East Preseason Player of the Year. If this game had been played back in late November, Creighton could have conceivably been the favorite. 
But in mid-February, calling this game a coin flip is directionally off. 
For starters, Creighton's home-court advantage has evaporated this year, dropping tilts to Marquette, Providence and Georgetown at the CHI Health Center Omaha. 
It's also mired in a bit of a funk offensively, surpassing 74 points just twice in the last eight games. That's bad news against a Nova offense that has exploded in the last two games.
Jeremiah Robinson-Earl is coming off a career night in which he shot over 90% from the floor and poured in 27 points. If he's scoring in the 20s, this Nova team has Final Four written all over it. 
This was already a top-five offense in terms of overall efficiency, but it appears it's growing stronger after being harassed by an overly athletic St. John's team. 
Creighton is strong on defense, but when it's lost control of the pace, things have gotten away from it. 
To that end, the Bluejays have surrendered 85 points or more in four games since Jan. 6, and I think that's what is in store for them on Saturday night. 
I'll be playing Nova ATS and on the alternate line at -6 (+175).
---
Photo by Mitchell Leff/Getty Images.
---
McGrath's Top Player Prop Bet
Cade Cunningham (Oklahoma State) Over 20.5 points vs. Kansas State
---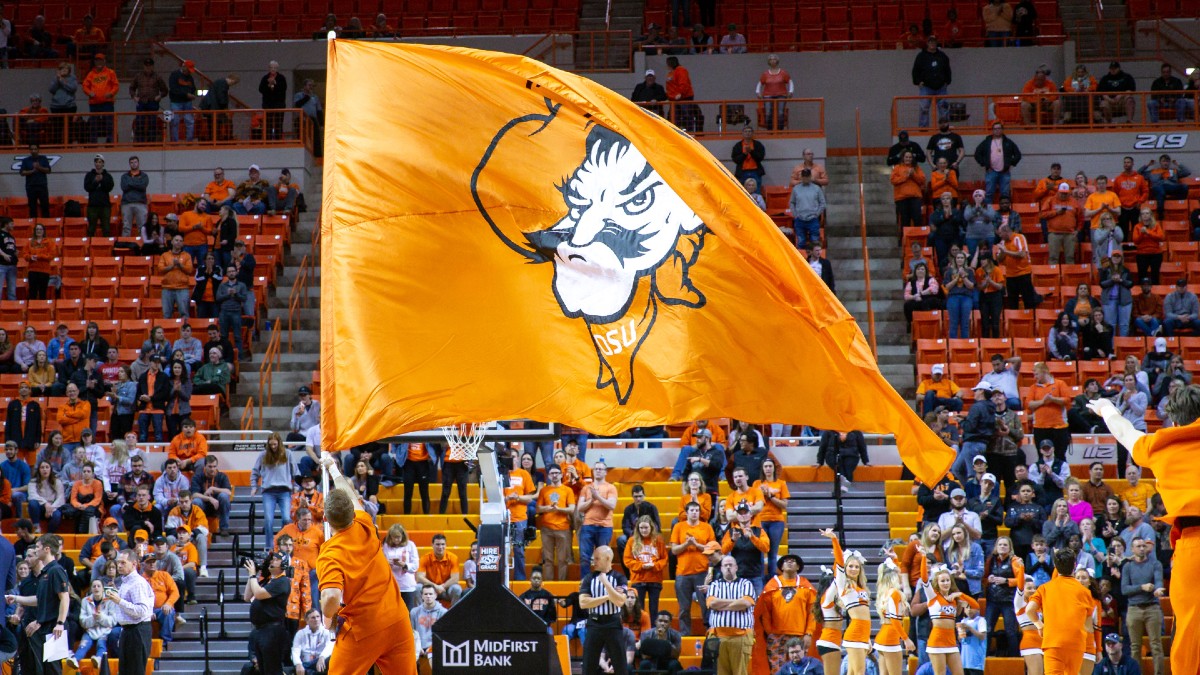 ---
Cade Cunningham has been playing like the No. 1 overall pick lately.
Since missing two games to injury, the freshman forward has scored 21, 19, 19 and 26 in his last four. 
What's more impressive, however, is how he's managed to put up all those points while shooting so poorly. In this four-game stretch, Cunningham has shot just 24-for-66 (36.7%) from the field. In his last game against TCU, Cunningham shot just 5-for-13 from the field but still managed to score 19. 
For a player who's been shooting 42.3% from the field this season, I think Cunningham is due to break out of this shooting slump. 
I think this is a good spot for that. Cunningham gets to play a below-average Kansas State defense at home this time around. This season, Cunningham has been scoring 20.8 points per game at home while only scoring 16.8 points per game on the road.
 If just a few more of Cunningham's shots fall and he continues getting to the line at a high rate, Cunningham should put up 20 points very easily. 
---
Photo by William Purnell/Icon Sportswire via Getty Images.
---
Calabrese's Top Exotic Bet
Moneyline Parlay: Boise State, Utah Valley, USC, Abilene Christian (+105)
---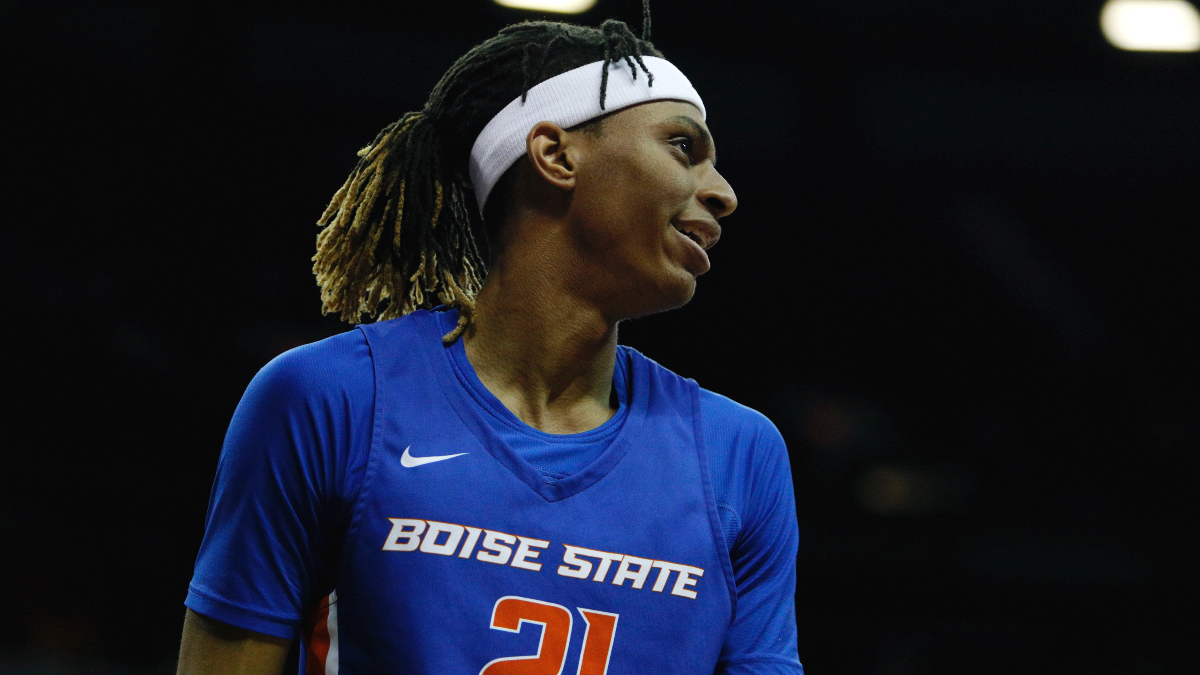 ---
I have a theory that we're approaching quitting time for programs that have a body of work unbefitting of March Madness. 
If you don't have a chance at a championship or an at-large bid at this point in the season, it's only human nature to start checking out in the middle of a pandemic. 
Enter UNLV, Dixie State, Washington State and Texas A&M Corpus-Christi. 
Only Wazzu has a winning record in that bunch, but the Cougars already lost to the Trojans in a game that saw the Mobley brothers completely neutralized with foul trouble. 
USC is the riskiest bet in this parlay at -300, but I feel confident the red-hot Trojans (five straight SU & ATS) can handle a road test at Pullman. 
As for the rest of this chalky parlay, Boise State just dispatched the Runnin' Rebels with little to no effort and is incentivized to run the table for seeding purposes. 
Utah Valley's Fardaws Aimaq is coming off his worst game of the year, and Dixie State shouldn't be able handle arguably the best mid-major big in the country. I expect another night from him en route to a rout. 
And finally, I'm on Abilene Christian, the most disruptive defense in the country, to round out this parlay. Texas A&M CC turned the ball over 18 times in their last meeting, and that was below ACU's average. Expect more turnovers and an easy ACU victory.
---
Photo by Joe Buglewicz/Getty Images.
---
How would you rate this article?