Friday College Basketball Predictions: Our Pick & Roll, Including SDSU vs. Saint Mary's (November 17)
Credit:
Photo by C. Morgan Engel/NCAA Photos via Getty Images. Pictured: Mitchell Saxen (Saint Mary's)
Mike Calabrese and Tanner McGrath are back for another edition of our Pick & Roll. The dynamic duo has Friday college basketball predictions.
---
We hit the ground running last week with a 3-1 start that very easily could've been a clean sweep had the Hokies knocked down a few more shots against South Carolina.
But we're back this week targeting a slate littered with quality mid-major tussles and one Sunshine State rivalry that will go a long way in determining if it's the Seminoles or Gators that have the higher ceiling this season.
This column wouldn't have the cult following it does without us getting things started with a heated rivalry, steeped in tradition, pageantry and national intrigue. So, without further ado, Tanner has his play for the hardwood classic that's sure to unfold between the Sacred Heart Pioneers and the Retrievers of UMBC.
---
---
McGrath's 2 Friday Picks
As I've written many times on these electronic pages, returning production is paramount in handicapping early-season college basketball tilts. The team with more continuity generally beats the team with less in November and December.
Well, UMBC returns 10% of its possession minutes from last season's squad. Head coach Jim Ferry lost all five starters and the top seven scorers. Only one guy who played more than eight minutes per game last year returns, guard Dion Brown.
So, I'm shorting Retriever stock in the early season. Yes, they pushed Louisville to the brink in the opener, but they also allowed 94 points to a horrendous Cardinals team. Afterward, they put up a dud at home against Marist, losing by six as three-point favorites.
Meanwhile, Sacred Heart is a threat to win the NEC this season, mainly thanks to continuity.
Pioneer head coach Anthony Latina, entering his 11th season, returns four starters from last year's squad. The team lost only two key transfers.
And this squad is old and experienced. The rotation features two sixth-year guys, three fifth-year guys and four fourth-year guys.
So far, these old heads have covered a nine-point spread against Iona and beat Holy Cross as short favorites. Both results came on the road.
Based solely on continuity, I think the wrong team is favored here.
The projection systems do too, as our Action App PRO Model and the ShotQualityBets Model project the Pioneers as short-road favorites.
Sacred Heart has two things going for it from an on-the-court matchup perspective.
First, the Pioneers love to crash the offensive glass behind their talented frontcourt, snagging over 10 offensive rebounds per game and scoring over 12 second-chance points per game since the beginning of last season.
UMBC's fresh frontcourt consists of Penn transfer Max Lorca-Lloyd and USC Upstate transfer Khydarius Smith, two bench riders for their previous squads. So far, the early Retriever returns aren't pretty, as UMBC ranks 309th nationally in defensive rebounding rate through three games.
Second, both teams play lightning-fast and love getting out in transition.
Sacred Heart's transition defense was excellent last season, ranking in the 79th percentile of teams in transition PPP allowed (.95). Given the returning production, I expect the same this season.
UMBC's transition defense was horrific last year (1.06 PPP allowed, 25th percentile), and while the new group could improve as the season progresses, it looks similarly bad this year (1.07 PPP allowed, 33rd percentile).
Ultimately, however, I'm simply betting on the older, more experienced squad against the team still trying to learn their teammates' names.
Moreover, Sacred Heart's elder group could win the NEC. UMBC's fresh-faced group will likely finish in the AmEast basement.
The wrong team is favored.
Pick: Sacred Heart +2.5
Users in Florida can get in on the action by signing up with the latest Hard Rock Bet promo code!
---
Todd Golden's Gators flipped their roster over in the offseason, but I adore the incoming transfer class.
Iona transfer Walter Clayton Jr. is an excellent point guard, perfect for quarterbacking Golden's pick-and-roll rim-running offense.
Seton Hall transfer Tyrese Samuel is a Big East vet with a steady interior presence. He was also an excellent roll-man in ball screens, perfect for Golden's pick-and-roll rim-running offense.
I know this new group didn't look overly impressive against Virginia, blowing some late chances to steal that game. But I think that result was a tad unlucky, as ShotQuality graded the game as an 11-point Gator win based on the "quality" of shots taken and allowed.
Florida could be a tad undervalued entering this one.
Conversely, Leonard Hamilton's Florida State team returns nine guys from last year's squad, but are we sure that's a good thing? 2022-23 was the most disappointing season of Hamilton's career.
And you know what this group didn't do? The Noles didn't defend the pick-and-roll well (.85 PPP allowed, 13th percentile) and didn't defend the rim well (1.22 SQ PPP allowed, 246th nationally).
That's not ideal against Golden's pick-and-roll, rim-running offense.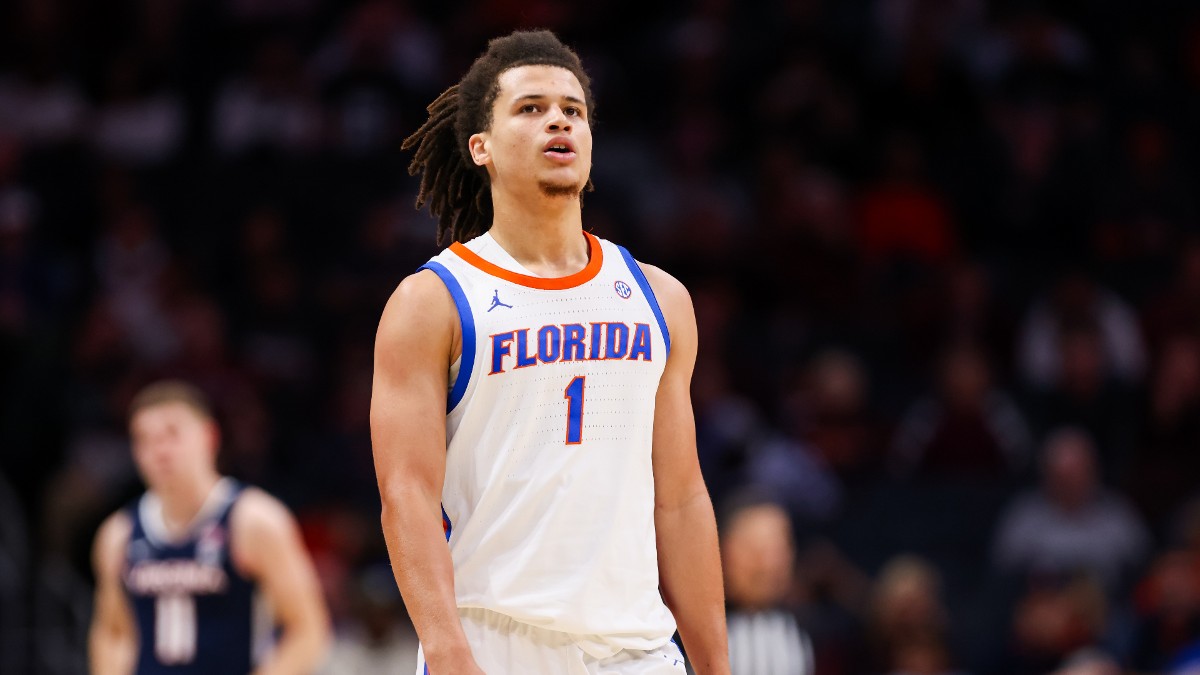 I know Florida State is massive, as the Seminoles are literally the tallest team in the nation by average height (79.5 inches).
However, Florida runs 6-foot-10, 6-foot-11 and 7-foot-1 in the frontcourt. Its incoming freshman class features five players between 6-foot-8 and 7-foot-1. The Gators rank 11th in average height (78.6 inches).
Florida has the size to battle with Florida State, especially down low.
In fact, I'm slightly worried about the Seminoles on the interior.
Florida currently leads the nation in offensive rebounding rate through three games, which includes grabbing 21 against Virginia. Conversely, Florida State was a bad rebounding team last season (304th in defensive rebounding rate) and doesn't look great through two games against low-major competition (177th in that stat).
The Seminoles will have the size advantage on the perimeter, but it won't matter if Jalen Warley or Darin Green Jr. can't turn over or stay in front of Clayton.
I don't expect them to do that.
I like this matchup for the Gators, and I think this new group is undervalued. Projections agree, as KenPom makes the Gators an eight-point favorite, our Action PRO Model makes them a nine-point favorite and Bart Torvik makes them a 10-point favorite.
I'll lay seven or better with Florida. Chomp Chomp.
Pick: Florida -6
---
The new ESPN Sportsbook is now online and you can use Action's ESPN BET promo code TANBONUS for a new user welcome.
---
---
Calabrese's 2 Friday Picks
One of my favorite parts of covering college basketball is spotlighting mid-major superstars. Usually, you have to wait for March Madness to hit to receive a proper introduction, but the proliferation of early-season tournaments has made it much easier to uncover these diamonds in the rough.
Allow me to introduce Weber State's Dillon Jones. The 6-foot-6 forward should be getting paid to play basketball somewhere.
There was significant buzz that had he entered last summer's NBA draft he would've been selected in the first round. Instead, he opted to return to the small college town of Ogden, Utah, which would have zero basketball notoriety had it not been for Damian Lillard's star turn there 15 years ago.
By season's end, Jones should join the Wildcat pantheon with Lillard and March Madness star Harold "The Show" Arceneaux.
Jones has already orchestrated one top-25 upset this season, knocking off Saint Mary's in Moraga. Defeating the Gaels on their home court is generally reserved for Gonzaga and Gonzaga alone. But Jones was in his bag, as the kids would say, dropping 29 points and 10 rebounds on SMC.
At this point, double-doubles are becoming commonplace for Jones. Dating back to last season, he's recorded a double-double in 10 of his last 13 games. He ranks third nationally in NBA Efficiency score ahead of All-American candidates like Hunter Dickinson, Zach Edey and Kyle Filipowski.
Defensively, Weber State is also coming into its own. Last season, the Wildcats were a borderline top-100 defense, according to metrics like Bart Torvik and Synergy, but they were always an elite rebounding outfit. They finished 15th in defensive rebounding percentage last season, and Jones was a big reason why.
This year, they look even better on the defensive end, evidenced by their performance against the Gaels in which they held a usually efficient offense to just 57 points on 18.5% shooting from deep. And critically, they shut down any transition opportunities.
Gardner-Webb lives up to their Runnin' Bulldogs nickname, living and dying with an up-tempo style. The Bulldogs are 27th in possessions per game and need that tempo to open up some easy looks for them because this team flat-out can't shoot.
Pick a metric — shooting efficiency, 3-point accuracy, foul shooting — and they're buried in the 300s in every one of them. Once Weber State slows the pace (316th), it'll make life miserable for GW.
If you can find a player prop on Jones in the market, I would play him over 20.5 points, or ideally over 30.5 (pts+rebs+asts). This should be another showcase game for him in a Weber State runaway. I would play this up to WSU -4.5.
Pick: Weber State -2.5 (Play to -4.5)
---
When betting Weber State, register with Action Network's DraftKings promo code today for a sign-up offer.
---
Saint Mary's got tripped up by Weber State on its home floor, and that loss is laid at the feet of Aidan Mahaney. The sophomore sensation simply can't have 2-for-10 shooting nights from 3-point range. He has too diverse of a game to fall in love with the triple, especially when they aren't falling.
But that loss has baked some value into this line, which I have set at SMC -2.5 in my power rankings. The Aztecs were handled by BYU last week and were exposed a bit on the offensive glass (12 rebs for BYU).
The Gaels have been a high-end offensive rebounding team — by mid-major standards — for the last year and a half under Randy Bennett. They finished last season 63rd in offensive rebounding percentage and are nestled in the mid-60s this season thanks to Mitchell Saxen's improvement on the low block. The senior big is averaging 3.3 offensive rips per game.
Pace-wise, SDSU and SMC should settle into a slow half-court battle. The Gaels famously love to play slow and SDSU made its way to the national title last season by surviving one half-court rock fight after another.
The Aztecs were sped up by Long Beach in their last game, but they knew they had better personnel and could afford to play an up-and-down game against one of the most up-tempo mid-majors in the country.
I foresee them settling back into their old habits, which is aligns with the total that opened at 129.5. Sportsbooks agree that SDSU's early tempo metrics are fool's gold.
Last year's meeting also provides a lot of insight into what I believe will transpire in Vegas on Friday. The Gaels made a handful of critical second-half adjustments and just tightened the vice gripe on the Aztecs defensively in the final 20 minutes. Bennett's squad gave up just 15 points in the final 15 minutes of the game, relying on its half-court defense to force up bad shots late in the shot clock.
With three starters back from that team (Alex Ducas, Mahaney, Saxen), I trust this veteran group to take away SDSU's best offensive option (Jaedon LeDee).
After four years as a rotational player at Ohio State, TCU and SDSU, Jaedon LeDee has been thrust into a leadership role in which he's asked to shoulder the entire offensive load for the Aztecs.
That may work against the likes of Cal State Fullerton and Long Beach, but I think he'll be exposed against SMC's oversized front court of Saxen and Harry Wessels.
I would play this through zero and lay up to -2 with the Gaels.
Pick: Saint Mary's +1 (Play to -2)
How would you rate this article?
This site contains commercial content. We may be compensated for the links provided on this page. The content on this page is for informational purposes only. Action Network makes no representation or warranty as to the accuracy of the information given or the outcome of any game or event.