Kansas vs. West Virginia Odds, Betting Pick & Prediction: Should You Trust the Mountaineers to Cover at Home?
Credit:
Mark Alberti/Icon Sportswire via Getty Images. Pictured: Oscar Tshiebwe
Updated Kansas vs. West Virginia odds list the Mountaineers as a 1-point betting favorite over the Jayhawks on Wednesday night in Morgantown (7 p.m. ET, ESPN+).
Kansas beat WVU at home last month despite poor shooting efforts from both teams. The Mountaineers controlled the glass and will need to do so again to top the No. 1 team in the country tonight.
Get our experts' Kansas vs. West Virginia picks and predictions below.
Kansas at WVU Odds
The marquee matchup on Wednesday night's college basketball slate comes from the Big 12.
No. 1 Kansas will head to hostile Morgantown to take on a West Virginia team that's surprised a lot of people this season. As usual, the Mountaineers rely on aggressive defense, physicality and stellar rebounding.
The Jayhawks might be the most complete team in the country, but will need a great effort especially from 7-foot-0 senior Udoka Azubuike to keep pace with WVU.
If you're searching for this game on TV, apologies. It's only available on ESPN+.
How KU-WVU Odds Have Moved
Overnight action has been all West Virginia.
Kansas opened at -1.5 at DraftKings, reached as high as -2, then Mountaineers' money came flowing in to push them to -1.5 as of Wednesday morning.
Only 43% of bets have come in on WVU, but those bettors are making up 58% of the money. — Steve Petrella
When Kansas Has the Ball
The Jayhawks' high-powered offense has flexed against inferior opponents, but a road trip to Morgantown may present the toughest challenge.
West Virginia could not overcome a 13-2 second-half run by Kansas at Allen Fieldhouse in defeat on Jan. 4. The Jayhawks scored when it counted, but were out-rebounded by 14 and shot just 3 of 17 from beyond the arc.
Kansas has won games in the paint, ranking as the top team in the Big 12 in shooting percentage from 2-point range. The Jayhawks rank No. 1 in point distribution from 2-point range, making the offensive glass crucial in victory.
Similar to the first matchup, Bill Self will need hot shooting at the right times to survive this game, as Kansas was limited to just nine offensive rebounds at home on Jan. 4. — Collin Wilson
Kansas won't tally nearly as many transition opportunities in a hostile road environment as it typically does at Allen Fieldhouse, and Oscar Tshiebwe and Derek Culver's prowess for protecting the paint will limit its pick-and-roll opportunities with Udoka Azubuike and Devon Dotson. — Eli Hershkovich
When WVU Has the Ball
Kansas is the best defensive team in the country, per KenPom. So the glass is where West Virginia needs to win this game.
The Mountaineers are the top-rated offensive rebounding team in the nation, which should create plenty of second chance opportunities for a team that specializes in scoring points in the paint.
The biggest key for West Virginia may come from the charity stripe. The Mountaineers are a horrendous 331st nationally from the free throw line at 64.3% this season.
Ball protection has also been an issue for the Bob Huggins' team, averaging 10.6 giveaways this year, and the Jayhawks are one of the best in the country in defensive steals. If the Mountaineers prevent turnovers and hit a few free throws, they can win this game. — Collin Wilson
Kansas is allowing the second-highest 2-point scoring rate in Big 12 play while West Virginia has racked up the second-highest 2-point scoring percentage itself.
Although the Mountaineers couldn't finish the deal in their first meeting at Allen Fieldhouse, look for them to have success attacking the paint with Tshiebwe and Culver, especially if they're able to get Jayhawks Azubuike into foul trouble and control the offensive glass once again. — Eli Hershkovich
Other Angles
Kansas has yet to go over a total in a road game this season.
Kansas is the only team in the nation with 10 Quadrant 1 wins (10-3 overall).
West Virginia is No. 6 in the nation in bench minutes, as 11 players average at least 9 minutes of play.
Live Angle
The wild card here is if Bill Self decides to go zone if Kansas is down big or needs a spark. As you might imagine, the West Virginia zone offense is not pretty.
If you see that and WVU has a decent lead, it might be a good time to grab Kansas live, especially since WVU is atrocious at the free throw line, which could come into play late if Kansas is looking to make a late comeback. — Stuckey
Stuckey: Why I'm Backing WVU
I'm rolling with WVU in the first half and full game here, but wouldn't go further than -2.
First let's start with the Jayhawks, who for my money are the most complete team in the country. They have an potential first-team All-American inside-out duo in Azubuike and Devon Dotson to go along with the ultimate glue guy in Marcus Garrett. Throw in some outside shooting of Isiah Moss and Christian Braun and you have a team that is extremely difficult to stop.
And I didn't even mention do-it-all sophomore Ochai Agbaji, who just makes Kansas that much better when he's on.
Kansas has sat atop my power rankings for a few weeks for a reason and they've proven worthy of that spot so far in conference play.
That said, I think WVU matches up fairly well, especially in Morgantown where the Mountaineers have one of the best home-court advantages in all of college basketball.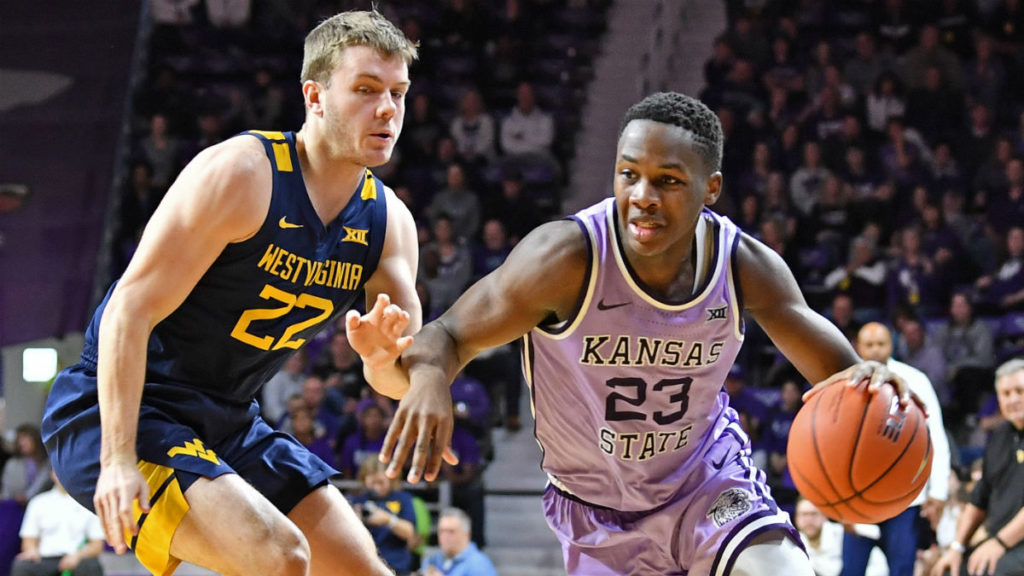 Despite a recent loss to Oklahoma, I still have West Virginia rated 10th in my latest power ratings and believe Bob Huggins' squad is a legit Final Four contender, especially when they are making outside shots.
They have as much size as anybody in the country and crash the offensive glass relentlessly (No. 1 in the country in OREB%). WVU also defends at an elite level against almost all possible sets, including when it presses, which WVU does about 20% of the time.
And that can actually cause some issues for a Kansas team that only ranks in the 57th percentile nationally in transition offense.
If you're looking for one potential weakness of Kansas (besides overall free throw shooting which can be said of both teams), it's when turnover issues can creep up. And West Virginia can certainly exploit that, especially at home.
The Mountaineers have the size inside to contend with Azubuike without helping, which not many teams can do. And with this game being in Morgantown, don't be shocked if Azubuike gets in early foul trouble against the uber-physical WVU low block. And when he does, that changes the entire dynamic of the Jayhawks on both ends of the floor.
I think WVU comes out with its hair on fire from the start and holds off Kansas in what should be a really entertaining game from start to finish. I think WVU will crush the offensive glass, make just enough outside shots at home while forcing Kansas into enough turnovers to pull this out.
And like I said before, don't be surprised if you get some good ol' fashioned home cookin' from the officials. — Stuckey
Pick: WVU -1.5 (wouldn't play past -2) [In WV? Bet Now]
How would you rate this article?