NCAA Tournament Odds, Predictions: Stuckey's Sweet 16 Betting Guide
Credit:
Photo by Michael Reaves/Getty Images. Pictured: Sir'Jabari Rice (Texas)
Below are my betting thoughts for all eight Sweet 16 games.
Hopefully, you can take a nugget or two away as you finalize your final wagers for Thursday and Friday.
---
---
Kansas State vs. Michigan State -2 | O/U: 137.5
Thursday, 6:30 p.m. ET · TBS (New York, NY)
Michigan State did open as a favorite, but that line didn't hold for long, with Sparty settling in as right around a two-point favorite over the past couple of days.
I make the Spartans a slight favorite, so I would've likely jumped in this week if they were catching points. However, I just don't see any value at -2, so I'll likely sit on the sidelines from a pre-game wagering perspective.
I will look to jump in live on Michigan State as a pup in a game that should have a number of runs back and forth.
This is an excellent backcourt and coaching matchup between two teams that prefer to play at different paces.
While Kansas State ranks inside the top 50 in Adjusted Tempo, Michigan State sits outside the top 300 in that same category, per KenPom. In the tournament, I tend to favor the team that wants to slow the game down, especially as the event progresses.
I also believe Sparty can and will capitalize in transition when given the opportunity against a Kansas State defense that struggles in that department.
However, Michigan State doesn't excel at getting to the line, turning teams over or crashing the offensive glass (partly by design), which are three of Kansas State's primary statistical weaknesses.
I ultimately just trust Michigan State's shotmakers more and still don't fully trust Kansas State away from Manhattan. Per Haslametrics, the Wildcats rank 345th nationally in Away From Home metric.
---


Arkansas vs. UConn -3.5 | O/U: 140
Thursday, 7:15 p.m. ET · CBS (Las Vegas, NV)
After the second round ended last Sunday, I placed my first Sweet 16 bet on UConn moneyline. I did back Arkansas in the first two games of the tournament, but I think the run comes to an end on Thursday night in Sin City.
UConn is peaking at the perfect time, playing as well as any team in the country over the past month and a half. In fact, per Bart Torvik, the Huskies rank No. 1 in overall Adjusted Efficiency since Feb 1. For reference, Arkansas comes in at No. 21.
The Hogs have a ton of raw talent, but I still don't trust them to make shots when it matters.
I also have no idea what's going on with potential lottery pick Nick Smith Jr., who played only 16 minutes against Kansas. Without him fully engaged and playing a full workload, the offensive ceiling for the Razorbacks is significantly lower.
Arkansas will have a shot with its overall athleticism and talent, especially if it can turn UConn over and get to the free-throw line, which are two potential problem areas for Dan Hurley's bunch.
However, the Huskies should control the glass, especially on the offensive end. They also can be productive in the paint and can shut down the Hogs at the rim and in transition, which is a necessity against the attacking Arkansas offense.
Most importantly, I just trust them to make more shots, whether those come from the outside or at the line, as every Arkansas game seemingly turns into a foul fest.
Maybe I'll regret doubting Eric Musselman prior to the Elite 8 — which is where he has got the Hogs the past two seasons — but I'm rolling with the Huskies' superior offense in a battle of two tremendous defenses.
---


Florida Atlantic vs. Tennessee -5.5 | O/U: 135.5
Thursday, 9 p.m. ET · TBS (New York, NY)
Even this late in the year, you will still periodically see recency bias in the market.
Look no further than the Vols as a perfect example.
Last weekend, the entire world seemingly wanted to fade Rick Barnes' "fraudulent" bunch. Then, after one win over Duke, everybody is talking about how this Tennessee team is legit.
The truth is probably somewhere in the middle, but I think we are getting some decent line value with a very deep and athletic Owls team that won't be intimated by the Tennessee physicality.
Tennessee obviously has an elite defense, but it did benefit from playing in a league where many of the teams couldn't shoot from 3. That partly explains why the Vols ranked No. 1 in the country in 3P% allowed (26.4) despite allowing a 3P attempt rate that ranked 312th nationally.
It certainly didn't hurt that the SEC as a whole ranked last among all conferences in 3P% during league play at a paltry 32%. Even Duke was not a great outside shooting team.
Well, in walks FAU, which profiles much differently. The Owls attempt and make the 3 at a top-50 rate, playing almost exclusively with four perimeter players who are capable of sharing the ball and connecting from beyond the arc.
That's paramount against the Vols.
The easiest comparison for FAU of a previous Tennessee opponent is Missouri. The Tigers, who also shoot and make a high volume of 3s, swept the Vols this season, scoring 86 and 79 in the process. And FAU is a much superior team to Missouri in terms of defense and rebounding on both ends of the floor.
In fact, against the only four SEC teams (Missouri, Alabama, Kentucky and Vanderbilt) that shot above 33% from deep in league play, the Vols went just 2-5, allowing those opponents to shoot 52-of-152 from 3 (34.2%).
Against the others, they went 10-3 and held those opponents to 72-of-281 (25.6%).
I make this line right around 3.5, so I gladly took the 5.5, especially since I have no qualms fading a still limited Tennessee offense as a medium sized favorite against an FAU team too many are still sleeping on.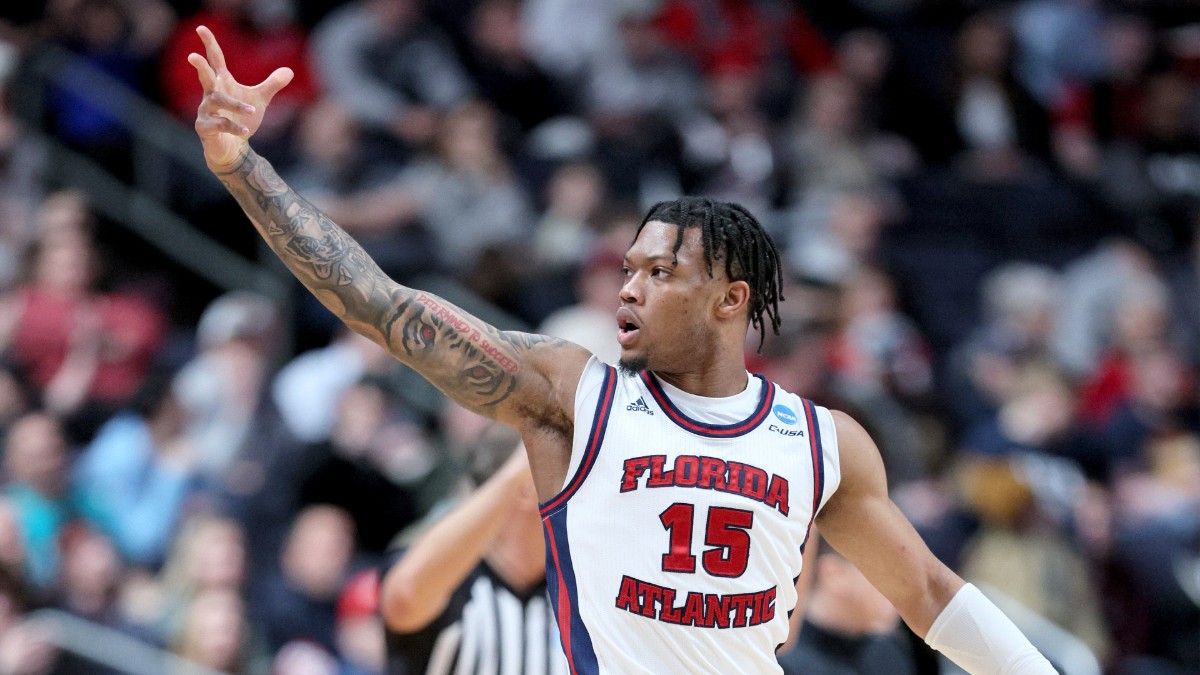 ---

Gonzaga vs. UCLA -1.5 | O/U: 145.5
Thursday, 9:45 p.m. ET · CBS (Las Vegas, NV)
Can we expect a third tourney thriller between these teams? Somehow it'll be 17 years to the day since their last Sweet 16 thriller when Adam Morrison was infamously reduced to tears on the court. (how has it been 17 years?!?)
And of course, everybody remembers the Jalen Suggs shot two years ago when Gonzaga got its revenge in the Final Four.
So, who takes the tourney rubber match?
I'm leaning towards UCLA at this moment.
Look, Gonzaga is peaking at the right time (as are the Bruins) in a matchup of two teams that sit just behind UConn in overall Adjusted Efficiency since Feb. 1. The Zags arguably have the best offense in the country, led by the crafty Drew Timme in the middle and a plethora of shooters around him.
However, it still has issues on the defensive end of the floor, especially at the rim. UCLA can certainly take advantage there — in addition to getting Timme out of position in the pick and roll with Tyger Campbell.
We just saw the Bulldogs play a TCU team that also wants to get up and down the court. That's their preferred pace (and they also didn't have to deal with Eddie Lampkin Jr. at the rim).
In contrast, UCLA almost never lets anybody run. And as I mentioned previously, I tend to trust the team that is more comfortable in a grinder in these tourney pace clashes.
David Singleton's injury is worth mentioning here — as he turned his ankle late against Northwestern — but he did come back to the layup line and has looked okay from the videos I've seen this week.
The same goes for Adem Bona, who is critical for UCLA's post defense, especially against Timme. I tend to think both will be fine, but it's not a guarantee.
Per KenPom, Gonzaga ranks 75th in Adjusted Defensive Efficiency. That's usually a red flag starting in the second weekend of the dance.
I trust the Bruins' seniors to make enough shots down the stretch to advance against a shaky Zags defense in what should be a competitive game.
---
---

San Diego State vs. Alabama -7.5 | O/U: 137
Friday, 6:30 p.m. ET · TBS (Louisville, KY)
Alabama arguably has the most talented roster in all of college basketball. Head coach Nate Oats has also fully embraced the analytical revolution, as the Tide either want to shoot a 3 or get to the rim; hence why they rank 360th in the country in mid-range attempt rate, per Haslametrics.
They also embrace that same philosophy on the defensive end, forcing the nation's second-highest percentage of mid-range attempts.
Well, no team may be better suited to match up with that profile than the Aztecs, who have an elite defense that contests almost every 3 (4th in 3P%) and shot at the rim (27th in near proximity FG%).
They also have guards who can thrive in the mid-range on the offensive end.
This is a pure style clash, as the Aztecs want to grind games down to a halt, while the Tide want to play at a lightning fast pace.
Alabama gets out in transition on over 18% of its possessions, which ranks in the 84th percentile nationally, per Synergy. Well, that won't be as easy against an Aztecs squad that only allows opponents to get out in transition on 12.5% of possessions.
The Aztecs are also uber-efficient defending those limited chances.
Plus, as I've mentioned before, I prefer to side with the team that is more comfortable in the half-court in this scenario.
I played the Aztecs +7.5 as I think this line is a bit too high; plus, I like the matchup.
Now, there is a lot of variance. If Matt Bradley has an off night from the field and/or Alabama is red hot from 3, this could get ugly. But you can do worse things with your money then trust the SDSU perimeter defense and one of the best game schemers in the country in Brian Dutcher.
For reference — including postseason play — Dutcher owns an impressive 42-26 ATS mark (61.8%) when both teams have four-plus days of preparation, including 9-1 ATS as an underdog.
---


Miami vs. Houston -7 | O/U: 138
Friday, 7:15 p.m. ET · CBS (Kansas City, MO)
Houston flashed its depth last weekend in a second-half blitz of Auburn. You'd think Marcus Sasser should be closer to 100% for the Sweet 16, especially since the Cougars benefited from getting five full days in between games.
Then again, you never really know with a groin injury, which also applies to Alabama's Brandon Miller.
Miami was fantastic in a convincing win over Indiana, as its guards really exploited Indiana's issues on the perimeter defensively and in dealing with pressure on the offensive end.
Well, that's not the case with Houston, which should also eat on the offensive glass and completely control the tempo against a Miami team that thrives in transition and prefers to play faster.
The Hurricanes' backcourt will always give them a puncher's chance in March — as we've seen for two straight seasons now — but this is a tough matchup on paper.
I show slight value on Houston, but I do have to consider the chance Sasser might not be at 100%.
---

Princeton vs. Creighton -10 | O/U: 140
Friday, 9 p.m. ET · TBS (Louisville, KY)
What a run for the Princeton Tigers, who became the fourth 15-seed — and third in three years somehow — to make the Sweet 16.
In their first two matchups, they really slowed the game down against two teams that like to get up and down the floor, which really worked to their advantage.
They also completely dominated a poor rebounding Missouri team on the glass.
I'm not sure either of those plans of attack will work effectively against a Creighton team that has no issues playing in the half-court and is absolutely elite on the defensive boards (13th nationally).
The Bluejays also don't foul and excel at taking away the 3, which doesn't bode well for a large underdog at this stage of the tournament.
Creighton just has so much more raw talent and athleticism, and I just don't see a strategic path for the dog to keep its run going.
That said, the line is pretty fair compared to my projections.
---


Xavier vs. Texas -4 | O/U: 148.5
Friday, 9:45 p.m. ET · CBS (Kansas City, MO)
New ball unfamiliarity and tight foreign rims dominated the first weekend, as Unders cashed at an astronomically high rate after Overs had a historically great regular season.
As a result, I think we see some partially deflated totals in the Sweet 16, and this is my favorite Over of the bunch.
A lot of Texas' half-court grinders may stick out in your head when you think of this Longhorns team. However, many of those happened frequently during the grind of the Big 12 league schedule.
This team still has no issues getting up and down the court with the right matchup, which I believe this is on paper.
After all, Texas does rank 100th in Adjusted Tempo and will face a Xavier team that plays at a frenetic pace, ranking 33rd in that department.
Of the 16 teams remaining in the bracket, four rank in the top 50 in Adjusted Tempo:
Alabama
Gonzaga
Xavier
Kansas State.
Texas played two of those teams a combined three times, with a pair flying over the total in a 116-103 loss to Kansas State and a 93-74 victory over Gonzaga.
The Xavier offense will score against pretty much anybody, but the defense has major holes that Texas can exploit, especially off the dribble on the perimeter and in the mid-range, where it thrives with tough shotmakers.
In what I expect to play out as an up-and-down affair, I like the over in the same arena Texas recently won three straight to win the Big 12 Tournament.
How would you rate this article?
This site contains commercial content. We may be compensated for the links provided on this page. The content on this page is for informational purposes only. Action Network makes no representation or warranty as to the accuracy of the information given or the outcome of any game or event.