NCAA Tournament Player Prop Picks: Alabama vs. UCLA, USC vs. Oregon (Sunday, March 28)
Credit:
Sarah Stier/Getty Images. Pictured: LJ Figueroa.
We've been finding prop bet winners throughout the NCAA Tournament.
With two big-time matchups on Sunday night with a trip to the Elite Eight on the line, we have three more picks.
Check them out below and read why he sees value in them.
NCAA Tournament Player Prop Picks
Sweet 16: Sunday, March 28
What an opening weekend! We waited two long years for March Madness, and it was a wild and wacky first two rounds, with upsets galore and all sorts of fun basketball.
Hey, you know what else is fun? Winning bets.
Last weekend, our Props Tool expanded to March Madness, and boy did it pay off! We went 31-12-1 on picks last weekend, hitting a whopping 72% of our picks. We're up +15.8 units right now on March Madness props, an incredible 35.1% return on investment thus far.
That's a heck of an opening weekend! Let's keep the momentum going in the Sweet 16.
---
---
For those who are new to this article, we'll be using the Action Labs Player Prop tool to compare our NCAAB projections to the props posted at a variety of sportsbooks. Each bet is then graded on a scale from 1-10, with 10 being the best possible grade.
Below, I have laid out three prop bets that I'm playing from Sunday evening's NCAA Tournament Sweet 16 matchups, the case for each bet and the best books to find odds on those player props.
---
Note: All photos below are via Getty Images.
---
Jaden Shackelford, Alabama
(2) Alabama vs. (11) UCLA, 7:15 p.m. ET on TBS
---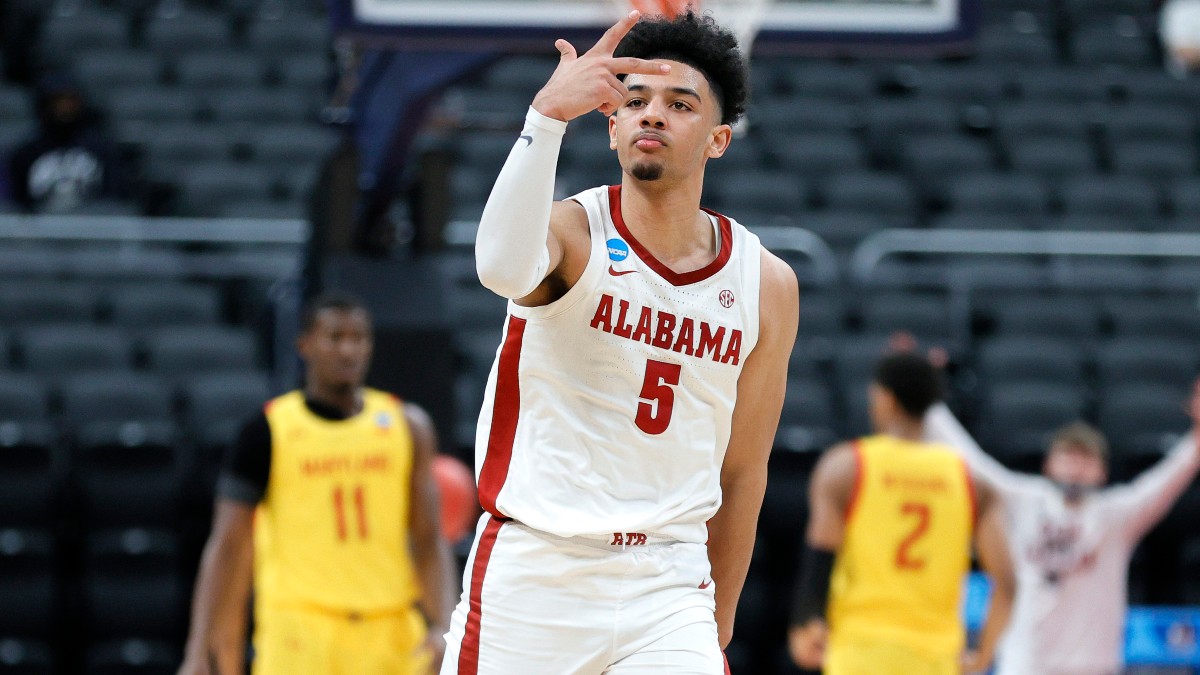 Jaden Shackelford, under 1.5 threes (+180)

---
This one has the potential to make us look absolutely ridiculous, but if you're ready to gamble a little bit, let's gamble.
Alabama loves to shoot 3-pointers. The Crimson Tide led the SEC in 3-point attempts, makes and percentage, and they were fourth in the entire nation in 3-point attempts and makes. Shackelford is just one of Bama's shooters, averaging 2.0 3-pointers per game. Jahvon Quinerly, John Petty and Joshua Primo also average at least 1.5 makes from deep per game.
We saw just how good Alabama can look when the 3-pointers are falling in its last game against Maryland. The Tide shot an absurd 16-of-33 behind the arc and rained absolute fire on the Terps' defense. Shackelford hit five 3-pointers himself, the fourth time this season he's made that many in a game. He hit eight in a game against Eastern Tennessee State in December.
Like I said, this one could make us feel absolutely silly if it goes awry.
UCLA is going to try to gum this game up. The Bruins love to slow things way down and play tough defense, and you can count on them to do everything possible to keep this game to a snail's pace, limit possessions and keep it close enough to have a shot down the stretch at an upset. UCLA plays at the 337th fastest pace in the nation, per KenPom. That's out of 357 teams.
Shackelford can run crazy hot and cold from beyond the arc. If the shots start falling, they can really fall, but he can also go totally silent at times too. Remember those four games with at least five 3-pointers? He also has four games with zero and 13 more with just one. That means he's actually gone under 1.5 threes in 17 of 32 Bama games, hitting this under 53% of the time.
In fact, he's only had at least three 3-pointers in 25% of his games, so we are within one shot 75% of the time. Add in the slow pace, and we have a real play.
Shackelford's 2.0 3-pointers per game are not relevant here. If he goes over 1.5, it doesn't really matter if he hits three or six more. We just need him to go under, and so far this season, the numbers would suggest this line should be at slight minus odds, not anything close to +180. At this line, we only have to hit this prop 36% of the time for it to be a winning play.
I'm prepared to look silly, but I'm also prepared to win. I'll play to +140.
---
Tahj Eaddy, USC
(6) USC vs. (7) Oregon, 9:45 p.m. ET on TBS
---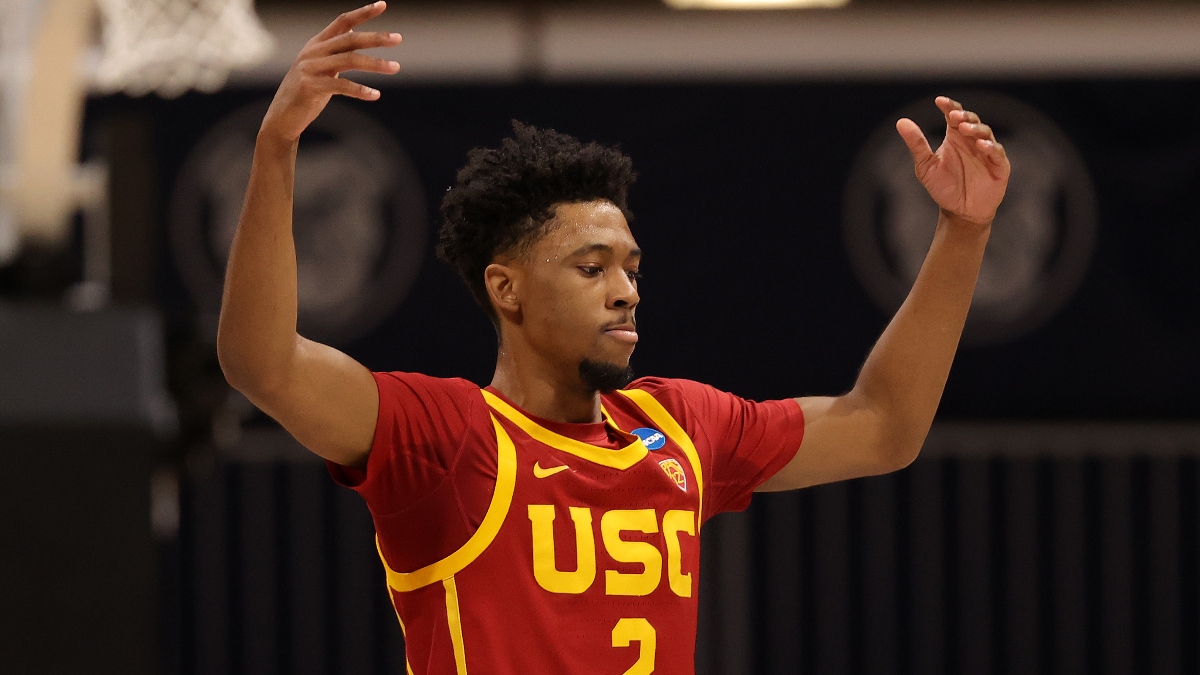 Tahj Eaddy under 3.5 assists (-148)

---
It's not often that we get conference rematches in the Sweet 16, but neither USC nor Oregon was expected to make it thus far, and this should be a good one. The teams met only once in the regular season and USC won that one, with Tahj Eaddy putting up a huge game. He scored 24 points against the Ducks, his second highest total of the season.
The senior guard had only two assists in that one, though, and despite leading USC in assists for the season with 87, that comes out to just 2.8 assists per game. The Trojans play a slow tempo and are more defense than offense, and this is a team that tends to spread the ball around while Evan and Isaiah Mobley dominate in the interior.
Eaddy had 10 dimes in USC's NCAA Tournament opener against Drake, but that was a huge outlier because he didn't even top five assists in any other game this season. He's actually gone under 3.5 assists in 21 of 31 games, hitting this under 68% of the time, and remember, he had only two assists against the Ducks even in a big game last time.
Eaddy is over 3.5 assists in two of his last three games but under 3.5 in eight of his last 10, so don't get thrown off by recency bias here. This should be a close, low-scoring affair between two teams that know each other well, and that won't leave as many assist opportunities.
We project Eaddy at 2.4 dimes, giving this prop an 18% edge in our favor. I'll drink the juice and play the under to -175.
---
L.J. Figueroa, Oregon
(6) USC vs. (7) Oregon, 9:45 p.m. ET on TBS
---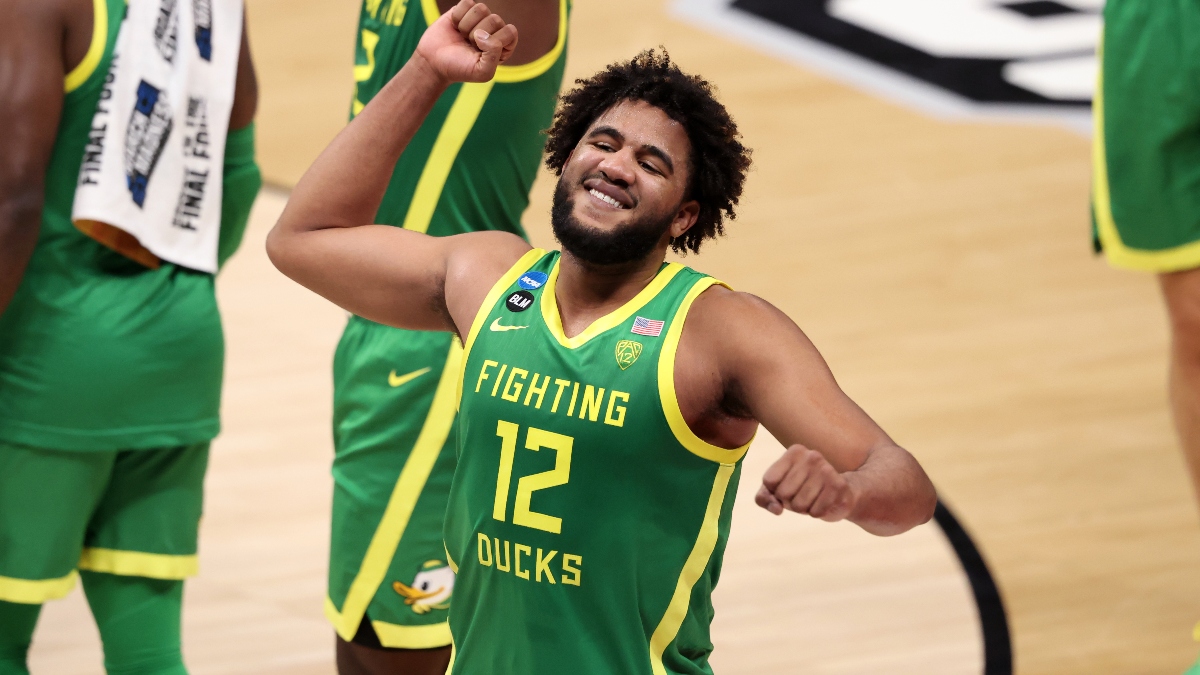 L.J. Figueroa over 5.5 rebounds (-102)

---
This is why LJ Figueroa came to Oregon. Figueroa transferred this season from St. John's with hopes of playing on a team capable of making a real run in March, and now he's playing for a chance at the Elite Eight.
Figueroa has become a big part of the Ducks offense down the stretch. He has scored double digits in each of the past 10 games, averaging 16.0 points per game during that stretch. A big part of that increased scoring has been Figueroa's newfound 3-point shot. He's making 2.7 threes per game during this 10-game stretch, hitting 50% of his shots behind the arc.
Scoring won't be easy this game, but Figueroa's presence will be vital. USC has a serious size advantage on the interior with the Mobley brothers, but Figueroa can pull one of them away from the rim with his shooting and open this game up for the rest of his teammates. That should mean big minutes for Figueroa. He's up to 32.1 MPG over these last 10.
I'm not confident in Figueroa's scoring against such a stout USC defense, but it sure feels like USC is going to have to keep him out there and keep on trying. Oregon's entire starting five is 6-foot-6 or smaller, and Figueroa is the leading Ducks rebounder at 6.2 per game. Rebounds won't come easy this game against the Mobleys, but Figueroa should be up for the challenge.
He's had at least five boards in 17 of 25 games, so that puts us in range. We need one more to win, but we'll count on the extra effort and playing time along with a tough, defensive game that offers plenty of rebounds for that.
We project Figueroa at 6.3 rebounds, and there's no question that Oregon needs a big game from its big man if the Ducks have any chance against USC. I'll play to -120.
---
How would you rate this article?