SEC College Basketball Conference Futures: Florida's Path Becoming Clear
Credit:
Wesley Hitt/Getty Images. Pictured: Florida Gators
Welcome to arguably the greatest month on the sporting calendar. As regular season play ends for most teams, conference tournaments take center stage. Today, we take another look at the SEC.
The SEC is set to put six teams in the tournament, per ESPN's Bracketology, with Ole Miss sitting in the Next Four Out.
Arkansas was a buy at 20/1 in this column two weeks ago and has been the hottest team in the SEC. No one in the country has done more for their tournament resume than the Hogs, locking up the No. 2 seed in the SEC Tournament and projecting as a No. 5 seed for the NCAA Tournament. The Razorbacks have won nine straight SEC games against the cream of the crop, beating LSU and Alabama this past week.
Florida did plenty to lock a double-bye in Nashville with a win at Kentucky. The 3-2 zone against the Wildcats allowed just 4 of 20 shots to fall from beyond the arc. Despite the loss, John Calipari's team can lock up a bye in the conference tournament with a win over Ole Miss and South Carolina this week.
This column will focus on the teams that will enter Nashville with a double-bye. A team starting the SEC Tournament on Day 3 thanks to a double-bye has won the tournament every season, with the exception of Auburn in 2019.
Adjusted efficiency margin is a direct indicator of a team that can win the national championship, and the current numbers suggest no SEC team will reach the Final Four. LSU meets the adjusted offensive efficiency margin at 120, but fails to meet the criteria on the defensive end. Of the teams that meet the adjusted defensive efficiency number of sub-96, only Alabama, Florida and Arkansas are close to 113.9 on the offensive side fo the ball.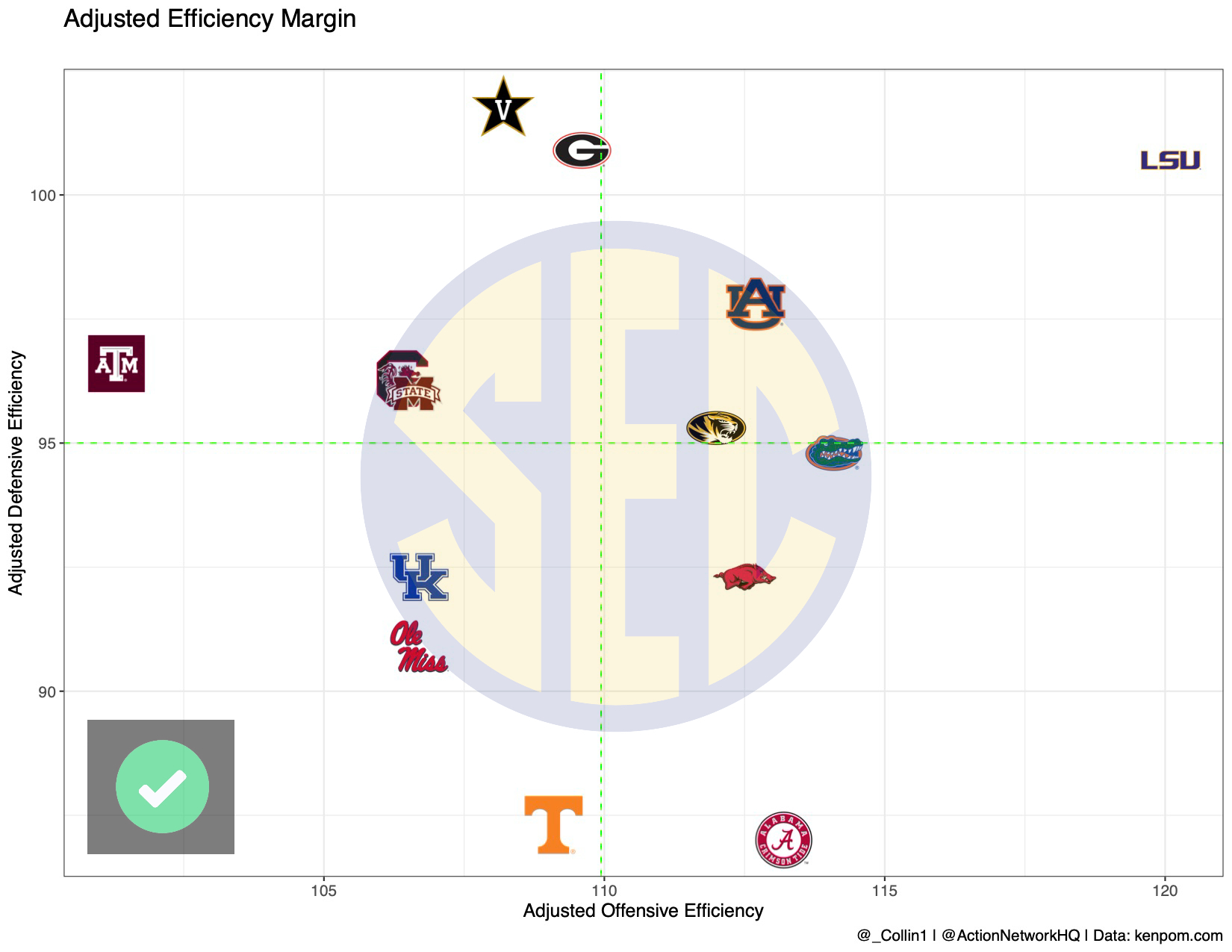 With those numbers in mind, we look at the current odds for any kind of betting value for the conference championship.
Alabama Crimson Tide
19-6 (14-2) •  1st in SEC •  13-11-1 ATS
---
Photo: Wesley Hitt/Getty Images. Pictured: Jahvon Quinerly.

Team Rankings

Quadrant Record (NET)

Level

KenPom

8th

7-4

1

NET

9th

6-1

2

RPI

4th

6-1

3/4
A culmination of bad shooting and a red-hot defense by Arkansas this past week doomed the Crimson Tide. Alabama started the game 0-10 from beyond the arc and finished 11 of 33 on the day. The Razorbacks let the lead slip away early in the second half before the officials took over the game and handed Alabama a total of 32 personal fouls.
Alabama would rebound in a victory against Mississippi State that secured it the No. 1 seed in the SEC Tournament.
Some positive shooting regression may still be in play for the Tide, as they hit just 25% in that win over the Bulldogs. Nate Oats' squad doesn't have much to play for from an SEC perspective this week, but keep an eye on the shooting woes against Auburn and Georgia.
Upcoming Games:
Tuesday, March 2 | vs. Auburn
Saturday, March 6 | at Georgia
Arkansas Razorbacks
19-5 (11-4) •  2nd in SEC •  15-7-1 ATS
---
Photo: Wesley Hitt/Getty Images. Pictured: Eric Musselman.

Team Rankings

Quadrant Record (NET)

Level

KenPom

18th

6-4

1

NET

19th

4-1

2

RPI

11th

9-0

3/4
There are no adjectives to describe Arkansas basketball these days other than piping hot, sizzling or ablaze. The Hogs did not lose a game the entire month of February and went from a team with no Quadrant 1 wins to six. There are plenty of reasons for the current status, from head coach Eric Musselman's UPS speech to football coach Sam Pittman delivering burgers.
Arkansas has gotten big contributions from players 1-9 on the roster. Davonte Davis didn't log a 20 minutes game until Jan. 9, but logged his highest efficiency rating of the year against LSU. Freshman Jaylin Williams struggled to see the court in late January, but finishing with a season high four blocks against the Tigers. Finally, Justin Smith has logged three team MVP awards in the last four games after missing most of January with an injury.
There is currently no value on the Hogs price at 3/1 after moving from 20/1 in a fortnight. It will be interesting to see if Arkansas can keep the steam against South Carolina and Texas A&M with its current conference tournament seed locked up. Expect to see more minutes played from Ethan Henderson and Vance Jackson in preparation for a trip to Nashville.
Upcoming Games:
Tuesday, March 2 | at South Carolina
Saturday, March 6 | vs. Texas A&M
Florida Gators
13-6 (9-5) •  3rd in SEC •  10-9 ATS
---
Photo: Matthew Maxey/Icon Sportswire via Getty Images. Pictured: The Florida Gators.

Team Rankings

Quadrant Record (NET)

Level

KenPom

28th

5-3

1

NET

26th

3-2

2

RPI

37th

5-1

3/4
To back Florida, we needed a sign of life in the shooting department. The Gators had a 13-day break due to COVID-19 and restarted play with a loss at Arkansas. Florida has won every game since including a massive road trip at Kentucky that all but sealed a double-bye.
Colin Castleton and Tre Mann came up big against an athletic Wildcats team, leading Florida to 55% from inside the arc.
If you have added Arkansas and Kentucky at 20/1 from this column, Florida is the deliverable this week at +550 for the SEC. The Gators have locked up a Day 3 start in Nashville and would project on the opposite side of the bracket from Alabama. The Gators have the second-best perimeter defense in the conference and can put points up in the paint. That is a deadly combination to upset a number of teams in the postseason.
Upcoming Games:
Wednesday, March 3 | vs. Missouri
Sunday, March 7 | at Tennessee
LSU Tigers
14-8 (9-6) •  4th in SEC •  9-13 ATS
---
Photo: Wesley Hitt/Getty Images. Pictured: The LSU Tigers.

Team Rankings

Quadrant Record (NET)

Level

KenPom

30th

3-7

1

NET

30th

3-1

2

RPI

30th

8-0

3/4
The team heading down the SEC escalator is the LSU Tigers. Two losses straight-up and against the spread against Georgia and Arkansas highlight the past week for head coach Will Wade.
The Tigers should lock up the No. 4 seed this week at home against Vanderbilt. A tie-breaker against Tennessee will deem the road trip to Missouri a meaningless game. The Tigers could use the work on the defensive side of the ball.
LSU ranks outside the SEC top 10 in numerous defensive categories including turnovers, offensive rebounding and blocks. Every opponent scored at least 78 points in February except Tennessee. LSU now ranks 330th nationally in non-steal turnover percentage and 321st in defensive rebounding.
This team will cash plenty of game total over tickets, but is not worth investing for conference futures.
Upcoming Games:
Tuesday, March 2 | vs. Vanderbilt
Saturday, March 6 | at Missouri
How would you rate this article?