Inside the Worst March Madness Beats: The Weird Foul Call That Saved Duke Bettors in 2015
Credit:
Bob Donnan-USA TODAY Sports. Pictured: Former Duke guard Quinn Cook
Darren Rovell spoke to the players behind some of the worst March Madness beats in recent memory.
Former Duke guard Quinn Cook recounts the last-second foul call that sent him to the line to cover against Utah in 2015.
There's only one thing that drives gamblers more nuts than a player's buzzer-beating heave on a losing team that ruins the spread: When the officials greatly contribute to turning their winning bet into a losing bet.
In 2015, the ultimate March Madness ref moment drove gamblers in Vegas and people on Twitter to absolutely insanity.
It was the Sweet 16 game between Duke and Utah. The Utes were getting 5 or 5.5 points, depending where and when bettors got it.
The number appeared to be a good one.
Duke led at the half by five, and although the Blue Devils got to double digits, bettors were sweating the final five clock minutes, which would last a ridiculous 31 minutes and 53 seconds of real time.
With a minute to go, Duke went up nine. But Utah senior guard Brandon Taylor, fighting to play another college game, scored seven points in the final 60 seconds.
But it was, of course, a five-point game as Utah missed a three and Duke's Quinn Cook grabbed the rebound.
With five seconds to go, Utah tried to force a jump ball. And it looked like Cook might have even been fouled, but the refs let it go.
Three. Two. One second. As Cook dribbled it out, a Utah player slapped at Cook. The horn sounded. The game was over.
The Utes covered.
Or did they?
Refs went to the monitors and ruled that Cook was fouled with 0.7 seconds left.
"It was a really weird play," Cook told The Action Network. "I rebounded the ball and Utah was on their way to the locker room and they called us back."
It was the cruelest of endings for those who took the Utes.
To the line went Cook, who was on pace for one of the best 100 single-season free-throw percentages of all time.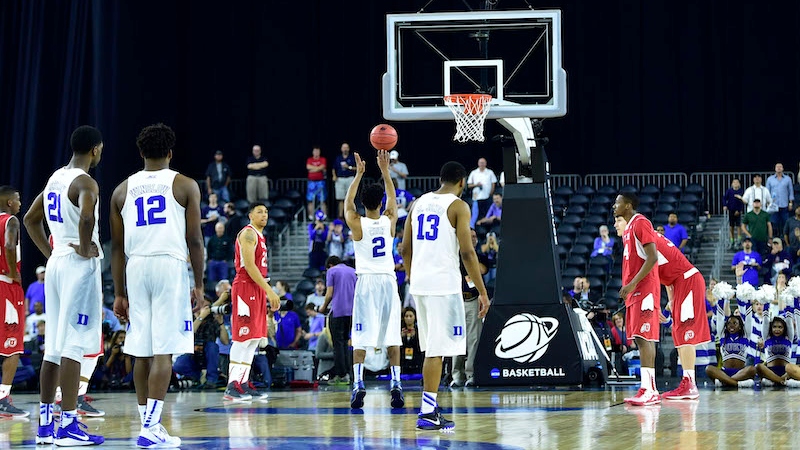 In his 98 times to the line over the 2014-15 season, he had made 89 (.908) of them.
To add a little drama, Cook missed the first.
"I remember that I was really mad that I missed that free throw," Cook said. "I was top five in the country in free throws. I didn't want to miss again."
He didn't.
With the make of his second, Duke had won 63-57. And the Blue Devils had covered the 5.5-point spread.
Since the public was on Duke, it was a brutal loss for Vegas sportsbooks. MGM properties, lost $1 million across the board, including the parlays.
"I had no idea about a spread," Cook said. "All I know is I made a lot of people happy. I saw it on Twitter after the game, how crazy people were going."
More March Madness Bad Beats