10 Potential College Football Look-Ahead Spots to Bet in Week 0 and Week 1
Credit:
John E. Moore III / Getty Images. Pictured: Brock Purdy
Each week, I take a glance at the college football schedule for the following week to see which teams might get caught looking ahead.
More importantly, it signals to me which teams could potentially hold back or pull their starters earlier than usual against an inferior opponent if they have a big game on deck.
It might lead me to a pregame position or a decision to back the favorite in the first half instead of the full game. Or I may just have the game circled as a potential second-half spot.
Other times, I don't think it means anything. It's certainly more art than science, but there are data points that can help inform your course of action. Regardless, it's information I like to have.
I think this is especially important in the first week of the college football season. There are a lot of factors at play (quarterback/scheme changes, coaching tendencies, depth, etc.), but some teams might not want to show anything or keep the starters in longer than needed in the first week against an easy opponent if they have an important game coming up.
There's a reason that teams playing their first game of the season have had so much ATS success against a team that has already played (Example: teams that don't play Week 0 against teams that did play Week 0). Historically, those teams that haven't played yet have covered at greater than a 55% clip. Film advantage is real.
There are only seven games on the docket for Week 0, but two of them involve teams that could be impacted by Week 1 matchups.
I'll start there before getting into eight more for Week 1.
Week 0
---
San Jose State (-24.5) vs. Southern Utah
How much will SJSU show with a trip to USC on deck? The Spartans do need to break in two new starting receivers to replace the extremely productive Bailey Gaither and Tre Walker — both of whom declared for the NFL draft.
Head coach Brent Brennan already mentioned multiple freshmen will see the field. However, it's worth noting that the last time SJSU opened the season against a Big Sky team with a Pac-12 team on deck, it lost at home to UC Davis.
Now, this is a much better San Jose State squad, coming off an undefeated regular season in 2020. That 2018 team finished 1-11. Still, I'm sure Brennan and his staff hammered that point home this week to ensure maximum focus.
For reference, Southern Utah went 1-5 in the spring. However, all five losses were single-possession defeats, including four by a combined seven points.
UCLA (-18) vs. Hawaii
Expectations are as high as they've ever been during Chip Kelly's tenure in Westwood, but how much will he show and how long will he keep the foot on the gas with LSU on deck? It's a fair question, assuming the Bruins build a comfortable lead against the Rainbow Warriors.
That said, Chip might not assume any margin is safe after UCLA blew second-half leads of 28-10 and 34-20 against USC and Stanford, respectively, last year. All four of its losses in 2020 came by six or fewer points.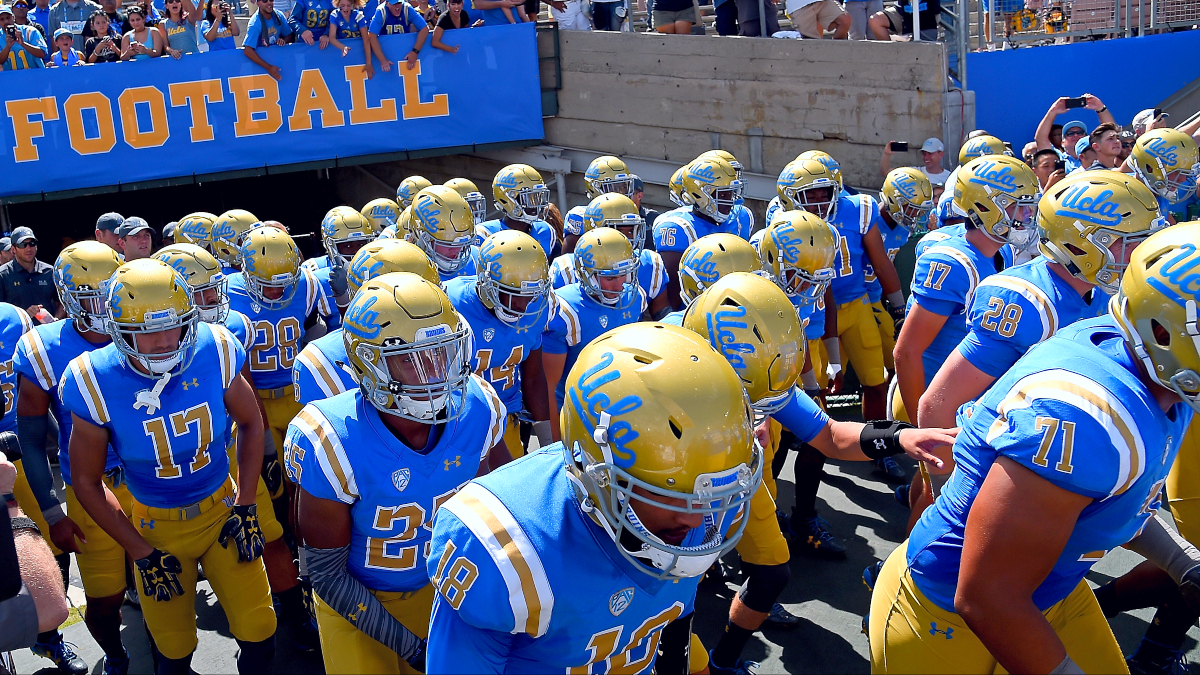 Week 1
With a full slate scheduled for Week 1, there are many more teams that might take into consideration their opponent in the following week.
The biggest Week 2 matchup involves Oregon traveling to Ohio State, but the Buckeyes start out with a brand new quarterback on the road in a conference clash with Minnesota. Meanwhile, Oregon is close to a three-touchdown home favorite over a Fresno State team that certainly has talent.
Neither team is really on my radar from a look-ahead perspective although you could see either go conservative a bit sooner than usual if they build a massive lead.
I have the same sentiment with Arkansas, which will host Texas in Week 2. First, the Hogs will open their season as close to a three-touchdown favorite against a gradually improving Rice program.
Now, let's take a closer look at the teams I think deserve closer consideration for a potential look-ahead in their openers.
Iowa State vs. Northern Iowa
The Cyclones have arguably the most preseason hype in program history. With an extremely experienced roster and Brock Purdy back under center, the Cyclones have serious College Football Playoff aspirations.
However, in order to live up to their lofty expectations, they will finally need to beat in-state rival Iowa. That game takes place in Ames in Week 2. Iowa State has dropped five straight to the Hawkeyes since 2015 — with three of the five coming at home — and four straight since Matt Campbell arrived.
Can they finally get the monkey off their back? First, they will take on another in-state team in Northern Iowa. I'm sure the Panthers would love nothing more than to knock off big brother.
UNI has a very strong FCS football program. It was picked to finish fifth in the Missouri Valley but is still nationally ranked. The Panthers had a disappointing 3-4 spring season filled with COVID-19 and injury issues, but three of those losses came by a combined eight points.
Questions remain on offense, specifically at quarterback, but all 22 starters return. The defense, in particular, should be solid with an experienced secondary and two studs in the front seven in defensive tackle Jared Brinkman and linebacker Spencer Cuvelier.
Will Iowa State get caught looking ahead? I'd lean "no" in this particular situation. This is one of the most experienced teams in the country, so it doesn't have as much to work on early as other teams. And I'm sure it just wants to get to Iowa healthy without showing any new wrinkles.
However, I'm sure Campbell has stressed the importance of September after a number of slow starts over the past few years.
You may recall Iowa State lost as double-digit home favorites in its opener last year against Louisiana. That game preceded back-to-back conference games against TCU and Oklahoma.
As far as facing an FCS school in the opener, it's happened three other times during Campbell's tenure. All three came against Northern Iowa prior to a Week 2 Cy-Hawk showdown against Iowa. The results aren't pretty:
2016: Lost outright, 25-20, as 23-point favorites
2017: Won, 42-24, as 10-point favorites
2019: Won, 29-26, in triple OT as 10-point favorites
History certainly suggests Iowa State might take this game too lightly. I didn't even mention a 2018 late-season matchup with another in-state FCS school. Iowa State barely squeaked by Drake in that one by a final score of 27-24 in a game the Cyclones were favored by 40.5 points.
Pittsburgh (-38) vs. UMass
How much will Pitt care or show against lowly UMass with a trip to Knoxville to take on Tennessee in Week 2? It's a fair question.
For reference, head coach Pat Narduzzi is just 1-5 ATS at Pitt against FCS schools with a few September scares:
2020: Beat Austin Peay, 55-0 (-30.5)
2019: Beat Delaware, 17-14 (-30)
2018: Beat Albany, 33-7 (-26.5)
2017: Beat Youngstown, 28-21 (-13)
2016: Beat Villanova, 28-7 (-28)
2015: Beat Youngstown, 45-37 (-16.5)
Tennessee (-34) vs. Bowling Green
Tennessee also has a cakewalk home opener on paper against Bowling Green (-34) before hosting Pitt in what will be close to a coin flip.
However, new head coach Josh Heupel is implementing a completely new offense, so I'm sure he wants all of the live reps he can get, especially since the pace and scheme are a complete 180-degree change from what Tennessee ran last year.
Also, three viable options at quarterback could see time. Michigan transfer Joe Milton reportedly has the edge for the QB1 spot as of now, but Virginia Tech transfer Hendon Hooker and highly-touted sophomore Harrison Bailey remain in the mix.
Plus, I'm sure Heupel wants nothing more than to blow the doors off Bowling Green in front of Rocky Top for his debut after Vols fans just suffered through the worst season in program history.
I wouldn't count on Tennessee taking its foot off the gas. During his time in Orlando, Heupel's UCF teams went 2-0 against FCS teams by a combined 100-0 margin.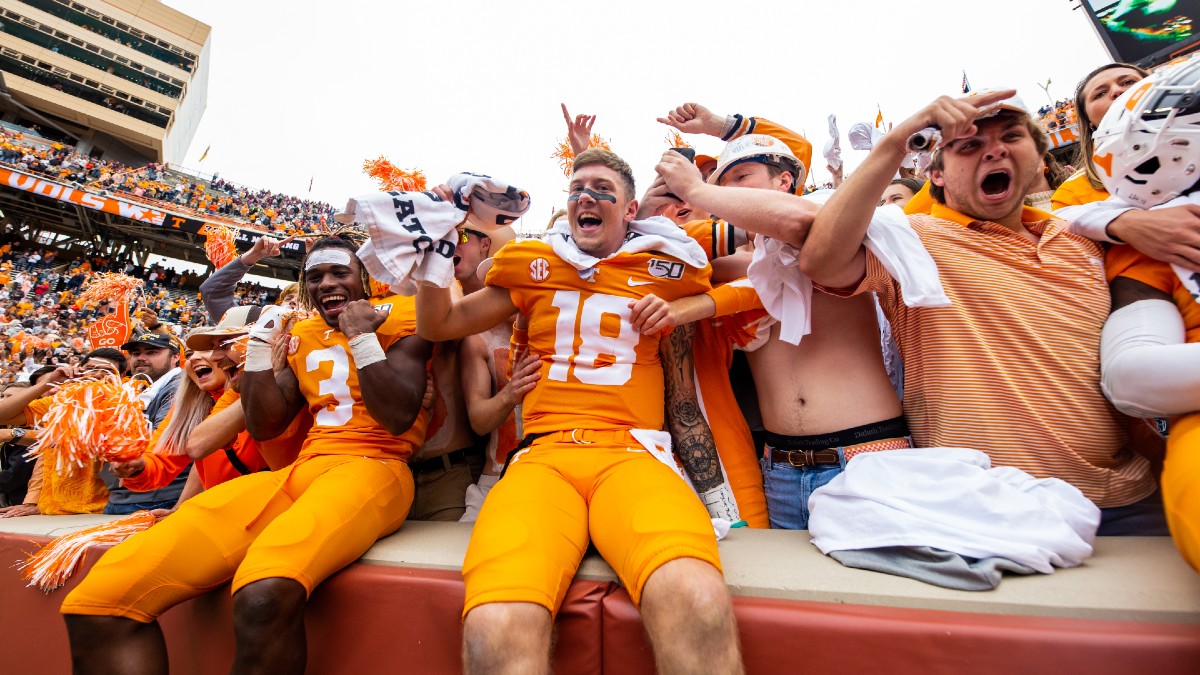 Kentucky (-29.5) vs. UL Monroe
The Cats open up their season at home against a UL Monroe team that went 0-10 last season and never held a lead the entire season. Consequently, the Warhawks brought in new head coach Terry Bowden, who will try to turn the program around.
Meanwhile, Kentucky is also undergoing some change of its own. Head coach Mark Stoops made a change at offensive coordinator and brought in former Rams assistant Liam Coen. The goal is to bring a more balanced offensive attack to Lexington.
Coen hopes a pair of transfers will help facilitate that transition. Wide receiver Wan'Dale Robinson (Nebraska) instantly juices up the UK receiver room, and quarterback Will Levis (Penn State) will take over as QB1 to start the season after Terry Wilson transferred to New Mexico.
Kentucky should prevail against ULM, but how much of the offense will Stoops and Coen want to show a week before a potential season-defining conference game against Missouri?
Then again, I'm sure they want to get in as many reps as possible against live FBS competition for an offense going through a scheme change with many moving and new parts.
Utah (-27.5) vs. Weber State
Led by a nasty (and now much more experienced) defense and arguably the top offensive and defensive lines in the conference, Utah is a serious Pac-12 contender, especially after adding grad transfer quarterback Charlie Brewer from Baylor.
How much and how long will head coach head coach Kyle Whittingham unleash Brewer and a brand new receiving group against Weber State the week before a date with rival BYU in the Holy War?
For what it's worth, Weber State, known for its defense at the FCS level, was picked to win the Big Sky and is ranked inside the preseason top-10.
Utah's most recent matchup with an FCS team came back in 2019 when it faced Idaho State the week before traveling to USC. The Utes did actually open up the playbook early on en route to building a 24-0 halftime lead.
After they scored a touchdown on their opening drive of the second half to extend to a 31-0 lead, they basically went conservative and pulled all of their starters to get reps for the second and third-teamers. Neither team scored the rest of the way. I'd expect a similar approach here.
Although…
Utah actually opened the 2018 season against these same Wildcats in a game it led only 17-10 at the half. The Utes then opened up its lead in the second half and played their starters into the fourth quarter en route to a 41-10 victory.
In 2017, Utah beat FCS North Dakota, 37-16, after a slow start in the opener, which came a week before the BYU game. The starters played most of the game as the Utes only led, 30-16, late in the fourth quarter.
Washington vs. Montana
Another Pac-12 team with conference title aspirations, Washington is in almost the same boat as Utah. The Huskies will also open up with a Big Sky team ranked in the preseason FCS top-10 in Montana. After going 2-0 in the spring, the Grizzlies were picked to finish second in the Big Sky behind Weber State.
How long will Washington keep its starters in a week before traveling to Ann Arbor for a meeting with Michigan? Starting quarterback Dylan Morris does return, but UW is also breaking in a new group of wideouts and will have a new defensive coordinator on the other side of the ball.
It's also worth noting that Washington has great depth at quarterback if this game gets out of hand. Behind Morris is former Colorado State starter Patrick O'Brien and true freshman five-star Sam Huard.
After barely pulling out a wild 59-52 victory over Eastern Washington in 2014, the Huskies have had no problems with FCS foes since. They have gone 5-0 against five Big Sky opponents, winning by a combined margin of 245-27.
Washington had no issues playing their starters into the fourth quarter in a blowout, but those five games came during the tenure of Chris Petersen, who obviously took those games seriously after that scare against EWU in his first year in Seattle.
This will mark the first FCS opponent for Jimmy Lake, who took over as head coach prior to last season.
Toledo vs. Norfolk State
From a returning production standpoint, no team in the country boasts more experience than the Rockets. Outside of a quarterback competition, which Carter Bradley appears to currently lead, this roster is pretty much set.
I'm not sure how much the Rockets will care about a game against Norfolk State with a trip to South Bend to take on Notre Dame in Week 2.
That said, it might not matter. I'm sure Toledo will want to get a look at a number of quarterbacks in live action, but it could simply move up and down the field at will by just handing it off.
Norfolk State, which hasn't had a winning season since 2011, didn't play any football last season. The Spartans are led by quarterback Juwan Carter, who will put up plenty of numbers, but that's against MEAC competition.
In 2019, Norfolk State did face two FBS opponents. It almost pulled off an upset in its season opener in a three-point loss to Old Dominion, but that was the only game ODU won all season. The Spartans also lost, 46-7, at Coastal Carolina in a game where they amassed only five first downs and 117 total yards.
The Rockets have had no issues blowing out FCS opponents under head coach Jason Candle. Since he arrived in the Glass City in 2016, the Rockets are 4-0 against FCS opponents with a total margin of 203-19.
Tulsa vs. UC Davis
I'm sure the Golden Hurricane are itching for the Week 2 rematch with in-state foe Oklahoma State. Last year, the Cowboys pulled out a 16-7 victory, but Tulsa actually led, 7-3, in the fourth quarter of a statistically even game.
Will Tulsa get caught looking past its opener against UC Davis? It's possible.
Tulsa last faced an FCS opponent in the 2018 season opener against Central Arkansas — one week before a trip to take on a Big 12 opponent (Texas). Sound familiar? Central Arkansas (+11.5) actually led in the fourth quarter before Tulsa pulled away late.
The Aggies, ranked in the top-20 FCS preseason poll, are a very capable Big Sky team. I'm not sure if they will be able to get their running game going against the stout Tulsa 3-3-5 defense (even without Zaven Collins), but they will at least have a great punter in Daniel Whelan to potentially flip fields after drives stall (You know I had to get at least one special teams mention in).
How would you rate this article?
This site contains commercial content. We may be compensated for the links provided on this page. The content on this page is for informational purposes only. Action Network makes no representation or warranty as to the accuracy of the information given or the outcome of any game or event.