Georgia vs. Alabama Odds, Predictions: Collin Wilson's 11-Pick Betting Card for the National Championship
Credit:
Kevin C. Cox and Todd Kirkland/Getty Images. Pictured (L-R): Will Anderson Jr. (31) of the Alabama Crimson Tide and Broderick Jones (59) of the Georgia Bulldogs.
Georgia vs. Alabama Odds
Georgia Odds
Spread
Total
Moneyline

-3

+100

52.5

-115o / -105u

-140
Alabama Odds
Spread
Total
Moneyline

+3

-120

52

-115o / -105u

+120

---

National Championship
Monday, Jan. 10 · Indianapolis, IN
---
The conclusion of the college football season will be a legendary rematch between two of the top programs in the nation.
The 2022 College Football Playoff National Championship will not only be the second time Alabama and Georgia have met this season, but also four years and two days since the 2018 overtime thriller for the title.
Plenty of student-athletes became household names that evening before hitting the NFL, as a 51-yard Rodrigo Blankenship field goal was outdone by a Tua Tagovailoa torpedo to DeVonta Smith for a Crimson Tide victory.
This version of the national title will once again showcase more than a dozen names that will soon play at the professional level.
The perfect season from Georgia ended in a lackluster performance with a loss to Alabama in the SEC Championship. Head coach Kirby Smart professed how elite the quarterback and offensive line play was for the Crimson Tide.
Failing to execute kept Smart from beating his former boss for a fourth consecutive time since leaving his post as Alabama defensive coordinator and taking on the head-coaching job at Georgia.
The Bulldogs bounced back in the national semifinal by dominating Michigan. Georgia led, 27-3, by halftime, limiting the Wolverines offense to just one possession past the 40-yard line and neutralized Heisman Trophy runner-up Aidan Hutchinson by averaging 5.4 yards per carry.
The Bulldogs piled up seven tackles for loss and three turnovers, as the revelry of the Michigan victory brought back confidence and a trip to Indianapolis for revenge.
Continuing the streak of national semifinal blowouts, Alabama put up a covering victory in the Orange Bowl. Cincinnati was held without a touchdown and posted just two successful conversions in 15 attempts on third and fourth down.
The Crimson Tide played terrorizing defense with eight tackles for loss and six sacks.
The Bearcats represented the Group of Five's first-ever appearance in the playoff but left without a whimper after five punts and just four drives that crossed the Alabama 40-yard line.
Head coach Nick Saban will search for that "yummy rat poison," as the Crimson Tide will be underdogs once again versus Georgia.
These head coaches have been in this position before, as the 2011 National Championship for Alabama was a rematch that ended with revenge over an undefeated LSU team.
Saban and Smart led the Crimson Tide effort in a shutout of the Tigers, but both head coaches implied that the prior rematch experience will have no play-calling impact on this national title game.
---
Reviewing the SEC Championship
A National Championship preview requires a comparison of the competitors' strength of schedule, personnel differences, schemes and how each coordinator will manage the game.
In this particular title game, investors have already been provided with four quarters of research from a conference championship 37 days prior.
Alabama bested Georgia thanks to great offensive line play and a Jordan Battle pick-six.
The pick-six by Battle on robber coverage underscores the high-level reason Alabama won the SEC. The defensive back disguised his coverage to fall back with the receiver, but once Bulldogs quarterback Stetson Bennett took his eyes to the left side of the field, Battle jetted toward tight end Brock Bowers.
This was an easy adjustment made by Alabama defensive coordinator Pete Golding, as Bowers was targeted 15 times against Alabama. By comparison, Bennett targeted running back James Cook and wide receiver George Pickens just five times each.
The SEC Championship was decided because of Heisman Trophy winner Bryce Young's chimerical execution of the Alabama offense. The freshman quarterback finished with four big-time throws while escaping 22 pressures in allowing zero sacks.
Young coupled 15-of-22 throws between the hash marks, taking advantage of an untried Georgia secondary.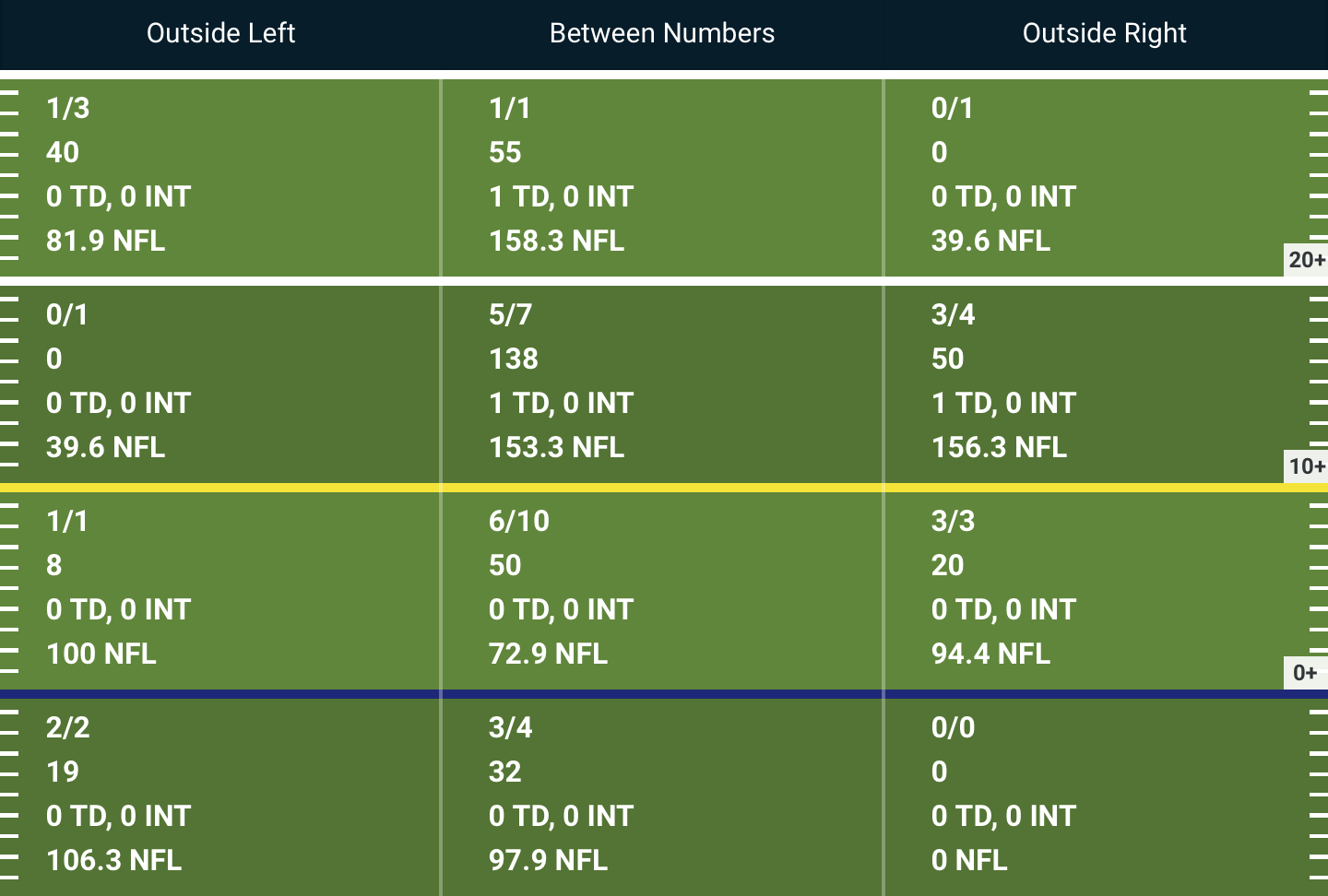 Georgia had the same offensive strategy to attack the middle of the defense, as Bennett completed 22-of-34 passes in between the hashes. The quarterback completed just one pass in 19 pressured dropbacks, as both interceptions came from the middle of the field.
Eight of the Bowers' targets came against the strong safety position in Brian Branch and Daniel Wright, a strategy sure to be implemented in the National Championship.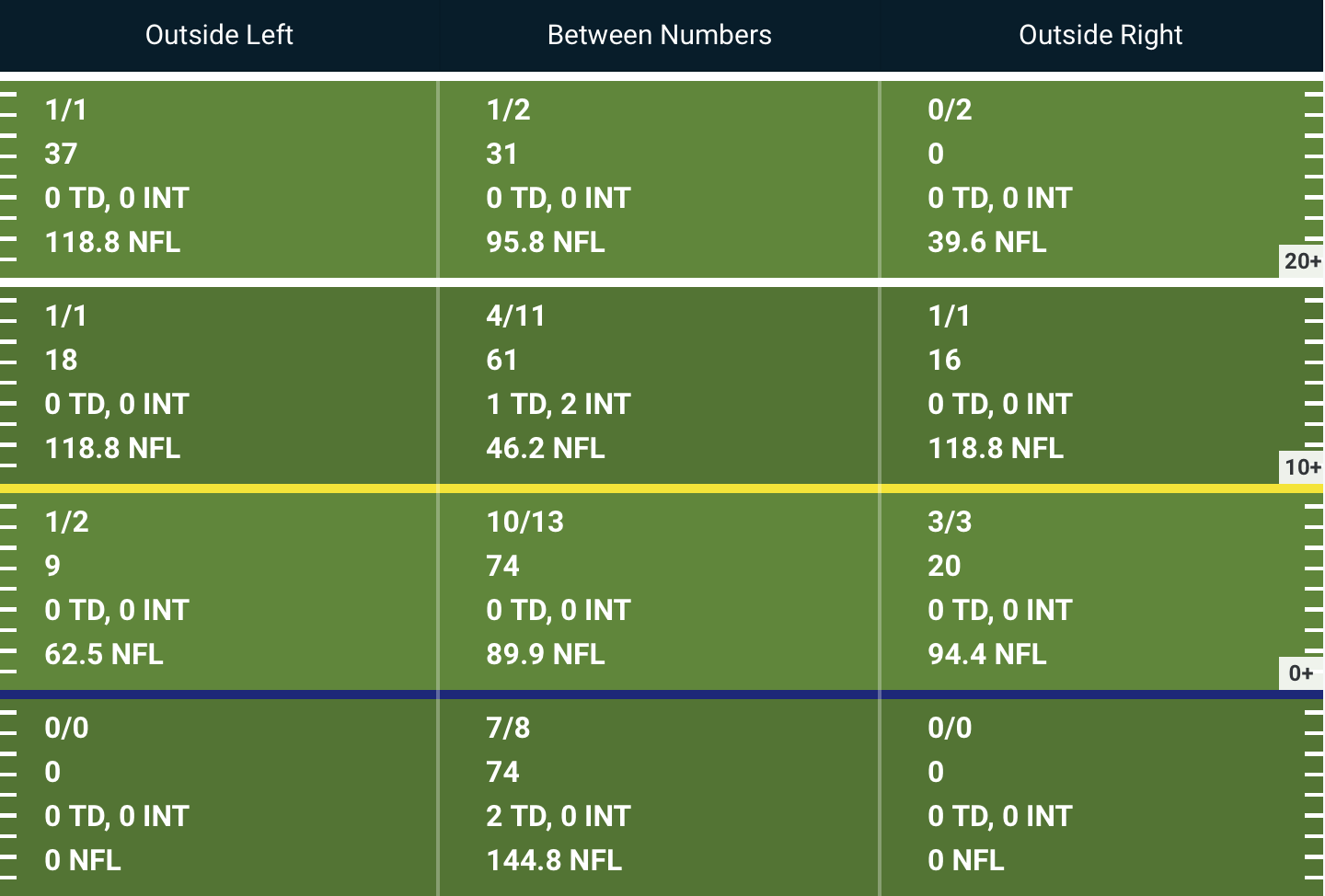 Unlike the Alabama quarterback, Bennett was pressured in 15 dropbacks, resulting in three sacks and two balls thrown away.
The play-action pass is a staple of the Georgia offense, as Bennett completed five of his nine attempts with two drops by targets. The quarterback gave credit to the Crimson Tide defense for the use of multiple coverages, even Cover 0 with no deep defender.
Smart admitted Alabama's pace of play was much faster than expected, as a couple of scores had Georgia passing much more than was planned. Alabama averaged 22.1 seconds per play compared to a 25.9 mark from the regular season. For comparison, the Crimson Tide pace was faster than the Western Kentucky offense and just shy of Kent State.
Offensive coordinator Bill O'Brien doubled the national average in explosive drive rate with seven passes exceeding 20 yards. With the Georgia defense stuffing 39% of Alabama rushing attempts, there is belief that the same pace of play will be implemented in the national title game.
Despite Georgia generating 22 pressures on Young, the Alabama offensive line produced after being challenged by Saban. Seth McLaughlin was inserted at center after limited experience, moving fifth-year senior Chris Owens out to right tackle.
Both Owens and left tackle Evan Neal cultivated their best pass-blocking grades of the season.
The Alabama defense posted 19 pressures with Will Anderson accounting for one sack and five quarterback hurries. This forced the Georgia rushing attack to veer away from Anderson and forced an average third-down distance of 6.6 yards to go.
Both teams averaged 3.5 points on drives past the other team's 40-yard line, but Alabama's uptempo and scramble attempts from Young put Georgia behind by multiple scores.
For Georgia to win this game, protecting the middle of the field and getting pressure on Young defensively is paramount to keeping Bennett from producing turnovers on offense.
---
Entering the SEC Championship game, tight end Brock Bowers had just 46 targets on the season. Georgia is a run-first team, averaging 46% out of 11 personnel, 61% out of a two-tight end set and a whopping 68% run rate when three tight ends are on the field.
That all changed in the conference title game, as the freshman tight end from California had 15 targets with all but two coming inside the hash marks.
Bowers recorded just five catches on as many targets in the semifinal victory over Michigan, as a quick lead led to a heavy dose of rush in the Orange Bowl.
Both Saban and Smart have mentioned that the game plan for the national title will not be all that different from the SEC title game, with the exception of a few wrinkles.
One area that is a constant: No single Crimson Tide defender could contain Bowers.

Quarterback Stetson Bennett had a remarkable day with three touchdowns and 340 passing yards. Two turnover-worthy plays occurred once Alabama generated a two-score lead, forcing the Georgia offense into fifth gear.
Bennett is now bolstered by a healthy offensive line, as left tackle Jamaree Salyer returned to action after a lengthy absence. Salyer shut down Heisman runner-up Aidan Hutchinson, allowing just a single pressure in 69 snaps.
The health of Salyer will prevent Bennett from pressured dropbacks, as Michigan generated only seven pressures and zero sacks in the Orange Bowl.
This also opens up lanes for a Bulldogs rushing attack that posted 4.6 yards per rush against Alabama without their star left tackle.
The stable of running backs that includes James Cook and Zamir White was highlighted by a Kenny McIntosh toss sweep touchdown pass against Michigan.
Georgia's initial game plan was to have an even distribution of run and pass, as the Bulldogs had passed just four more times than they ran before the third quarter deficit became two touchdowns.
The focus of the ground attack was away from Alabama edge Will Anderson, while the passing game targeted the middle of the field. Specifically, Bennett targeted strong safety Brian Branch on 11 passing attempts, generating three first downs and a score.
Cornerback Josh Jobe was targeted eight times, but with a turf toe injury, there will be more attempts at Kool-Aid McKinstry. The freshman corner was burned on an explosive pass to George Pickens.
Cornerback Jalyn Armour-Davis has graded out as one of the best coverage defenders on the Crimson Tide but was limited to just 15 plays against Cincinnati with a hip issue. If the injury persists, Khyree Jackson is expected to get the start at cornerback after appearing in just three games this season with 50 coverage snaps of experience.
Expect Bennett to find Bowers over the middle against Branch and Pickens out wide against McKinstry, as Georgia exceeded the national average for two-plus first down drives by 12% in the SEC Championship game.
The Alabama defense could not be taken advantage of in the semifinals by Cincinnati, as the Bearcats had just four scoring opportunities. The Crimson Tide have posted a Finishing Drives rank of 89th, evidenced by allowing 31 scores in 37 opponent red-zone attempts.
Georgia scored early and often against Alabama, but a Bowers mistake led to an interception, while Kearis Jackson drops limited opportunities.
Better execution on the offensive side will lead to a score closer than that of the SEC title game number posted in Atlanta.
---
The biggest concern for the Crimson Tide to repeat as champions are key injuries.
John Metchie III was the leading receiver for Young after hauling in 96 catches and eight touchdowns on the season. Just as DeVonta Smith won the Heisman last season, Metchie has been a staple in downfield blocking for other receivers.
The Crimson Tide entered halftime of the SEC Championship with 24 points, but Metchie's ACL injury with one minute left in the second quarter left Young looking for answers in the second half.
Metchie recorded 324 snaps in a wideout position versus 164 snaps in the slot.
Slade Bolden received the lion's share of looks in the fourth quarter of the SEC title game, ending with seven targets. Bolden posted 316 snaps on the season from the slot, making his presence of the utmost importance in the national title game if Alabama continues to attack between the hash marks.
The senior caught all three targets against Cincinnati, but the game plan was centered around the ground attack.
When asked before the Cotton Bowl who would fill the shoes of Metchie, O'Brien immediately rattled off Ja'Corey Brooks and JoJo Earle. Brooks ended the semifinal game with five targets and four catches, while Earle was targeted just once against the Bearcats.
Brooks was scattered on the field with 12 snaps from the slot and 18 from out wide, similar to the distribution of Metchie. Burning future NFL cornerback Arquon Bush led to a 44-yard touchdown and plenty of trust from Young.
The duties of covering Jameson Williams will once again fall on the shoulders of cornerback Kelee Ringo and safety Lewis Cine, as both defenders were targeted five times and beat for two touchdowns.
Although Williams lines up in the wideout position on 72% of snaps, his double move off the line of scrimmage has been deadly in creating space. Williams has been most successful in crossing routes between the hashes, exactly where Alabama attacked Georgia in the conference title game.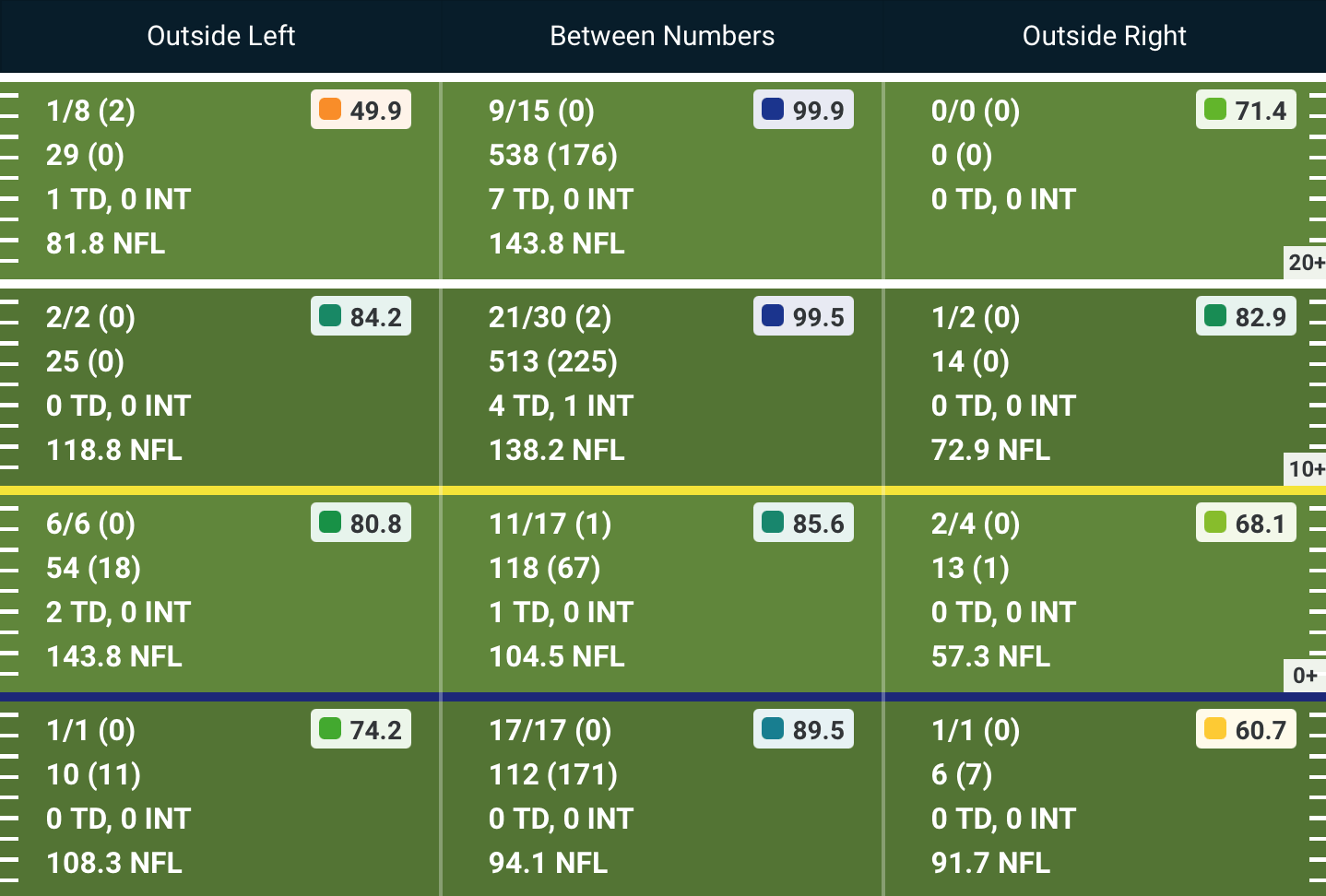 There will be a collective effort to recover from the loss of Metchie, but the expectation is a bump in Brooks targets and the increased usage of passes to a tight end.
Jahleel Billingsley was targeted a career-high six times against Georgia with two receptions.
Keep an eye on the injury status of Williams, who took a special teams shoulder hit that sent Alabama's most explosive player to the medical tent.
Another area of health concerns revolves around offensive linemen Emil Ekiyor and Owens. Ekiyor has played 923 snaps at the right guard position, while Owens was shifted all season in place of both Damieon George Jr. at right tackle and Darrian Dalcourt at center.
If Owens is unable to play, George may get the start at right tackle after last seeing action against Auburn and allowing five pressures and two sacks. Amari Kight is another tackle who could possibly fill the role, but he has just 64 snaps of experience on the season.
In the case of Ekiyor, JC Latham is expected to see the duties at right guard after playing 55 snaps against Cincinnati. The Bearcats posted two pressures and a quarterback hit in Latham's limited snaps in the Cotton Bowl.
Alabama struggled in late SEC play against LSU, Arkansas and Auburn because of the offensive line, and the National Championship game will be no different if injuries persist.
The offensive line will be most tested in pass blocking, as Saban went light in the run game against the Georgia front seven.
The Bulldogs are one of the best zone-read defenses in the nation, as running backs Brian Robinson Jr. and Trey Sanders combined for just 19 zone reads.
Alabama was quick to abandon the run and throw on 44 attempts in the SEC Championship.
Not only will Alabama flirt with tempo, but Young should also have a consistent quick release considering the offensive line. The Heisman winner has not thrown an interception on any pass released in less than 2.5 seconds on the season, where his highest NFL rating ranges from 1.5 to 1.75 seconds.
Defensive coordinator Dan Lanning will be leaving Athens for the head coaching position at Oregon, but he must first make Young as uncomfortable as possible.
Georgia has sent pressure with six defensive players on just 2% of snaps through 2021, but the loss of Metchie before halftime in the SEC Championship changed that strategy. The Bulldogs sent six defenders on more than a half-dozen snaps in an effort to flush Young from the pocket.
Without Metchie, look for Georgia to increase a 28% blitz rate with more than just the front four defenders.
---
Alabama & Georgia Special Teams
From a high-level view, these teams rank 25th and 26th in Special Teams SP+. There was no real advantage in the SEC Championship, as both teams had an average starting field position around the 22-yard line and finished up almost dead even in hidden yards.
Both teams combined to go 11-for-11 in field goal and point-after attempts.
There are certain areas of focus between the two teams where an advantage can be found. Alabama ranks 115th in punt efficiency and 130th in opponent field goal efficiency. While there is no way to handicap opponent field goal efficiency, Georgia does rank 61st in punt return efficiency.
Kearis Jackson has returned 22 punts on the season with a long of 41 yards and an average of 8.6 per return. Jackson was held to just six total yards on two punts by Alabama in the SEC title game.
While the starting field position was even in Atlanta, the season ranks favor Georgia. The Bulldogs are third in both defensive field position and net field position.
Bolden and Earle combine for four punt returns and negative eight yards against Cincinnati.
Williams took over kick return duties with the Metchie injury, but a shoulder pop against Cincinnati may force a new face to field kickoffs. Georgia senior Jake Camarda is 23rd in touchback rate, indicating Bolden, Earle or Williams have the task of setting field position for Alabama.
Could another Alabama game come down to a field goal? Will Reichard has hit 32-of-37 field goals since the beginning of the 2020 season, with three misses this season from the 40-to-49-yard range.
Reichard has connected on 2-of-3 lifetime from beyond 50 yards.
The Crimson Tide have the more stable kicker, as Georgia junior Jack Podlesny has connected on just 33-of-41 field goals since the 2020 season. The Georgia kicker has missed on five tries between 30 and 49 yards, including a miss in the Orange Bowl.
While Podlensy has not attempted a 50-plus yard field goal this season, the Bulldogs kicker connected on all three attempts in the 2020 season.
With any field goal props posted, the question becomes more about opportunity than length, as these kickers are 5-of-6 lifetime from beyond 50 yards.
---
Lucas Oil Stadium
The National Championship will take place in Indianapolis, where Lucas Oil Stadium opened for play in 2008.
Oddsmakers have often set a total points number well above where Indianapolis Colts games finish. The under in Colts home games since 2008 has been a 59% winner.
The original FieldTurf installed in 2008 was replaced in 2018 with Shaw Sports Momentum Pro, a fiber synthetic turf designed to limit injuries and hold up for 20 years. Even with the installation of the synthetic field, Colts home games have gone under the total at a winning rate since the 2018 season.
Luckily, the roof will be closed for the National Championship, providing no issues of wind or precipitation for players.
The field is maintained indoors, unlike the playing surface for the Fiesta Bowl that caused issues for the semifinal game between Ohio State and Clemson.
Considering this is the venue that houses the 40-yard dash for the NFL Combine, the surface will play fast for each team's skill positions.
---
National Championship Referee Crew
No stone goes unturned in these National Championship previews, including a handicap on the officials.
There have been instances of crews that favor targeting, personal fouls, and of course, pass interference. These are all momentum-swinging events in the college football game that can change the direction on the scoreboard.
Handicapping an officiating crew could lead to a hidden advantage in predicting pace, available yards and whether the game could go sideways.
The head referee is Duane Heydt, an ACC official who is ranked ninth in defensive flags per 100 plays.
The penalty yards per game rank in the top 30, but more important is his tendency to call personal fouls. Heydt called 27 personal fouls this season, averaging more than two per game.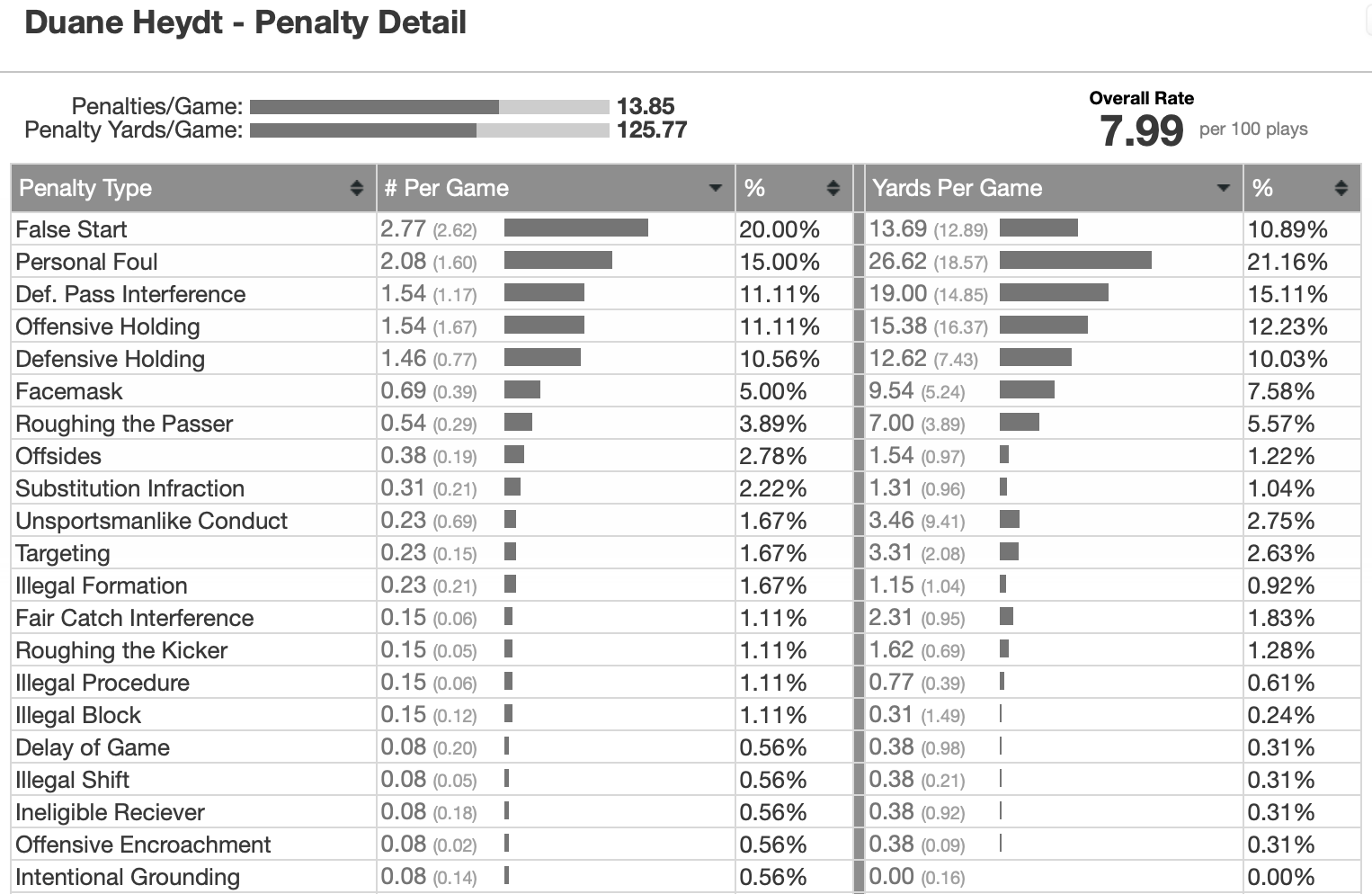 Another large area of flags come on defensive pass interference.
Heydt has the third-highest rate of all Power Five officials when it comes to pass interference, throwing 47 this season for an average of 3.6 per game. This should be an area for concern for investors on the side of the Crimson Tide, as Alabama ranks 124th in penalty yards this season. In comparison, Georgia ranks just 15th in penalties per game.
Line judge Steve Matarante is an ACC official and has had his run-ins with head coaches before, none more famous than a Bo Pelini outburst that cost 10 dimes.
Back Judge Keith Parham was fired from the NFL after the 2014 season. Side judge Jeff Shears has been calling ACC games for nearly a decade without incident, while field judge Ryan Flynn and head linesman Matt Fitzgerald have called ACC games without incident.
There are not many referees who have petitions for suspension, but Heydt is guaranteed to drop laundry on the field against the defenses in this game.
With a high rate among Power Five peers, expect defensive pass interference and personal fouls to extend drives for Georgia and/or Alabama.
---
Alabama vs. Georgia Matchup Analysis
Toggle the dropdowns below to hide or show how Alabama and Georgia match up statistically:
Alabama Offense vs. Georgia Defense

Offense

Defense

Edge

Rush Success
69
4

Line Yards
79
11

Pass Success
3
1

Pass Blocking**
60
13

Big Play
6
2

Havoc
62
10

Finishing Drives
9
1

** Pass Blocking (Off.) vs. Pass Rush (Def.)
---
Georgia Offense vs. Alabama Defense

Offense

Defense

Edge

Rush Success
38
11

Line Yards
23
4

Pass Success
24
51

Pass Blocking**
9
50

Big Play
6
49

Havoc
5
7

Finishing Drives
8
89

** Pass Blocking (Off.) vs. Pass Rush (Def.)
---
Pace of Play / Other

| | | |
| --- | --- | --- |
| | | |
| PFF Tackling | 3 | 1 |
| Coverage | 21 | 1 |
| Middle 8 | 2 | 4 |
| SP+ Special Teams | 26 | 25 |
| Plays per Minute | 57 | 108 |
| Rush Rate | 50.3% (92) | 57.4% (46) |
Data via College Football Data, FootballOutsiders, SP+, PFF and SportSource Analytics.
---
Alabama vs. Georgia Betting Picks & Props
Betting the Spread
The loss of Metchie cannot be stated enough, as the connection with Young goes far beyond targets and total receiving yards.
Besides being a downfield blocker, Metchie also changes routes on the fly when directed by Young. Alabama's Heisman Trophy winner does not have this same relationship with any other target on the roster.
BRYCE YOUNG FINDS JOHN METCHIE.

Bama has the lead! 😤😤

— 247Sports (@247Sports) December 4, 2021
Metchie's absence allows Georgia to not tip its hand in coverage. Williams often lines up in heavy or bunch sets, a formation that forces the defense to expose its hand in coverage. Without Metchie, Georgia may now double-cover and spy Williams freely while playing one-on-one coverage against Bolden, Brooks and other Alabama targets.
Not only does the loss of Metchie change the defensive plan for Lanning, but the potential offensive line injuries also change the pressure scheme to the one used more often second half of the SEC Championship. Georgia rarely uses more than four rushers to generate pressure, but the Bulldogs spent the final 30 minutes flushing Young out of the pocket with at least five rushers.
Taking a page from LSU, once the right side of the Alabama offensive line had a weakness, the Tigers ran heavy stunts while flashing zero coverage to generate sacks.
With so many potential injuries on the Alabama side of the ball, Georgia will be aggressive in exposing those areas.
Williams will draw double coverage, Young will be forced from the pocket through the right side of a replacement offensive line, and the Crimson Tide defense will be asked to stop the middle of the field against Bowers while potentially missing two key defensive backs.
The Action Network projection is Georgia -2, but with injury at key positions on both sides of the ball, there are plenty of questions surrounding the Crimson Tide.
Look for the Bulldogs to harass the Alabama offensive line and win their first National Championship since 1980, taking Georgia at -3 or better.
Betting the Total
The Action Network projection places the total at 51, leaving no value in the current market of 52.5. These teams do have frequent periods of no scoring, as the SEC Championship featured just three points in the first quarter and seven points in the third quarter.
The initial game plan out of the gate and after halftime favors the defense, but the in-game adjustments show why Smart and Saban are two of the best in the business.
When points come, they generally hit in a flurry, making it important to know which numbers are key through live betting. The range in focus for a live over is 44, which hits in 2.7% of college football games. The number in focus for a live under is 65, which hits in 2.2% of college football games.
The early market indicates all of the tickets and dollars have landed on the over with no movement at most shops from 52.5. There are indicators that this game should go over the total.
With Alabama's offensive line struggles, the Georgia defense will get Young into space and force shots downfield. Considering Young has committed just 11 turnover-worthy plays on the season and five interceptions, rushing yards and deep targets will keep the chains moving.
Bennett will have a juxtaposition opportunity downfield with injuries to Jobe and Armour-Davis in the Alabama secondary. Smart was surprised by Alabama's tempo, which may force the Bulldogs to increase their pace similar to the Crimson Tide at 22 seconds per play.
Any two-score lead in this game will increase pace on the other side.
Finally, the referees may be handing out free yards to each offense. Head official Heydt's record for personal fouls and pass interference shows there is a high probability of multiple flags in this game.
Giving the Georgia and Alabama offenses free plays is a sure-fire way to get the final score over the posted total. While there is a lean to the over pregame, the sharp play is patience through the first quarter before taking a better number live.
Total Yards
There is a direct correlation between pressuring Young and the amount of rushing yards posted. Young rushing the ball has never been an option, as he's totaled -11 yards on the season when having a designed run called.
However, teams that present pressure end up producing plenty of scramble yard opportunities for the Alabama quarterback. Georgia produced eight quarterback hurries in the SEC Championship, and Young responded with 40 scramble yards. Tennessee produced five pressured pockets, resulting in 54 scramble yards for Young.
Both Arkansas and Auburn presented similar results, and Young gained a combined 41 scramble yards.
Young averages 6.1 yards per carry, and Georgia created eight pressures against a healthy Alabama offensive line without recording a sack.
Betting the Bryce Young rushing yards over prop is in order, but because sack yards and kneel-downs count against that total, I would begin betting at any number at 8.5 up through 29.5. This number will take steam on game day, so the size of the bet becomes smaller as the number crosses 30.
As far as Alabama rushing attempts, running zone read with Sanders and Robinson against the Georgia front will not be in the cards for offensive coordinator O'Brien.
The Crimson Tide threw 51 times and rushed on just 27 attempts in the SEC title game. Both Robinson and Sanders were limited to 3.5 yards per rush as the Alabama ground attack was stuffed on 54% of attempts.
Early markets have Robinson's total yards at 80.5 and Sanders at 31.5. Those numbers are a reflection of the Cincinnati game and not the Georgia front seven against an unhealthy Alabama offensive line.
Take the under on both running backs' total yards, with Robinson down to 49.5 and Sanders to 24.5.
Young will be passing often considering the rushing attempts will be limited in efficiency. Both Bolden and Brooks have picked up the slack for Metchie, with Bolden being more of a possession receiver moving the chains and Brooks being the home-run hitter.
With Williams and Bolden properly priced in the early market, there is value on Brooks' total yards. After posting a combined 115 yards on 10 targets against Auburn and Cincinnati, Brooks total receiving yards over 34.5 is a play up to 44.5.
The potential loss of Jobe to turf toe will increase the number of targets on Kool-Aid McKinstry. Bennett immediately targeted McKinstry in the conference title game with two completions and 55 yards. Both Bowers and Pickens produced explosive plays against the freshman cornerback.
Other Alabama defenders to give up explosives include linebackers Henry To'oTo'o and Christian Harris, each surrendering 30-yard passes to Ladd McConkey and Bowers, respectively.
The longest touchdown number is set at 52.5, a number Williams has eclipsed in eight games for the Crimson Tide. Look for the Alabama linebackers and cornerback McKinstry to give up explosive passes from Bennett to eclipse this number.
First Touchdown Scorer
Assessing the first touchdown, it's important to know how coaches handle the coin flip. Alabama won the coin toss in seven games this season and deferred to the second half every time. On one occasion, the opposing team won the toss and elected to receive, the start of many mistakes for New Mexico State.
The Alabama defense allowed just one opening-drive touchdown — its lone loss to Texas A&M. In the five games Alabama received the ball first, only three resulted in an opening touchdown. Metchie and Jase McClellan provided two of those touchdowns, but both are unavailable for the national title game.
Against Southern Miss, Williams opened the game with a 100-yard kickoff return touchdown.
Similar to Alabama, Georgia won the toss in five games this season and deferred to the second half every time. In the eight games Georgia received the ball first, the Bulldogs scored on half of the opening drives.
Jermaine Burton hauled in a 73-yard pass against UAB, while James Cook ran 23 yards for the first score against South Carolina. In a smashing of Arkansas, Georgia scored first on one of two total touchdowns from Zamir White.
The running back was active once again in the semifinal, as White and Bowers had two touches apiece in the red zone on the opening drive against Michigan.
In six opening defensive drives, Georgia allowed just one touchdown in the form of a Hendon Hooker touchdown pass against Tennessee. The handicap on first touchdown is clear: Both teams will opt to defer winning the coin toss, and both defenses have been excellent at preventing opening-drive touchdowns.
Alabama's first touchdown candidates will be targeted through the air, while White and Bowers are the top options for Georgia.
White will certainly receive his touches and may be the grinder Georgia needs to slow the game down with a lead, but when the fireworks kick off in this game, there will be a heavy dose of Bowers, who should account for a third of all Georgia targets.
The wild card in this game is tight end Darnell Washington, who received one target on the Georgia's third drive in Atlanta, resulting in the Bulldogs' first touchdown.
That touchdown catch was by design, as Washington was Bennett's only look on the second-and-goal play that followed a failed first-down rush by White.
For Georgia first touchdown props, look for Brock Bowers +700 or better and a long shot on Darnell Washington at +5000 or better in the market.
The Alabama prop is a bit trickier, considering the Georgia defense has allowed just eight red-zone touchdowns this season.
Williams is listed at +500 for the first touchdown of the game, properly priced considering the explosive passing and special teams touchdowns throughout the season.
When Alabama does get into the red zone, there has been a clear pattern of Sanders and Bolden attempts, both seeing numerous touches against Cincinnati and all the way back to Arkansas.
Although Young scrambled for a touchdown against Georgia, this is not the preferred red-zone attempt, as the Heisman winner has nine fumbles on the season.
Sanders and Young are both well outside of +2000 to score the first touchdown, but considering what the Georgia defense does to zone reads, there may be better choices than rushing options for the Crimson Tide, including the short odds on Robinson.
Cameron Latu fumbled in the red zone against Arkansas and didn't receive another look until the Cotton Bowl.
The Alabama passing attack will be between the hash marks, a specialty for Latu. The tight end posted an 18-of-21 mark between the hashes and is out of Saban's doghouse.
Latu had not posted a touchdown since Week 11 against New Mexico State but was targeted just once against Cincinnati, resulting in a touchdown. Any number at 20-1 or better deserves a small investment on the Alabama tight end.
Finally, while Williams deserves all the attention, it's Brooks who had the highest number of targets against Cincinnati in place of the injured Metchie.
Brooks posted explosive touchdowns against Cincinnati in the Cotton Bowl and against Auburn in the Iron Bowl. If oddsmakers drop Brooks beyond 20-1, the freshman wide receiver will be on my card.
The better bet might be total yards over considering his increased role without Metchie.
---
Collin Wilson's National Championship Betting Card
Georgia -3 or Better
Live Wagering — Over 44 OR Under 65
First Touchdown Brock Bowers +700 or Better
First Touchdown Darnell Washington +5000 or Better
First Touchdown Jameson Williams +500 or Better
First Touchdown Cameron Latu +2000 or Better
Bryce Young Over Rushing Yards 8.5 through 29.5
Brian Robinson Jr. Under Rushing Yards 80.5 through 49.5
Trey Sanders Under Rushing Yards 31.5 through 24.5
Ja'Corey Brooks Over Receiving Yards 33.5 to 44.5
Longest Touchdown Over 52.5 Yards or Better
How would you rate this article?
This site contains commercial content. We may be compensated for the links provided on this page. The content on this page is for informational purposes only. Action Network makes no representation or warranty as to the accuracy of the information given or the outcome of any game or event.