Michigan State Spartans Betting Preview: The Leftovers
Offseason Notes
Sparty ranks way down on the S&P+ Returning Production chart at 124th in the nation. The Michigan State offseason was characterized by attrition and turmoil, something Sparty fans didn't want to see after a 3-9 season in 2016. The losses that will hurt the most occurred in the spring after a number of players were dismissed due to two separate sexual assault allegations, which then caused other players to transfer. Additionally, their projected starting Guard decided to quit after losing his passion for the game. When all said and done, they lost about 6-8 possible starters, including their leading Wide Receiver, starting Cornerback, starting Linebacker, starting Guard and a number of projected contributors on the Defensive Line.
All of the aforementioned transfers and suspensions only added to a number of question marks that already existed with their roster. It may take a few years before Sparty gets back in the top 10, a place they finished the season at in 3 consecutive seasons before 2016.
The offense will be led by Quarterback Brian Lewerke, who did start in a few games last season as a freshman before breaking his leg against Michigan. Lewerke, who still is an unknown himself, will look to get protection from a very inexperienced Offensive Line that could ultimately end up with 2 or 3 freshman starters. He will no longer have Josiah Price at Tight End as a safety blanket and the Wide Receivers he will look for when he drops back are also tremendously inexperienced. Keep an eye on sophomore Trishton Jackson who could develop into the number 1 receiver the Spartans desperately need.
It isn't all bad news on offense as they will have a very experienced and deep backfield led by the talented duo of LJ Scott (Doak Walker Finalist) and Gerald Holmes. Look for Sparty's Offense to leverage their strong depth at running back by utilizing more two back sets in 2017. The rushing attack is legit, but this offense might be less efficient than last season when Sparty finished 12th in the B1G in scoring.
There are just as many questions on the defense starting with the "No Fly Zone", which finished last year near the bottom of FBS in Explosiveness allowed (20+ and 30+ plays through the air). Dantonio's defenses are predicated on getting outstanding coverage to allow for relentless pressure on the opposing Quarterback. In the 9 seasons prior to 2016, Michigan State averaged 33 sacks per year. In 2016, they had 11 total. Third fewest in the country. It could get worse this year with their inexperienced defensive line especially considering a true freshman and a converted receiver might fill their two starting Corner spots. Sparty does at least have a strong group of Linebackers led by Chris Frey, who will need to carry this defense at times.
Expected Win Totals
CW Projected Total Wins:            5.1
CW Projected B1G Wins:            3.1
Posted Total Wins:                   O 6.5 +160
2017 Schedule
Home Field Advantage:               3.1
Opening Power Rating:               51.5
Date
Away
Home
CW Line
Sep 2
Bowling Green
Michigan St.
MSU -16.5
Sep 9
W. Michigan
Michigan St.
MSU -11.5
Sep 23
Notre Dame
Michigan St.
MSU 0
Sep 30
Iowa
Michigan St.
MSU -2
Oct 7
Michigan St.
Michigan
MICH -13.5
Oct 14
Michigan St.
Minnesota
MINN -5.5
Oct 21
Indiana
Michigan St.
MSU -1.5
Oct 27
Michigan St.
Northwestern
NW -7
Nov 4
Penn St.
Michigan St.
MSU +10
Nov 11
Michigan St.
Ohio St.
OSU -23
Nov 18
Maryland
Michigan St.
MSU -9
Nov 25
Michigan St.
Rutgers
RUTG +12.5
Legend:

Off Of Bye

/

Overlook Watch

/

B2B Road Games

/

Neutral Site
Betting Notes
Take Michigan State +4 or better against Notre Dame on September 23rd. Sparty, coming off its bye, will have an extra week to prep for a down Irish team playing the back end of consecutive road games. I project this game at a pk so +4 certainly offers value. Additionally, if Sparty gets off to a likely 2-0 start and Notre Dame simultaneously struggles, you could see Sparty move to a small home favorite by gameday. You will also have the luxury of siding with the much better coach.
Although the futures market has completely overreacted to all of the Michigan State turmoil, I will still wait to potentially capitalize on the overselling by backing them in specific situational spots on their schedule. This roster still has some decent talent and I do trust Dantonio to keep them motivated throughout the year. Sparty had 3 net close losses in 2016 and still showed signs of life in the 1 point loss to Ohio State, a game they could have easily won.
Look at the Sparty -6 Game of the Year line vs Western Michigan, who is a shell of their 2016 team searching for a new identity. Sparty, although inexperienced up front, should dominate in the trenches against a MAC school that was depleted on both lines.
Penn State will roll into East Lansing after a brutal back to back games against Michigan and then at Ohio State. With the current Game of the Year line sitting at Michigan State +12.5, I would wait to maybe catch a +14 closer to kick when public money could push it higher.
X-Factors
Luke Campbell (RT) – This Offensive Line is being assembled during Fall Camp, and Campbell has been getting every look at Right Tackle as a redshirt Freshman. A 3-Star out of Ohio, Campbell lists at 6'5 300 Pounds. Under the mentorship of Brian Allen at Center, Campbell's development will be critical to the success of LJ Scott and Gerald Holmes.

Cole Hahn (K)– If you have a taste for true Freshman Kickers, Michigan State is your destination. Matt Coghlin came into Fall Camp listed as the starting Kicker, but has been beat out by fellow true Freshman, Cole Hahn. Hahn was committed to Iowa as a walk-on, but received an offer from Michigan State in April. The Spartans passing attack should struggle so points will be at a premium once they cross midfield making Hahn even more important in 2017.
Useless Trends
Michigan State is an impressive 12-3-1 ATS as an underdog since 2012.
It all goes right if…
They make a Bowl. After all of the suspensions and transfers in the offseason, 6 wins would be impressive for this inexperienced roster playing in one of the toughest divisions. After a 3-9 season, a simple Bowl appearance should give this young roster plenty of experience and generate some momentum for a possible 2018 B1G Championship run.
It all goes wrong if…
They don't start 2-0. This young and inexperienced team has two winnable games to start the year as they work out the kinks. If they lose either or both, it could get ugly in East Lansing. Dantonio has certainly earned plenty of sick days with a 2013 Rose Bowl victory and a recent College Football Playoff appearance, but how many will he have left with a 2nd consecutive non-Bowl year?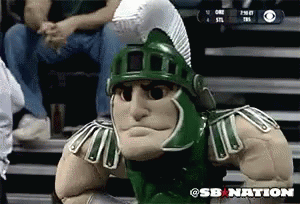 Betting Recap
Michigan State +4 vs Notre Dame

Sparty -6 vs Western Michigan

Wait for Sparty +14 vs Penn State
---
For more, check out the full B1G Conference Preview.