Collin Wilson's College Football Best Bets for Week 13
Credit:
Nelson Chenault-USA TODAY Sports. Pictured: T.J. Hammonds
Collin Wilson breaks down his six favorite college football bets for Week 13, including Kent State vs. Ball State, Notre Dame vs. Boston College and LSU vs. Arkansas.
He's playing a few personnel mismatches and a situational spot, too.
See his best bets for the upcoming weekend below.
The art of wagering on college football goes much farther than managing a number assigned to a team in a spreadsheet. The Action Network Power Ratings serve as a starting point when assessing value in the market, but at this point in the season, there are outside factors that must be considered before placing your hard earned dollar.
Look no further than the MAC for a classic situational spot. Akron had not covered a game the entire season, let alone won one. That all changed on Wednesday with a cover and near upset against Miami of Ohio, a team that will still represent the East division in the MAC Championship in Detroit.
Similarly, Minnesota's fate will be determined next week against Wisconsin. The Gophers' trip to Evanston on Saturday will have no influence on how the West division is decided.
Utah and Oregon meet the criteria for a different objective. Ranked in the top seven of the current College Football Playoff rankings, the Utes and Ducks are on a mission to prove they deserve a hop over No. 5 Alabama. After respective thrashings of UCLA and Arizona, both Pac-12 division leaders turn their attention to the road and some #PAC12AfterDark to impress the committee.
What about Oklahoma? A ranking of ninth was not the bump Sooners fans expected after a 28-3 comeback on Baylor. Will Oklahoma hammer down on offensively-inept TCU for national attention? With the loss of Oklahoma State's Spencer Sanders for Bedlam, the committee may assign the Sooners zero bonus points in the case of a blowout.
Bowl motivation plays another factor outside of power ratings. NC State, Michigan State, North Texas and Nebraska need wins to achieve bowl eligibility. Each of those teams play an opponent with seven losses or more.
Be sure and follow me in The Action Network App to get all my bets on Week 13 games, plus the Week 14 opening lines I bet on Sunday.
College Football Best Bets, Week 13
---
Odds as of Thursday evening and via PointsBet, where Action Network users can access an exclusive promotion to get a 200% deposit match (deposit $50, bet with $150). No strings attached. No rollover required.
---
Ball State vs. Kent State
Spread: Kent State +3.5
Over/Under: 67.5
Time: 12 p.m. ET
TV: ESPN+
These teams are heading in separate directions. Kent State has the hot hand, playing the role of comeback kids behind second-year head coach Sean Lewis. The Golden Flashes were stuffed on a last-minute two-point conversion attempt to send Toledo to overtime in Week 11. Last week, Kent State tallied 24 fourth-quarter points to steal a victory over Buffalo.
Ball State has lost three games in a row to Ohio, Western Michigan and Central Michigan. The Cardinals held fourth-quarter leads against the Broncos and Chippewas before gut-wrenching losses. The scariest scenario for Ball State may be a second-half lead at Kent State in a game that pits two 4-6 teams fighting for the postseason.
The Action Network projection makes this game a pick, giving plenty of reason to take the Kent State points in a game that should be back-and-forth. Ball State quarterback Drew Plitt has 16 touchdowns to just two interceptions on the season and should find success against a Kent State defense that is 116th in opponent passing success rate.
But Kent State is top-50 in passing success rate and rush explosiveness, both stat categories in which the Ball State defense struggles.
Expect special teams to have a say in this game, as SP+ has the Golden Flashes at 11th while the Cardinals are 104th. Specifically, Kent State is top-10 in opponent punt return yards to Ball State's rank of 124th.
Pick: Kent State +3.5 [In New Jersey? Bet now at PointsBet]
Minnesota vs. Northwestern
Spread: Northwestern +14
Over/Under: 39.5
Time: 12 p.m. ET
TV: ABC
Minnesota had its national title dreams dashed at Kinnick Stadium last week, but maintained hope for the Big Ten Championship. The Gophers hold a one-game lead in the West division over Wisconsin, as the Badgers come to TCF Bank Stadium next week. That translates to Minnesota having nothing to play for but its health at Northwestern this weekend.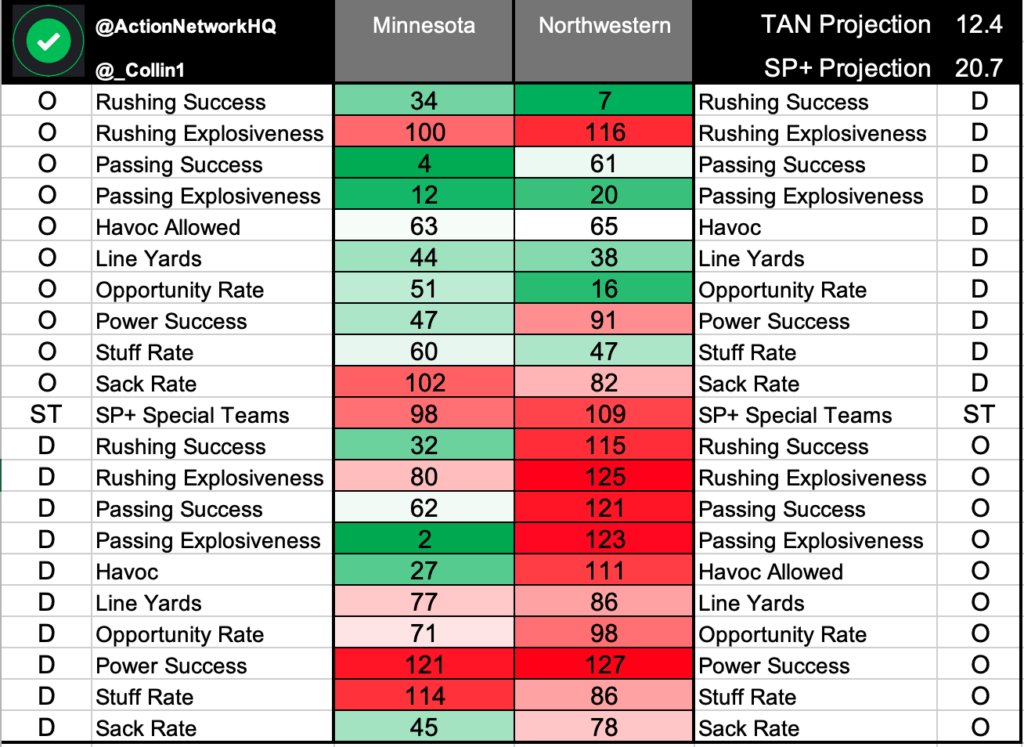 As of this writing, Gophers quarterback Tanner Morgan remains in concussion protocol. Morgan has been responsible for generating a rank of fourth in passing success and 12th in pass explosiveness. Head coach PJ Fleck mentioned that whoever had the better practice between Cole Kramer and Jacob Clark would get the start at Northwestern. With Wisconsin on deck, there does not seem to be a logical reason to play Morgan.
Despite the offensive struggles of Northwestern, Pat Fitzgerald's defense is 20th against pass explosiveness. A rank of 38th in Line Yards and seventh in rushing success rate for the Wildcats defense forecasts a grind for the Minnesota offense.
The two-touchdown spread has plenty of value in a game with a listed total under 40. Scoop the +14 where available, as any official announcement of Tanner Morgan's availability is sure to move the number.
Pick: Northwestern +14 [In New Jersey? Bet now at PointsBet]
South Alabama vs. Georgia State
Spread: Georgia State -10
Over/Under: 55.5
Time: 2 p.m. ET
TV: ESPN+
The information coming down the pipe was "Dan Ellington, torn ACL, out."
Georgia State coach Shawn Elliott hit the podium to report his quarterback did not have a timetable for a return, but that he would not be playing against the Mountaineers.
To our surprise as gamblers, the Georgia State quarterback who led an early-season upset of Tennessee was on the field during warmups last week.
The Panthers raced out to a 21-7 lead before Appalachian State adjusted to Ellington's stationary pocket presence. After the game, Ellington told reporters that he would play the remainder of the season on a torn ACL.
Sun Belt teams generally do not make bowls without seven wins, and the Panthers currently sit at 6-4.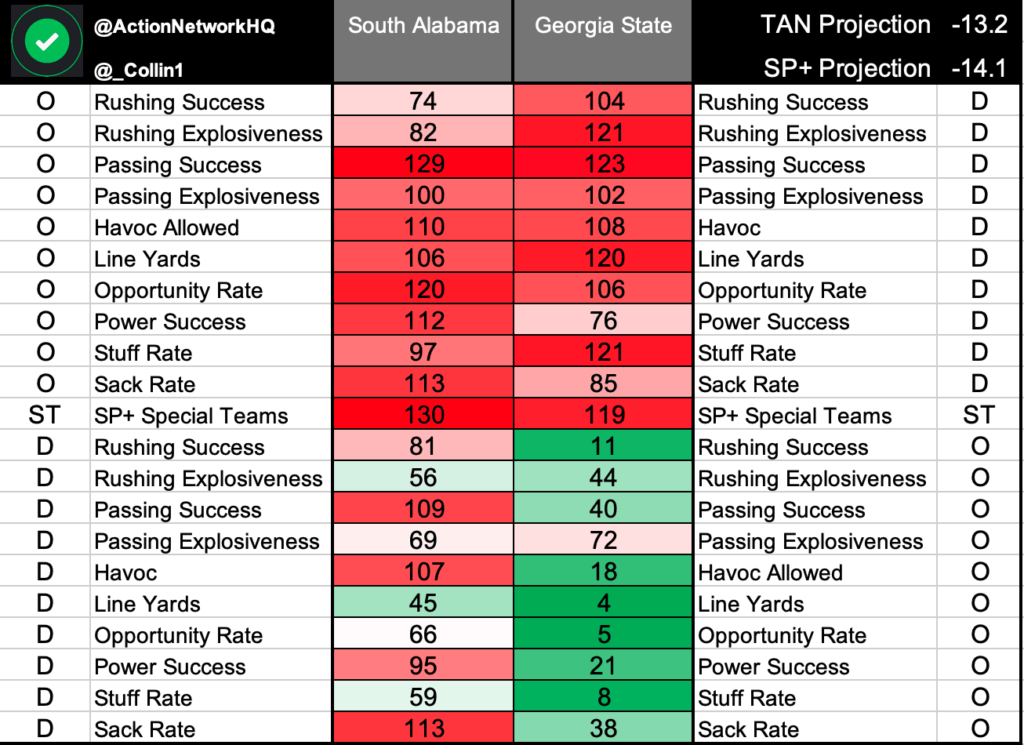 Mother Nature will have her say on the Jags-Panthers clash in Atlanta. The forecast calls for a 70% chance of precipitation and 16-mph wind gusts. Even with Ellington under center, this game comes down to the trenches where the Panthers have a big advantage.
Georgia State ranks 11th in rushing success rate and 18th in standard downs success rate. Backed by a top-10 rank in Line Yards, opportunity rate and stuff rate, the Panthers should dominate the line of scrimmage and clock. Ellington's immobilization may not be an issue, as South Alabama is 113th in defensive sack rate.
Finishing drives, red zone efficiency and special teams all point to an advantage for the home team. With a projection of Georgia State -13 and a total of 50, we will back the Panthers and the under in a game that should see plenty of rushing attempts.
Pick: Georgia State -10 & Under 56 [In New Jersey? Bet now at PointsBet]
Boston College vs. Notre Dame
Spread: Notre Dame -20.5
Over/Under: 64
Time: 2:30 p.m. ET
TV: NBC
The game plan against Navy was simple. Ian Book went straight to the air against a Midshipmen defense that was outside the top 80 in passing success rate. The Irish found themselves up 28-0 after their first four drives, all a result of touchdown passes by Book.
Boston College comes into South Bend looking for a victory to become bowl eligible.
The Eagles rank 118th in defensive passing success rate and 126th in explosive passing allowed, which should have Notre Dame on a steady diet of explosive pass attempts.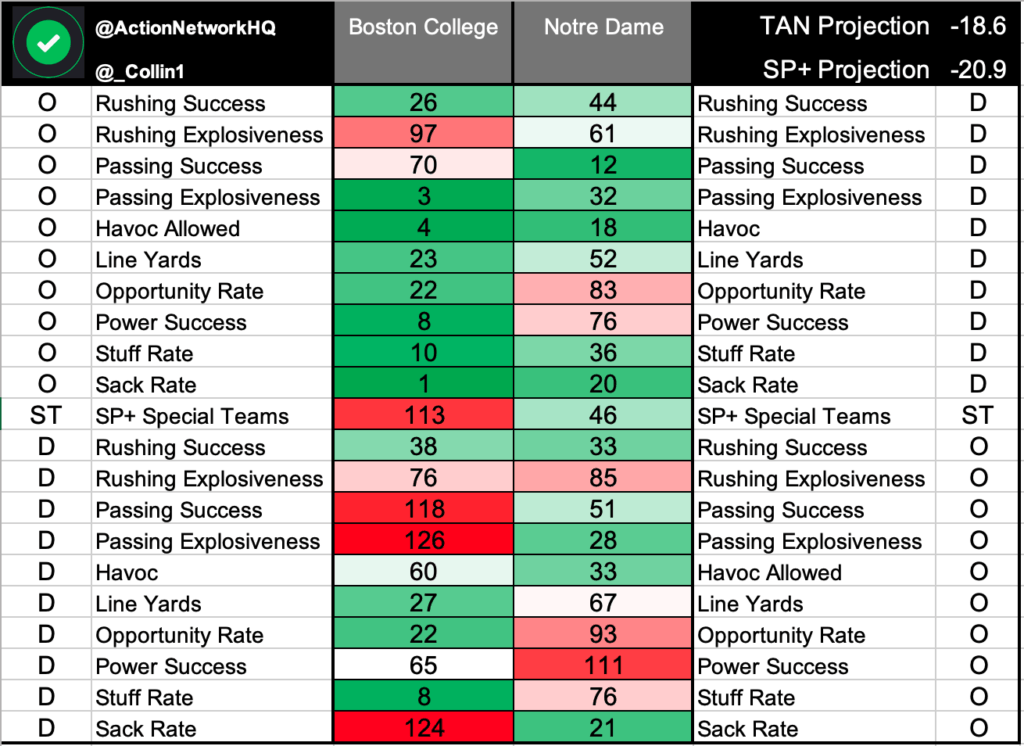 Boston College will have issues applying pressure with a havoc rank of 60th and a sack rate of 124th. This will be Notre Dame's seventh opponent coming off a bye week, a data point that head coach Brian Kelly reminds the media of each Monday. Kelly is looking to boost Notre Dame's rank of 16th, something that might have been a factor in scoring 50-plus on Navy.
Because the Fiesta and Peach Bowl host the College Football Playoff semifinals, the Irish have just one open spot to compete for a New Year's Six at-large bid.
Notre Dame should be able to contain enough of the Boston College rush attack while getting points on the board quickly. Expect the Irish to continue to make a statement this week and through Stanford next week in hopes of jumping high enough in the rankings to warrant a trip to Arlington.
Pick: Notre Dame -20.5 [In New Jersey? Bet now at PointsBet]
Louisiana Tech vs. UAB
Spread: UAB -6.5
Over/Under: 44.5
Time: 3:30 p.m. ET
TV: ESPN+
In some cases, you throw out the projected lines and advanced stats. In the case of Louisiana Tech, most of the team's production is missing with the suspension of quarterback J'Mar Smith and wide receiver Adrian Hardy.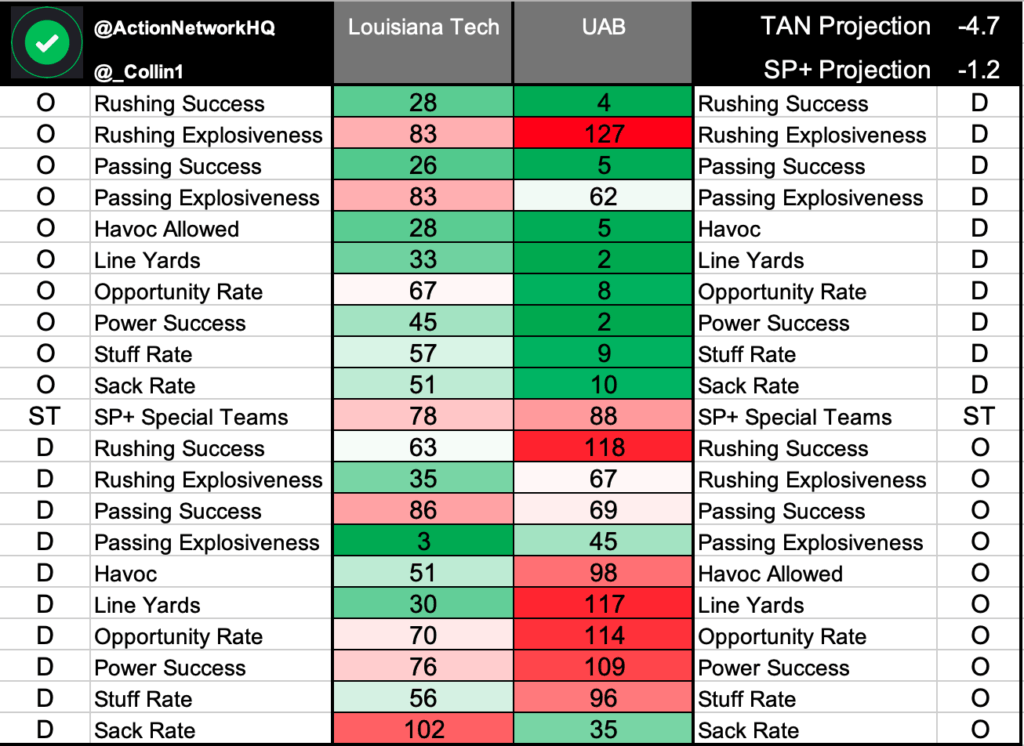 UAB is on the hunt for another conference championship, but it will need some help in addition to beating Louisiana Tech. Southern Miss must take losses against Western Kentucky and Florida Atlantic for the Blazers to have a chance to repeat.
First, UAB must get by Louisiana Tech at the Old Gray Lady. Backup freshman quarterback Aaron Allen suffered an injury at the end of the Marshall game, so Louisiana Tech is expected to start a third-string quarterback against a Blazers defense that is top-5 in rush and passing success rate.
On the other side of the ball, expect UAB backup quarterback Dylan Hopkins to return for the lion's share of the snaps after leading a rush attack that went for more than 350 yards on UTEP.
UAB is at full strength on both sides of the ball with the return of Tyler Johnston and running back Spencer Brown last week. Louisiana Tech had a perfect conference record until last week's suspensions and subsequent loss. Expect the Blazers to get another victory before the season final at North Texas next week.
Pick: UAB -6.5 [In New Jersey? Bet now at PointsBet]
Arkansas vs. LSU
Spread: LSU -43
Over/Under: 69.5
Time: 7 p.m. ET
TV: ESPN
Are my Arkansas Razorbacks the worst SEC team over the span of the last couple of decades? That is certainly a valid argument, though it could be challenged by previous Arkansas teams.
We once lost to The Citadel and our coach quit the next day. Our fanbase used the Freedom of Information Act to expose Houston Nutt's text messages. Bobby Petrino took a motorcycle ride with a University employee and that all led to this from John L. Smith:
The Razorbacks have lost at home to Toledo, North Texas and San Jose State, over the past four-plus seasons. 2018 marked the first time Arkansas football lost double-digit games, with victories only over Eastern Illinois and Tulsa. If the record isn't enough, consider that we are paying Chad Morris and Bret Bielema eight figures to get out of town.
Club Dub is officially the most expensive place in the world, averaging about 4 million dollars per trip.
Paying Houston Nutt 3.5 million in 2007 now seems like a distant memory. At least Nutt had us in a bowl as I cherish my memories of Tom Brady undressing the Razorbacks in a New Year's nooner at the Citrus Bowl. Please don't even start on how Dana Altman was our basketball coach for a single day.
To everyone outside the State of Arkansas we have become a punchline. Inside the state, the fanbase has irrational expectations, an empty 80,000-seat stadium and a heavy dose of apathy in the fall. As an alumnus, I will not let apathy set in. I will continue to do what I have been doing since eating with Brandon Burlsworth in Brough Commons or playing NBA Live with Pat Bradley in Walton Hall: gamble on my Razorbacks.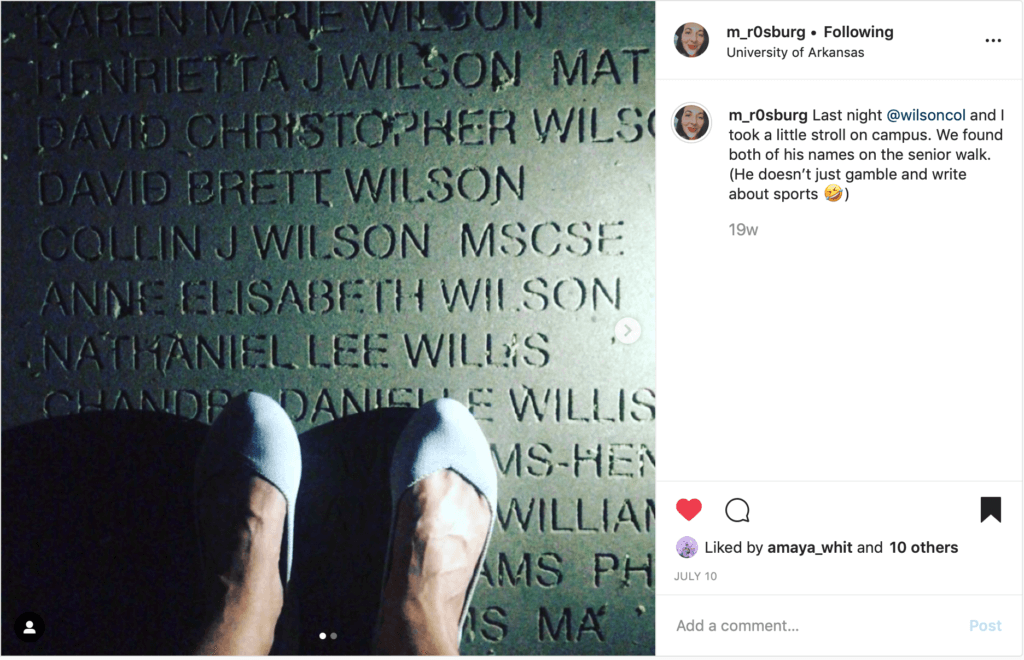 The idea that Alabama and LSU are the new Big 12 was a thought that entered my mind once Joe Brady made his landing in Baton Rouge. The Big 12 has always been known for high-flying offenses putting up plenty of points. Alabama and LSU have adopted offenses with similar concepts, but it has come at the cost of a lockdown defense. The Tigers are giving up 23 points a game, something the fanbase is quite worried about.
Both Vanderbilt and Ole Miss put up at least 37 points vs. the Tigers, something that won't fly in the College Football Playoff if LSU survives the SEC Championship. LSU practices have seen an increase in awareness of pursuit angles and tackling. This should be LSU's best effort at playing a sound technical defensive game with so much focus on defensive coordinator Dave Aranda.
The current total sits well above the Action Network projection of 60. Arkansas' interim head coach Barry Lunney Jr. will make play calling a 'collaborative effort.'
The Razorbacks' depth chart at quarterback lists Nick Starkel, K.J. Jefferson and John Stephen Jones at quarterback. There are not a ton of answers in the wake of firing Chad Morris. Lunney's job is to bridge the gap through the final two games and help the players find joy in playing the game of football.
Will Joe Burrow score as many points as Ed Orgeron wants? Of course, but with a total around 70 and Burrow a heavy favorite in the Heisman race, there should be no need for the quarterback to have reps past a lead of 35 points or in the second half. As for Arkansas, the advanced stats are bloody.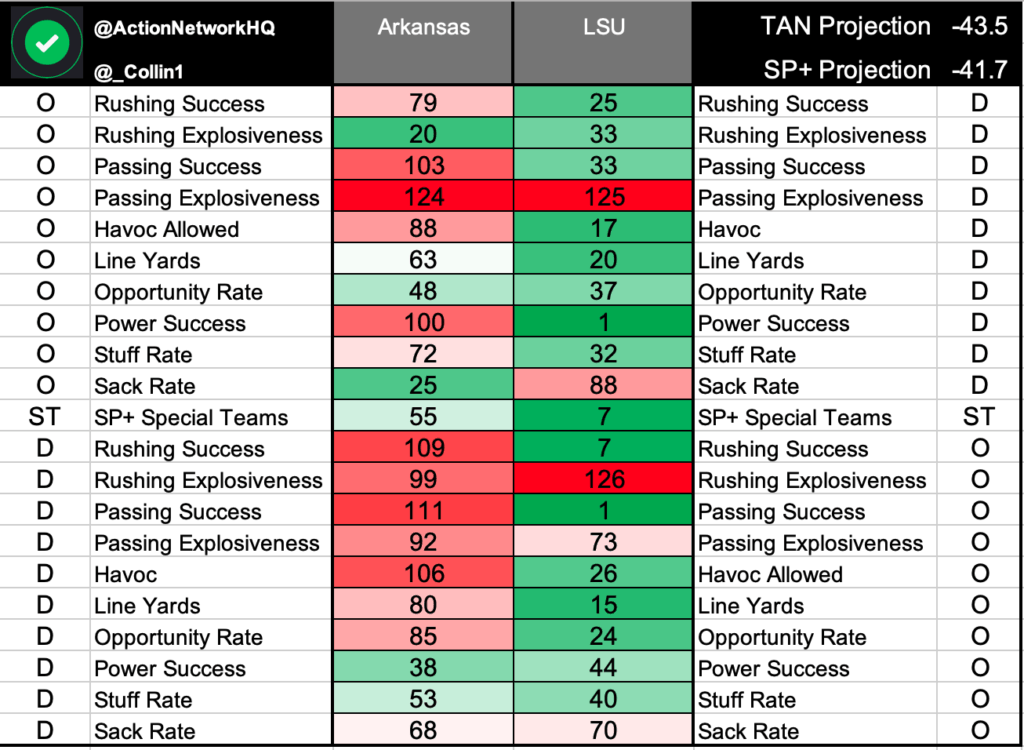 This game is a 'get healthy' event for the LSU defense, as Arkansas cannot expose the opponent pass explosiveness issue that plagues the Tigers. Havoc on both sides of the ball heavily favors LSU, while the explosive rush of Rakeem Boyd will be neutralized by the Tigers defense.
The Razorbacks are 120th in red zone scoring percentage and 110th in red zone touchdown scoring. The total indicates Arkansas should score two touchdowns, but with renewed interest on the defensive side of the ball, LSU should have no issues shutting the Hogs out. I'm willing to put my money on the LSU defense having an all-effort game, while the Razorbacks are looking for high fives and fun dip on the bus ride back to Fayetteville.
Pick: Under 69.5 [In New Jersey? Bet now at PointsBet]
How would you rate this article?