Saturday College Football Odds & Picks: Collin Wilson's Favorite Week 7 Betting Positions (Oct. 17)
Credit:
Chamberlain Smith/Collegiate Images/Getty Images. Pictured: The Georgia Bulldogs take the field at Sanford Stadium.
Collin Wilson breaks down his favorite betting picks for Saturday's college football slate, starting with Ole Miss at Arkansas kicking off at 3:30 p.m. ET.
Read on for a full breakdown on each of Collin's favorite Saturday betting positions below, including his picks for some of the slate's most highly-bet games.
There is only one game in Week 7 pitting two top-25 teams against one another. The good news is that game has a national championship-like quality for consumers with Georgia traveling to Alabama. This certainly does not serve as a knockout game for the conference championship.
The SEC retained divisions, making Georgia vs. Florida the most important game on the Bulldogs' schedule, assuming the Gators can beat COVID-19 and LSU. For the Crimson Tide, a 3-0 conference record and a tie-breaker over Texas A&M leaves Auburn as the only hurdle to win the West. This game will go far in the minds of the College Football Playoff committee in case one of these teams does not make it to the SEC Championship.
Clemson is another Power Five team with a 3-0 conference record taking on Georgia Tech. If the Yellow Jackets could pull off the near four-touchdown upset, Geoff Collins' team would be a Notre Dame and Miami victory away from making a trip to Charlotte for the conference crown. Highly unlikely, but Clemson has been know to sleepwalk in past ACC games in which it's heavily favored.
Week 7 may be light on overall star power, but there could be surprises up and down the slate as fans pack stadiums and COVID-19 continues to hamper the sport.
---
Check out the Action Network Power Ratings for all Week 7 games and follow me on the Action App for the latest updates.
---
My College Football Week 7 Betting Card
Here's a rundown of my favorite betting spots on Saturday's slate of games:
Editor's note: The Cincinnati-Tulsa game has been postponed due to positive COVID-19 cases at Cincinnati and will now be played Dec. 5. Collin Wilson's original breakdown for that game has been moved to the bottom of this article for your long-term betting interest.
---
All odds listed below are as of Thursday night and via DraftKings. Specific bet recommendations at the end of each matchup breakdown come from the sportsbook offering preferred odds as of writing. Always shop for the best price using our NCAAF Odds page, which automatically surfaces the best lines for every game.
---
---

---
Ole Miss at Arkansas
Ole Miss Rebels
From Kentucky to Alabama, no defense has been able to stop Ole Miss from scoring points. The Rebels' average combined game score is a tad over 93, exceeding oddsmakers' totals through the first three games. Those numbers closed between 59 and 63, but this week against Arkansas, the total opened in the mid-70s.
The advanced statistics dictate that Ole Miss games should have totals that high, as the team boasts a top-five pace and a passing attack that is top-five in Success Rate. Ole Miss has more 40-yard passing plays than any team in the country in just three games. Per Sport Source Analytics, quarterback Matt Corral has been just as efficient in blitz downs with pressure than with a clean pocket. 

The Ole Miss defense has been nothing short of catastrophic. Most of the advanced numbers point to the Rebels being dead last in almost every category. Ole Miss is generating 2019 UMass-type numbers in Success Rate, Havoc, and line yards on defense.
---
Arkansas Razorbacks
How upset is Arkansas with its loss to Auburn after the Bo Nix spike fiasco? Head coach Sam Pittman was livid during the referee explanation, but his message to the team showed pride in how far the team has come. The turnaround has been nothing short of miraculous for an Arkansas squad that has not won a conference game since 2017.
Barry Odom is fielding a defense that is limiting opponent explosive passing. A rank in the top 20 in Defensive Passing Success Rate has stifled Georgia, Mississippi State and Auburn. The defense also ranks 10th in finishing drives, allowing opponents 2.3 points per trip past the 40-yard line.
The Razorback offense, though, is still a work in progress under new coordinator Kendal Briles. The offensive line has not created a push, ranking 70th in line yards with a high rate of run disruption for each starter.
---

---
There has been improvement week-to-week. Arkansas had 15% of drives considered explosive against Auburn, with eight passes eclipsing 15 yards. Although the success rate of 52% in passing downs is well above the national average of 31%, the Razorbacks were stuffed on 18-of-39 rushing attempts.
Running back Rakeem Boyd will sit out against Ole Miss, while wide receiver Treylon Burks still deals with leg issues after missing the Auburn game.  Top tacklers Bumper Pool and Grant Morgan are both game-time decisions.
---
Betting Analysis & Pick
While Arkansas deals with injuries to star players on both sides of the ball, Ole Miss has had a COVID-19 outbreak. Lane Kiffin noted there had not been a positive outbreak in four weeks, as the Rebels have a cluster of positive tests early this week.
The toughest part of handicapping in the COVID era is value over replacement. With Ole Miss' defensive numbers, it isn't out of the question that the defensive side of the ball may not see a drop-off. Ole Miss is dead last in defensive finishing drives, allowing 5.25 points per trip to any team crossing the 40.
---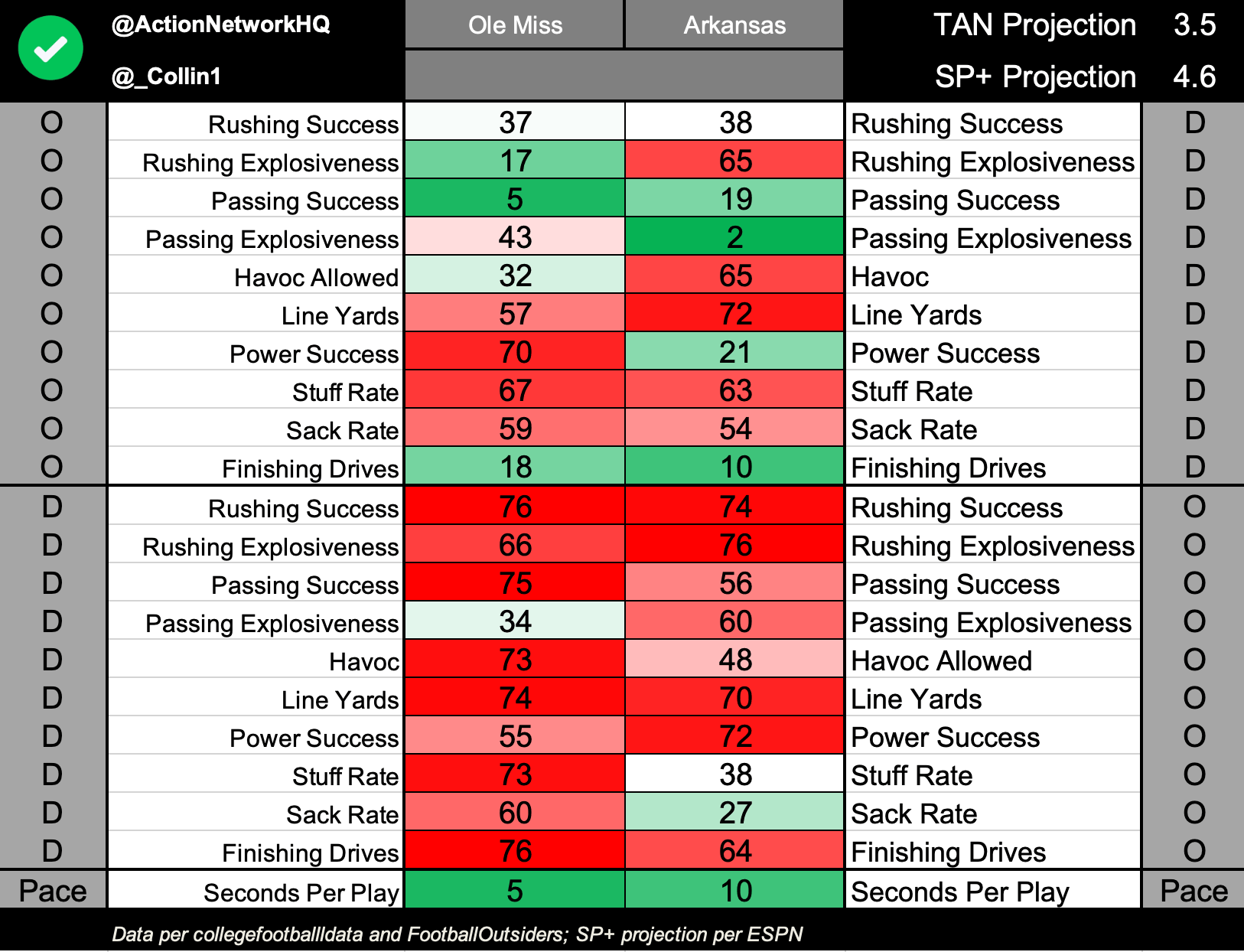 ---
Arkansas may be without its top two tacklers, so there will be plenty of points scored if the Ole Miss offense is at full strength. Both Arkansas and Ole Miss rank top-10 in tempo, with 40 of the Rebels' 71 first-down plays being a pass. No matter the injuries or COVID concerns, this game will play at a fast pace.
Because the total is in the mid-70s in an uptempo game, this is a perfect opportunity to trade the side live. Targets should come with the expectation that this game could go to overtime, making +8 on either side a decent target for live betting.
As for the total, the oddsmakers and analytics have not caught up to the tempo of both teams. Our projections rely on plays per game, seconds per play and yards per play, but does not factor in that Ole Miss has been the worst team in the nation in allowing opponents to score.
Check the status of Corral and Elijah Moore for Ole Miss. If those two are playing and Arkansas is without Morgan and Pool, this will be yet another Ole Miss game that gets into the 90s.
The Bet: Over 76; Live +8 or better on either side
[Bet Ole Miss-Arkansas over 75 now at PointsBet risk-free up to $250]
---
---

---
Texas A&M at Mississippi State
| | |
| --- | --- |
| Texas A&M Odds | -6.5 [BET NOW] |
| Mississippi State Odds | +6.5 [BET NOW] |
| Moneyline | -245/+190 [BET NOW] |
| Over/Under | 54.5 [BET NOW] |
| Time | 4:00 p.m. ET |
| TV | SEC Network |
Texas A&M Aggies
Texas A&M finished with a 70% postgame win expectancy after beating Florida at the clock. A Malik Davis fumble at midfield set up the game-winning field goal for Jimbo Fisher, but issues persist on defense. The Gators had 10 receptions of 15 yards or more with a 60% success rate in passing plays. Texas A&M now ranks 73rd in Defensive Passing Success Rate with only nine pass breakups through three games.
The offense has stayed consistent with Texas A&M teams of the past — high marks in Success Rate without explosiveness. A top-10 rank in Success Rate will get offenses off the field, but a rank of 64th in rush and 69th in pass explosiveness will hamper the Aggies in situations with a deficit on the board.
---
Mississippi State Bulldogs
The book is out in the SEC on how to defend the air raid attack from Mike Leach. Both Kentucky and Arkansas have pressured KJ Costello from the edge position while dropping eight defenders. The Stanford transfer had the worst day of his career against the Wildcats, racking up four interceptions.
The box score was not kind to the Bulldogs, who executed just one pass over 15 yards in 72 attempts. There was self-inflicted damage on the Bulldogs' side, as five trips inside the Wildcats' 40-yard line resulted in zero points. On a positive note, the offensive line has done a great job in protection, ranking 18th in Sack Rate.
While the offense has all the attention, the defense has quietly kept Mississippi State in the games against Kentucky and Arkansas. The Bulldogs rank sixth in line yards. While controlling the line of scrimmage, the defense has limited explosive passing and ranks top-10 in defensive passing expected points.
Betting Analysis & Pick
Defensive coordinator Mike Elko is going to have to tweak the Texas A&M plan to match the scheme Arkansas and Kentucky put in place against Mississippi State. The Aggies run exclusively in the 4-2-5 with different blitz principles than the 3-3-5 that has success against air raid offenses. Three of the top four tacklers on the team are at the linebacker position in Buddy Johnson, Andre White Jr. and Aaron Hansford.
Listed over 240 pounds, those backers are built more to stop the run than defend the pass. Opponents have the most success passing just over the line of scrimmage.
---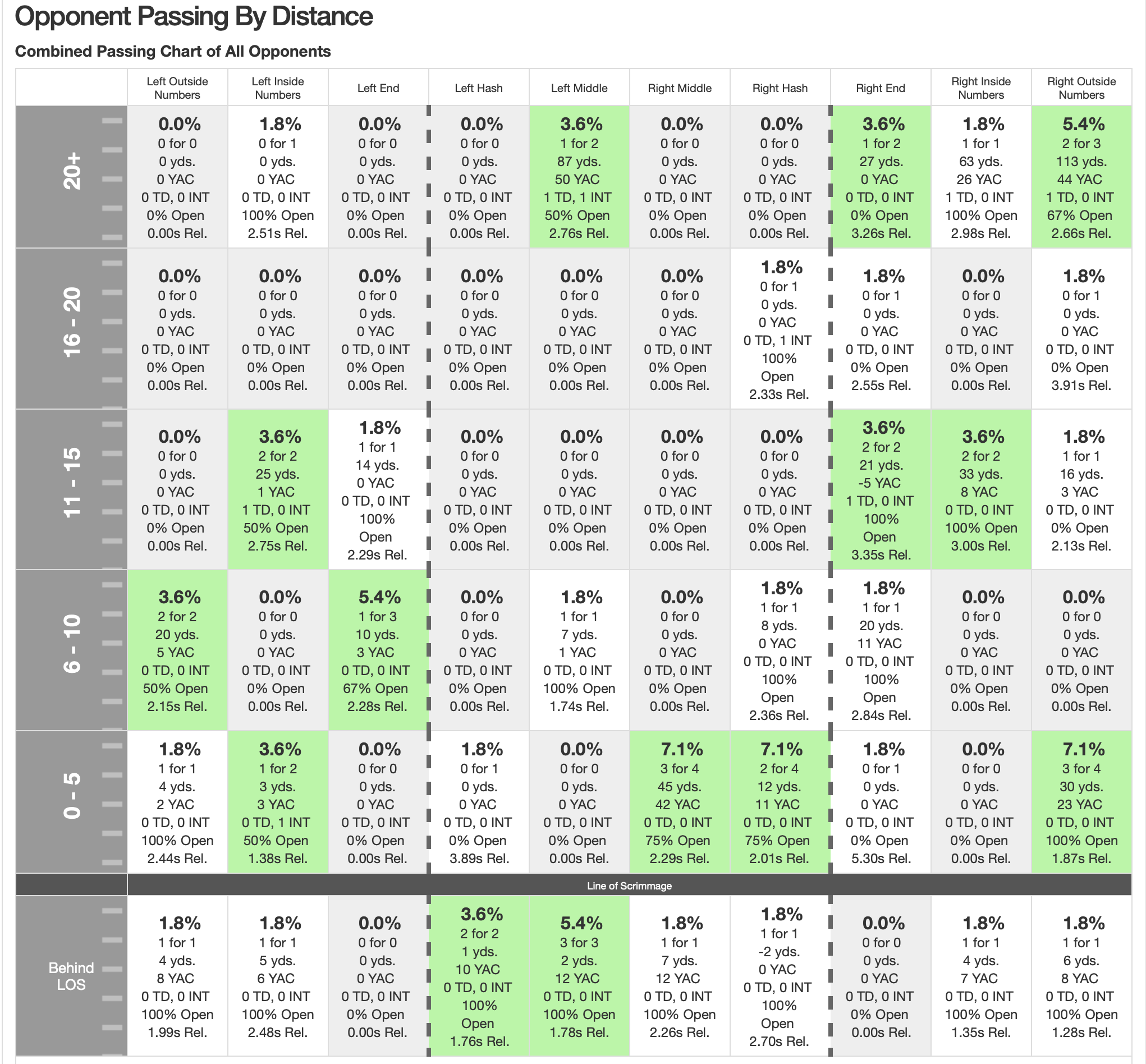 ---
More YACs have been gained between the hashmarks within five yards than anywhere. That is a huge benefit to the Mike Leach passing attack that relies on the underneath route. Mississippi State has gone pass in 78% of 146 plays from 10 personnel. That will minimize the strength of the Aggies' rush defense.
---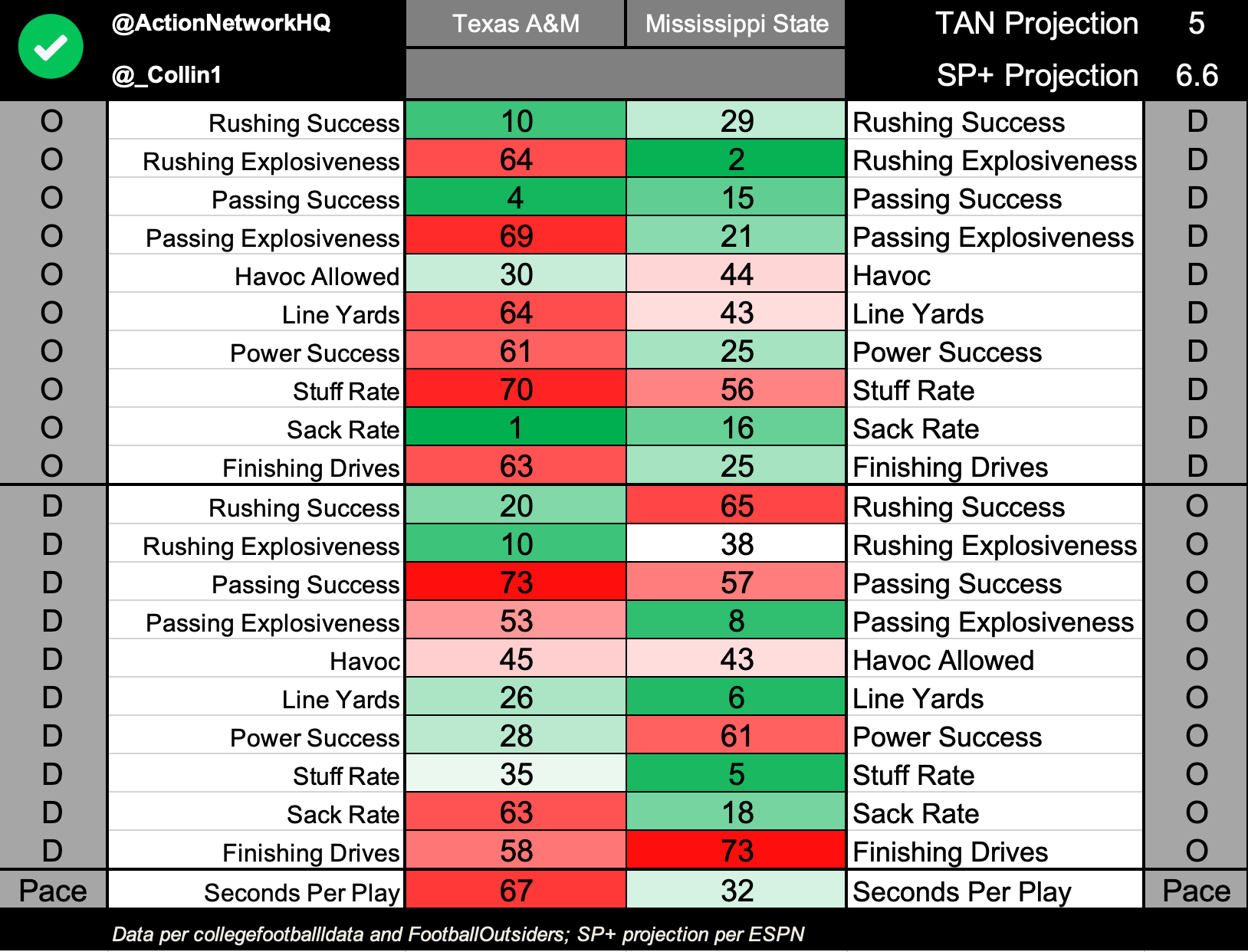 ---
The common misconception with the air raid is that it's up-tempo in pace. Leach generally runs plenty of clock, currently averaging 24.9 seconds per play, while Texas A&M goes much slower at 28.8 seconds per play. With both offenses ranked 63rd and 73rd in finishing drives, the under certainly deserves consideration. With our projection at Mississippi State +5, we will happily take the points and look for the Bulldogs to bounce back.
The Bet: Mississippi State +6.5 or better.
[Bet the Mississippi State Bulldogs at DraftKings and get a $1,000 bonus, including a $500 risk-free bet]
---
---

---
Georgia at Alabama
Georgia Bulldogs
There's nothing to call out on Kirby Smart's defense from an analytics standpoint. The biggest hole was a lack of Havoc, but Georgia ranks 23rd with four forced fumbles in three games.
Eric Stokes and Richard LeCounte have each combined for seven passes defended, key against the top offense in the nation. Smart has maybe the most talented back seven in his time at Georgia. LeCounte has closing speed unseen since the days of Roquan Smith.
Although Smart denied Georgia will run a tempo similar to Ole Miss, there's no doubt that the way to beat the Alabama defense is to get it out of position. Stetson Bennett has been serviceable, considering Jamie Newman and JT Daniels were the talk all summer.
The Bulldogs have run tempo in spots to generate offense. Look for Bennett to stick to his left in passing plays, as the quarterback has had the most success in that area.
---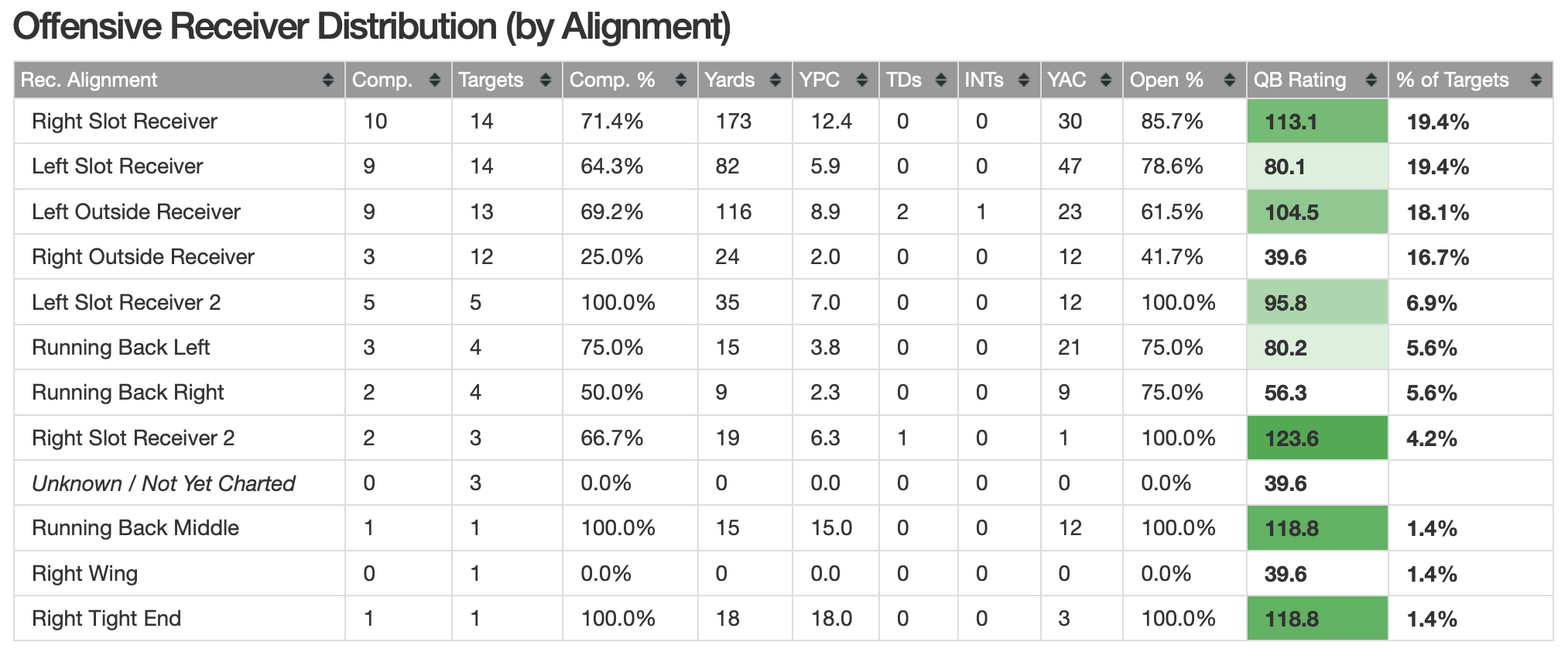 ---
Alabama Crimson Tide
The biggest news for Bama comes in the form of Nick Saban contracting COVID-19. The Action Network's Danny Donahue summarized the moves in the betting market to estimate Saban's worth to the spread sits around 2.5 points.
When Urban Meyer was suspended in 2018, the market reacted with a two-point move. The good news for the Crimson Tide is that Pete Golding and Steve Sarkisian have stabilized the revolving door of coordinators in Tuscaloosa.
Golding has been criticized by former players and media close to the program for lack of communication. The absence of Dylan Moses was used as the reason for players lining up incorrectly and the Crimson Tide defense getting lost on key plays.
Even with healthy starters, the Alabama defense resembles the 2019 unit. Defensively, the Crimson Tide rank 62nd in Passing Success Rate and 60th in Havoc. In 236 defensive plays, Alabama has yet to achieve 10 passes defensed and has forced just one fumble.
Sarkisian was part of the 2016 team as an analyst before returning as offensive coordinator last year. Alabama has not missed a beat since the departure of Jalen Hurts or Tua Tagovailoa.
We often grade teams on the number of 20-yard passing plays, but in the case of Mac Jones, the stats are in another stratosphere. Jones has completed just seven passes for over 20 yards, but those passes have combined for 366 yards.
---

---
Betting Analysis & Pick
The Alabama offense against the Georgia defense will be the college football highlight of the year. The one gap is the Bulldogs' numbers in Power Success Rate, which equates to Alabama converting any third and fourth down with short yardage. 
---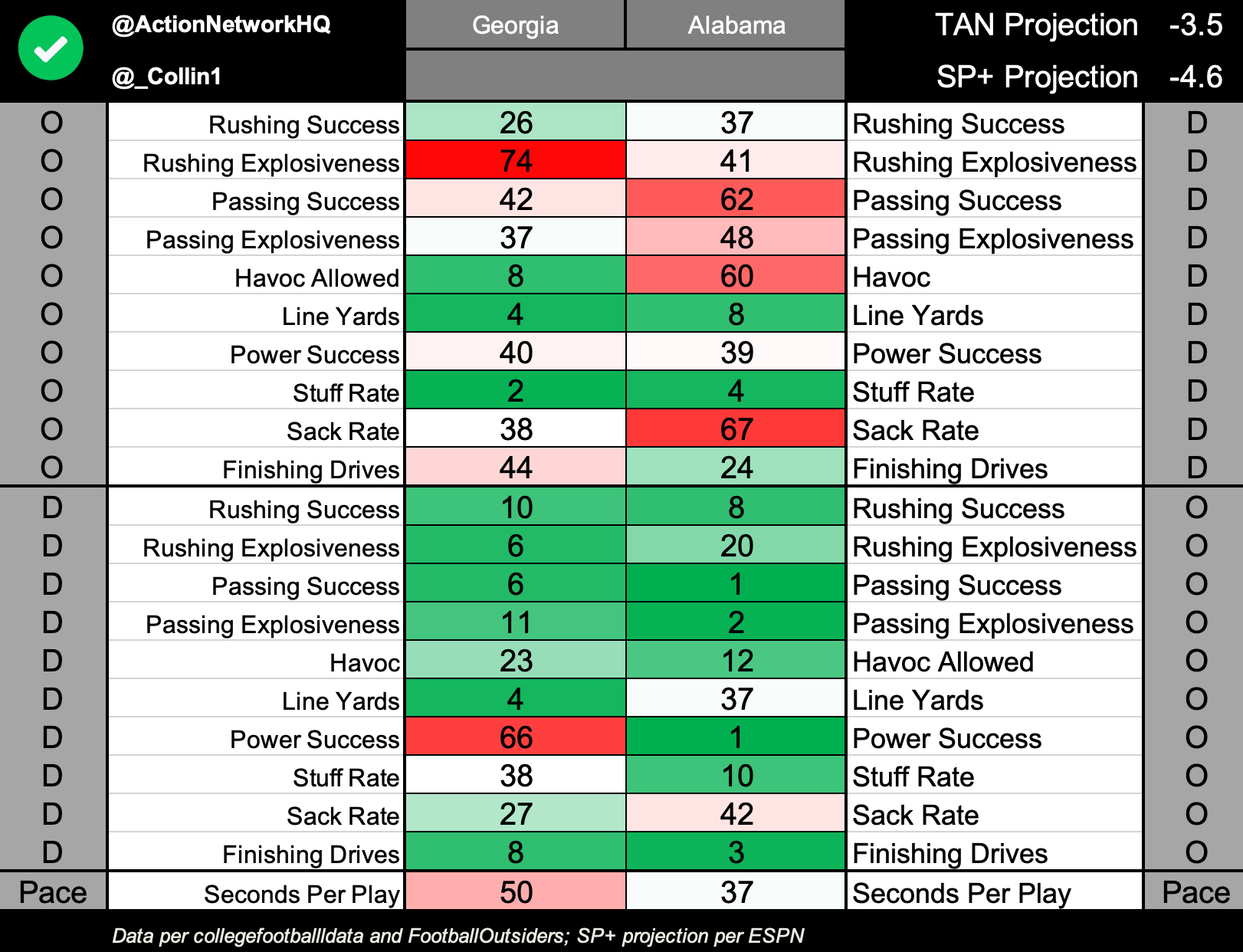 ---
The Action Network projection for this SEC showdown is Alabama -3.5, lending no value to the side on either team. A closer look at the advanced box scores shows that Alabama has more than just coordinator noise and experience issues in the secondary.
Missouri posted a 46% success rate in passing downs, while Texas A&M completed nine passes of at least 15 yards. What's scarier for Crimson Tide backers is that the Aggies gained two or more first downs on 58% of their drives. Long, sustainable Georgia drives will be key in keeping the Alabama offense off the field.
As Ole Miss posted 66% of drives with two or more first downs, the secondary came under fire once again. No defensive player has played more snaps than defensive back Jordan Battle, who was ejected in the second half of the Ole Miss game. Battle, who sits at third on the team with 11 tackles, will miss the first half against Georgia.
While Alabama may take to the air early, Georgia will have success against a Crimson Tide defense that has totaled just 14 hurries in three games. The current first-half total is falling with the news of Saban's diagnosis. In reality, the absence of Saban should affect Golding more than Sarkisian.
Georgia will find the Alabama defense just as Missouri and Ole Miss did — out of position and unable to get a third-down stop.
The Bet: First Half Over 29 or better
[Bet the Georgia-Alabama first-half total over 27.5 at DraftKings and get a $1,000 bonus, including a $500 risk-free bet]
---
---

---
Cincinnati at Tulsa
Cincinnati Bearcats
When a shortlist of possible teams from the Group of Five that can make the College Football Playoff is published, it includes the Bearcats near the top. Despite not having a Power Five opponent on the schedule, Luke Fickell will have to earn an undefeated season this year with Memphis, Houston and Central Florida coming in AAC play. The defense of Cincinnati could absolutely hang with Power Five offenses.
In just three games, Cincinnati has lived in the backfield of opponents with 25 tackles for loss in just three games. The Bearcats have also collected 20 passes defended in that short span. Outside of being top-10 in success rate on defense, Fickell's squad plays their best against the goal line. Cincinnati is second in defensive finishing drives, allowing opponents just 1.4 points per trip past the 40-yard line.
Desmond Ridder continues to do enough to put points on the board, while running back Gerrid Doaks has converted 8-of-11 third-down touches. Doaks is also one of the more explosive pass catchers on the team, as 130 of his yards have contained 106 YACs on just six receptions.
Tulsa Golden Hurricane
No defensive conversation is complete without the masterful rebuild of the Tulsa defense. Consistently ranked outside the top 100 in Success Rate, Joseph Gillespie took over in the 2019 season. Those changes are paying dividends. The Golden Hurricane rank third in defensive Havoc and top-20 in Success Rate.
The offense has been a struggle for head coach Philip Montgomery, as Tulsa ranks in the bottom 10 in Success Rate. Ball protection and putting points up in scoring opportunities have not been kind to the Golden Hurricane, who rank 67th in Havoc allowed and 62nd in finishing drives.
Tulsa did beat Central Florida in an upset, but a closer look at the box score shows the Knights beat themselves. UCF finished with 18 penalties for 124 yards, three turnovers and allowed the Tulsa defense a safety.
---
Betting Analysis & Pick
Luke Fickell made mention of the Cincinnati offense doing preparation to limit damage from Zaven Collins. The Golden Hurricane linebacker has generated three quarterback hurries, three sacks and has missed just one tackle in 115 plays.
The route to a Cincinnati victory is no Ridder mistakes, exploiting the rush explosiveness defense of Tulsa and continuing stellar defensive play.
The matchup, on paper, does not look conducive for an upset, as the Bearcats are the best in the nation in finishing drives defense, and Tulsa is one of the worst offenses in generating points in opportunities.
---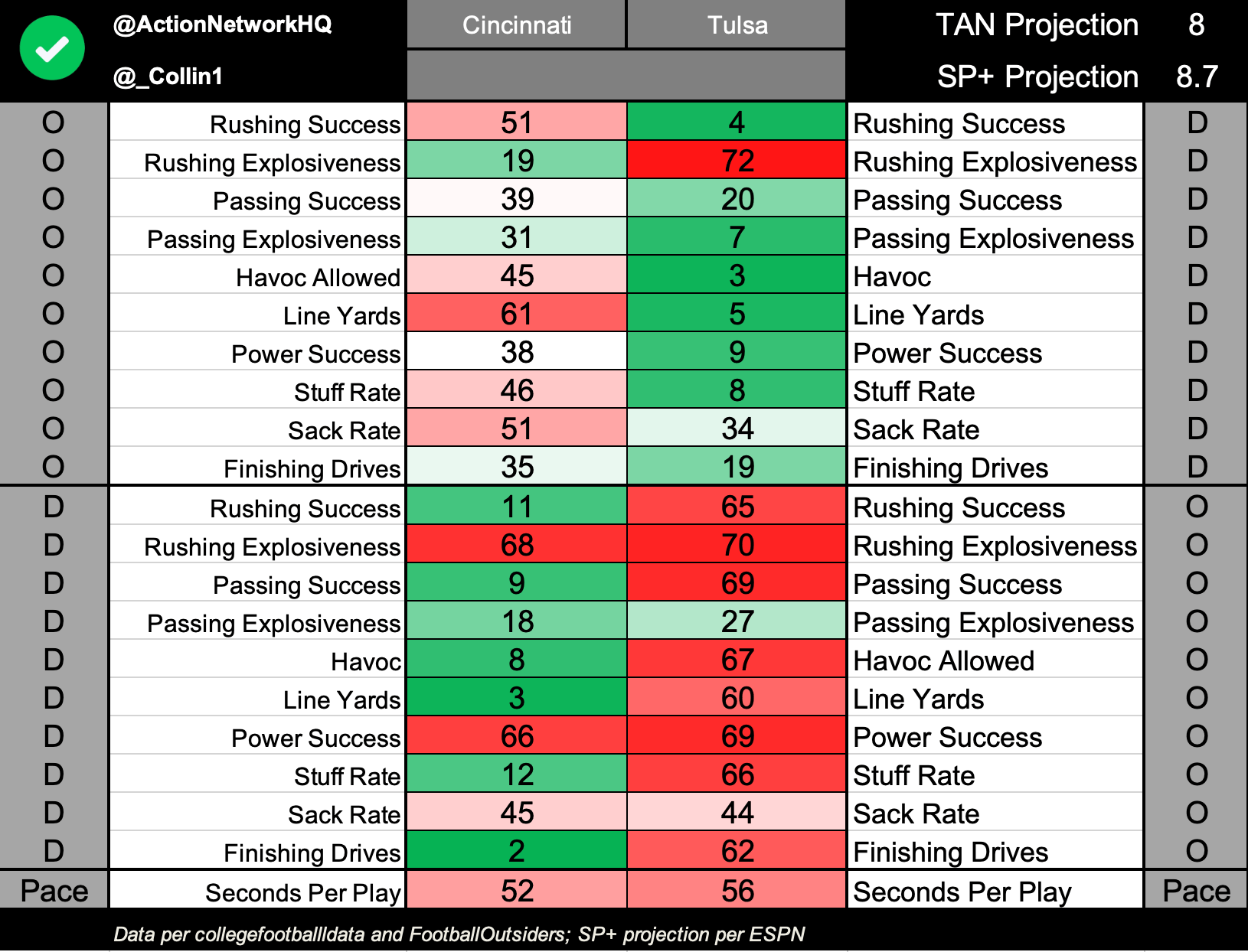 ---
Tulsa can rely on Havoc as a spark to generate points, but do not expect this offense to expose the Bearcats in chunk rushing plays. Havoc is a huge concern for both offenses, as Tulsa will need an assist in field position for points. Assuming no turnovers or injuries, this should be a game in which Cincinnati does enough to cover.
The Bet: Cincinnati -3 (up to -4)
---
How would you rate this article?