Do College Football Coaches Like New Clock Rules? Most With an Opinion Say 'No'
Credit:
Dannie Walls/Icon Sportswire via Getty Images. Pictured: An official holds a TV timeout clock.
Nearly two out of every three college football head coaches with an opinion on the new clock rules do not like that the clock continues to run after first downs, according to an Action Network survey.
Of the 133 FBS coaches, 120 participated in Action Network's survey with 70 of the 120 saying it's too early to tell if they like the change or not. Of the remaining 50 coaches, 64% did not like the rule, compared to 36% in favor of it.
With the new rule, Steve Shaw, the National Coordinator of Football Officials, said college football games had six fewer plays in the first week compared to last year.
But is that a good thing?
"So, do you guys buy tickets to go see Morgan Wallen or Taylor Swift or your favorite concerts and want a few less songs at the end?" Ole Miss coach Lane Kiffin said. "With all the issues in college football, this is what you actually made a change to?"
UCF's Gus Malzahn also is against it.
"I don't like it," he said. "It shortens the game, and I think fans want to see more football instead of less."
Added ULM's Terry Bowden: "We've replaced football with more time for commercials."
The coaches aren't the only ones not in favor of the new rule. In an Aug. 26 poll I conducted on Twitter, in which nearly 37,000 fans responded, 56% didn't like the rule, 20% did and 24% said it was too early to tell.
"No one was complaining that college football games had too many plays," a Power 5 coach said. "It's all TV driven like everything else, trying to make it like the NFL from a time perspective to sell commercials, so they have more consistency in the length of games to fit their (TV) windows. It has nothing to do with football or safety."
North Carolina coach Mack Brown agrees.
"I thought there were some other things that we could have cut out other than plays for kids," Brown said. "You've got 85 scholarship players, and most of us have 110-to-120 players on our team, and you can play only 11 at a time.
"So, there's always mental health issues. There's always the depression or anger or morale issues because kids don't get to play.
"Taking away numbers of plays from fans and student-athletes, I didn't think was the right thing to do. It's hard to sell safety to (remove) seven to 10 plays when you're adding a 12-team playoff. Come on, man."
Depending on who you ask, college football's new clock rules are either New Coke or a godsend. Like New Coke, the clock rule could be reviewed and changed back to the old rules in 2024, Shaw said.
"Anything is possible, but the early results are very encouraging so far — but the sample size is very small only through Week 1," Shaw said. "We need to let this soak for a few weeks."
Shaw said the rules committee had three goals for changing the rule: keep the game moving in terms of pace, moderately reduce the number of plays per game and gain consistency nationally with officiating crews with all clock rules.
Some coaches have already seen — and had — enough.
"I didn't like it when it passed, and I still don't," a Group of 5 coach said.
At halftime of UCLA's opener, Bruins coach Chip Kelly called the new rules crazy.
"We had four drives in the first half," Kelly said. "Hope you guys are selling a lot of commercials."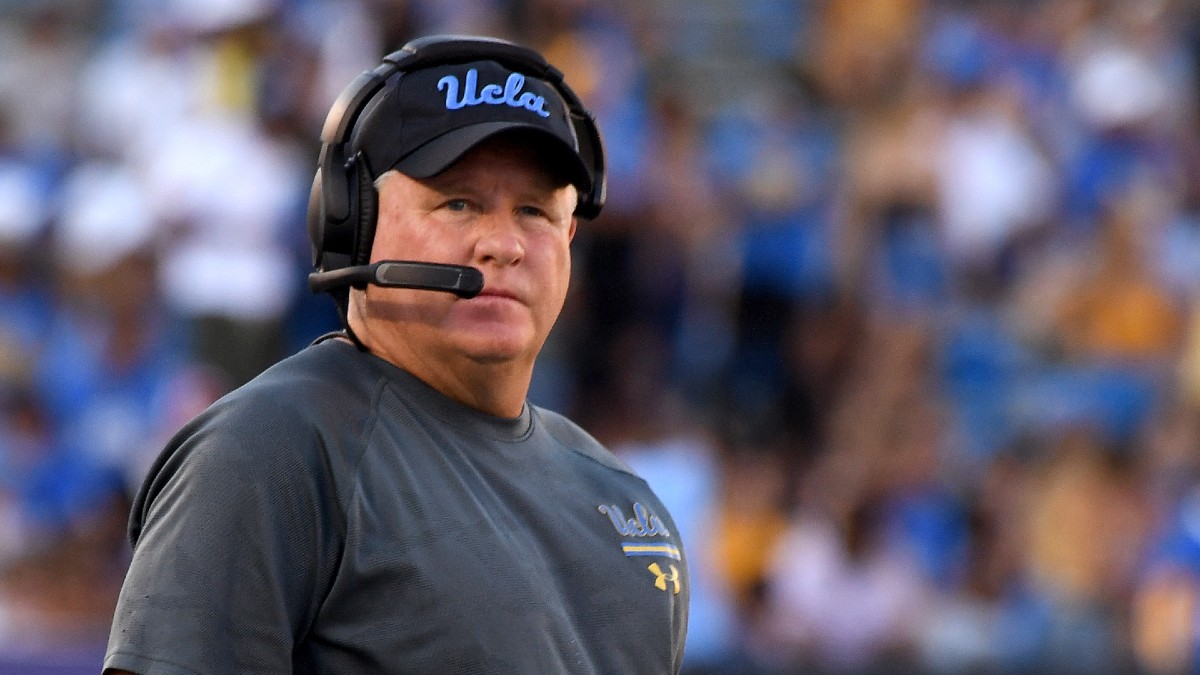 Coaches who responded to my survey had the option of remaining anonymous. Perhaps telling was that none of the coaches who liked the new clock rule wanted to be identified. However, there was virtually no difference between the Power 5 and Group of Five coaches as far as the percentage that liked or didn't like the new rule.
"We have less player exposures (than last year), and we will still have more plays per game than the NFL," said a Group of Five coach who likes the rule. "But it can likely bother those who think total offense is the most important stat of the game."
Other coaches who like the new rule gave various reasons.
"I like it as an underdog," a Group of Five coach said. "It shortens the game and keeps us in it longer. It gives us a chance to keep it close."
Another Group of Five coach said it fits his team's style of play. Another said he preferred it because "our postgame travel itinerary stayed on schedule and streamlined travel."
Another Group of Five coach prefers the clock running after first downs because he said he's a defensive-minded coach.
Toledo coach Jason Candle is the exact opposite. He is among the coaches who don't like the new rule. In fact, he hates it. Candle doesn't like the new rule because reducing the length of games with fewer plays doesn't necessarily make the game a better product for the players or fans.
Charlotte's Biff Poggi also doesn't like the rule and how they're using it.
"It was supposed to shorten the games, but they replaced that with extra TV time for commercials," he said.
Added a Power 5 coach: "Why do we take plays off the field in exchange for commercials? These kids bust their ass for the opportunity to play."
UMass coach Don Brown was perturbed by the number of added stoppages for commercials.
"There was a time in the third quarter (of UMass' opener) I could not believe how many of them occurred in a short period of time. I was like, 'Can we play the game, please?'"
---
More From Action Network's Brett McMurphy
How would you rate this article?
This site contains commercial content. We may be compensated for the links provided on this page. The content on this page is for informational purposes only. Action Network makes no representation or warranty as to the accuracy of the information given or the outcome of any game or event.