How a Hole-in-One Laid the Foundation for Nick Saban, the Most Driven Coach in College Football
Credit:
Joe Robbins/Icon Sportswire via Getty Images. Pictured: Alabama head coach Nick Saban.
Cautiously, the Alabama staffer approached Nick Saban, crossing directly into his inner sanctum. It was only a spring practice in 2013. What's the worst thing that could happen? You get canned. You get humiliated.
Or both.
So he double-checked with the caller on the cell phone. "Can I just have Coach Saban call you back?"
"Absolutely not," the caller shot back. "Put my son on the phone — now!"
The staffer approached Saban, swallowed hard and, and said, "Coach, your mom is on the phone. She said she has to talk to you right now."
Mary Saban was 81, and Nick was somewhat concerned with the urgency of the moment. So Saban, for the first time in 51 years of coaching, took a call right there on the practice field.
You're not going to believe what happened next. Or maybe you will — because it lays the foundation of the most driven coach in football like nothing else could.
"She says 'brother' — everyone from West Virginia calls each other 'brother' — 'Brother, I just wanted to let you know I just made a hole-in-one and you've never made one,'" Saban said, laughing. "Yes, she really called me during practice to tell me she made a hole-in-one."
At the SEC's spring meetings in late May, Saban shared that story with me. Nearby on the deck of the Hilton Sandestin Beach Resort, hundreds of people mingled around the various food stations and open bars.
Saban gazed at the crowd.
"I don't know anyone out here anymore," he said.
That's what happens when you're the one constant and last one standing in the ever-changing landscape of college athletics — who just happens to be the greatest coach in the greatest league.
The SEC's "It Just Means More" slogan? For Saban, "It Just Means More" SEC coaches.
Since Saban was hired in 2007, there have been 54 — fifty-four! — different head coaches (not including interim coaches) at the 13 SEC schools.
Arkansas and Tennessee have had six coaches each. Hugh Freeze will be the sixth different coach Saban has faced at rival Auburn. Florida, Ole Miss, Mississippi State and Vanderbilt each have had five different coaches.
Several of Saban's assistants have become head coaches. He faces another one when No. 3 Alabama hosts No. 11 Texas and Steve Sarkisian on Saturday (7 p.m. ET, ESPN).
"Coach Saban saved my career," said Sarkisian, whom Saban first hired as an assistant in 2016. "He gave me a chance when I couldn't get an interview, much less a job.
"Without Nick Saban, I wouldn't be sitting here today. I owe a great deal to him. I owe so much to him, and I will never, ever forget that he and Miss Terry have been tremendous in my life and my wife's life and what they've done for us on and off the field. I owe them a great deal."
He's not the only one.
Despite Saban's success — seven national titles, 15 consecutive double-digit win seasons, we could go on and on — Saban's mother Mary, now 92, is the self-proclaimed best play-caller in the family.
"She'll say, 'I've been watching you play since you were nine,'" Saban said. "'I can call plays better than you.'"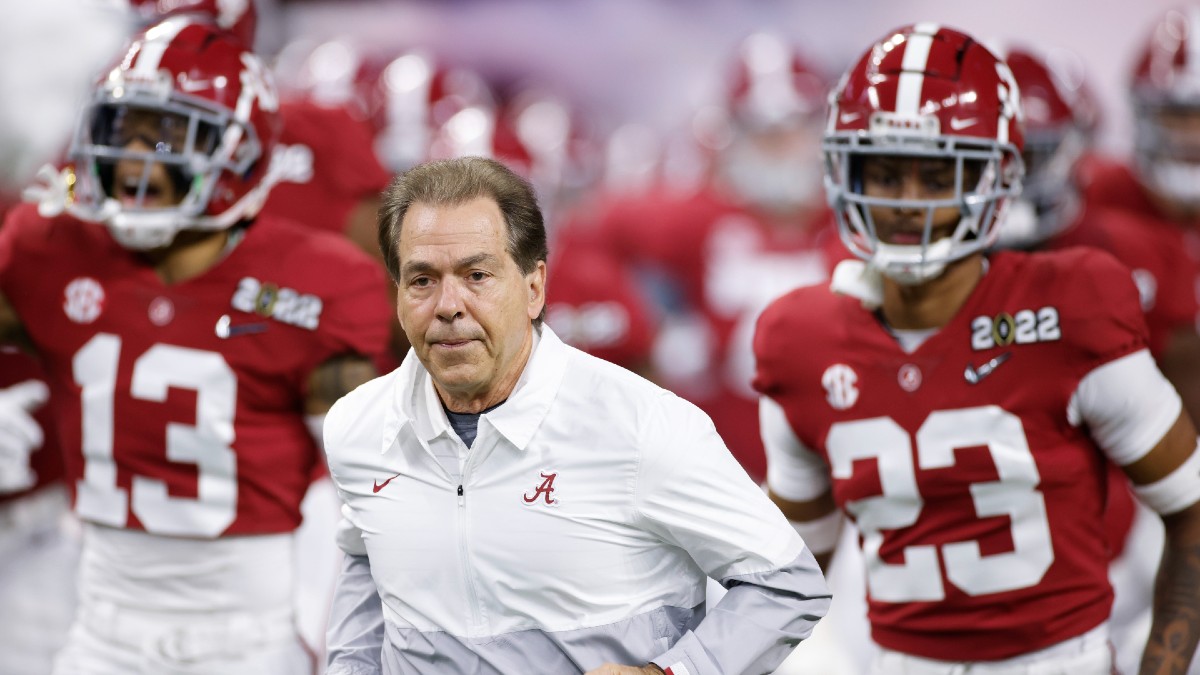 While Mary Saban recorded her first hole-in-one before her son, Nick Saban has since surpassed her with two hole-in-ones.
His first came in 2016.
"It was a total secret," Saban said.
Saban's birthday is on Halloween. Since Alabama had a bye week in 2016 before playing LSU the next week, the Sabans invited 12 couples to their lake house.
"The weather's unseasonably nice for that time of year, and we always have a birthday party," Saban said. "Some of the guys said they wanted to play golf."
Saban hadn't played in three months but said he would join them. Of course, Saban makes his first hole-in-one on a 230-yard par-3 with a 3-wood.
"It went in the hole, and there was eight of us playing," Saban said. "I said, 'Look guys — this is a secret. No pictures, no Internet, no nothing. Because if we lose to LSU next week and people find out I was playing golf, they'll run me out of Alabama.' So, nobody ever knew."
A week after Saban's first hole-in-one, Alabama defeated LSU, 10-0.
Saban's second hole-in-one came in 2021. An 8-iron from 154 yards.
"It just went swish, went right in the hole (and) never hit the ground," Saban said at SEC Media Days two years ago. "It was unbelievable. I have to admit, the next time I played, I made a double bogey. There's no consistency in performance from me."
Maybe so, but 'Brother' Nick is still one up on Mary.
---
More From Action Network's Brett McMurphy
How would you rate this article?
This site contains commercial content. We may be compensated for the links provided on this page. The content on this page is for informational purposes only. Action Network makes no representation or warranty as to the accuracy of the information given or the outcome of any game or event.