College Football Conference Championship & Tiebreaker Scenarios for Every League, Including Big 12, SEC & More
Credit:
Photos via Getty Images. Pictured: College football conference logos.
It's that time of the year again when college football bettors and fans across the country start looking at tiebreaker scenarios and wondering which teams are still alive for conference championship berths.
Well, I'm here to try to help in that regard. Let's take a look at where we stand in each conference headed into Week 11.
Expect Cincinnati vs. Houston in the AAC Championship
The AAC is pretty straightforward. We should get Cincinnati (5-0) against Houston (6-0) in the conference championship game. Both teams have yet to lose in conference with easy remaining league games, while every other team has at least two conference losses.
The Cougars can clinch a spot with a win over lowly Temple (or a UCF loss at SMU) this weekend. Meanwhile, Cincy just needs to win two of its final three (at USF, vs. SMU, at ECU).
---
Longshots SMU, UCF & East Carolina Need A Lot of Help
If it doesn't, that could open the door for one of the two-loss teams (SMU, UCF, ECU) that need to win out and get a lot of help.
The Bearcats could also clinch this weekend with a win and losses by ECU (at Memphis) and SMU (vs. UCF).
---
Wake Forest vs. NC State May Decide the Atlantic Division
Wake Forest (5-0) will host NC State (4-1) on Saturday (Nov. 13) in a game that will go a long way in determining the winner of the Atlantic Division. While neither team can clinch the division with a victory on Saturday, the victor will control its own destiny for the spot in the ACC Championship.
---
Two Unlikely Scenarios for Clemson to Win the Atlantic
Clemson (4-2) is the only other team with a chance. In order for the Tigers to make their seventh straight conference title game, they need one of the following two scenarios to occur:
Scenario No. 1
Wake Forest beats NC State
Clemson wins at home vs. Wake Forest
NC State loses at home to either UNC or Syracuse
Wake Forest loses at Boston College
Scenario No. 2
NC State beats Wake Forest
Clemson wins at home vs. Wake Forest
NC State then loses at home to both UNC and Syracuse
For what it's worth, Clemson would be the odd man out in the event of a three-way tiebreaker.
---
Pitt & Virginia Control Their Own Destiny in the Coastal Division
In regards to the ACC Coastal, Pittsburgh (4-1) and Virginia (4-2) control their own destiny for the division since they play each other next weekend in Pittsburgh. However, the Panthers have two other tricky matchups at home vs. UNC and at Syracuse to close out the season.
Virginia's lone other conference game will come in the regular-season finale at home against in-state rival Virginia Tech, which has won 16 of the past 17 against the Hoos. If they beat Pittsburgh and Virginia Tech, they win the Coastal.
---
The Miami Hurricanes Still Have a Chance
Also, don't count out Miami (3-2), which holds the head-to-head tiebreaker over Pittsburgh. The Hurricanes will have a shot if they win out as long as the winner of the Pittsburgh-Virginia game suffers one more conference loss. They do at least have a fairly favorable remaining schedule with Florida State and Virginia Tech at home followed by a trip to Duke.
If only Andres Borregales had made that field goal against Virginia …
If Virginia beats Pittsburgh and loses to Virginia Tech, we could have a three-way tiebreaker. In that scenario, the Cavaliers would go to the ACC Championship due to the head-to-head advantage over Miami and Pitt.
---
Technically, North Carolina & Virginia Tech Are Still Plausible
Lastly, North Carolina (3-3) and Virginia Tech (2-3) aren't dead yet, but they would need to win out and get a lot of help. For example, the Hokies need Pitt to lose out and the Tar Heels need Pitt to lose to UVA, UVA to lose to VT and VT to lose to either Miami or Duke.
Still, mathematically, five teams somehow still remain alive in the Coastal race.
Oklahoma has Straightforward Path to Title Game
Oklahoma (6-0) is in the driver's seat for another trip to the Big 12 title game.
However, the Sooners, looking to win their fifth straight conference title game since their return in 2017, don't have an easy path with a remaining schedule that includes road games against Baylor and Oklahoma State with a home matchup against Iowa State sandwiched in between.
Although, as long as they don't drop two of those three, they will get there. They can clinch a spot with a win and Iowa State loss this weekend.
A Bedlam Win Does Wonders for Oklahoma State 
Oklahoma State (5-1) sits all alone in second place, so the Pokes just need to win out to get to Arlington. The Cowboys will be favored at Texas Tech and at home this weekend against TCU, but a home loss in Bedlam could complicate matters.
If Oklahoma State does indeed drop another game, that could open the door for either Baylor (4-2) or Iowa State (4-2).
Baylor & Iowa State Still in the Race
The Cyclones, who hold the head-to-head tiebreaker over the Cowboys but not the Bears, do have a fairly plausible path if they can win out, which would require a win in Norman. If they can pull that off, they would simply need Oklahoma to beat both Baylor and Oklahoma State.
In regards to Baylor, a home win over Oklahoma this weekend would go a long way in increasing its chances of getting to the Big 12 Championship, although it would still need help.
A loss wouldn't end its chances, but the path would become extremely unlikely.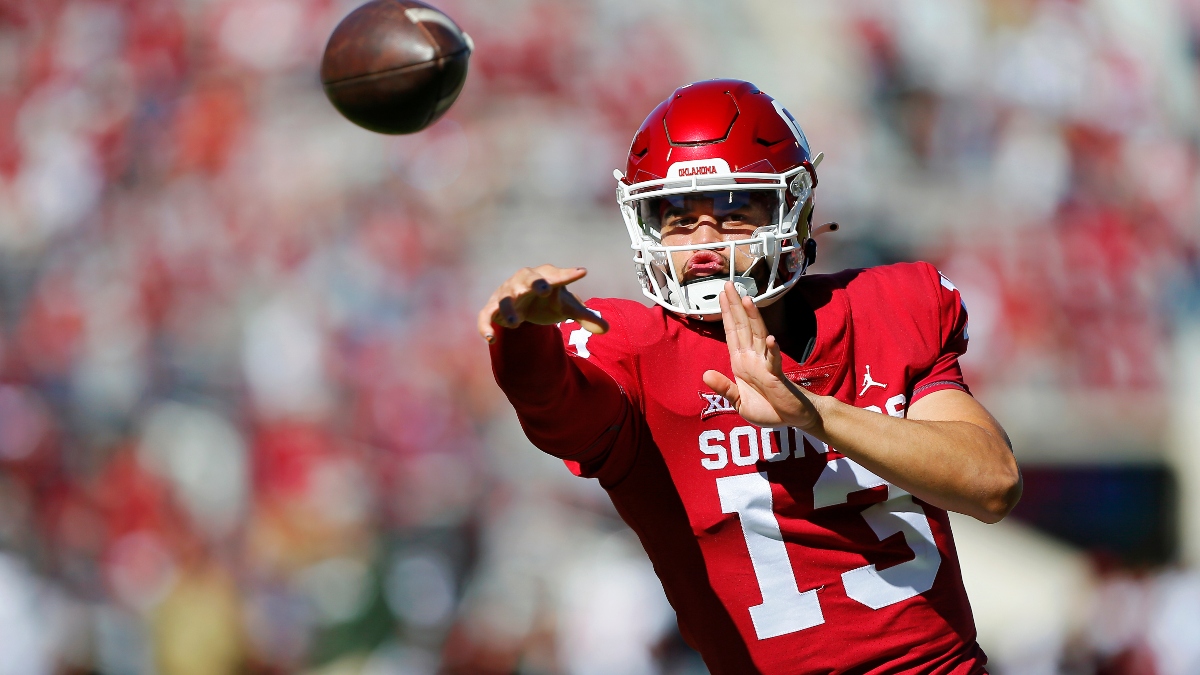 Ohio State Has Clear Path in Big Ten East
The Big Ten East is Ohio State's (6-0) to lose. Win out, and the Buckeyes get to Indianapolis.
However, a pair of teams from Michigan are waiting in the wings if Ohio State slips up. And the good news for both Michigan State (5-1) and Michigan (5-1) is they will both get a crack at Ohio State — although only the Wolverines will do so at home.
That's assuming both the Wolverines and Spartans don't trip up elsewhere. Both still have contests against Maryland and Penn State remaining.
Big Ten West Remains Cluttered
Meanwhile, the Big Ten West is truly the Wild, Wild West with four teams tied at 4-2 in the standings.
Wisconsin (4-2) has the most straightforward path, as the Badgers just need to win out (NW, Nebraska, at Minnesota). Here are the most realistic paths for the trio of other 4-2 teams:
Minnesota (4-2) wins out since it already beat Purdue and still has dates with Iowa and Wisconsin left — plus a road trip to Indiana.
Iowa (4-2) wins out (Minnesota, Illinois, at Nebraska) and Wisconsin drops another game since it already lost to the Badgers.
Purdue (4-2) is a three-touchdown underdog at Ohio State this weekend. Assuming it loses that game, it would need to beat Northwestern and Indiana to close out the year, plus receive a lot of help, including both Minnesota and Wisconsin losing multiple games and Iowa not winning out.
Illinois Remains Alive. Technically.
And just for a few laughs, Illinois (3-4) is technically still alive in the West. This is all the Illini need to happen:
Win out (at Iowa, vs. Northwestern)
Wisconsin loses out
Purdue loses out
Iowa beats Minnesota but loses to Nebraska
Minnesota loses to Indiana
If all of that happens, Illinois would win a three-way tiebreaker over Minnesota and Iowa due to head-to-head victories over both.
Marshall & WKU in Interesting Race
Marshall (4-1) and Western Kentucky (4-1) sit atop the East and will face each other in Charleston, West Virginia, in the regular-season finale. Therefore, if either team wins out, they will go to the C-USA Championship.
However, both will have to survive some potential landmines over the next two weeks before that potential showdown for the East. Marshall hosts UAB and visits Charlotte, while WKU travels to Rice and hosts Florida Atlantic.
FAU & Charlotte Not Out of the Race
If FAU (3-2) and/or Charlotte (3-2) can pull off an upset, it could make things interesting. That's assuming Charlotte doesn't trip up on the road at ODU or Louisiana Tech and FAU takes care of business at ODU and vs. MTSU.
In regards to the West, UTSA (5-0) sits all alone in first place and should stay perfect in conference against Southern Miss this weekend. However, if UAB can win at Marshall, it will have a chance to take over first place in a road showdown against the Roadrunners next weekend.
If UAB can't take care of business against a highly-motivated Marshall team then UTSA would simply need to win one of its final two (vs. UAB, at North Texas).
UTEP (3-2) is not mathematically eliminated, but it needs to win out and hope UTSA loses out.
MAC East Comes Down to Kent State & Miami (OH)
Kent State (4-1) currently leads the East Division by a game over Miami (OH) (3-2). As long as the RedHawks can stay within one game of the Golden Flashes, the division will likely come down to the regular-season finale between these two teams at Kent State.
Ohio (3-3) made things more interesting by pulling off an upset this week, but it's an uphill climb.
Plenty of Suitors for MAC West Crown
The MAC West is truly wide open, and it's way too early to go into all of the scenarios. Just know that Northern Illinois (4-1) sits all alone in first place and controls its own destiny but closes with three tough games (vs. Ball State, at Buffalo, vs. WMU).
I'm guessing this division will come down to tiebreakers.
---
---
3-Horse Race in West Division
San Diego State (4-1) and Nevada (4-1) will meet this weekend with the winner picking up sole possession of first place in the West Division. If either wins out, it will go to the conference title game.
SDSU travels to UNLV and hosts Boise State to close out the season, while Nevada hosts Air Force and travels to Colorado State.
If the winner of this weekend's game trips up again, Fresno State (3-2) could eventually come out on top since the Bulldogs have head-to-head victories over both the Wolf Pack and Aztecs.
Fresno just needs to win its final two games (vs. New Mexico, at SJSU) and hope both San Diego State and Nevada drop at least one more game.
Utah State Surprisingly Leads Mountain Division
The surprise of the league to date has been the turnaround of Utah State (4-1), which sits all alone in first place in the Mountain Division. If the Aggies win out against a favorable remaining schedule (at SJSU, vs. Wyoming, at New Mexico), they win the division.
Air Force (3-2) and Boise State (3-2) trail by only one game. It could get a bit messy as the Falcons beat the Broncos but lost to the Aggies, while Boise beat Utah State.
If Boise State wins out and Utah State loses only one more game, it would likely win the division on either the head-to-head tiebreaker over Utah State or the three-way tiebreaker based on computer rankings if Air Force also wins out.
Air Force would win a head-to-head tiebreaker with only Boise State, but that would require Utah State losing two of its final three games.
Oregon can Clinch Pac-12 North on Saturday
Oregon (5-1) can clinch the Pac-12 North with a home win over Washington State (4-2) this weekend.
If the Cougars can pull off the upset as two-touchdown underdogs, they'd control their own destiny for the division and would just need to win out (vs. Arizona, at Washington) or hope Oregon drops another game (at Utah, vs. Oregon State).
Utah in Great Position to Win South
Meanwhile, Utah (5-1) can clinch the Pac-12 South by simply winning two of its final three games (at Arizona, vs. Oregon, vs. Colorado). Arizona State (4-2) would need to win out (at Washington, at Oregon State, vs. Arizona) and hope Utah drops a pair, which is very unlikely.
Barring complete chaos, we should get Oregon vs. Utah in the Pac-12 Championship.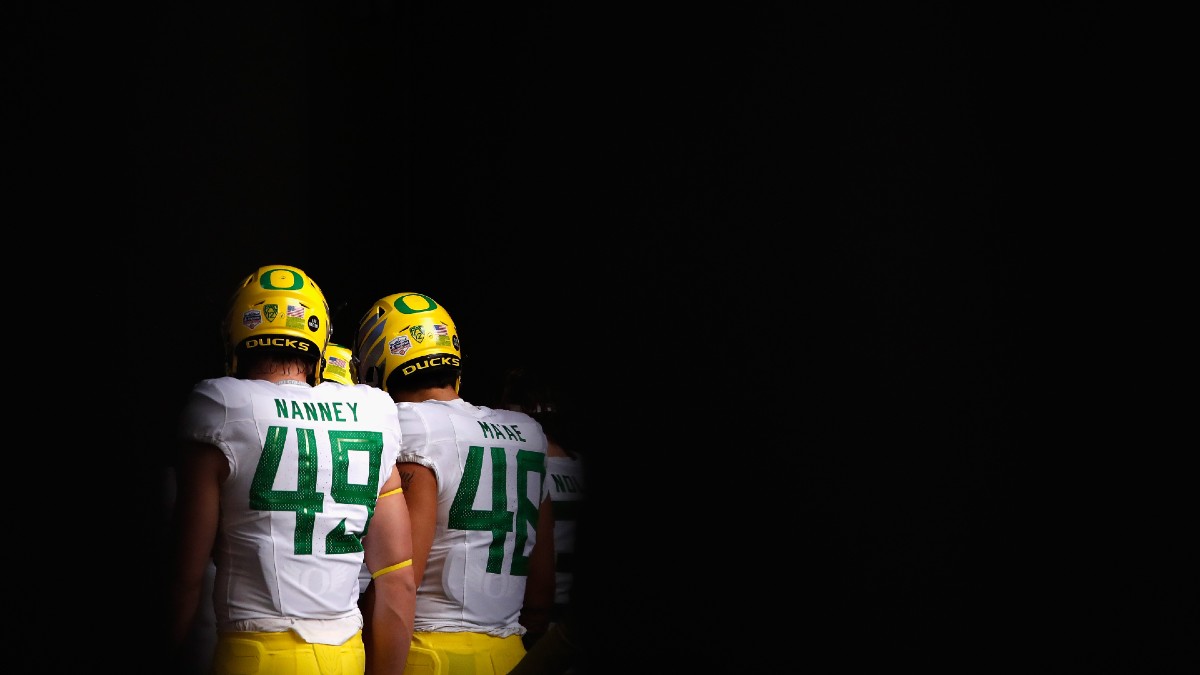 Georgia (7-0) has already clinched the SEC East, so there's nothing left to be decided there.
Who Will Face Georgia in SEC Championship?
However, things are a bit more uncertain in the West where Alabama (5-1) holds a one-game lead in the loss column over Texas A&M (4-2), Auburn (3-2) and Ole Miss (3-2).
If Alabama simply beats Arkansas at home and Auburn on the road to close out the season, the Tide will face Georgia in the SEC Championship.
However, if Nick Saban's squad slips up in Jordan-Hare Stadium again, that could open the door for Texas A&M if the Aggies win at Ole Miss this weekend since they would win the head-to-head tiebreaker over both Alabama and Auburn. That's also assuming Jimbo Fisher's bunch doesn't stumble in the finale at LSU.
Meanwhile, Auburn needs to win out and have Texas A&M lose to either Ole Miss or LSU. In that scenario, the Tigers would own the head-to-head tiebreaker over both Alabama and Ole Miss.
The Rebels need to beat Texas A&M this week and hope for a lot more help since they already lost to Alabama and Auburn.
There's also a chance that the West finishes with a six-team tie. I believe Arkansas (2-3) would win the division if this happens, but my brain hurts too much trying to figure out this extremely unlikely scenario.
Louisiana (6-0) has already clinched the West Division. The Ragin' Cajuns also have some remaining incentive since they'd host the conference title game if they win out.
Coastal Carolina & App State in Battle for East Crown
However, the much tougher East Division still remains up in the air. Coastal Carolina (4-1) and Appalachian State (4-1) sit at the top of the standings, but the Mountaineers hold the tiebreaker due to an earlier season head-to-head victory over the Chants.
As a result, App State just needs to win out to clinch the East (vs. South Alabama, at Troy, vs. Georgia Southern).
Meanwhile, Coastal will have to find a way to finish one game ahead of App State in the standings. The most likely path is to win out (vs. Georgia State, vs. Texas State, at South Alabama) and have App State lose one game.
However, the Chants might also have to do so without the services of star quarterback Grayson McCall, who could be out for the season.
Troy & Georgia State Staying Alive
Troy (3-2) and Georgia State (3-2) aren't dead yet, but both clubs need to win out and get help. However, that's only possible for one side since they face each other in the regular-season finale.
The good news is they each will have a chance to hand one of the top two teams a loss, as Troy will host App State and Georgia State heads to Coastal this weekend.
How would you rate this article?
This site contains commercial content. We may be compensated for the links provided on this page. The content on this page is for informational purposes only. Action Network makes no representation or warranty as to the accuracy of the information given or the outcome of any game or event.