College Football Odds & Picks: Our Best Bets for Saturday Afternoon's Arizona vs. Utah, Baylor vs. Texas Tech, More
Credit:
Brian Rothmuller/Icon Sportswire via Getty Images. Pictured: Kana'i Mauga.
The college football day continues this afternoon, and our staff is ready to share some picks.
Our college football staff broke down four games from the afternoon kickoff window and shared a betting pick below.
Check out our staff's full betting analysis with their picks below.
Alright, so you woke up early (for a Saturday) and got in your noon and midday bets, but by halftime, your moneyline parlay isn't looking so hot. We've all been there, which is likely why you're here — and rest assured: You're definitely in the right place for a quick afternoon turnaround.
Our staff has broken down the odds and highlighted their favorite betting positions for the Week 11 Saturday college football slate. From the noons to the nightcap, we've got you covered with our favorite bets for each of the three major Saturday college football kickoff windows:
12:00 p.m. ET | "The Midday Kickoffs"
3:00 p.m. ET | "The Afternoon Heat Check"
7:00 p.m. ET | "The Late Set"
Looking for our Best Bets Recommendations for the Midday or Evening kickoffs? Freely navigated among each of the three kickoff windows via the links below:
Saturday College Football Best Bets for Week 11:
Check our top Saturday picks below, each of which comes from one of the following 11 games. This column focuses on "The Afternoon Heat Check" and includes our staff's four favorite bets for the late afternoon games, beginning at 3:00 p.m. ET and extending to 5:00 p.m. ET.
"The Afternoon Heat Check"
Click any of the afternoon games below to navigate to a specific matchup. Alternatively, click on any of the other seven games among our staff's best bets this week to navigate to our Midday or Evening Best Bets columns.
"I don't take naps. Me and the money are too attached to go and do that."

— Aubrey Graham, "Gyalchester"
The Rest of our Best (Bets)
---
All odds have been updated as of Friday evening.
---
---
UTEP vs. UTSA
The Roadrunners and Miners are both being outscored this season. The key to beating both of these teams is taking advantage of their weak passing defenses. Both teams prefer to run the ball and have had more success doing so this season, but the film is clear that an efficient passing attack would go a long way in ensuring the victory in this one. Both teams are in the bottom half defensive passing Predicted Points Added per play in FBS.
I have three different models for calculating the over/under. All three of my models forecast the final score coming in over 50 points. The main reason for that is both teams' poor pass coverage. The Roadrunners and Miners have both scored more touchdowns on the ground than through the air this season, but given the weak passing defenses, the opportunities to score through the air will be plentiful. Additionally, both of these teams are poor defensively once teams are inside the 40-yard line. Both teams are in the bottom 50% in FBS in defensive points per opportunity.
I think that both teams should look to the passing game initially. Even with both program's mediocre passing success rates, this is a favorable matchup.
My model also finds value in UTEP as the outright winner, so look to get value on them in live betting.
Pick: Over 45.5 up to 47 | Live bet UTEP at +10 or better.
---
---
USC vs. Arizona
Let me get this straight. Last Saturday at 9 a.m. MST, the Trojans were giving double digits to Arizona State, which is one of the better teams in the Pac-12. Fast forward to this weekend, and I only have to lay two touchdowns to an Arizona team projected to have one of the very worst defenses in all of college football (SP+ defensive ranking of 122nd)?
It's true that USC needed a fourth-down miracle and onside-kick recovery in order to escape with a win against the Sun Devils. However, anyone watching the game could see the Trojans were clearly the better team. They were almost done in by four turnovers (including a fumble at the goal line and an interception at the 10) and missed opportunities on fourth-and-1, one of which occurred at the 6-yard-line.
USC outgained ASU, 556-392. The defense was gashed on the ground, including Sun Devils QB Jayden Daniels' 111 yards. However, the Trojans managed to hold Arizona State's star to 11 of 23 passing for only 134 yards.
Arizona sophomore QB Grant Gunnell has great arm talent. However, he is certainly not the running threat of Daniels, and he's still young and playing behind an offensive line that might struggle to protect him. The Wildcats' offense won't be able to keep pace with the Trojans on Saturday.
Following their sloppy opening day performance, look for a focused USC team to strike up the (virtual) band early and often against a porous Arizona squad, with a new defensive coordinator, playing their first game of the season.
Take USC -14. If necessary, take the DraftKings alternate spread of -14 juiced up to -130.
Pick: USC -14
---
---
Baylor vs. Texas Tech
by Matt Wispe
In some scenarios, wind isn't a dramatic factor on a total because teams will lean on an effective running game.
Not in this matchup, as the Windy Under Pro System is in full effect. Both of these teams pass the ball on more than 50% of their offensive plays and the forecast is projecting crosswinds ranging from 12 mph to 22 mph.
Texas Tech has an overall success rate of 44.7% and are slightly less effective passing the ball at 42.7%. Defense is the risk for this game, as the Red Raiders have allowed more than 40 points per game and a success rate of 46.6.
Baylor wouldn't appear to be a team capable of exploiting a bad Texas Tech defense. They have averaged 27.6 points per game with only two games over 28 points and an overall success rate of 34.6%. They run the ball on 47% of plays but have a rushing success rate of 33% and are stuffed on 28.3% of attempts.
All of The Action Network tools identify this as a positive play. Sharp money and big money plays are on the under and the Pro Projections rate this play as an A+ with more than 5 points over value. At 58, I love this total in the weather conditions and I would play this as low as 56.
Pick: Under 58
---
---
Northwestern vs. Purdue
Pat Fitzgerald's efforts to resurrect the Wildcats program is noteworthy, even only three games into the 2020 season. After only covering and winning three games in 2019, Northwestern is undefeated and has covered every game this season.
The offense has been transformed with stability at the quarterback position under Indiana transfer Peyton Ramsey. In 75 passing attempts, Northwestern has just three drops on the season.
The defense has been the driver behind the Wildcats' success. Northwestern ranks top 20 in defensive Havoc, opponent pass explosiveness, coverage and Finishing Drives. While there has not been much pressure on the quarterback, the Wildcats defense has come up big when needed the most.
Purdue head coach Jeff Brohm released a list of players who will not see action against Northwestern, with Rondale Moore headlining the group. In the absence of the All-American has been David Bell, the wide receiver opposite of Moore who is working on his own All-American season. In 31 targets, Moore has four touchdowns and just one drop.
While COVID-19 has played a part in the Boilermakers' starting defense, the unit has produced a top-20 rank in opponent pass explosiveness and Finishing Drives. The biggest key is in Pro Football Focus' tackling grade of ninth in FBS.
Purdue has just six tackles for loss on the season and a grade of 106th in coverage. The Boilermakers have been willing to give up short passing, but have defended chunk plays through the air better than any team in the Big Ten.
One element that will be missing when the new heavyweights from the Big Ten West collide is a pass rush. Each of these teams ranks in the bottom 15 in FBS in Sack Rate. That might only be a positive for Purdue, as the Boilermakers pass at a 59% rate.
---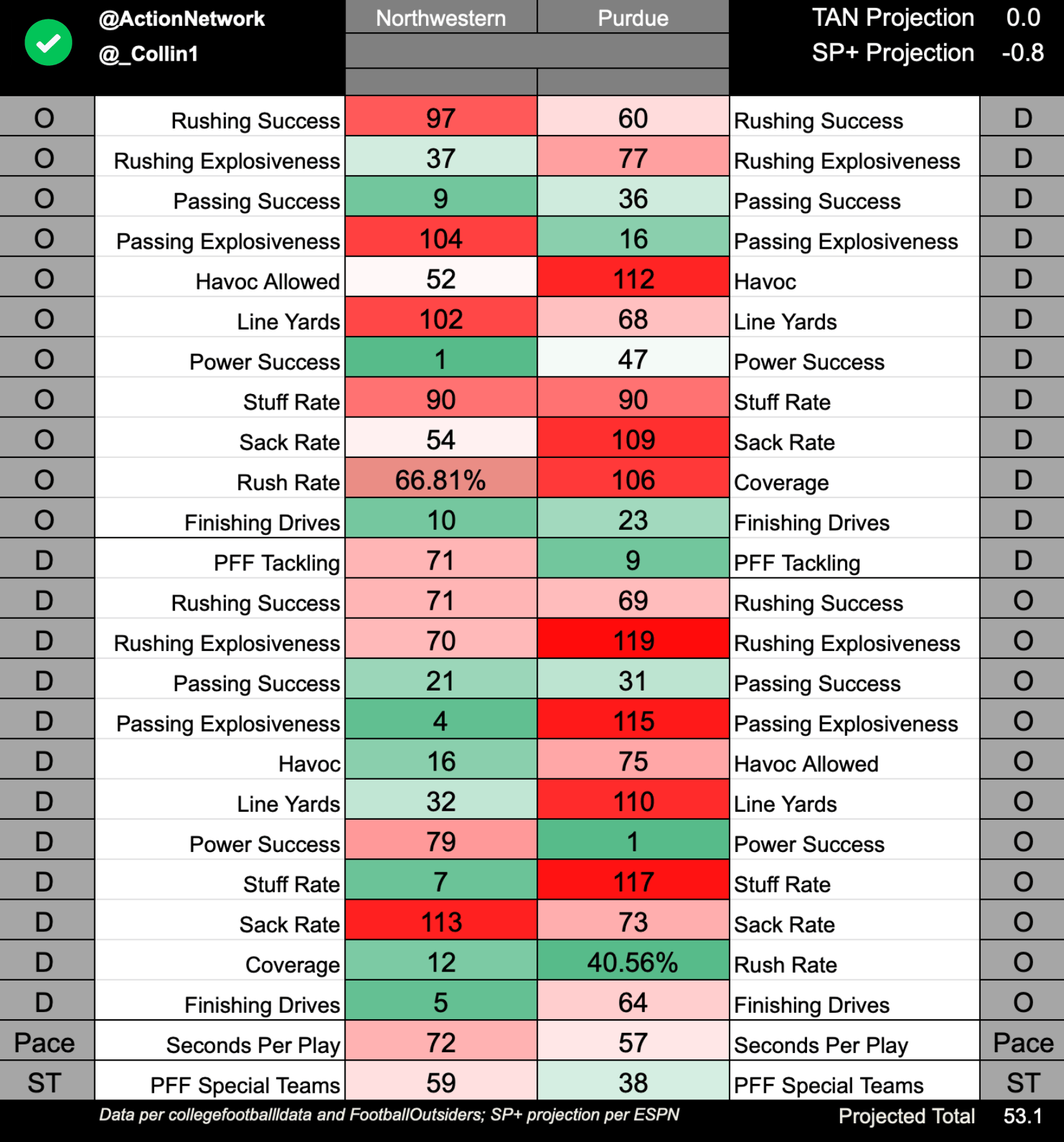 ---
While Northwestern has not put up the numbers Purdue has in tackling, it has feasted on Havoc plays.
As discussed in the Havoc Ratings for Week 11, Northwestern ranks third in the nation in passes defended per game. Purdue's offense has been subpar in rushing and in scoring opportunities, which will be a bad combination against a Wildcat team ranking fifth in Defensive Finishing Drives.
Northwestern will also have its share of problems putting points on the board. Opponent Passing Success Rate and explosive playmaking is the forte of the Purdue defense.
Our Action Network projections make this game a Pick'em. Taking each side with points live during the game should be the play.
As for the total, these defenses are stingy past the 40-yard line. Northwestern has relied on Havoc and coverage, with Purdue excelling in tackling and Finishing Drives. Look for points to be at a premium.
Pick: Game Total Under 50.5 or better
How would you rate this article?