College Football Odds, Picks: Stuckey's 10 Favorite Week 11 Situational Betting Spots (Nov. 12)
Credit:
Steph Chambers/Getty Images. Pictured: Washington's Giles Jackson.
Just like I've done every Wednesday, I will share my favorite spots for this week's college football games.
Last week's nine spots finished 5-4 with two painful losses on UAB in overtime and Memphis and two awful calls on James Madison and Charlotte (yikes). That brings the four-week running tally to 27-7.
Hopefully, we can keep it rolling, but there will always be rough weeks in this gig, so please wager responsibly.
For Week 11, I have highlighted my 10 favorite spots, which I will detail below.
Ultimately, the actual spread value still reigns supreme. No matter how great a situational spot appears on paper, you still have to factor in how much value the number holds. A good or bad spot may sway me one way or the other on a bet I'm on the fence for, but it's certainly more art than science.
Hopefully, I can help you make one or two of those same tough wagering decisions while sharing some key angles, matchups and injury situations for each particular game.
Let's kick things off with five noon kicks before moving on to one mid-afternoon matchup and finishing up with a quartet of prime-time games.
---
Navy +17 vs. Notre Dame
Noon ET on ABC
First off, this noon kick in Baltimore looks like a major potential letdown spot for the Irish after absolutely dominating Clemson in prime time last Saturday.
Additionally, this sets up as a pretty decent matchup for the Midshipmen, who have a dominant run defense. That's critical against a Notre Dame offense that remains extremely limited through the air.
On the season, Navy ranks in the top 15 nationally in the following defensive categories:
Line Yards
Stuff Rate
Opportunity Rate
Yards per Rush
EPA per Rush
Rush Success Rate
This unit can compete in the trenches against an excellent Notre Dame offensive line. Navy is extremely vulnerable on the back end against talented wide receiver groups, but that certainly doesn't describe the Irish.
Additionally, Navy obviously runs it as much as any team in the country. That's good news in this particular matchup against a Notre Dame defense that has been much worse against the run.
Lastly, catching 17 in a game with a total of 42 is always intriguing, especially with a service academy that will bleed the clock on every down, limiting the number of overall possessions.
I've backed Notre Dame the past two weeks in back-to-back victories over ranked teams, but now it's time to fade this young and inexperienced squad as a favorite, which has been very profitable this season. The Irish are 0-4 against the spread as a double-digit favorite in 2022, losing a pair of those games outright against Marshall and Stanford.
Notable Nugget: Service academies are 40-22-2 (64.5%) when catching more than two touchdowns since 2005, covering by over five points per game.
---

Arkansas +3 vs. LSU
Noon ET on ESPN
This could be the situational spot of the year. One week after upsetting Alabama on a walk-off two-point conversion in overtime, LSU will have to regain focus for a trip to Fayetteville.
Meanwhile, you can expect an inspired effort from the Razorbacks after a bad home loss to Liberty.
The Tigers have certainly improved as the season has progressed, as I anticipated in Brian Kelly's first season. But this feels like the top of the market for a team that should have lost at Auburn last month.
LSU will score its fair share of points against an Arkansas defense that has struggled all season. The Hogs lack push up front (101st in Line Yards) and really miss All-American safety Jalen Catalon, who suffered a season-ending injury in Week 1, on the back end.
They will now also be without Myles Slusher, who received a one-week suspension after an arrest last weekend. His absence won't help matters, but he's been very poor in coverage since returning from injury and taking over the strong safety spot.
However, Arkansas has potential advantages on the other side of the ball. It has one of the best offensive lines in college football, which leads a powerful ground game in a rush-first offense.
It could play the ball-control game against an LSU defense that has had trouble against the run, ranking below average nationally in both Rush Success Rate, yards per rush and EPA per Rush.
And when Arkansas does have to throw, KJ Jefferson has actually been one of the most underrated passers in all of college football, especially when considering he lost Treylon Burks from last year's squad.
All I wanted was +3 or better with the home dog in this dream spot, which I grabbed earlier in the week.
Notable Nugget: Arkansas head coach Sam Pittman is an impressive 12-6 ATS record as an underdog, covering by 4.25 points per game. That includes an 8-3 ATS (72.7%) mark against top-20 teams with a perfect 6-0 mark excluding games against Alabama and Georgia.
---

South Florida +17.5 vs. SMU
Noon ET on ESPNU
It's our weekly new interim coach spot.
After an absolutely lifeless effort in a blowout loss at Temple in which the Bulls allowed 54 points, the administration decided to part ways with head coach Jeff Scott.
So, why have I itched to back teams in this spot all season? Three primary reasons:
Potential locker room morale boost.
Usually signifies bottom of the market.
Higher likelihood to show new looks and schemes not on film.
It's also not an ideal situational spot for SMU. After putting up 77 points in a wild victory over Houston, it travels to one-win South Florida ahead of a date with ranked Tulane.
Don't expect many stops from a horrid USF pass defense against the electric SMU Air Raid.
However, the best defense might be a ball-control offense. USF does have a very good rush offense that sits in the top 10 nationally in EPA per Rush. That could spell trouble for a very poor SMU run defense that ranks 125th in EPA per Rush.
The Bulls are one of only 24 programs that average over 5.0 yards per carry. Meanwhile, SMU ranks in the bottom 20 in FBS in yards per rush allowed (4.8).
It's worth noting that USF starting quarterback Gerry Bohanon is out for the year with an injury.
However, Katravis Marsh looked a lot more comfortable in his second start against Temple. He doesn't have the same rushing ability as Bohanon but actually has the same number of passing touchdowns with five fewer interceptions and a higher yards-per-attempt number.
If South Florida comes out with an inspired effort under a new interim head coach, it should stay within this inflated number.
The Bulls have already demonstrated they can hang with superior teams when they show up. They arguable should've beaten both Florida and Cincinnati on the road and stayed within two scores of Tulane and Houston.
If not, it could get very ugly. But that's a risk I'm willing to take.
Notable Nugget: The six previous schools to fire their coaches midseason in 2022 have gone 13-11 ATS after making the change compared to just 5-21 (23.8%) prior to the move.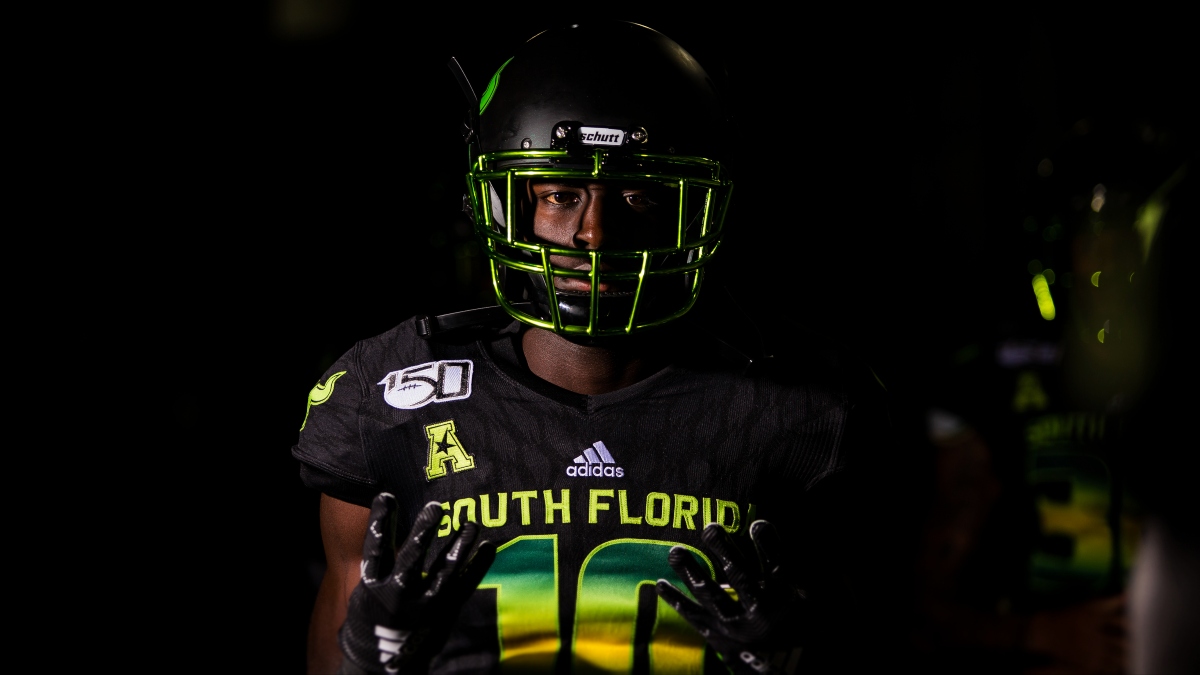 ---

UConn +14.5 vs. Liberty
Noon ET on CBS Sports Network
In a matchup of two absolute covering machines, this is a great spot to back the Huskies, who remain undervalued in the market after years of incompetence.
There's a reason Jim Mora Jr.'s bunch owns an 8-2 ATS mark with an average cover margin north of a touchdown.
With a victory, UConn will become bowl eligible for the first time since 2015. This is an absolutely massive game for the program. It will also benefit from an extra day of rest and preparation ahead of its second straight home game.
Meanwhile, Liberty heads northeast for its second straight roadie after upsetting Arkansas. The Flames also have a date with in-state big brother Virginia Tech on deck, so this certainly qualifies as a potential flat sandwich spot.
More importantly, head coach Hugh Freeze stated his team is understandably a bit beat up after facing an SEC opponent. The Flames will likely be without their best offensive player in running back Dae Dae Hunter, who got injured last week in Fayetteville.
Hunter, who grades out as PFF's most elusive player in the country, averages 6.6 yards per carry compared to just 4.1 for backup Shedro Louis. His absence will cause a precipitous decrease in Liberty's rush explosiveness.
From a matchup perspective, UConn's rush-heavy attack will really struggle to move the ball against an extremely underrated Liberty defense that ranks in the top 10 nationally in Success Rate against the run and pass. Its nasty front seven actually leads FBS in tackles for loss per game.
However, the same can be said for Liberty's offense sans Hunter against a very underrated Huskies defense.
They have excellent players at all three levels, led by Jackson Mitchell at linebacker and a pair of excellent safeties in Malik Dixon and Durante Jones. Its primary weakness on defense lies at cornerback, but that's not as big of a concern in this particular matchup.
Ultimately, I just show too much value on the motivated home dog in a great situational spot in a game where points should come at a premium.
Plus, Liberty has already demonstrated it will play down to competition with a pair of single-digit victories over Gardner Webb and Akron.
Notable Nugget: In 2022, the Flames are a perfect 4-0 ATS as underdogs but just 1-4 as a favorite, including 0-3 as double-digit chalk.
---

Vanderbilt +18 vs. Kentucky
Noon ET on SEC Network
This is your look-ahead spot of the week. The Wildcats will host lowly Vanderbilt in the sleepy noon slot one week before hosting the defending national champion Georgia Bulldogs.
Kentucky got very fortunate last week in a road victory in large part due to a few Missouri special teams blunders. The Tigers also finished with a -2 turnover margin and went just 1-of-4 on fourth-down attempts.
The Wildcats still can't run the ball and struggle to build margin with their very limited offense.
Vanderbilt isn't good by any stretch but is an improving young squad that continues to fight for head coach Clark Lea on a weekly basis. From an advanced box score perspective, the Commodores actually had one of the unluckiest losses of Week 10 against South Carolina.
With quarterback AJ Swann expected to miss another week with an injury, Mike Wright will once again start under center. He's absolutely horrific under pressure but more than adequate in a clean pocket, which he should have more often than not against a Kentucky defense that ranks 121st in Sack Rate.
I'm sure Kentucky simply wants to build a lead before bleeding this one away with Georgia on deck.
Notable Nugget: Kentucky head coach Mark Stoops is 0-3 ATS as a favorite of more than two touchdowns in SEC play since arriving in Lexington. All three contests came against Vanderbilt.
---

Tulane -2 vs. UCF
3:30 ET on ESPN2
I'm not sure when Tulane will get the respect it deserves in the betting market, but the Green Wave have done nothing but cash for their backers all season. They're the nation's most profitable team with an 8-1 ATS record heading into Week 11, covering by just under a touchdown per game.
They will try to get to the window once again against an UCF club that's fresh off back-to-back hard-fought wins over Cincinnati and Memphis. However, I watched both, and the Knights easily could've lost both.
Last week, Memphis continued to shoot itself in the foot with self-inflicted wounds, including an asinine decision to go for it on fourth-and-16 near midfield following a very questionable game-changing targeting call.
Speaking of good fortune, UCF opponents have converted just 6-of-21 fourth-down attempts (28.6%) and scored on an FBS-low 61.1% of red-zone trips.
The Knight defense undoubtedly deserves some of the credit, but they've also benefited from a number of lucky bounces. Regression certainly looms in both departments.
When facing the dynamic UCF RPO offense, defenses don't have a shot unless they can stop the run. Schematically, that's exactly what Tulane looks to do as a unit that ranks in the top 25 nationally in yards per rush allowed.
Its front clogs the middle of the field, allowing its tremendous linebackers to flow freely to the outside where everything gets funneled. Strong cover cornerbacks also provide Tulane with plenty of flexibility in play-calling. You'll see a high frequency of simulated pressures to confuse opposing quarterbacks.
Nick Anderson and Dorian Williams lead the best linebacker corps in the conference. Throw in the run-stopping ability of stud safety Larry Brooks, and this unit has the prowess to contain this explosive UCF offense, regardless of whether John Rhys Plumlee or Mikey Keene (or both) gets the nod at center.
On the other side of the ball, Tulane's offense has struggled the most in pass protection, ranking outside the top 100 in Sack Rate. That may not be as much of a hindrance against a UCF defense that ranks 95th in that same statistic.
With a clean pocket, quarterback Michael Pratt can carve up a vulnerable UCF secondary.
In what I expect to be a very competitive, hard-fought game, I'll take the team I have power-rated higher laying under a field goal.
Notable Nugget: Since head coach Willie Fritz arrived at Tulane in 2016, the Green Wave have the nation's most profitable team to back at home. Over that span, they've gone a ridiculous 26-11 ATS (70.3%) in the friendly confines, covering by over five points per game.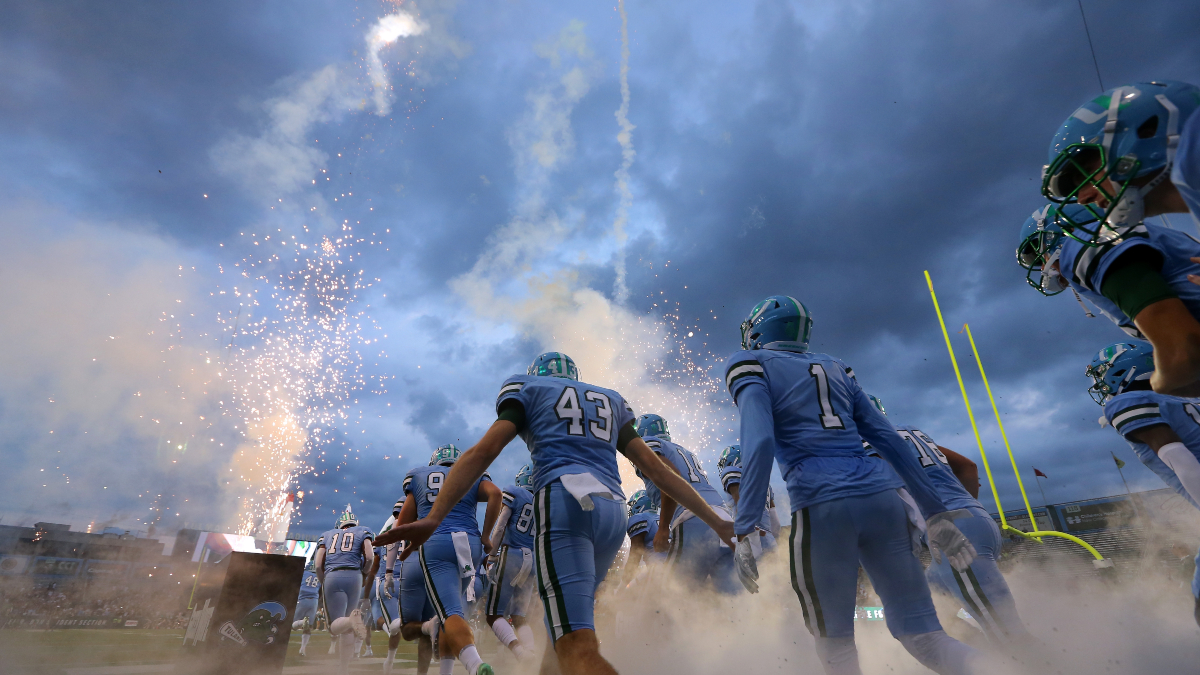 ---
Mississippi State +17 vs. Georgia
7 p.m. ET on ESPN
What a performance by Georgia last week against Tennessee in a game that wasn't as close as the final score indicated.
However, that begs a question: Where was that defensive effort all year? The Bulldogs have certainly had stretches where they didn't look that dominant against much inferior offenses.
Could it be boredom for the defending national champs? It's certainly possible. Maybe that comes into play again this week in what sets up as a miserable situational spot after that emotional win over the Vols to essentially lock up the division.
Can Mississippi State find success on offense against Georgia?
Well, after getting blanked by Alabama two years ago, the Bulldogs almost pulled off a stunning upset as 26.5-point underdogs in Athens in a seven-point loss. In only his second career start, quarterback Will Rogers finished 41-of-52 for 336 yards.
Rogers has improved significantly since and can once again find success by moving the ball with a quick, short-passing attack that neutralizes Georgia's defensive strengths. It's actually a decent schematic matchup.
Additionally, Mississippi State has had one of the best red-zone offenses in the country, scoring 23 touchdowns on 27 trips inside the 20. That's critical against a stingy Georgia defense that almost never allows touchdowns when teams get into scoring range.
Mike Leach's Bulldogs also have excelled in the red zone on defense. Holding a Georgia offense to field goals instead of touchdowns could ultimately decide this cover, especially when UGA has stalled at times inside the 20.
Plus, this will be Stetson Bennett's biggest test when he drops back to pass. Georgia's two toughest opponents this season, Tennessee and Oregon, have extremely poor secondaries.
Lastly, it doesn't hurt that Mississippi State plays at a very methodical pace, unlike Tennessee, which should limit the number of possessions. That always favors the large underdog.
Notable Nugget: Since 2005, Leach is 16-7 ATS (69.6%) as an underdog of more than 14 points. That makes him the most profitable coach of 358 in that scenario over that span. Excluding Alabama, which has his number, that record improves to 16-4 (80%).
---

Washington +13.5 vs. Oregon
7 p.m. ET on FOX
This is probably the peak of the market for the Ducks after five straight covers.
The elite Oregon offense should absolutely roast a very poor Washington defense.
However, there's no reason why an excellent Washington offense can't keep up against a very vulnerable Oregon defense in a battle of two defenses that rank in the bottom 10 of all Power Five defenses in Adjusted EPA per Play.
Plus, Washington throws it as much as any team in the country, which sets up well in this particular matchup. The Oregon defense actually sports respectable numbers against the run but ranks in the bottom 10 in FBS in numerous pass defense categories.
Huskies quarterback Michael Penix Jr. should have a field day, especially considering the Ducks aren't generating pressure. For the season, they rank 128th in Passing Downs Sack Rate.
I'm personally waiting to see if a +14 pops before playing the Huskies in what should be a high-scoring affair.
Notable Nugget: Since 2004, Oregon has dominated this series with a 14-2 straight-up record. Over that stretch, the Ducks have gone 12-0-1 ATS as a favorite, covering by approximately a touchdown per game.
---

Texas -7 vs. TCU
7:30 p.m. ET on ABC
Is this the week TCU finally has to face a healthy starting quarterback for an entire game?
After knocking out the starting quarterbacks for Oklahoma, Kansas State (and the backup), Kansas and coming back against an injured Spencer Sanders and Oklahoma State, the Horned Frogs somehow amazingly did it again last week against Texas Tech.
After Behren Morton got off to a hot start, he left the game with an injury in the first half, paving the way for Tyler Shough to take over under center. The results were disastrous, as Shough still isn't fully recovered or comfortable since returning from injury.
Morton: 7-of-10, 79 yards, 1 TD, 1 INT (7.9 YPA)
Shough: 9-of-22, 78 yards, 1 TD, 1 INT (3.5 YPA)
Amazingly, TCU has still needed a few miracles to cover in those games, and its defense grades out poorly despite facing more backup quarterbacks than any team in the country. Those opponents also aren't necessarily known for their defensive prowess.
Without that good fortune, I shudder to think what the defensive numbers would look like.
Fortunately for Texas, it has a very competent backup quarterback in Hudson Card if it comes to that again. Card actually has better overall numbers than Quinn Ewers in many aspects.
Regardless of who plays under center, Texas should absolutely shred this Horned Frog stop unit with explosive passing plays through the air and on the ground with the nation's best running back in Bijan Robinson.
On the other side of the ball, don't expect TCU to find much success on the ground against a very stingy Texas run defense. It should have success through the air against a Longhorn secondary that has holes, especially since Texas doesn't generate much pressure.
However, TCU's best player on offense, wide receiver Quentin Johnston, may not be at 100% after suffering an ankle injury last Saturday. He's arguably the best wideout in the country. Plus, Gary Patterson, now a Texas assistant, knows Max Duggan as well as anyone.
This will also mark the Horned Frogs' toughest road test by a country mile, having only faced West Virginia and Kansas away from home in league play in two tightly-contested victories.
While TCU has needed every break, bounce and injury to stay undefeated, Texas has had the opposite luck. With a few bounces, the Horns could easily be undefeated and sitting in the top four of the College Football Playoff rankings.
They've had trouble closing out games, but I think they can build on last week's victory at Kansas State and finally relax with a late lead.
The luck finally runs out for TCU, and Texas pulls away late.
Notable Nugget: In the months of November and December since 2005, undefeated teams have gone just 5-12 ATS (29.4%) as touchdown-plus underdogs away from home. Tennessee became the latest victim just last week.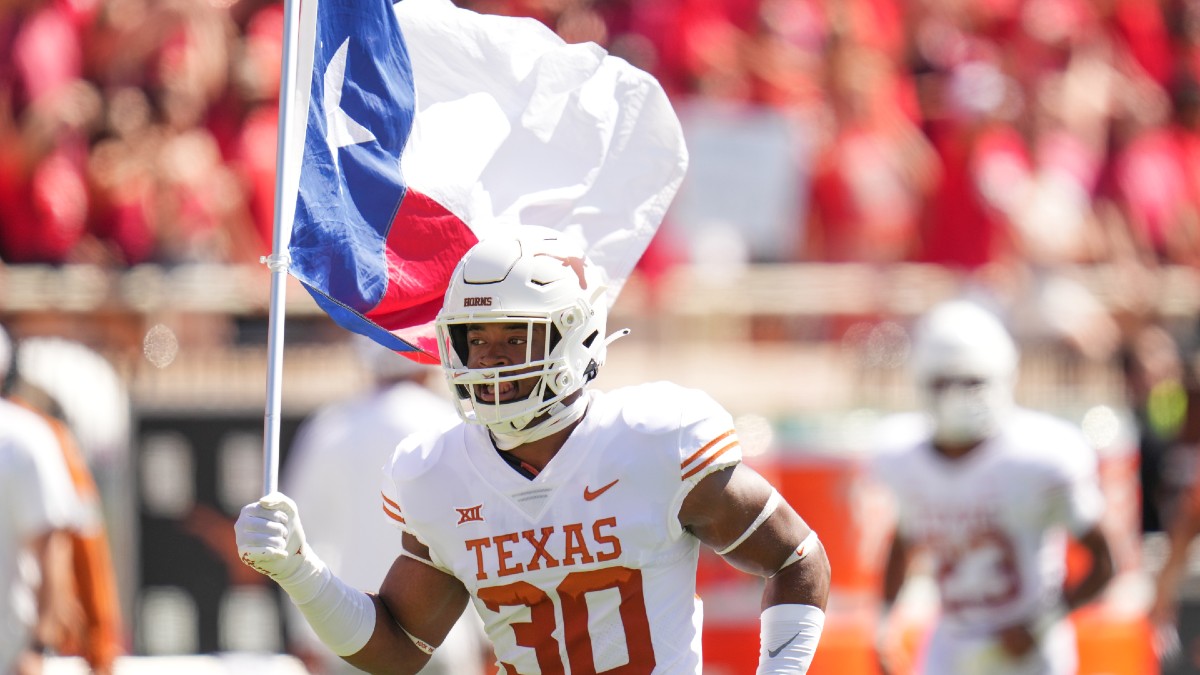 ---

Auburn -2 vs. Texas A&M
7:30 p.m. ET on SEC Network
Another week, another Texas A&M fade.
Once again, I just don't know where this Aggies team is at mentally after five straight losses with all of its preseason goals long gone. A&M still only has two victories over FBS teams this year:
Miami: This victory looks much worse than it did at the time. Plus, Miami actually had the better statistical day (392-264 yards) but just shot itself in the foot too many times.
Arkansas: The Aggies should've lost if not for a fluky 99-yard fumble return and a missed game-winning field goal attempt from Arkansas.
Multiple incidents of player suspensions are not great signs for the state of the locker room.
The Aggies also lost a number of key contributors to injury, including their most dangerous receiver and multiple offensive linemen. On top of that, they recently dealt with a major flu outbreak, which could have lingering effects this week.
Meanwhile, I loved what I saw from Auburn last week in the debut of interim coach Cadillac Williams. The Tigers had a completely different energy from start to finish, feeding off Williams living and dying with every play on the sidelines. The staff also had to deal with a short week of preparation in new roles with a playbook they didn't have much familiarity with. They should be much better prepared this week.
I think that continues for the rest of the season for this rejuvenated locker room that clearly had issues with former head coach Bryan Harsin.
Additionally, this also sets up as a great matchup for the Auburn offense, which needs to have success on the ground in order to sustain drives. Well, that shouldn't be an issue against a bad Texas A&M run defense.
The Aggies rank outside the top 75 in Rush Success Rate and EPA per Rush. Their highly-touted but inexperienced front ranks 97th in Standard Down Line Yards and 121st in Passing Downs Sack Rate. That's a troubling combination.
Last week, Florida became the latest team to gash the Aggies on the ground, rushing for over 300 yards with an average of 6.5 yards per clip. Even Miami had success running against Texas A&M, averaging 4.9 yards per carry. Against all other FBS teams, the Canes have averaged 3.1 yards per carry.
I'll take the re-energized home team laying a short price in a decent matchup against a lifeless road team. The loss of starting right tackle Austin Troxell does hurt a bit, but you can still bet on a heavy dose of Jarquez Hunter and Tank Bigsby, who should run wild against the Aggies.
The Tigers also likely have more positive turnover regression coming their way to end the season.
Notable Nugget: Since 2005, Auburn is the most-profitable short home favorite (3.5 or less) in conference games at 7-1 ATS, covering by over a touchdown per game. Also, underdogs on five- or six-game losing streaks are just 104-145-3 (41.8%) since 2005.
How would you rate this article?
This site contains commercial content. We may be compensated for the links provided on this page. The content on this page is for informational purposes only. Action Network makes no representation or warranty as to the accuracy of the information given or the outcome of any game or event.