College Football Pace Report: Projecting Week 9 Totals Using Advanced Metrics
Credit:
Rob Carr/Getty Images. Pictured: Temple Owls quarterback Anthony Russo.
All of Collin's projected totals and edges against the betting market are available in our college football model projections, part of Action PRO.
---
When you start a career in any enterprise, a team member is quickly apprised of best practices. In the gambling world, we have many rules of thumb to follow, similar to not making the first or third out at third base in baseball.
That said, one of the best practices to achieving longevity in sports investing is getting the best of the number.
Closing line value matters over a string of a thousand bets, but learning how to shop and knowing when to buy follows the same principles as the stock market. In the world of totals it is smart to develop a system of predicting an individual team total for a game while monitoring everything from weather to defensive explosiveness allowed.
Since SEC conference play started at the end of September, buying an Over total that has fallen from an opening number has been quite profitable. Per Bet Labs, totals that have dropped more than two points since September 23rd have cashed 72% of the time.
This Pace Report continues to utilize a number of variables to come up with a projection for each game (which are all included in Action PRO). Oddsmakers in New Jersey and Las Vegas have an assigned point value for each team, and that number is adjusted based on ensuing game results. I go a bit further by applying some math and advanced stats to my projections.
The formula first takes into account yards per play for offense and defense. Plays per game are also integrated to the yards per play difference to come up with a total. The formula is incomplete without a sign of what teams do in scoring opportunities. Finishing drives and pace must be accounted for in totals.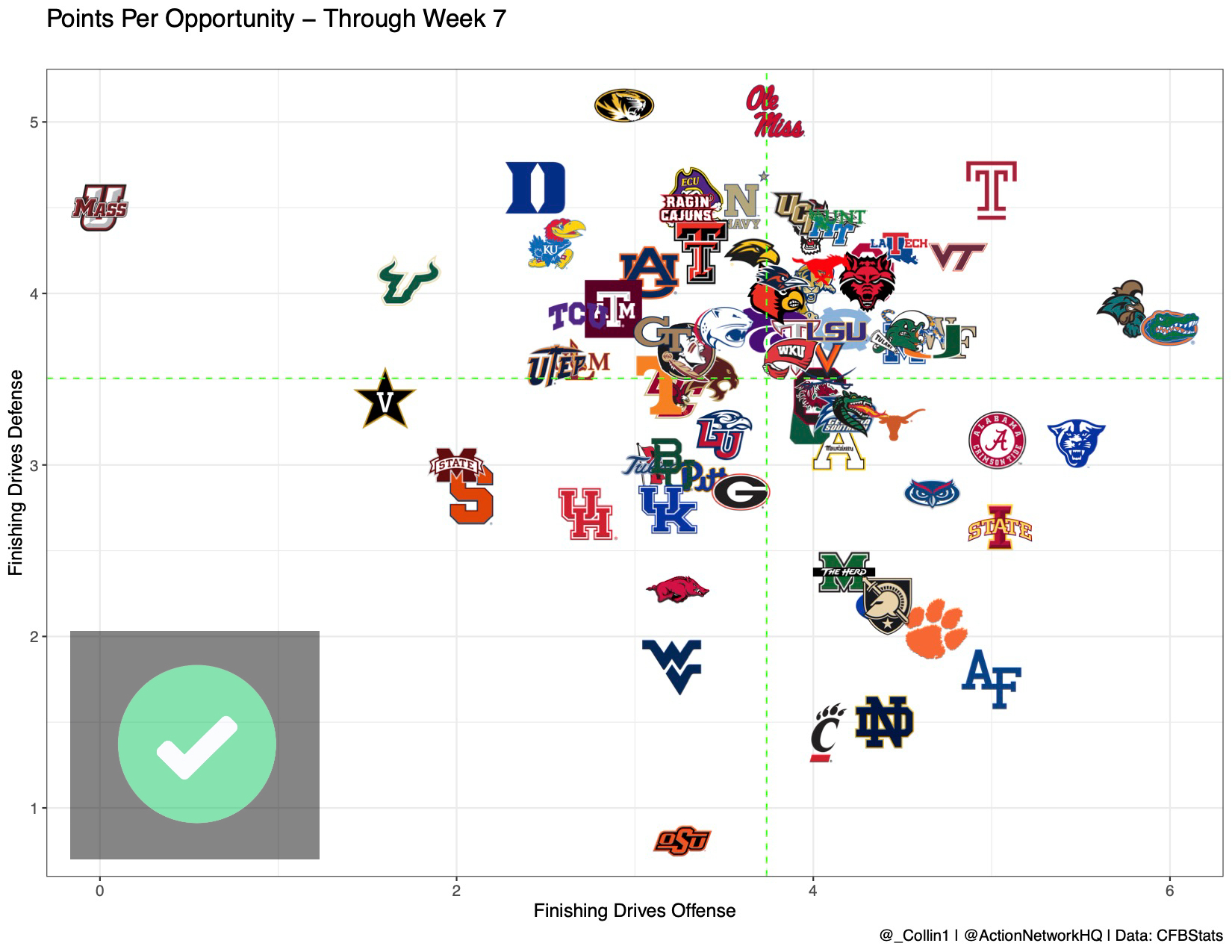 Whether a team is fantastic within the 40-yard line for scoring opportunities, pace of play must be considered. Seconds per play can give an investor an inside track into who has more snaps per game, and in combination with success rate and finishing drives can develop facts around scoring points.
Our Pace by Success Rate chart looks at Seconds Per Play along with Success Rate, defined as gaining 50% of needed yards on first down, 70% of needed yards on second down, or 100% of needed yards on third or fourth down.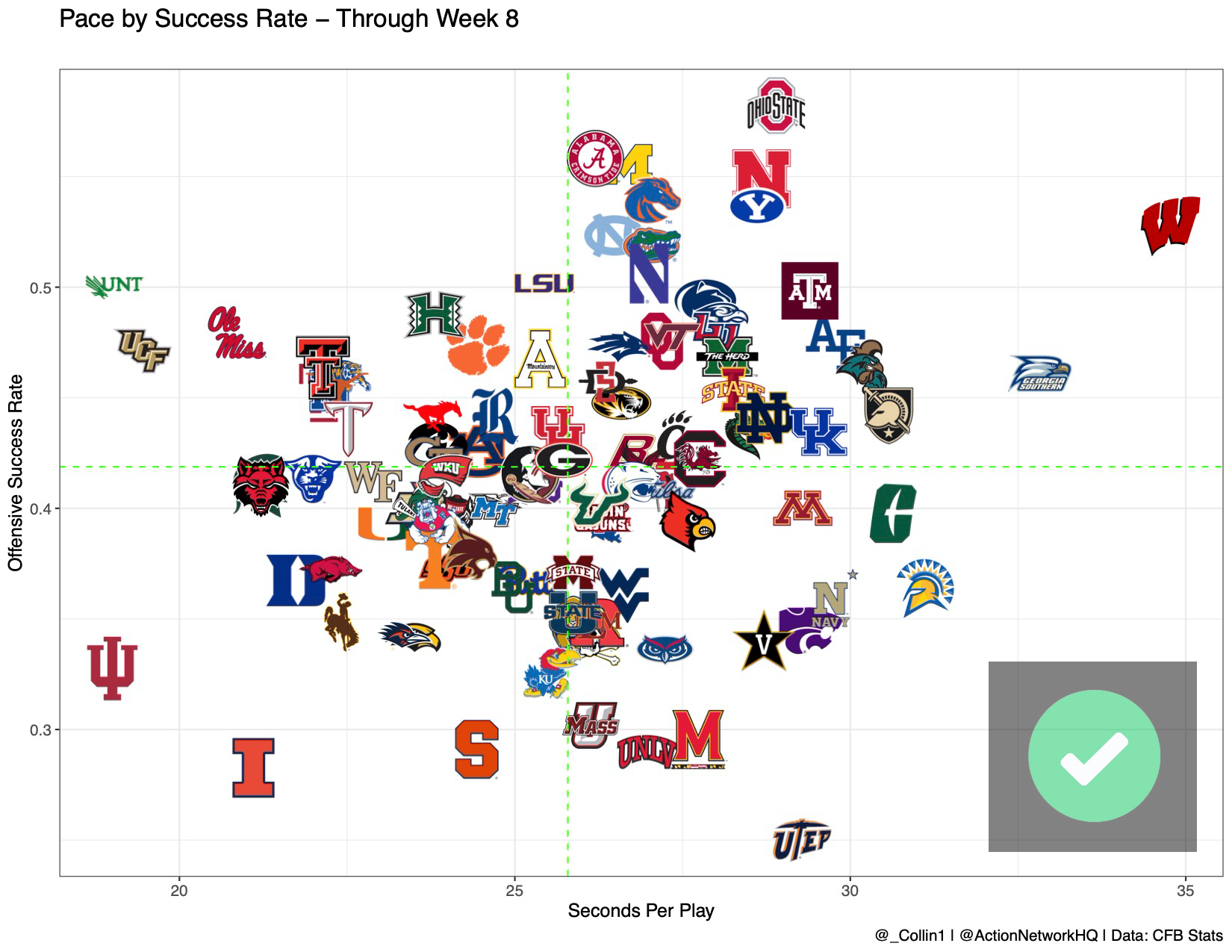 Here is the total list of projections for every game, with the exception of the Big Ten and Mountain West, where another week of data will give more accurate total projections.
Week 9 Projected Totals
Our model projections, now part of Action PRO, automatically compare our projected totals to the betting market and grade them on an A-F scale. 
Notes on Week 9 Totals
Temple vs. Tulane
This total took immediate Over money and for good reason. This game may be the biggest discrepancy in finishing drives offenses against defenses. Both Temple and Tulane should have their way past the 40-yard line. Explosive plays may be an issue for Temple, but Tulane will take advantage of an Owls defense that is 101st in defensive expected points through the air. These teams rank in the Top 22 in pace.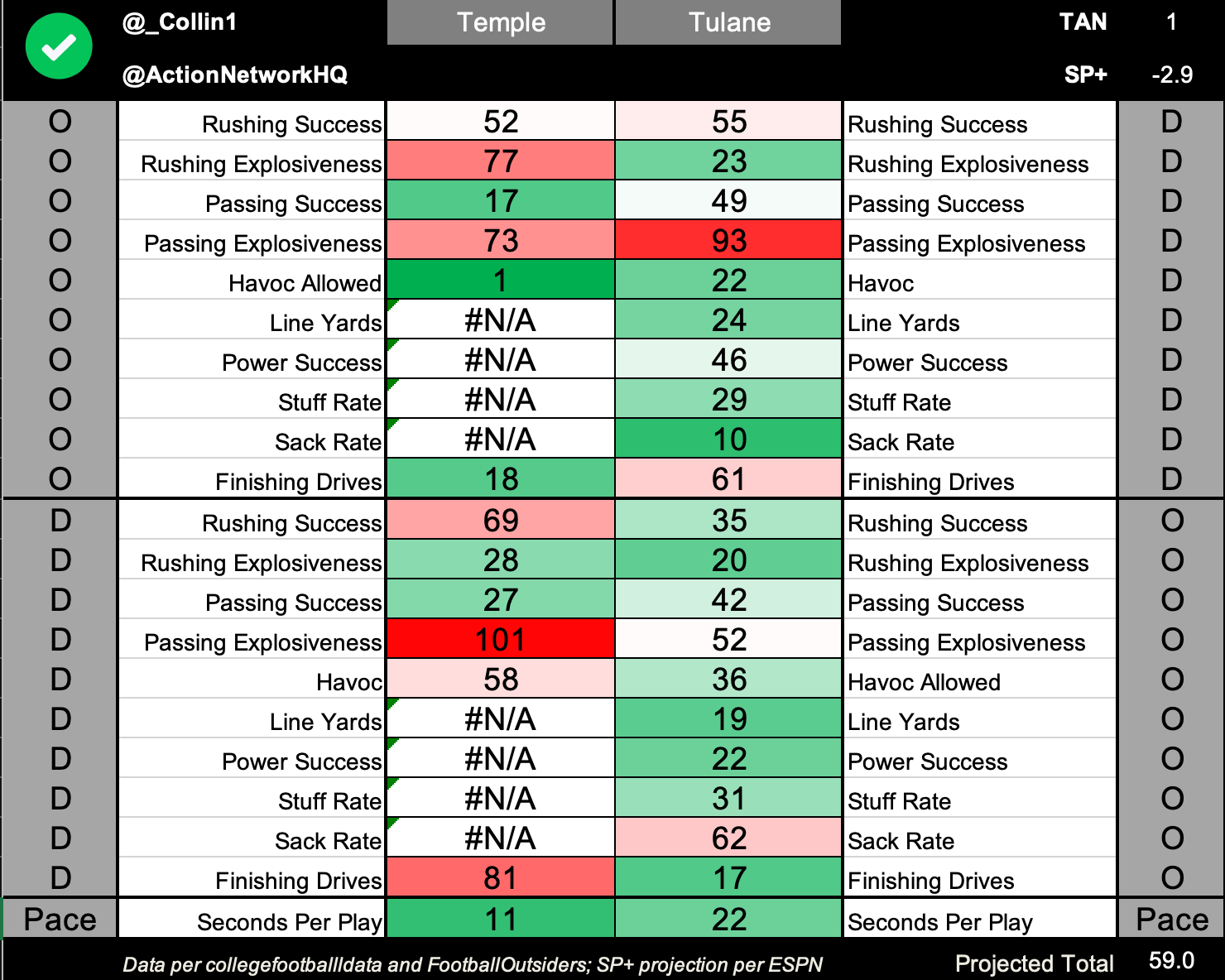 Iowa State vs. Kansas
The Jayhawks have a complete mystery around who their go-to player on offense is now that Pooka Williams has left the program for the season. Williams rushed for more than 1,000 yards the previous two seasons.
Iowa State is going to get their points against Kansas, but at what speed will the Cyclones enter Jayhawk territory? Brock Purdy's offense is outside the Top 50 in explosiveness. An Under ticket is banking on a defense that is Top 20 in finishing drives for Iowa State.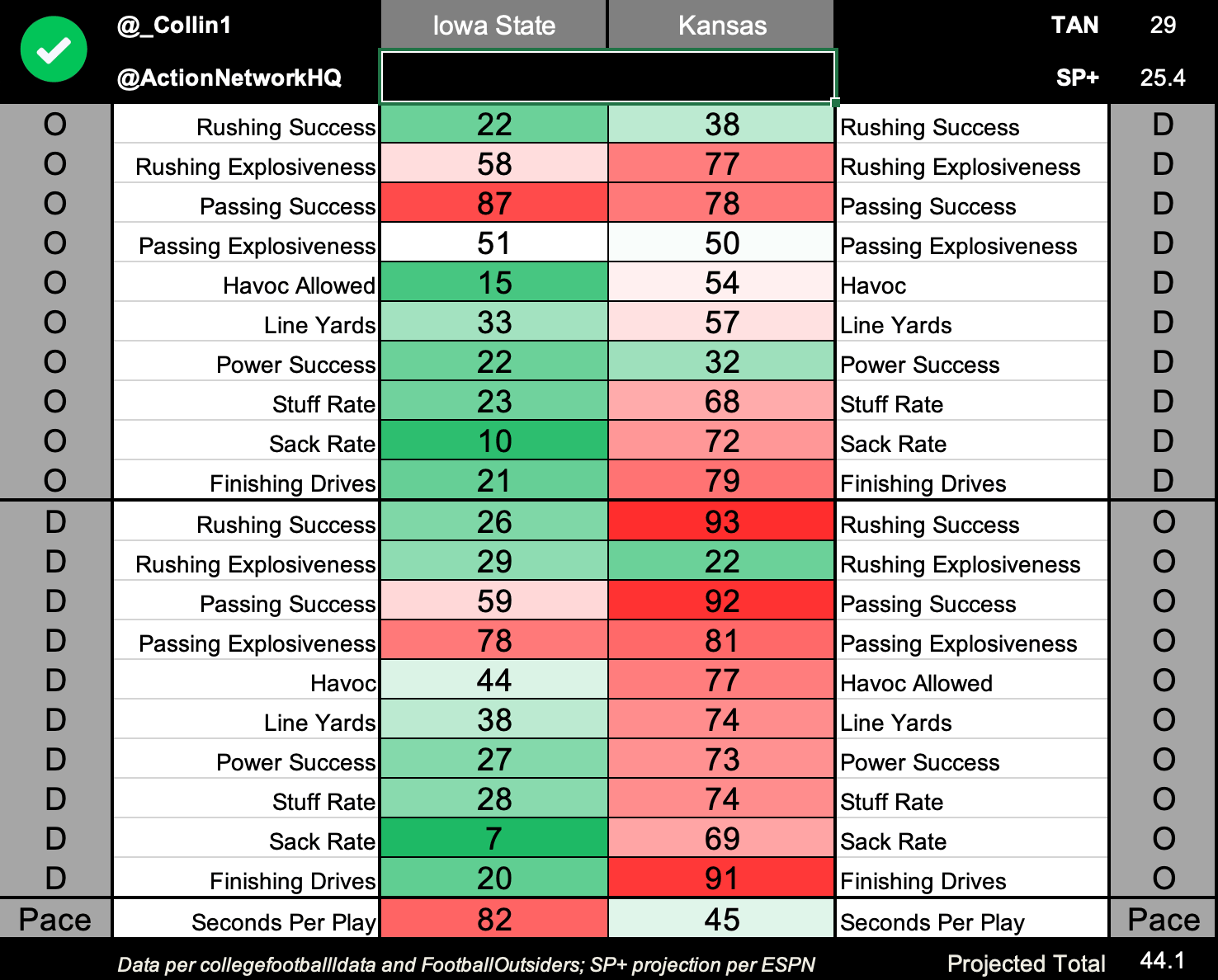 Central Florida vs. Houston
The market is at 76.5 as of this writing, giving the slightest of edge to the Over. Looking at the advanced numbers, there is an expectation this will be an explosive powder keg of a game. Houston is 88th defensively in expected points passing, while the Central Florida defense is 94th in the same category. These are two offenses that love to air it out, and each defense is terrible at defending it. The Cougars rank of 90th in defensive finishing drives and should help get the Over home.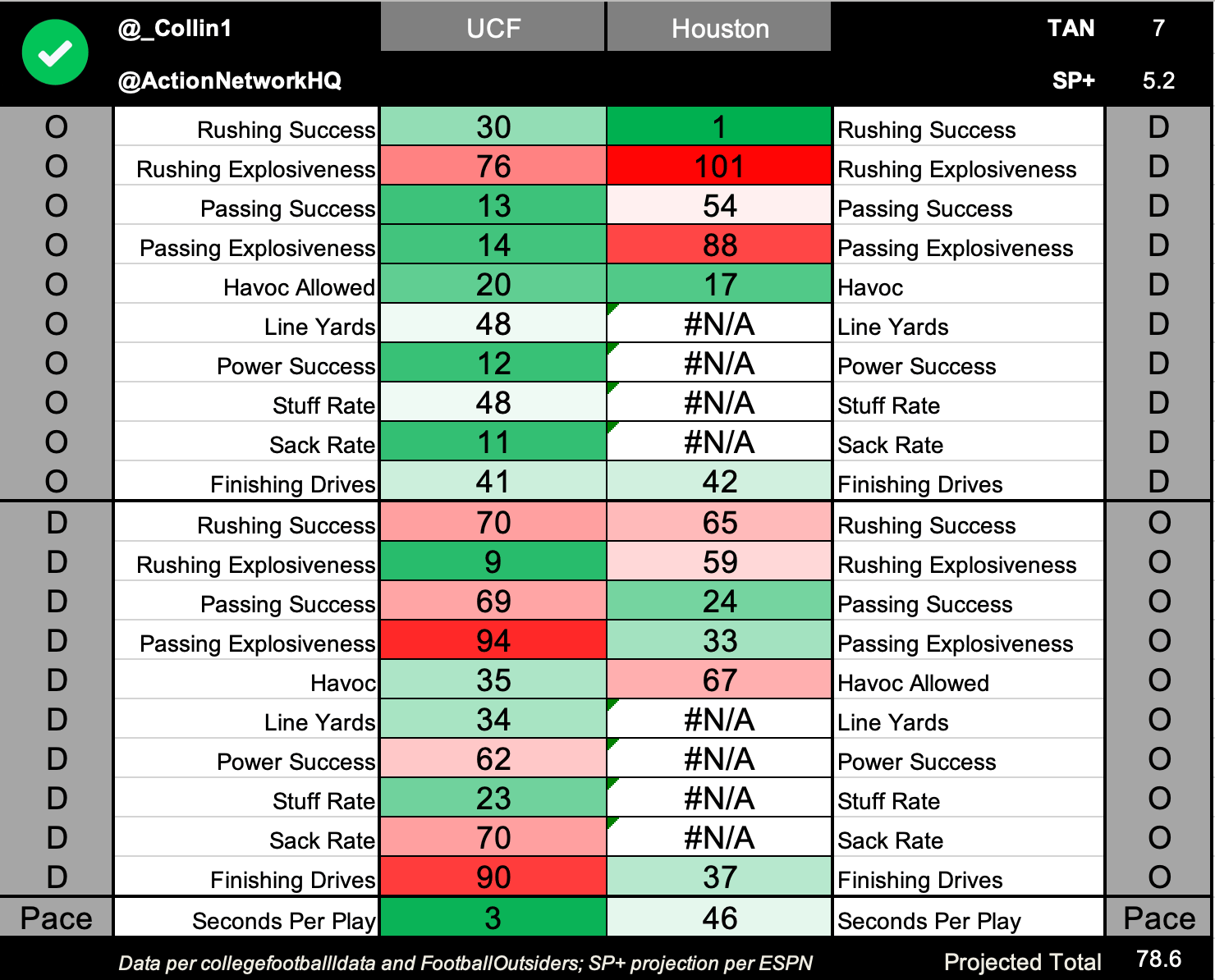 Arkansas vs. Texas A&M
I love the pace of my Razorbacks offense, but the simple fact is that the Hogs do not have any kind of success rate or explosiveness to bank on. Arkansas ranks 80th in offensive finishing drives, a complete contrast from what the defense has done through four games. Texas A&M has no explosiveness component to its offense, which should be on display against Arkansas' No. 1-ranked passing defense against explosiveness. The Texas A&M pace should keep this total on the Under.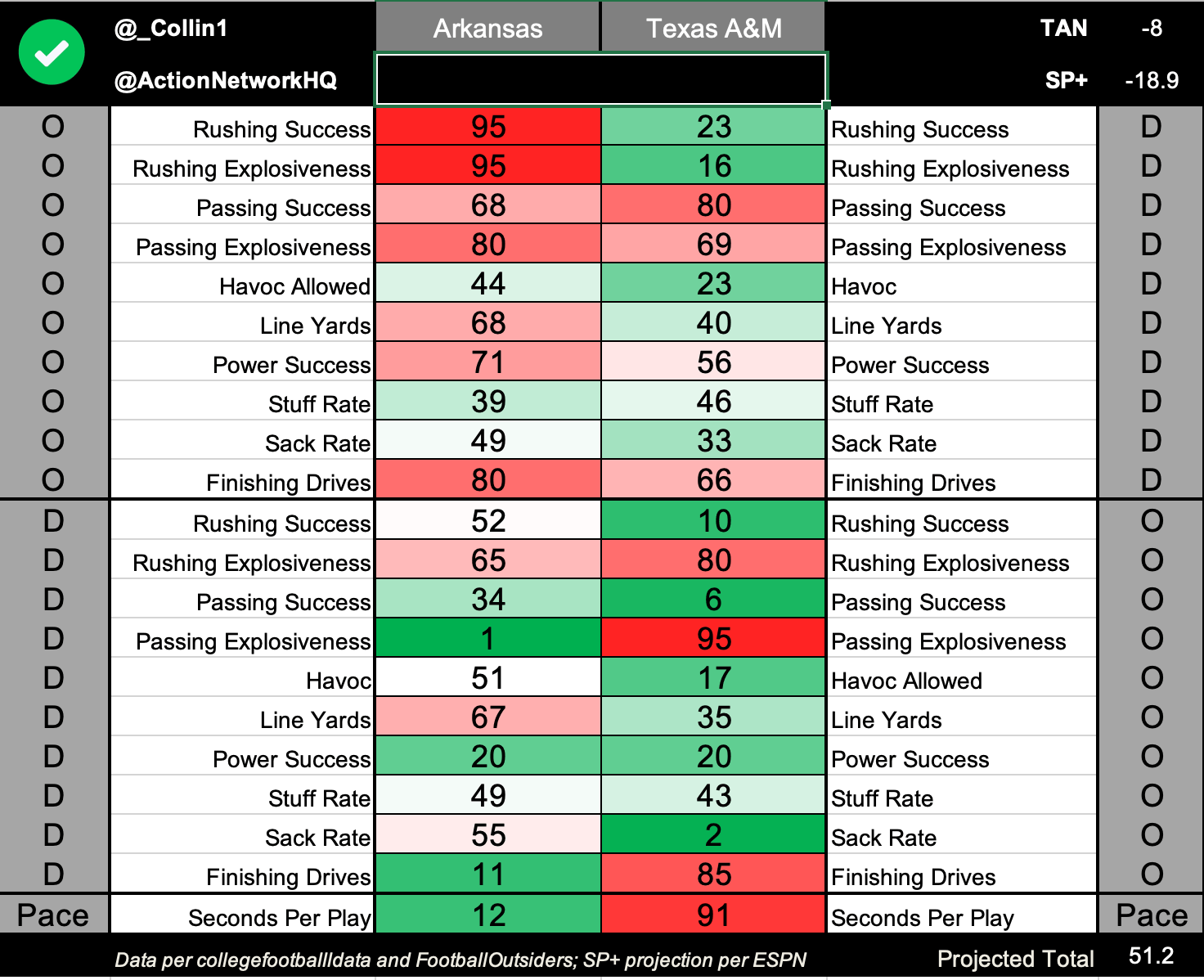 How would you rate this article?