College Football Playoff Week 14 Eliminator: Is Ohio State in the Mix?
Credit:
David Rosenblum/Icon Sportswire. Pictured: The College Football Playoff trophy.
Back in August, we started with 131 FBS teams fighting for four playoff spots. We're now down to just five with one week of games left.
Four more teams were officially sent packing in Week 13. To those asking, I'm not considering bringing Alabama back from the dead. We'll stick with our formula, as I don't see any scenario in which the Tide make the playoff.
Expect the committee to have Ohio State ranked ahead of Alabama when it releases its penultimate rankings tonight. With both teams idle this week, it's highly unlikely that placement changes come Sunday. Even if TCU and USC lost, I believe the Frogs would have the stronger resume when compared to Bama.
With the list down to just five teams, our three tiers remain, but the names have changed based on how things sit heading into Championship Week.
Let's start off by taking a look at the four teams that were bounced in the past week.
---
Eliminated From College Football Playoff in Week 13
The Tigers couldn't handle rival South Carolina at home, and as a result, there will be no playoff appearance for Clemson.
The Bayou Bengals always felt like a longshot, but a 15-point loss at lowly Texas A&M removed all doubt.
The Ducks squandered a big lead at Oregon State, which ended up costing them a berth in the Pac-12 title game.
The Huskies got it done in the Apple Cup last week, but due to some crazy tiebreaker scenarios, Utah gets the nod to go to Vegas. The Rose Bowl remains in play for Washington.
---
Eliminated in Weeks 1-12
As always, here are the ground rules that will be in place all year:
Any loss eliminates a Group of Five team immediately. In the history of the CFP, there has only been one Group of Five team to make the playoff — last year's undefeated Cincinnati Bearcats. A one-loss Group of Five team is simply not making the playoff in the current format.
Auto-elimination for any Power Five team that loses a third game. To this point, there has never even been a two-loss team that made the playoff. There have been a few that have been close over the years, but there will certainly not be a three-loss team among the final four.
Any two-loss Power Five team that has been eliminated from conference championship contention will also be eliminated in this column. Given that we've never seen a two-loss team make it to this point, it's safe to assume a two-loss team would need to win its respective conference. This rule directly applies to Alabama, Tennessee, Penn State and Washington.
Lastly, I reserve the right to eliminate any team that simply does not have a realistic path to the playoff.
Here are the latest tiers: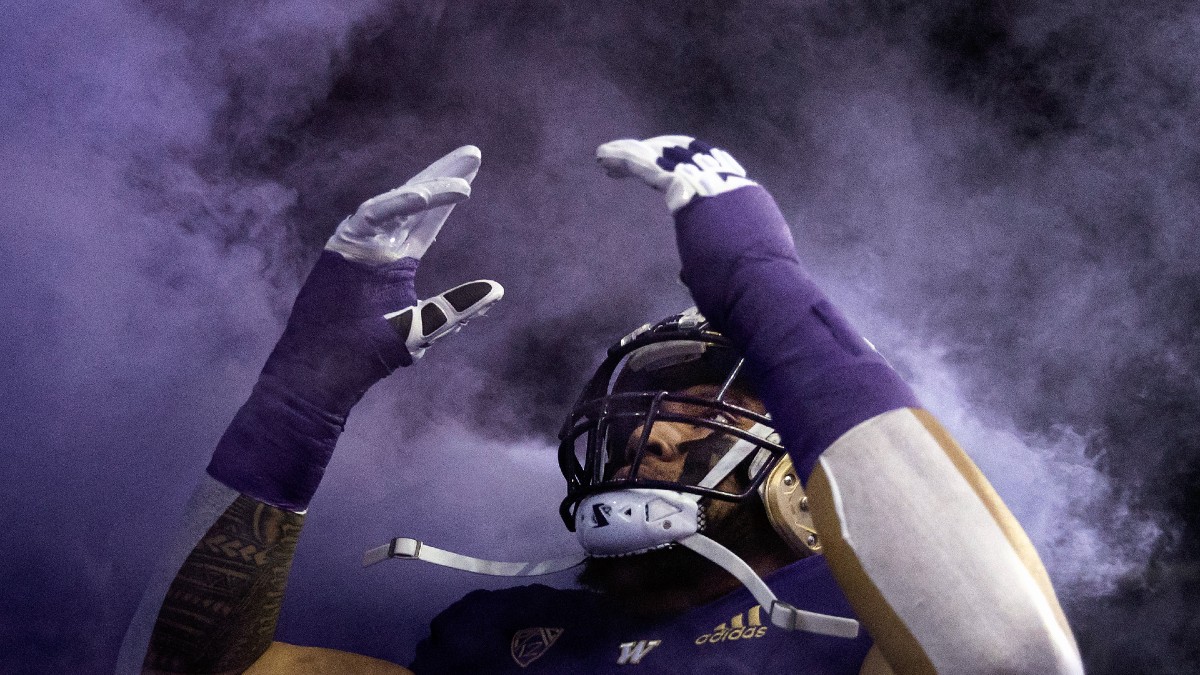 McMurphy's Week 14 Bowl Projections
---
All "To Make the Playoff" odds are as of Tuesday, Nov. 29 and via DraftKings.
---
Sitting Pretty (3)
It's very rare to have three Power Five teams undefeated heading into Championship Week, but this trio just keeps winning.
Georgia and Michigan are in regardless of what they do on Saturday. TCU should be as well, but a blowout loss to Kansas State coupled with a USC win would open up a debate between the Horned Frogs and Buckeyes.

Georgia Bulldogs
I expect Georgia to handle LSU with relative ease and earn the No. 1 overall seed in the playoff. But even if the Dawgs do somehow get upset, they will still be among the four selected.

Michigan Wolverines
No team has a better win than Michigan's road victory in Columbus. As 17-point favorites over Purdue, the Big Ten Championship should be a comfortable victory. But like Georgia, the Wolverines would still be in with a loss.

TCU Horned Frogs (-550)
Unlike Georgia and Michigan, the Frogs are just a small favorite in their conference championship game. In my eyes, as long as TCU is competitive, it's in with a win or loss.
---
Win and In (1)

USC Trojans (-150)
It's extremely simple for the Trojans. Beat Utah to win the Pac-12, and they will be one of the final four. Lose, and there's no path to the playoff.
---
Wait and Hope (1)

Ohio State Buckeyes (+120)
As stated earlier, I firmly believe Ohio State is in ahead of the likes of Alabama and Tennessee if Utah pulls off the upset over USC.
If USC handles its business, the only other path for the Buckeyes would be a TCU loss. That would likely create a heated debate, but I ultimately don't think TCU would be punished for playing in a 13th game while OSU sat at home.
How would you rate this article?
This site contains commercial content. We may be compensated for the links provided on this page. The content on this page is for informational purposes only. Action Network makes no representation or warranty as to the accuracy of the information given or the outcome of any game or event.