College Football Week 10 Havoc Ratings: Mountain West Soars To The Top
Credit:
Sam Wasson/Getty Images. Pictured: Luq Barcoo (16).
College football fans have been blessed with the return of late night Mountain West action. Four teams lead the standings after two weeks of play. Hawaii is experimenting with the GoGo offense, while New Mexico is transplanting the entire program to Las Vegas.
Two teams of note with regards to Havoc are San Diego State and San Jose State. Starting with the Aztecs, new head coach Brady Hoke is long known as a defensive coach, but his failures at Oregon and Michigan are well-documented. This offseason, Hoke handed the reigns to the San Diego State 3-3-5 defense to new defensive coordinator Kurt Mattix.
Mattix improved Eastern Kentucky in every defensive facet over the span of four years with the Colonels. Now, San Diego State has become the top overall team in defensive Havoc through two games. The Aztecs have already accumulated 18 tackles for loss, three forced fumbles and 10 passes defensed.
As San Diego State blazes the defensive ranks, San Jose State is the top team in the nation in Havoc allowed. Through 136 snaps, the Spartans have allowed just six tackles for loss with no fumbles. Quarterback Nick Starkel may win comeback player of the year after his time at Texas A&M and Arkansas, as the senior has a 7:1 touchdown to interception ratio. If you are into Havoc ratings, San Jose State travels to San Diego State on Friday. 
Our Havoc column looks at the defensive Havoc and offensive Havoc allowed each week. The calculation is simply a cumulative number of tackles for loss, interceptions, fumbles and passes defensed divided by the number of plays on both sides of the ball.
---
---
Week 10 Havoc
---
Our Havoc chart looks at the percentage generated on defense by the percentage allowed on offense. Keep in mind that the Mountain West and Big Ten have had a limited number of snaps in comparison to other entries. Next week's Havoc ratings will include the full list of 127 FBS teams as the Pac-12 joins competition.
Here is a raw number breakdown of Havoc generated and Havoc allowed:
---
Notes on Week 10 Havoc
West Virginia vs. Texas
Two weeks in a row, the Longhorns are mentioned in the Havoc ratings because of their defense. Texas scored 20 points as a direct result of Oklahoma State turnovers in Week 9. The Havoc should continue as West Virginia makes the trip to Austin. The Mountaineers rank 57th in Havoc allowed, having already ceded 47 tackles for loss this season. Edge rusher Joseph Ossai has been one the biggest defensive disruptors in college football: The junior leads the nation in individual stops, per Pro Football Focus.
---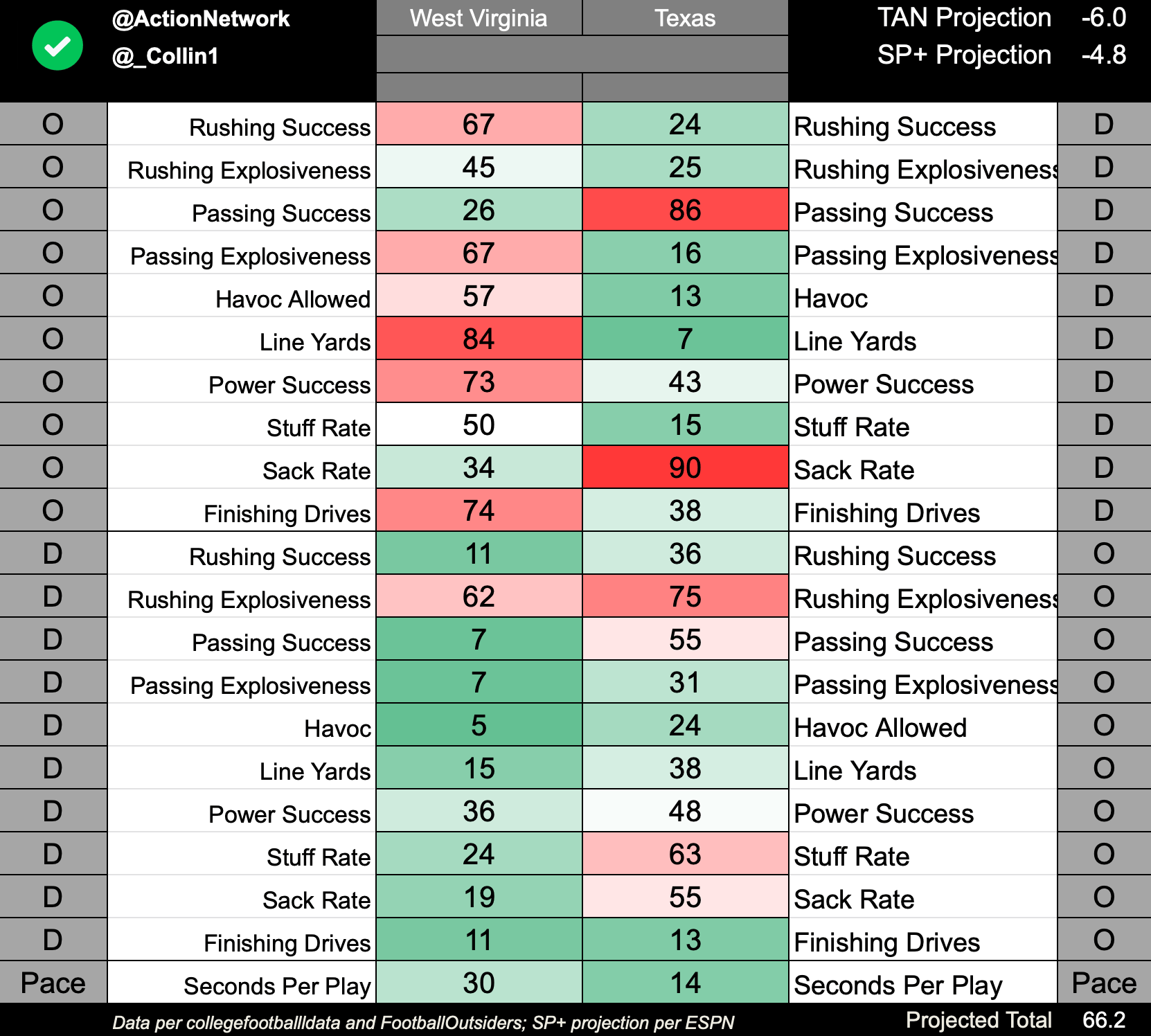 ---
Appalachian State vs. Texas State
The Mountaineers have recovered nicely from a COVID-19 outbreak after a month-long layoff between their games against Campbell and Arkansas State. Appalachian State now ranks sixth in defensive Havoc. Texas State has recorded seven forced fumbles this season, while the Mountaineers have picked up eight fumble recoveries.
---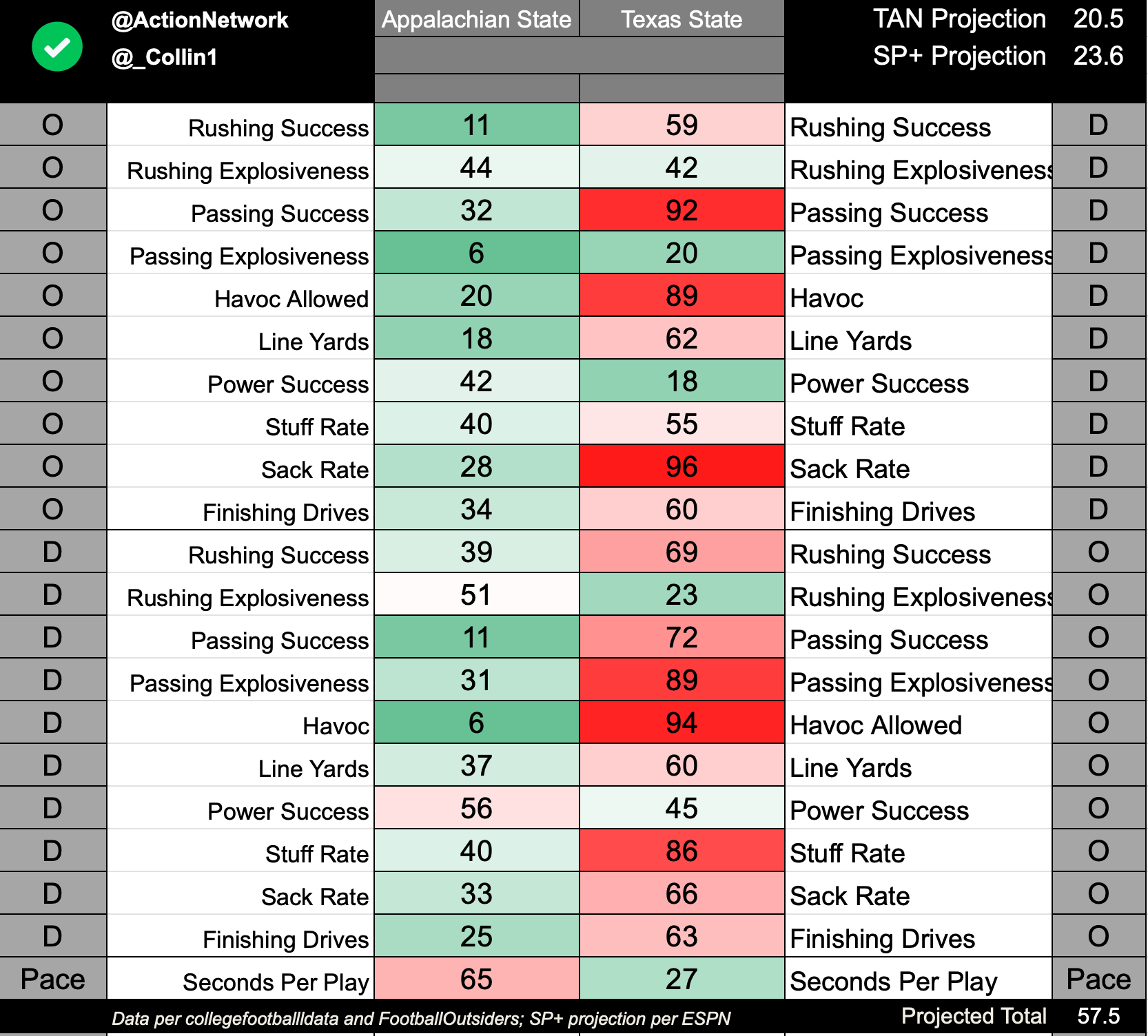 ---
Check out our new College Football PRO Report, where we highlight key factors that provide betting edges — like large wagers, historically profitable betting systems, model projections and expert picks — that when combined with sharp money can powerfully detail the smartest bets on a given slate.
---
Kansas vs. Oklahoma
The Sooners can name their spot in this game, with the Action Network Power Ratings calling for this spread to be closer to Oklahoma -40. Despite Oklahoma's penchant for getting burned on the ground for chunk yards, the Sooners are a top-10 unit in defensive Havoc.
The market has moved in the direction of the Jayhawks for a number of weeks, but Havoc allowed has been a factor keeping Kansas from the cover. The Jayhawks rank dead last in tackles for loss allowed per game.
---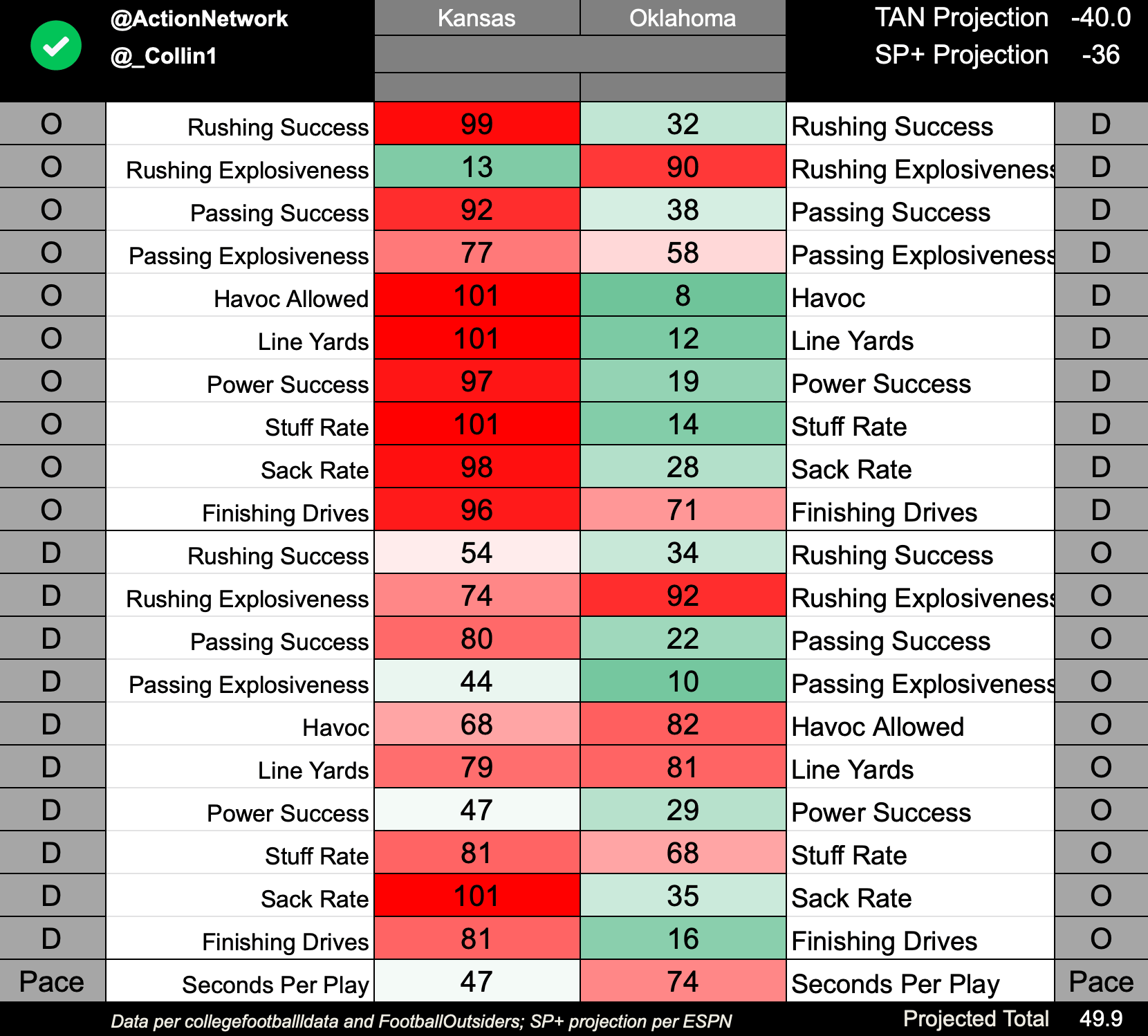 ---
How would you rate this article?