Rovell's Week 11 Betting Notebook: LSU Outright Win 'Worst Result' for Some Books
Credit:
Chuck Cook-USA Today Sports. Pictured: Joe Burrow.
LSU Win 'Worst Result' for CG Technology
7:20 p.m. ET
CG Technology Director of Race and Sports Tony DiTomasso called LSU's outright victory "the worst result" possible for his book.
The Tigers hung on to beat Alabama 46-41, cashing moneyline tickets that ranged from +230 early in the week to +180 right before kickoff.
Westgate Superbook's John Murray said his book had a small loss overall on the game and actually benefitted from the over easily hitting.
Bettor Puts $16,000 on Alabama Live Line
4:15 p.m. ET
A bettor at PointsBet took Alabama at -130 to win straight-up for $16,000 when the Tide trailed 10-7 in the first quarter.
Sharp Money Hits LSU-Alabama Over
2:50 p.m. ET
Sharp money hit the over at 62.5 in the LSU-Alabama game, pushing the Westgate SuperBook all the way to 65.5, according to John Murray, the book's Director of Race & Sports.
The public is also backing LSU at Westgate, with the tickets nearly 2-1 in favor of the underdog Tigers.
---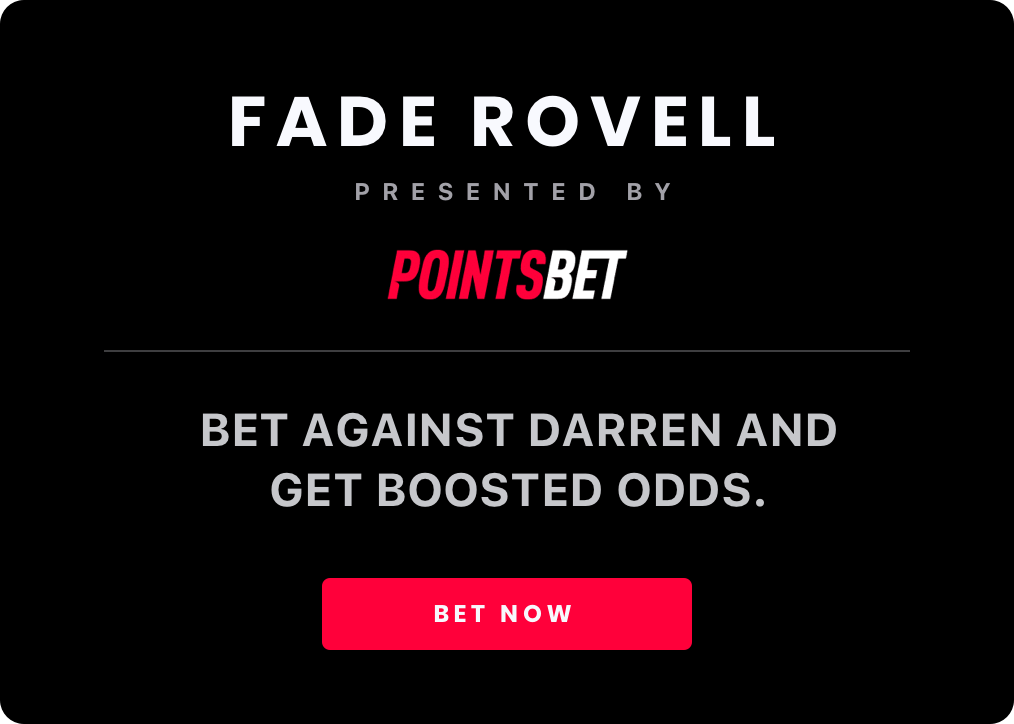 Darren Rovell loves the Giants to cover against the Jets this week. PointsBet is giving everyone in New Jersey boosted odds to bet the other side — Jets +2.5 (+110). New customers get an exclusive promotion: Deposit $50, bet with $150. No strings attached. No rollover required.
---
Bettor Nets $50,000 on Ohio State First-Half Spread
1:40 p.m. ET
One of the biggest bets that made the rounds on Saturday morning was a $55,000 wager on Ohio State to cover the first-half spread (-27.5) against Maryland.
It turned out to be easy money. The Buckeyes easily covered the 27.5-point spread and almost covered the full-game spread (-42.5) in the first 30 minutes.
That would have been something, considering Ohio State is the biggest favorite in a game between two Big Ten schools in at least 15 years.
That will likely change next week, though, as Ohio State takes on Rutgers.
Two-Way Action
Saturday, 11:30 a.m. ET
The folks at PointsBet are seeing a near-perfect split for LSU at Alabama.
At the time of writing, 50.7% of the money at PointsBet is on Alabama to cover as 6-point favorites.
They do have some liability on the moneyline, however.
"LSU moneyline is far and away our biggest liability," PointsBet's Matt Chaprales said. "The public is blasting LSU at a 9-to-1 ratio on the ticket count and over 80% of the money is on the Tigers."
CG Technology took a $10,000 bet on the LSU moneyline (+185). If the Tigers win the bettor would win $18,500.
Tua's Status Isn't Stopping LSU Money
Saturday, 10:40 a.m. ET
Even though Nick Saban is still calling it a game-time decision, it looks more and more likely that Alabama quarterback Tua Tagovailoa will play against LSU on Saturday.
Tagovailoa's status hasn't deterred bettors from getting involved in what is the most important game of the regular season. We've already tracked over 20,000 bets on LSU at Alabama (-6) and expect that number to keep soaring as we approach kick.
The Tigers are getting 58% of the bets and 57% of the money according to our market-wide data. LSU is getting 61% of the tickets and 65% of the money at DraftKings.
Fifty Large on the First Half
Saturday, 10:30 a.m. ET
A bettor at William Hill put down $55,000 to win $50,000 on Ohio State to cover the first-half spread (-27.5) against Maryland.
When a large bet on a sizable Big Ten favorite comes in, the first question I had to ask was: "Is it Duffel Bag Boy?"
If you follow the college football betting market, you probably know about Duffel Bag Boy's exploits. He's a well-known bettor who loves to lay the chalk with huge favorites. Duffel Bag Boy's favorite play is to fade Rutgers, but the Scarlet Knights have a bye this week.
Well, I asked Nick Bogdanovich at William Hill if this was the infamous Duffel Bag Boy.
"No comment," he said.
Thursday, 1 p.m. ET
It doesn't take a rocket scientist to figure out which college football game will generate the biggest handle this Saturday. The showdown between No. 1 LSU and No. 2 Alabama has all the makings of a college football classic and bettors are acting accordingly.
According to our market-wide data, 60% of the bets and 66% of the money has come in on LSU (+6). Will sportsbooks actually need Nick Saban and the Crimson Tide to cover as home favorites? Judging by the early returns on the market, it looks that way.
There are plenty of factors keeping casual bettors off the Tide. First and foremost is the health of Tua Tagovailoa.
Reports out of Alabama suggest the junior quarterback is expected to play, and Nick Saban said that Tagovailoa "looks good" to play on Saturday. Collin Wilson, our lead college football analyst and gatekeeper of our power ratings, says Tagovailoa is worth about seven points to the spread, so it's easy to see why 'Bama backers may be waiting out the news on Tua before investing.
There's also some uncertainty around Alabama as a whole. Do we really know how good this Crimson Tide team is? It's hard to tell judging by their schedule so far. Lopsided wins over Duke, Tennessee, Southern Miss, Ole Miss, South Carolina and Arkansas don't really jump off the page. Alabama's most impressive result is a 19-point win on the road at Texas A&M, but the Aggies have been underwhelming this season.
On the other hand, we have a pretty good idea of what type of team LSU is this season.
Ed Orgeron's Tigers have passed test after test in 2019. The Tigers have wins over Texas, Florida and Auburn on their resume, and quarterback Joe Burrow has been a revelation. Burrow came into the season at 200-1 to win the Heisman but is now the sole favorite, ahead of Tagovailoa.
"We don't have much on LSU-Bama, yet," Matt Lindeman of Circa Sports said. "The Number moved from Alabama -7 to -6.5, but it seems like bettors are waiting for definitive information on Tua. We've taken three times more tickets on LSU."
Bettors are much more comfortable betting on the team they know, rather than one with some uncertainty. That's why it wouldn't be surprising to hear that bookmakers will be yelling "Roll Tide!" on Saturday.
Penn State Getting Support
Week 11's other matchup of unbeaten teams may not generate the same type of buzz as LSU at Alabama, but there's a lot to unpack here.
Lindeman said one of the biggest disagreements with his co-worker Matt Metcalf this week was where to set Penn State-Minnesota. Lindeman's model made the game Penn State -4.5 but Metcalf's had the Lions at -9. They split the difference and posted Penn State -6.5. It seems like a good number because there's been very little movement since then.
So why was this game so polarizing? Well, despite their undefeated records you could argue that we don't truly know just how good either of these teams are.
PJ Fleck's Minnesota Golden Gophers are quietly in control of the Big Ten West. The Gophers come into this game undefeated and could actually make the College Football Playoff.
That is still a huge ask of the Gophers, who still have Iowa, Wisconsin and a potential showdown with Ohio State in the Big Ten Championship Game on their schedule, but what's the point of sports if not to dream big?
Minnesota's schedule has been a cakewalk so far. The Gophers routed Maryland, Rutgers and Illinois but they started the season with one-score wins over South Dakota State, Fresno State and Purdue.
There are also plenty of people in the sports betting community who think Penn State is overrated. The Nittany Lions are undefeated and boast wins over Michigan and Iowa, but there still seem to be skeptics out there. Penn State ranks 53rd in the nation in Yards Per Play (5.3) and over its last three games Penn State is averaging just 4.4 YPP. So are the Nittany Lions a paper tiger? Bettors don't thinkso — at least not in this matchup.
According to our market-wide data, 61% of the early bets are on the Lions, who are -6.5 or -7 depending on the shop. There is an interesting pattern developing here, though, as only 53% of the money is on Penn State, meaning that the bigger bets are coming in on Minnesota.
Week 11's Weirdest Game
Now that we've covered LSU-Alabama and Penn State-Minnesota, we can get to the game we all want to know about — UMass at Army.
The Black Knights are 34.5-point favorites over UMass, which may seem outlandish but 64% of the tickets are taking Army. A triple-option team as a five-score favorite? What world are we living in?
As for the total, Lindeman said it was one of the hardest Over/Unders he's had to set.
"Army takes eight minutes to get down the field, but UMass definitely has the worst defense in college football," he said.
The Under-Cats
Northwestern has become the nation's premier "Under Team." They are usually underdogs, but this season's team are also Under-Cats.
Circa opened the total for Purdue vs. Northwestern at 45 but it's since been bet down to 39.5.
Northwestern has scored 16 total points in its last four games.
How would you rate this article?