Koerner's Week 10 NFL Power Ratings: Best Bets According to My Projected Spreads & Over/Unders
Credit:
USA Today Sports. Pictured: Baker Mayfield, Lamar Jackson, Kyle Shanahan
Sean Koerner projects spreads and over/unders for every Week 10 NFL game using his power ratings.
He uses these power ratings -- and analysis -- to recommend the best bets.
This week's 12-game slate features three double-digit favorites and already lots of line movement.
Like every week, I'll use my projected spreads and over/unders to identify the best bets, so let's run through every matchup and identify my favorite picks for Week 10.
---
Odds as of Wednesday evening and via PointsBet, where Action Network users can access an exclusive promotion to get a 200% deposit match (deposit $50, bet with $150).
---
Chargers at Raiders
Current odds: Chargers -1; 49
My Projections: Chargers -1; 47.5
Thursday Night Football
The Raiders opened as 1.5-point favorites and early sharp action has flipped it to Chargers -1. The new line move appears to have wiped out the value that was offered on Los Angeles at the opening.
However, betting on the Chargers on the road is usually a narrative I tend to push as they're 14-5 against the spread on the road over the past three seasons. This trend is rooted in their lack of true home-field advantage at Dignity Health Park — it's a smaller stadium and there's typically a near 50/50 split of home/away fans in attendance.
The total is where we may be able to find more value as it's been bet up from 47.5 to 49.
Fifty and 51 are key numbers, so it's worth seeing if the line can get that high. As of writing, 72% of the money has come in on the over (see live public betting data here), but I would think the sharps would come down hard on the under if this total ever crosses 50. You'd likely need to get in on it fast before it gets bet down.
The Raiders rank 29th in terms of pace while the Chargers are 22nd, which could result in a slower-paced matchup in which both teams have watered down game plans on the short week. This should be a close game in which neither team feels compelled to pick up the pace in comeback mode.
My Projected Team Totals: Chargers 23.5; Raiders 23
Chiefs at Titans
Current odds: Chiefs -5.5; 48*
My Projections: Chiefs -4.5; 47.5
Patrick Mahomes appears set to return from a knee injury that's kept him out of the past two games. The Chiefs managed to go 1-1 without him, and while the market appeared to value him as being worth seven to eight points to the spread, I'm hesitant to give them the full points back quite yet as he isn't likely to be 100% quite yet.
There's a chance he could have limited mobility on Sunday. And while he isn't necessarily known for his rushing ability, he does use his legs to avoid pressure, extend plays and buy time for his receivers to get open for a huge play. We might not see that Mahomes in Tennessee, but a more conservative version.
One silver lining regarding his knee injury is that the time off has likely allowed him to overcome an ankle injury that had been nagging him previously. Getting that ankle closer to 100% could be the blessing in disguise.
Either way, there's some slight value on the Titans getting 5.5 points here if it appears Mahomes will be less than 100%. There's also a non-zero possibility Mahomes has an in-game setback, forcing the Chiefs to bring Matt Moore back in.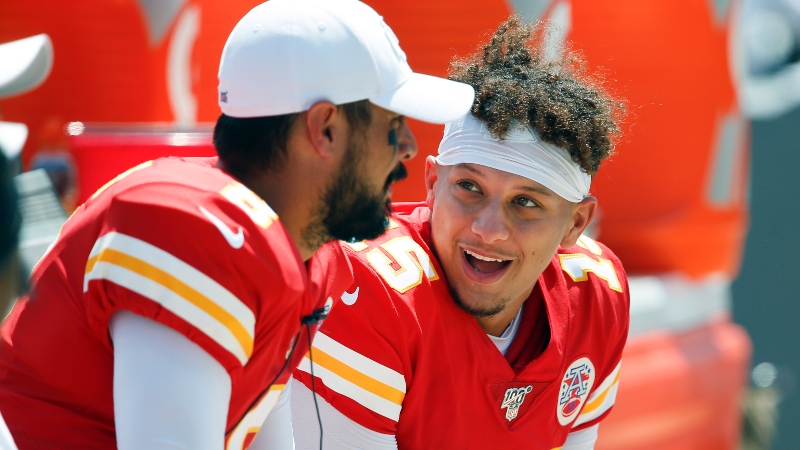 If Moore were to start, the line would be closer to Titans -2.5 to -3, so there's some hidden upside taking the Titans here as a result.
*Note: These odds are off the board at PointsBet, so the above lines are via the Westgate Las Vegas Superbook.
My Projected Team Totals: Chiefs 26; Titans 21.5
Bills at Browns
Current odds: Browns -3; 40
My Projections: Browns -3; 40.5
I faded the Browns against the Broncos purely because I didn't think the drop-off from Joe Flacco to Brandon Allen should not be worth 5.5 points (which is roughly how much the market moved the line).
But I think buying low on the Browns here make sense. They're now -0.6 wins below their Pythagorean win expectation while the Bills are 1.1 wins over their own. That's a net of +1.7 wins in favor of Cleveland.
The Browns are one of the biggest disappointments of 2019, but I'm ready to start buying low as they're still an above-average team on paper and could start putting it all together this week.
It's key to get them at -2.5 as we want to lock that in before it moves up to the key number of 3. Despite 73% of spread tickets coming in on the Bills as of writing (see live public betting data here), the line does appear to be moving toward -3, a clear sign that sharps are likely backing the Browns here as well.
My Projected Team Totals: Browns 21.25; Bills 18.25
Cardinals at Buccaneers
Current odds: Buccaneers -4.5; 52
My Projections: Buccaneers -5; 54.5
Introducing the Bruce Arians Bowl.
Due to some bad schedule luck, the Buccaneers haven't played at home since Week 3. They went 1-4 on a brutal five-game road trip (one was technically on a "neutral" field in London). So there's some value backing them in their first game back as the market is likely underrating them based on their grueling recent stretch.
However, I'm eyeing this total, which has strangely dropped from 53 to 52. As of writing, 59% of the money is on the under, which has warranted the point drop. Still, I'm having a hard time figuring out why the public would be attacking the under here. We have two of the fastest-paced teams — the Cardinals are first, the Buccaneers are seventh — and a pair of offenses that should be able to attack the opposing defenses.
The only case for the under is the potential positive game script for the Bucs in which they can lean on the run game a bit and prevent Jameis Winston from turning the ball over, thus protecting the lead. But it's not enough for me to back off what I believe is value on the over.
My Projected Team Totals: Buccaneers 29.5; Cardinals 24.5
Giants at Jets
Current odds: Giants -2.5; 43.5
My Projections: Giants -1.5; 43.5
After an embarrassing defeat to the Dolphins, the market has completely given up on the Jets. They've now fallen into the Bengals/Redskins bucket of the my power ratings, which is only one step above the Dolphins.
One unique aspect of this matchup is that despite the Giants being the "away" team, they also call MetLife home. In fact, after playing at home in Week 9, the Giants don't have to travel at all while the Jets are traveling back from Miami. It's a unique situation for which I all but wiped out the Jets' home-field advantage.
I'm still showing about a point of value, but the difference from 2.5 to 1.5 is not enough, so I'm passing on this spread.
My Projected Team Totals: Giants 22.25; Jets 20.75
---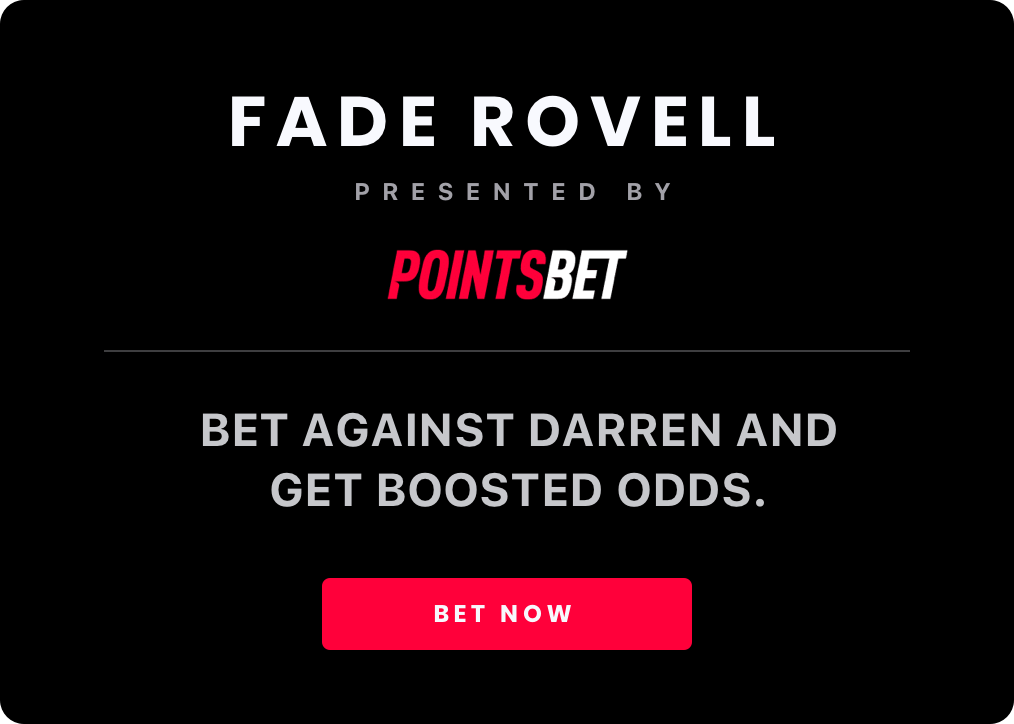 Darren Rovell loves the Giants to cover against the Jets this week. PointsBet is giving everyone in New Jersey boosted odds to bet the other side — Jets +2.5 (+110).
---
Falcons at Saints
Current odds: Saints -13; 51.5
My Projections: Saints -11.5; 51.5
Before the season started, we would've pegged this matchup as a battle for first place in the NFC South. But that's not the case as the Falcons are 1-7 while the Saints are 7-1.
Teddy Bridgewater did a fantastic job filling in for Drew Brees, going 5-0 in his starts. Still, we have to be cautious with the Saints, who are now 5-0 in one-score games while the Falcons are 1-3. As a result, the Falcons have a ridiculous +3.1 edge in expected wins vs. actual — a sign that this will be much closer than their two records indicate and the market is likely to offer value as a result.
Falcons +13 is the play here.
My Projected Team Totals: Saints 31.25; Falcons 19.75
Ravens at Bengals
Current odds: Ravens -10; 44.5
My Projections: Ravens -10; 44.5
The Ravens upset the Patriots in a convincing primetime victory while the 0-8 Bengals will be turning to their rookie quarterback Ryan Finley this week. It's pretty safe to assume sportsbooks will be flooded with Baltimore tickets, and so far it looks like 64% of spread tickets have come in on the Ravens.
This sets up a classic "trap" game in which the Ravens could overlook the Bengals to focus on their showdown with the 6-3 Texans the following week. If you're the type of bettor who likes to root for the same team as the house, back the Bengals here.
My Projected Team Totals: Ravens 27; Bengals 17
Panthers at Packers
Current odds: Packers -5.5; 47
My Projections: Packers -5.5; 47.5
I faded the Packers last week, but it was mostly a result of buying low on the Chargers — I did not expect the Packers to roll over as badly as they did.
They should bounce back at home, but I'm not seeing any value in the spread or total here; both look spot on and betting behavior looks fairly balanced.
This is a pass for me.
My Projected Team Totals: Packers 26.5; Panthers 21
Lions at Bears
Current odds: Bears -2.5; 41.5
My Projections: Bears -2.5; 43
Mitch Trubisky could be playing for his job as the pressure for the Bears to turn to Chase Daniel is building. The offense has been dysfunctional all season and they are built to win now. If Trubisky doesn't show some promise on Sunday, I think there's a real possibility we see Daniel start in Week 11.
The total dropping from 43 to 41.5 has opened some value on the over.
As of writing, 60% of the tickets and 93% of the money has poured in on the under, making me think there's a real chance this can dip to 41 or even 40.5. Forty and 41 are such key numbers for over/unders that it's worth waiting to see if that happens. If it does, I'll likely bite the over as this matchup sets up nicely for a higher-scoring environment than people realize.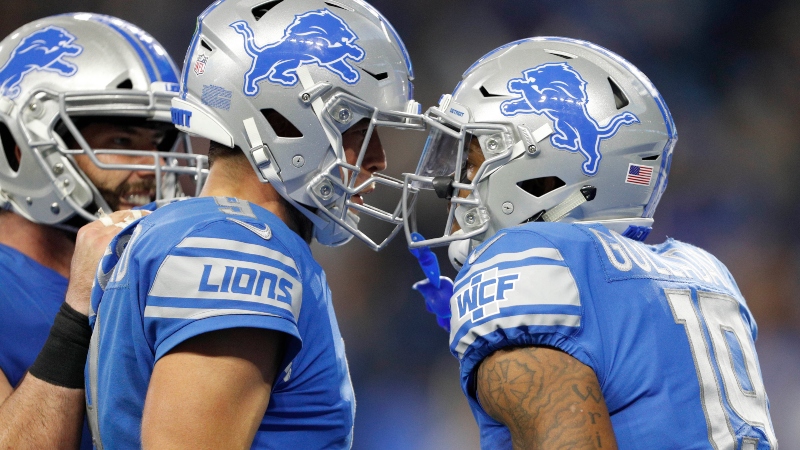 The Lions have become a pass-heavy team ever since Kerryon Johnson was placed on Injured Reserve. They've made no real effort to address the position and currently have a committee pass-catching backs, resulting in back-to-back overs.
The Bears will likely attack the Lions on the ground, where they've given up 120 or more scrimmage yards to a running back in all but one game this season, so rookie RB David Montgomery could have a huge game and help the Bears move the ball despite their poor QB play.
Give me the over if it dips to the 40.5-41 range.
My Projected Team Totals: Bears 22.75; Lions 20.25
Dolphins at Colts
Current odds: Colts -10; 44
My Projections: Colts -11.5; 43.5
With the Dolphins pulling off their first win last week, the public appears willing to back them against the Colts as 69% of the money has come in on Miami so far.
The main question here is how big the drop-off is from Jacoby Brissett to Brian Hoyer? Brissett is now questionable, but I'm assuming the Colts will sit him in an attempt to get him 100% for next week.
I'm giving the Colts a 4-point hit to their power rating if they start Hoyer this week. Given the market is currently offering slight value on the Colts already, it makes sense to take this line in hopes Brissett ends up suiting up. In that event, I can see the line bumping up to the -14.5 range.
My Projected Team Totals: Colts 27.5; Dolphins 16
Rams at Steelers
Current odds: Rams -3.5; 44
My Projections: Rams -3.5; 44
Another game I'm aligned exactly with the market on. There may have been some value on the total when it opened at 45, but it's been bet down to my projection. This is a pass for me.
My Projected Team Totals: Rams 23.75; Steelers 20.25
Vikings at Cowboys
Current odds: Cowboys -3; 48
My Projections: Cowboys -3; 46.5
Sunday Night Football
The total has been parked on 48 despite 72% of the tickets and 64% of the money coming in on the over. Considering this is a SNF contest, we can expect more public action before kickoff, so there should be even more pressure for the total move closer to 50.
Either way, there's already some slight value on the under as both teams produced bad beats on the under last week.
The Vikings allowed 54- and 44- yard field goals from Harrison Butker in the final minutes of their loss to the Chiefs, allowing the over hit. The Cowboys, meanwhile, returned a Daniel Jones fumble for a meaningless touchdown with six seconds on the clock to go from 48 total points to 55 (when the total was 48.5). I was very careful to not let the last-second TD not impact my total adjustment for this week's matchup and it could be a small reason why the market is a shade too high here.
My Projected Team Totals: Cowboys 24.75; Vikings 21.75
Seahawks at 49ers
Current odds: 49ers -6; 47
My Projections: 49ers -6.5; 45
Monday Night Football
I'm liking the under on all three primetime games this week.
The MNF total has been bet up from 44.5 to 47 with 79% of the tickets and 74% of the money coming in on the over, and it might get pushed up even more before kickoff. Both 47  and 48 are key numbers, so it could be worth waiting even longer.
These are two of the slower-paced teams in the league with Seattle ranking 21st and San Francisco ranking 27th. It's also worth noting that the Niners become the NFL's slowest-paced team when leading while the Seahawks fall to 28th when losing. This specific matchup caters to the under.
My Projected Team Totals: 49ers 25.75; Seahawks 19.25
How would you rate this article?