College Football Week 3 Odds, Picks: 10 Toughest Situational Betting Spots on Saturday (Sept. 17)
Credit:
Tim Warner/Getty Images. Pictured: The Texas Longhorn football team takes the field at Darrell K. Royal-Texas Memorial Stadium in Austin, TX.
The third week of every college football season is seemingly filled with potential land mines with the start of conference play looming. Below, I will detail 10 of the trickiest situational spots I circled after last weekend and also include other commentaries on each matchup.
It doesn't take a rocket scientist to identify potential situational spots each week. It's just a little bit of manual work. One just has to look at a team's opponents the week prior and week after to get an idea of where any potential flat spots might pop up.
Other ancillary factors also warrant consideration; it's not pure science. There's an art and feel to using situational spots in one's handicapping.
Ultimately, the actual number still reigns supreme. No matter how great a situational spot appears on paper, you still have to factor in how much value the spread holds. However, a good or bad spot may sway me one way or the other on a bet I'm on the fence for.
Additionally, it's not always about the pregame market. There are times when I believe a team will take its foot off the gas a bit sooner than usual with an important game on deck, which could create a potential wagering opportunity in the second half and/or live side or total markets.
Understanding depth, coach motivation and team injury situations also come into play, especially early on in the season when a team might not want to reveal much of the playbook against an inferior opponent.
---

Oklahoma -11.5 at Nebraska
Noon ET · FOX
After a 2-0 start, the Sooners will head to Lincoln prior to its Big 12 opener to take on a reeling Nebraska team that fired head coach Scott Frost earlier in the week.
The quantitative impact of losing Frost is a difficult thing to estimate. However, I imagine it can only serve as a positive based on his on-field decision-making and the overall vibe of the team I sensed.
During the Frost era, Nebraska lost more one-possession games than any other team by a wide margin. And after an 0-3 against-the-spread start to the season, he finished his time in Lincoln with a pathetic 7-17 ATS mark as a favorite.
That said, Nebraska did still thrive as a pup during his tenure (12-8-1 ATS), especially last year against every ranked foe, including a seven-point loss on the road as 22-point underdogs against these same Sooners.
Personally, I believe this line is too high.
The opening low-limit spread north of two touchdowns was outrageous, but I still like catching double digits Coming into the season, I projected Nebraska as a tiny favorite (yes, I'm dumb, we all know), and the lookahead line recently sat at Oklahoma -5
Now, Nebraska does get a severe downgrade after losing at home to Georgia Southern, but it's not like Oklahoma was firing on all cylinders last week. The Sooners actually trailed, 3-0, in the final minute of the first half against Kent State.
I think Nebraska will rally around a new interim coach and puts on a spirited effort. Let's just hope the defense remembers how to tackle because that's been the biggest issue by a country mile.
---
Kentucky vs. Youngstown State
Noon ET · SEC Network
Can Kentucky avoid a letdown after its massive road win over Florida? Head coach Mark Stoops has never lost to an FCS team (8-0), but he's only 3-5 ATS with a handful of serious scares.
That includes last year's Week 3 home game against Chattanooga, which came sandwiched in between two SEC contests. In a similar sleepy noon kickoff slot, Kentucky (-33) actually trailed after three quarters before rallying for the victory.
Kentucky also almost went down twice to FCS Eastern Kentucky, as 28- and 33-point favorites. In the 2015 meeting, it even needed to stage a comeback from down 14 in the fourth quarter before eventually winning in overtime.
Plus, Kentucky still has major offensive issues.
The line remains a work-in-progress after losing three paramount pieces, and star running back Chris Rodriguez is still presumably suspended.
The downfield passing attack still misses the element of explosiveness that Wan'Dale Robinson brought to the table. After all, Kentucky finished with just 272 total yards of offense against Florida.
Youngstown isn't an FCS powerhouse by any stretch. However, the 2-0 Penguins can lean on an intriguing pro prospect in running back Jaleel McLaughlin.
The Penguins have exceeded expectations in these spots recently with an 8-2 ATS record since 2010. They actually pulled off an outright upset at Pittsburgh back in 2012 as 18-point underdogs and came close to three other shockers against Illinois and Pitt two other times (including one overtime loss).
Lastly, I doubt Stoops will want to run this score up if Kentucky has a comfortable margin in the second half. He's not only conservative by nature with big leads, but he's also a Youngstown native with ties to the program.
We'll have to see where the line opens later in the week, so follow along in the Action Network App to see if I bet anything.
---
Coastal Carolina -14 vs. Buffalo
1 p.m. ET · ESPN+
It hasn't been easy, but a rebuilding Coastal Carolina squad won its first two games in large part due to NFL prospect quarterback Grayson McCall.
Meanwhile, Buffalo has stumbled out of the gates with two straight losses, including a heartbreaker on a Hail Mary against FCS Holy Cross last week.
Holy Cross with the Hail Mary to beat Buffalo! 🤯

— Action Network Colleges (@ActionColleges) September 11, 2022
Many people have seen that result due to the wild ending, but not as many saw Coastal Carolina give up nearly 500 yards to FCS Gardner-Webb.
Coastal actually got outplayed statistically and needed a fourth-quarter touchdown to take the lead prior to two straight Gardner-Webb interceptions on its final two possessions. Keep in mind Holy Cross is a much stronger FCS team (currently ranked 15th) as well.
Not only should the Bulls come out hungry here for their first win of the season, but they'll also be seeking revenge for last year's three-point home loss. More importantly, that preparation and game experience will help for this matchup against a very complex and unique Chanticleer offense.
Plus, Coastal is much worse overall this year after mass roster attrition, while Buffalo should be slightly improved.
I like Buffalo at 14 or above against a Chants group that could overlook this one a bit with their Sun Belt opener next week.
---

Appalachian State -12.5 vs. Troy
3:30 p.m. ET · ESPN+
Can Appalachian State avoid a letdown and back up its massive upset win at Texas A&M? It certainly helps to play your home conference opener with College GameDay in town.
Last year, Appalachian State won at Troy, 45-7, as 10-point favorites, outgunning the Trojans in total yards, 445-142.
Surprisingly, since 2005, teams have gone an uber-impressive 39-25-3 ATS (60.9%) the week after pulling off an upset as 17-plus point underdogs against a ranked opponent. Those teams have a ridiculous 17-4-2 ATS (81%) record as favorites of six-plus in this situation, covering by just under a touchdown on average.
Next, I'll cover the two other teams that find themselves in that exact same situation this week: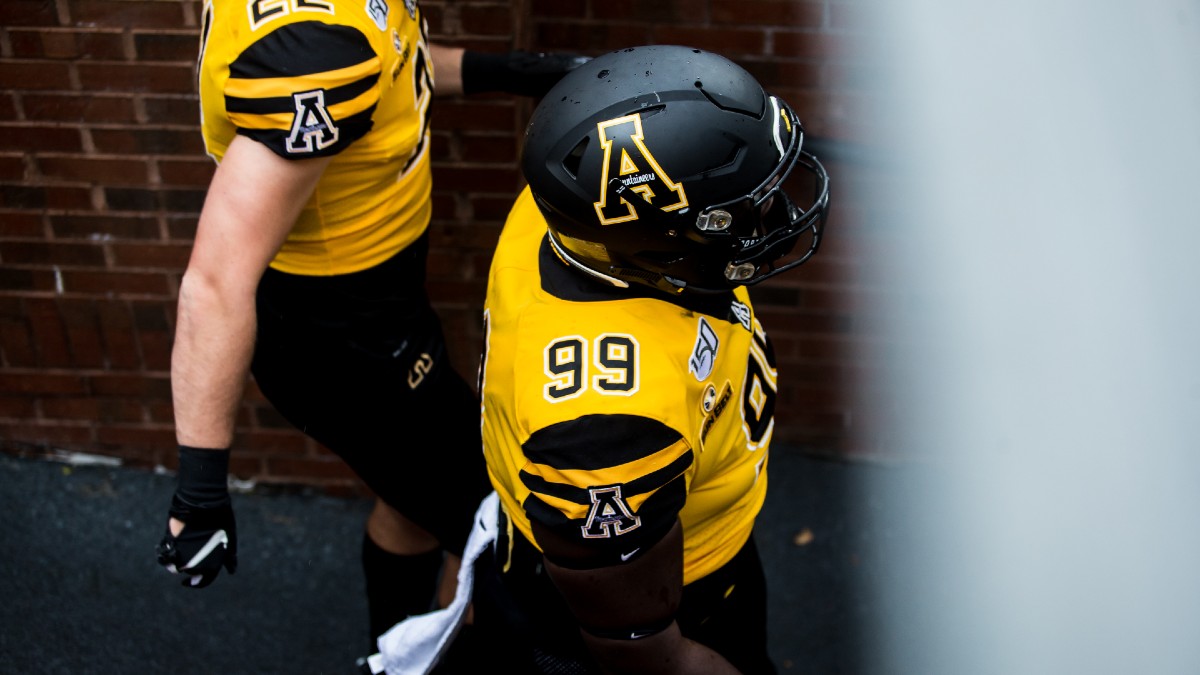 ---

Washington State -17 vs. Colorado State
5 p.m. ET · Pac-12 Network
After barely surviving Idaho in their home opener, the Cougars traveled to Camp Randall Stadium and pulled off a stunner as 17-point underdogs against Wisconsin.
Now, they return to Pullman to face 0-2 Colorado State before hosting Oregon to kick off league play. That's certainly not an ideal situational spot.
However, the Rams are clearly struggling as they undergo mass scheme changes under a new regime.
Everybody expected a blowout loss in their opener at Michigan, but a double-digit loss as double-digit favorites at home last week against a Middle Tennessee squad undergoing similar changes was very concerning. The Blue Raiders, who got demolished in their season-opener against James Madison, actually led by 34 points early in the third quarter. Yikes.
The Colorado State offensive line has been particularly dreadful. If you include sacks — which it's allowed five more of than any other team — the offense is averaging under one yard per carry.
To make matters worse, after losing one starting offensive tackle in practice last week, another one left last week's game with an injury. That could spell doom for a unit learning new splits against a solid Washington State defensive front even if the Cougars are potentially missing their top cornerback and starting safety due to injuries.
I'm not sure I can stomach betting Colorado State after what I've seen. These drastic scheme changes generally take time.
However, the under may warrant consideration even with a likely high frequency of pass attempts. Keep in mind Washington State defensive coordinator Brian Ward came over from Nevada after working with Jay Norvell and Matt Mumme, who now run the offense at Colorado State.
Both staffs have a lot of familiarity with defending the Air Raid, and both revamped offenses have struggled so far in 2022.
---

Marshall -17 at Bowling Green
5 p.m. ET · ESPN+
This is a horrid spot for Marshall on paper.
After pulling off a monumental upset at Notre Dame and a week before their first-ever Sun Belt conference game, the Herd will stay on the road to take on winless Bowling Green, which is fresh off a 59-57 seven-overtime loss against FCS Eastern Kentucky.
I'm lower than the market on Bowling Green and higher on Marshall, so this is likely a pass for me after digging into it a bit more.
Keep an eye out on the status of Marshall star running back Rasheen Ali, who led FBS in scoring in 2021. He's been away from the team to start the season due to personal reasons but was dressed at practice this week.
Ali's backup, Khalan Laborn — a former Florida State product — rushed for 163 yards against Notre Dame, the most rushing yards any back has amassed against the Irish since 2016. Once fully healthy, this will be one of the nation's top backfields.
---

Arkansas vs. Missouri State
7 p.m. ET · ESPN+
This is a brutal spot for Arkansas against a top-five FCS team on the rise under Bobby Petrino, who will make his highly-anticipated return to Fayetteville since getting canned a decade ago after an infamous motorcycle accident and a handful of other controversies.
The Hogs have one of the toughest schedules in the country. After starting the season against Cincinnati and South Carolina to kick off SEC play, here's who they will face over the next five weeks:
Texas A&M (in Arlington)
vs. Alabama
at Mississippi State
at BYU
at Auburn
It doesn't get much tougher than that stretch, especially since four of the five are away from home.
I doubt head coach Sam Pittman — aka Sammy Covers to our Big Bets on Campus listeners — is too concerned with running this score up. He likely wants to lean on the run game and get as much rest and health as possible before the upcoming gauntlet.
Keep in mind Arkansas already lost All-American safety Jalen Catalon for the season and has dealt with a number of other injuries since camp.
However, if Arkansas isn't careful, it could find itself in a game against the Bears.
Regardless of your thoughts on Petrino, he has turned this program around. Prior to Petrino's hiring in 2020, Missouri State had not made the postseason since 1990. Petrino has taken the Bears there in each of his first two seasons.
Heading into this season, he has an abundance of experience (17 returning starters) at his disposal, in addition to 10 FBS transfers brought in during the offseason. For reference, last year's team lost by only seven on the road against Oklahoma State and North Dakota State. They shouldn't be afraid of this stage.
The Bears have started 2-0 this season with former Utah starting quarterback Jason Shelley leading the way under center. Also, keep an eye on Tyrone Scott, one of the best receivers at the FCS level.
Missouri State remains a bit vulnerable in the trenches, which could obviously pose problems against an SEC team.
However, I'm still looking to back the Bears (depending on the number, of course) in a very favorable situational spot. Expect Petrino to pull out a few tricks in this one as well.
---
Florida -24.5 vs. South Florida
7:30 p.m. ET · SEC Network
I wouldn't be shocked if Florida came out flat after a deflating home loss against Kentucky with Tennessee on deck. A classic sandwich spot.
Also, an improved and experienced USF roster has many players from the state of Florida. They should have an extra chip on their shoulder against in-state big brother.
Even if Florida builds a big lead, it may take its foot off the gas a bit early before the SEC slate. That could set up a potential backdoor cover if needed.
In fact, that's exactly what happened last season. After Florida jumped out to a 35-3 lead at the half, it eased up in the second half en route to a 40-22 victory and non-cover.
Hopefully, USF, which saw Anthony Richardson last year, studies Kentucky's brilliant defensive game plan ahead of this matchup. I like USF at anything above +24.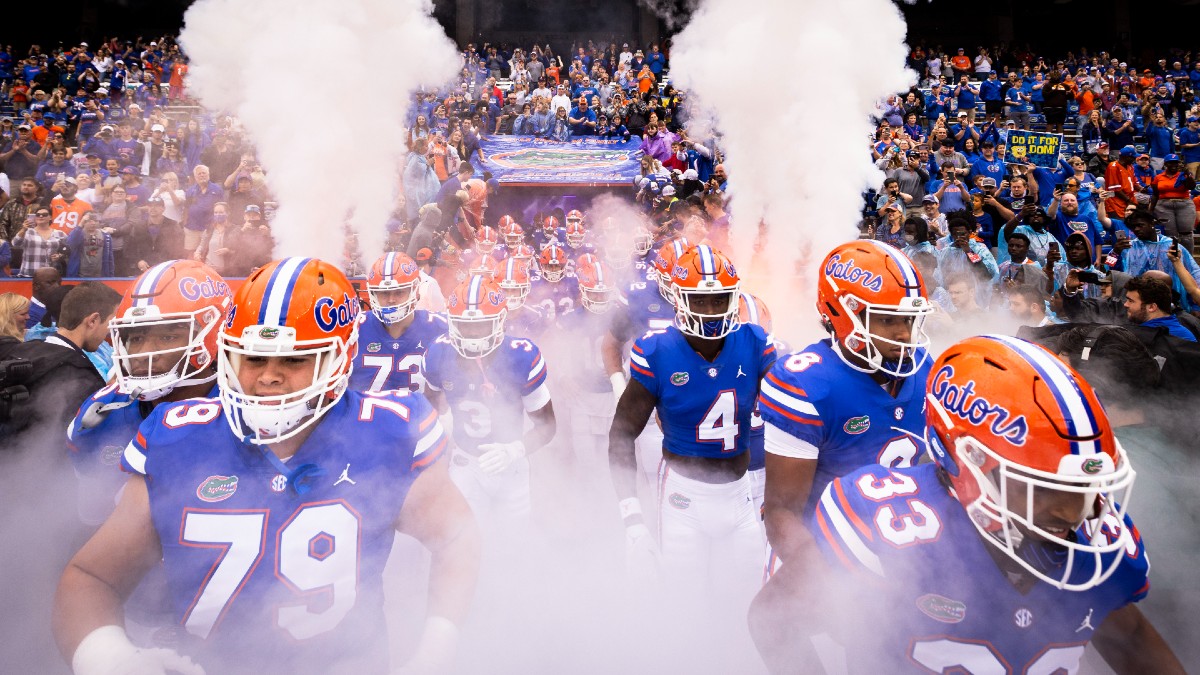 ---

Texas -12.5 vs. UTSA
8 p.m. ET · Longhorn Network
Similar to Florida, the Horns will host an in-state Group of Five team following a highly-anticipated game with a conference bout (at Texas Tech) on deck.
Can Texas put that emotionally-draining loss against Alabama behind it and come out with a focused effort?
Additionally, things could get a bit more complicated with its murky quarterback situation. Quinn Ewers will miss time with an injury, and backup Hudson Card's status remains in doubt due to an ankle injury he suffered last week.
With freshman four-star product Maalik Murphy also not healthy, freshman quarterback Charles Wright could get the start. He's appeared in two games but has no collegiate pass attempts, creating plenty of uncertainty.
Running back Bijan Robinson should at least suit up. However, UTSA's defense is much stouter against the run.
Its very shaky secondary just allowed over 300 yards through the air against Army. The Black Knights actually had more first-half passing yards than any single game total since 2007. That could prove ominous before facing the talented Longhorn receivers, even if it's against a third-string quarterback.
"I'm healthy. My shoulder just hurts a little bit," Bijan Robinson says about his injury status.

Jokes he needs to stop being a wimp. Sounds confident in his ability to play Saturday against UTSA 🏈 #HookEm #Texas pic.twitter.com/3MaCOavcoD

— Noah Gross (@noah_gross27) September 12, 2022
As of now, this looks like a pass to me.
---

Oregon State vs. Montana State
8 p.m. ET · Pac-12 Network
Like Arkansas, the Beavers will face a top-five FCS team before a brutal conference stretch.
After dominating Boise State to open the season, Oregon State won in walk-off fashion on the road against Fresno State. Now, it must stay focused for a very good Bobcats team prior to games against USC and Utah.
For reference, the Bobcats — the 2021 FCS runner-up— only lost by three at Wyoming last season. They have started out 2-0 this year, averaging over 50 points per game.
Keep in mind this game won't be played on campus in Corvallis but rather at Providence Park in Portland, Oregon. The Beavers will play their first home game here for the first time since 1986.
Unfortunately for Montana State, it's dealing with a number of key injuries. Therefore, I'm not sure how much it will risk here with much bigger season aspirations at the FCS level.
Starting cornerback Simeon Woodard will at least return from injury. That will help a secondary that already lost a starting cornerback in camp and a starting safety to suspension.
Additionally, MSU's top two running backs on last week's depth chart got hurt and won't play in this one. That especially hurts since All-American back Isaiah Ifanse is still recovering from surgery. Its starting dual-threat quarterback has also had some injury issues in the past.
Oregon State also sustained some key injuries, which creates plenty of uncertainty for this one. I may look at Montana State 2H based on how the first half plays out since I doubt Oregon State runs this one up late.
The Beavers will likely just want to secure a win and maintain health prior to a pair of massive league games.
Plus, Oregon State head coach Jonathan Smith and many of his assistants have Big Sky Conference roots.  Both head coaches have talked about the mutual respect for each other this week.
How would you rate this article?