Cotton Bowl College Football Odds & Pick: Look to Oklahoma First-Half With Florida Opt-Outs
Credit:
Tom Pennington/Getty Images. Pictured: Spencer Rattler.
A very different Cotton Bowl will take place on Wednesday night as the Oklahoma Sooners face the Florida Gators.
The Gators' top four receivers will miss the game, either due to opt-outs or COVID-19, so the Sooners will seemingly have a big advantage with Florida's high-powered offense being short-handed.
Collin Wilson explains how these opt-outs will impact the game from a betting perspective and shares a pick based on his analysis.
Oklahoma vs. Florida Odds
(Editor's Note: This article was published on Dec. 28 prior to the dramatic line movement. For more on that, click here.) 
The Oklahoma Sooners have lost six of their past eight bowl games dating back to 2013.
The two bowl victories came in Sugar Bowl efforts against Alabama and Auburn teams that were fresh off an SEC Championship game loss. The Sooners will once again get that scenario against Florida.
Head coach Lincoln Riley has failed to win in three consecutive national semifinal games, but the Gators serve as his first chance to duplicate a Bob Stoops tradition of taking down an SEC team in a non-national title relevant game.
Dan Mullen has won his two bowl games as Florida head coach, a pair of New Years Six games against Michigan and Virginia. Amidst the show-cause news, Mullen continues to progress the Gators back into the national title picture after winning the SEC East.
The toughest aspect for Florida in the Cotton Bowl will be the number of opt-outs. Star tight end Kyle Pitts immediately declared for the NFL Draft after the loss in the SEC Championship game.
As of writing, quarterback Kyle Trask is still scheduled to play, while wide receiver Trevon Grimes and multi-purpose weapon Kadarius Toney have opted out of the Cotton Bowl. No. 3 receiver Jacob Copeland will also miss the game due to a positive COVID-19 test.
Mullen indicated other players will disclose their status in their own manner.
Oklahoma Sooners
The Sooners were bound to take a step back from the national picture after a recent run of Baker Mayfield, Kyler Murray and Jalen Hurts at quarterback.
Freshman Spencer Rattler took over the reins under center to rack up 2,700 passing yards with a 25:7 touchdown-to-interception ratio. There was a stark contrast in execution for the Phoenix native in which pressured downs saw a decrease in adjusted completion rate by 10% and were the root cause of all 21 sacks for the season.
The MVP of the Sooners in 2020 is the defense in Year 2 of coordinator Alex Grinch.
Two seasons ago, Oklahoma was shredded for 500-plus yards by Alabama in the Orange Bowl. The writing was on the wall with a loss to Texas and a narrow overtime escape against Army. Oklahoma hired Grinch to fix a defense that ranked outside the top 100 in Line Yards and pass coverage. Fast forward two seasons later, and the Sooners are top-10 in defensive Havoc.
---
Florida Gators
Pitts did not play in two games this season: a 63-point beatdown of Arkansas and a loss as a 23-point favorite to LSU.
The script was the same in two aspects for the Gators. Trask found at least nine different targets through the air, and Florida scored just seven points through the first quarter. Pitts hauled in more 20-plus yard passes than any other Gator over the course of the season with nine, but there were plenty of other contributors to a lethal passing attack.
Toney departure was the biggest third-down, play-action and screen-pass target on the team. His departure, along with Grimes', will leave a huge hole for Trask to fill. No other player remaining on offense has more than 13 targets on third down or on passes over 20 yards.
Special teams also take a major step back for a Gators squad that was ranked first by SP+. Toney was the only option most of the season for kickoff and punt returns, where he excelled for a touchdown and an average of 12.5 yards per punt return.
The Achilles' heel for Florida all season has been its defense.
Coordinator Todd Grantham has seen a drop in execution across the board, sitting 91st in tackling and 73rd in opponent third-down conversions. Not only have the Gators experienced the inability to control the line of scrimmage, but the pass defense has also allowed plenty of chunk yards.
Passing downs have been the biggest issue, as the unit holds a Success Rate of 112th. If there's a bright spot on the Florida defense, it's a top-30 pass rush led by Brenton Cox Jr. and Zachary Carter. Both edge rushers have combined for 57 quarterback hurries.
Betting Analysis & Pick
Without Pitts and Toney on the field for Florida, there's an expectation that Kyle Trask will spread the ball around looking for any option to move the chains.
Oklahoma cornerback Brendan Radley-Hiles is ranked ninth out of all slot coverage defenders in FBS, per Pro Football Focus. Radley-Hiles would have singled out Pitts or Toney, but the corner is now free to take on any Gator target in the slot.
The Oklahoma defense can be gashed on the ground, but the Florida recipe on offense is a steady diet of pass attempts, with only 43% of offensive plays coming on the ground.
---
Oklahoma vs. Florida Matchup Matrix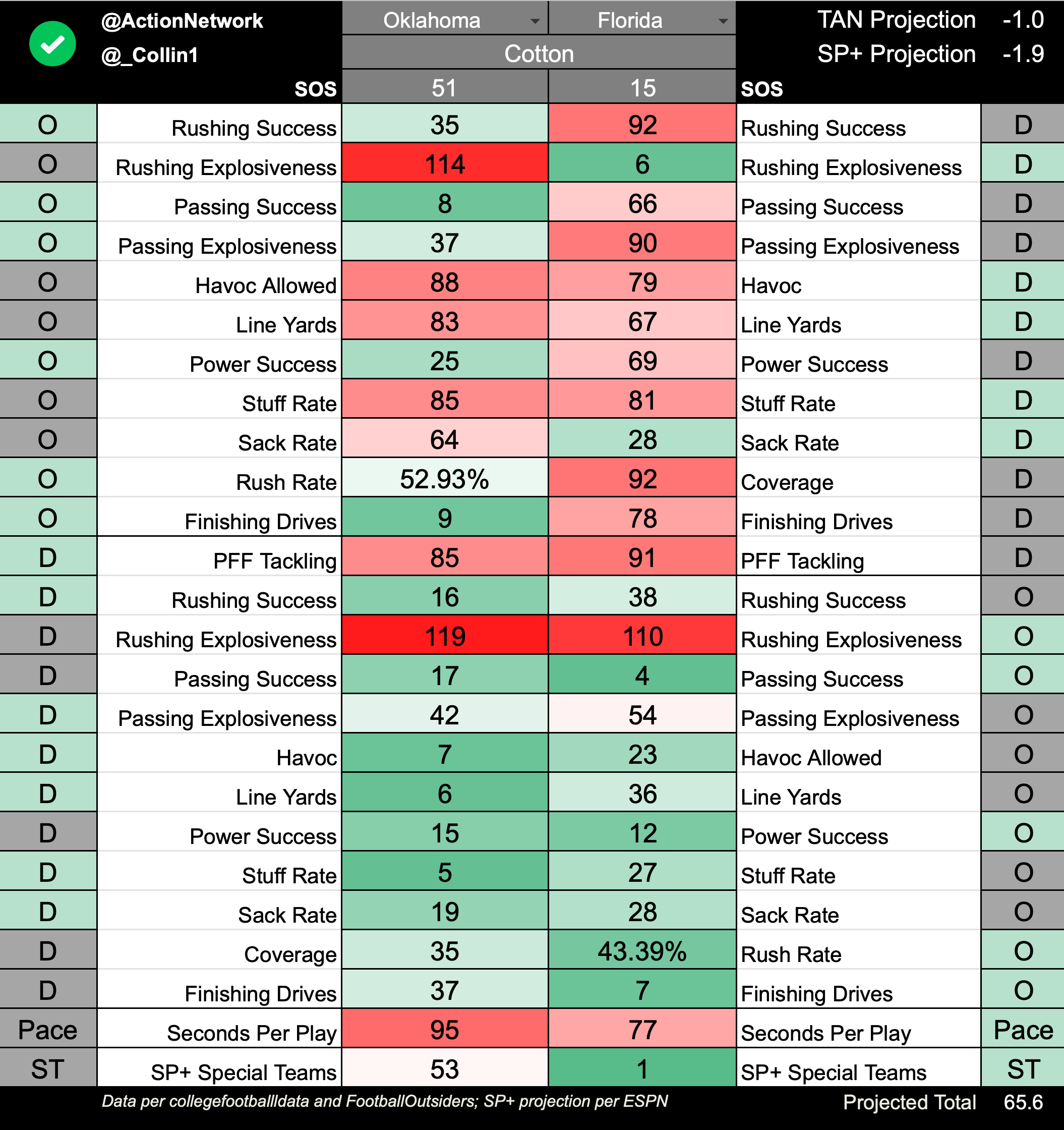 ---
Although there are opt-outs coming for Florida leading up to kick, the biggest names are the edge rushers in Cox and Carter.
One bullet point to beating Oklahoma is applying pressure to Rattler. The Florida defense should be successful in this task, but those plays may not come until the second half, as the Sooners have been one of the more predictable teams in FBS play.
On the season, Oklahoma has a scoring differential of +17.2 through the first half and +1.9 through the second half. In the fourth quarter, the Sooners have a negative scoring differential of -0.8.
Whether it's a lack of adjustments at halftime or Rattler working off a script, backing up money on the Sooners early has been a profitable route.
Look for Oklahoma to start hot while Trask looks for answers on the Florida side. There may be a window to grab Florida live, as the Gators rank second in the nation on Middle 8 scoring, per Sport Source Analytics.
First, Trask must prove he can work without his top three targets.
Pick: Oklahoma +120 1H ML.
How would you rate this article?