Tin Horn Weekend Betting: Odds, Analysis for FCS vs. SEC Matchups, Including Abilene Christian vs. Mississippi State
Credit:
Matt Bush-USA TODAY Sports. Pictured: Nick Gibson
If you've arrived on this page, you're our favorite kind of person (and bettor).
You likely try to find any edge possible, and don't mind betting some obscure games to do so.
Well, college football's Week 13 features plenty of obscure games.
It's affectionately called Tin Horn Weekend — an ode to Alabama coach Nick Saban saying Georgia Southern ran "through our ass like s*** through a tin horn" in a 2011 game between the Eagles and Crimson Tide.
Tin Horn Weekend is that the late November Saturday when half the SEC takes a week off by scheduling FCS schools, which other conferences usually do earlier in the season.
You can sometimes find betting value on these games. Let's see what's up this year.
---
Odds as of Friday afternoon via DraftKings, where Action Network users get a risk-free bet up to $200 and a deposit bonus of up to $500.
---
Samford at Auburn
Line: Auburn -48.5
Total: 64
Mascot: Bulldogs
Location: Mobile, AL
Record: 5-6
Last Meeting: Auburn won 31-7 (2014)
Samford has been part of some of the wildest FCS games of the season, including four different overtime games. And it's hit the overtime superfecta, with one game each going to single OT, double OT, triple OT and quadruple OT. I don't think they have a shot at getting to five overtimes to cross that one off the list here.
The Samford defense is horrible, especially against the run. The Bulldogs rank 105th in total defense at the FCS level.
They do have a very prolific passing offense led by former USF quarterback Chris Oladokun. Samford loves to chuck the ball around and doesn't have a care in the world when it comes to time of possession, where it ranks 124th out of 124 FCS teams.
This isn't a great spot for Auburn after falling short against Georgia with Alabama on deck. However, the offense should finally get going and I'm sure Gus will want to get quarterback Bo Nix some confidence against a sieve defense ahead of the Iron Bowl.
Samford could hit a big pass or two in the first half but Auburn is going to get plenty of possessions and should move the ball at will. Plus, the Tigers front 7 should dominate the line of scrimmage.
That said, with Alabama on deck, health is paramount, especially considering backup QB Joey Gatewood decided to transfer.
I'm sure Gus will take his foot off the gas and go ultra conservative in the second half if the Tigers have a big lead at the half. The problem is the Auburn backups should still be able to gash the Samford run defense.
It's Auburn first half or nothing for me.
[In New Jersey, Indiana or West Virginia? Bet now at DraftKings]
Western Carolina at Alabama
Line: Alabama -57
Total: 61.5
Mascot: Catamounts
Location: Cullowheee, N.C.
Record: 3-8
Last Meeting: Alabama won 48-14 (2014)
Western Carolina lost 41-0 at NC State earlier this year for reference.
And this is very similar to the Auburn matchup. Alabama, with Auburn on deck and now concerns about keeping Mac Jones healthy with Tua Tagovailoa now done for the year, may force Saban to go even more conservative than normal (quicker than he normally does) once the Tide build a big lead which they should do with ease against a horrendous WCU defense.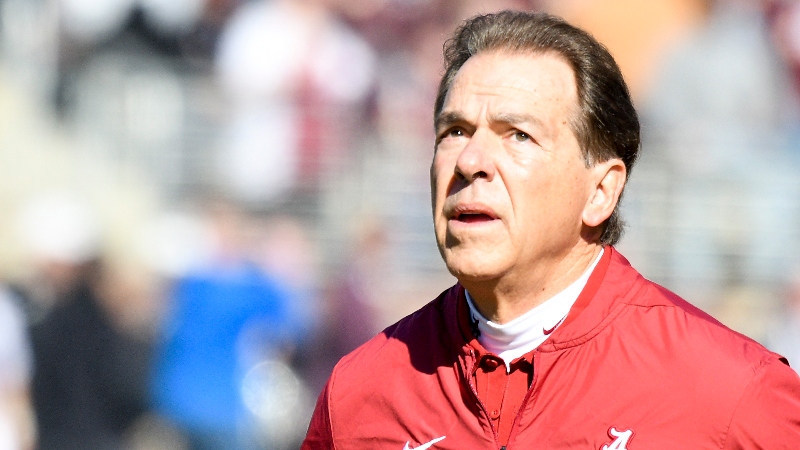 The Catamounts allow 260 yards rushing per game, which is dead last at the FCS level! Alabama should chunk at will and Jones should have plenty of success with his elite receivers that not even FBS teams can cover, let alone an FCS team that ranks 97th in pass efficiency defense and 100th in sacks per game.
Western Carolina also can't punt so when they do, Alabama (like it needs it) will have great field position.
Alabama should score at will in the first half so I couldn't disagree with a first half play on the Tide.
I'd also look at the second half under as Alabama goes super conservative.
[In New Jersey, Indiana or West Virginia? Bet now at DraftKings]
ETSU at Vanderbilt (No Line)
Line: N/A
Total: N/A
Mascot: Buccaneers
Location: Johnson City, Tenn.
Record: 3-8
ETSU returned as a program in 2016 and has played two FBS teams since: lost 59-3 at Tennessee last year and 42-7 at App State this year.
Yes, they have a 3-8 record but the Bucs have been much more competitive than that record indicates, as six of their seven FCS losses have come by one possession.
ETSU can really run the ball with Quay Holmes, who has ran for 540 yards in his past three games. He could have some success against a Vanderbilt rush defense that allows 5.5 yards per carry (124th in nation at FBS level)
There is no line right now but this is the most intriguing potential FCS dog of the six FBS-FCS matchups this weekend.
I'm not sure how much Vandy will care about this game, sitting at 2-8 after another blowout loss to Kentucky last week with Tennessee on deck.
Meanwhile, I'm sure the ETSU kids feel like they have a shot here against an in-state FBS team in its season finale.
UT Martin at Kentucky
Line: Kentucky -29.5
Total: 43.5
Mascot: Skyhawks
Location: Martin, Tenn.
Record: 7-4
UT Martin has a solid run defense (allowing opponents to rush for only 3.65 yards per carry) which should help against Lynn Bowden and the new Kentucky option offense since Bowden took over.
However, you may see Bowden pulled if the Cats get out to a big lead. Plus, UT Martin did get crushed at Florida (45-7) earlier this season and Florida's anemic FCS-level rushing offense had no problems.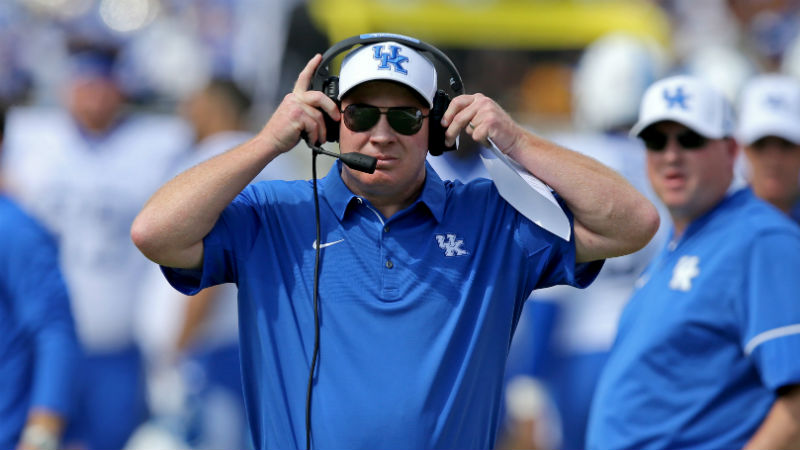 The Skyhawks have a capable FCS passing offense but this is a big step up in class.
Kentucky should be motivated as a win clinches its sixth win to become bowl eligible, but the line feels about right.
[In New Jersey, Indiana or West Virginia? Bet now at DraftKings]
Abilene Christian at Mississippi State
Line: Miss. State -37
Total: 57
Mascot: Wildcats
Location: Abilene, Texas
Record: 5-6
ACU lost 51-31 at North Texas to start the year as an FBS reference point. The Wildcats are top 10 at the FCS level in both sacks per game and TFL but this is obviously a step up in competition in regards to the offensive line it will face.
And the secondary is not good. The question is can Miss State take advantage with a passing offense that hasn't thrown for 250 yards all year?
I say yes, as Miss State will look to get out some of its frustrations on homecoming in the first half, but the Bulldogs also have a short week with the Egg Bowl coming up against in-state rival Ole Miss which will be for bowl eligibility (assuming Miss State wins this game which is a safe assumption).
I'd potentially look at ACU second half if Miss State is up by 28+ at the half.
[In New Jersey, Indiana or West Virginia? Bet now at DraftKings]
Mercer at UNC
Line: UNC -39
Total: 64.5
Mascot: Bears
Location: Macon, Ga.
Record: 4-7
Last Meeting: UNC won 3-0 (1925)
We've got a bonus ACC-FCS game this weekend, with North Carolina needing a win to stay bowl eligible.
The Mercer defense is absolutely atrocious at the FCS level (116th in 3rd down defense). The UNC offense has been good between the 20s but has struggled to finish drives. That shouldn't be an issue against the Bears.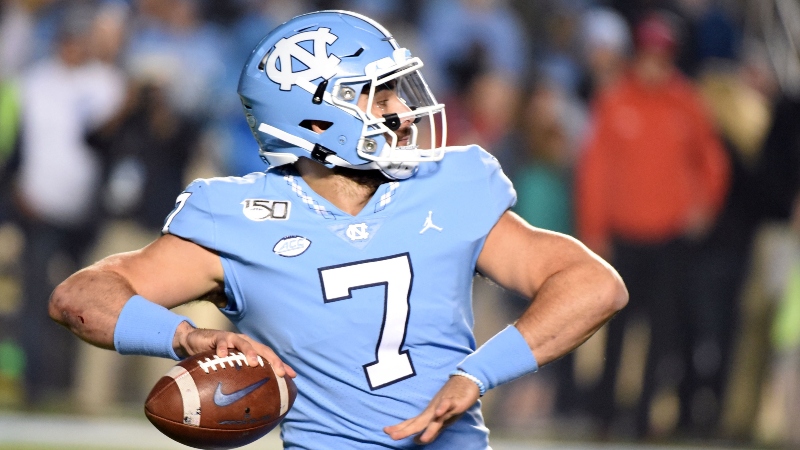 Mercer lost 66-14 at Memphis last year as a reference point.
This has blowout written all over it but Brown may go to his reserves quicker than normal in a blowout who haven't seen much time with UNC playing so many close games. I'd look at UNC first half.
[In New Jersey, Indiana or West Virginia? Bet now at DraftKings]
How would you rate this article?