Highest Paid College Athletes in the NIL Era
Credit:
Highest NIL Earners image
The NCAA has long-prohibited its athletes from earning financial compensation during their college careers. This changed last in June 2021, though, when the Supreme Court ruled that the NCAA could not restrict "education-related payments" to athletes. The NIL (name, image, likeness) was ultimately born from this ruling.
Today, college athletes are allowed to cash in on their name, image, and likeness in a variety of ways. From sponsorship deals to paid social media posts. We dove into the numbers to see how much players earn and determine the highest paid college athletes.
Top NIL Earners
We analyzed the top 15 ranking college football stars (according to ESPN). This analysis shows how much each player could be earning for the current season. Below is a breakdown of the top 5 earning players.
Bryce Young
Alabama Crimson Tide quarterback Bryce Young is the highest NIL earner this year. Young has a total valuation of $3.2 million in NIL deals. Bryce Young saw his value rise in 2022 after winning the coveted Heisman Trophy the previous season. 
CJ Stroud
CJ Stroud came off a strong 2021-22 season, leading the Ohio State Buckeyes to a Rose Bowl title. Stroud also broke the OSU record for most passing yards in a single game. This has propelled him to a $2.5 million NIL valuation.
Caleb Williams
Caleb Williams transferred to the USC Trojans, following his coach Lincoln Riley. Williams is already on pace to drastically outperform his freshman stats from last season. His potential after a strong freshman year generated $2.4 million in NIL revenue. Williams looks to continue to capitalize on Southern California's hot sponsorship market.
Jaxon Smith-Njigba
Smith-Njigba propelled himself into the spotlight after winning Offensive MVP in the 2022 Rose Bowl. Smith-Njigba's electric play on the field has earned him a variety of NIL deals reportedly worth $1.7 million.
Bijan Robinson
Bijan Robinson is one of the most highly touted running backs heading into the season. Robinson rushed for over 1,000 yards and 11 touchdowns last season as a sophomore. The hype around Robinson in 2022-23 has earned him a NIL valuation of $1.7 million.
Here's how the rest of the top 15 players net out: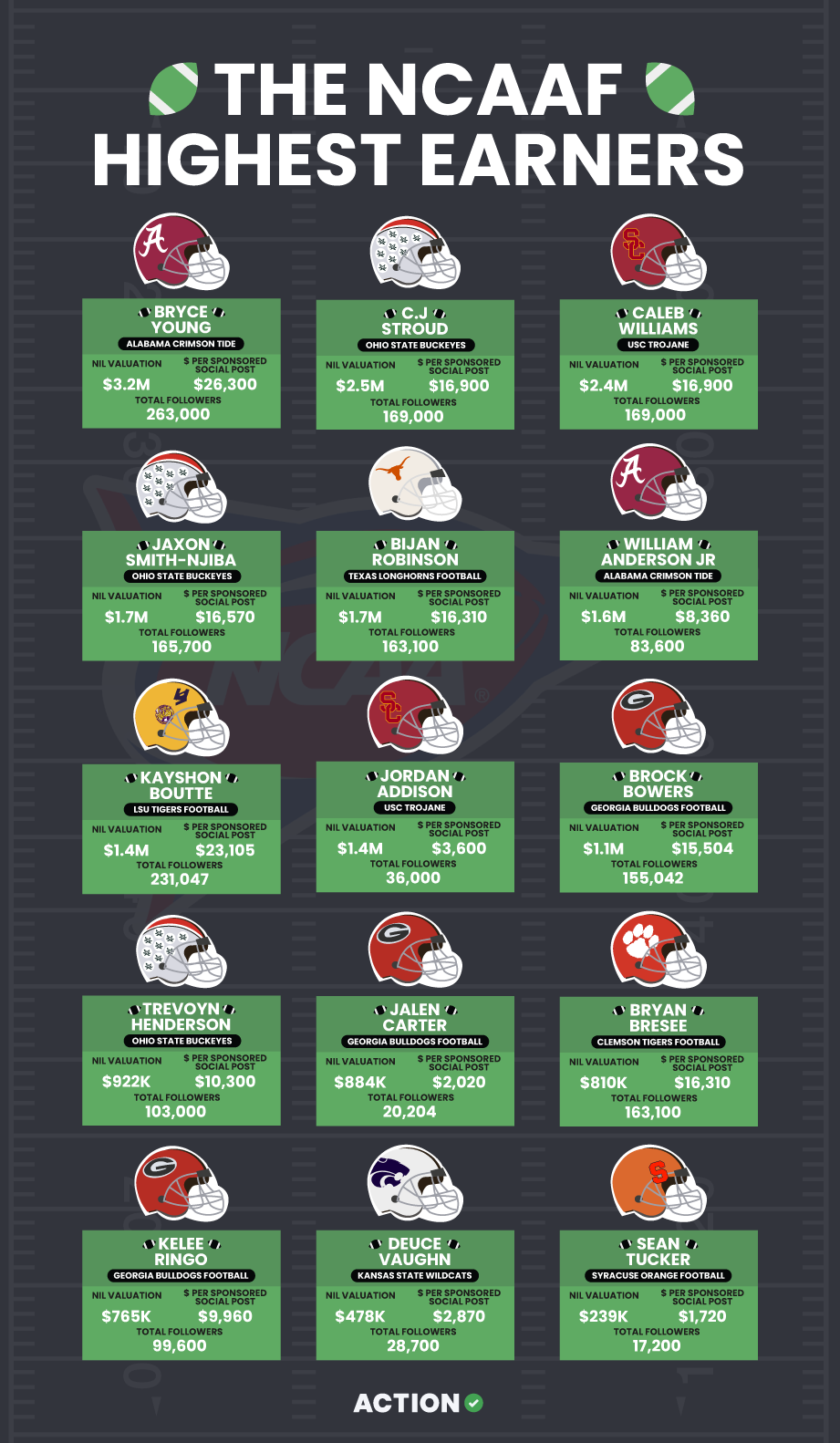 Richest College Football Programs by NIL Valuations
Looking at America's top ten college football teams from the AP Top 25, we can reveal that the number one school for player NIL valuation (based on  average earnings across the team) is Texas A&M. Aggies players earn an average of $85,000 in off-field partnerships, sponsorships, and brand deals. Here's a look at the rest of the top 5 schools:
University of Michigan – Wolverines players can earn an average of $65,000
Oklahoma University –  Sooners starts are averaging $64,000 in NIL deal valuation 
University of Georgia – The defending College Football Playoff Champions can boast an average of $56,000 in personal brand deals for its players
University of Alabama – Despite having some of the biggest single NIL deals on its roster, Alabama comes in at fifth overall for earnings average at $52,000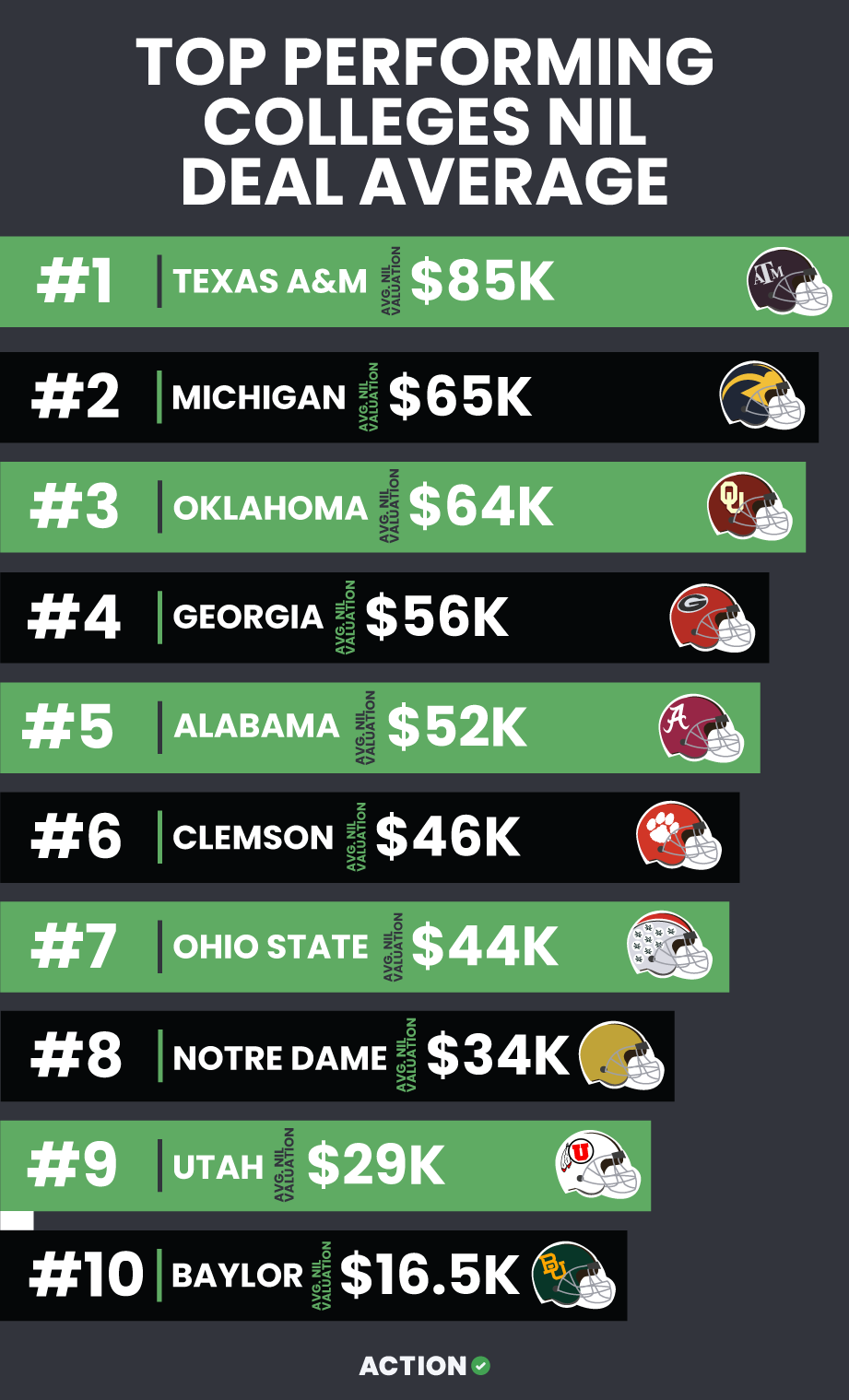 The changes to NIL rules have already been monumental. Some players are earning millions this season. It is likely that schools and brands will go to great lengths to recruit players with financial incentives moving forward. Who will be the highest paid college athletes in the coming years?
 Get all the latest NCAAF odds and picks at the Action Network. Take advantage of Action's partnership with Caesars Sportsbooks. Caesars offers the best average odds pricing on college football!
How would you rate this article?
This site contains commercial content. We may be compensated for the links provided on this page. The content on this page is for informational purposes only. Action Network makes no representation or warranty as to the accuracy of the information given or the outcome of any game or event.