Joffe's Big Dogs, Week 3: Hoping Florence Makes It Rain
Credit:
Aaron Doster-USA TODAY Sports. Georgia Southern Eagles wide receiver Myles Campbell (6) is tackled by Indiana Hoosiers defensive back Zeke Walker (6)
Joffe's big dog bets haven't gone as planned (0-69-1)
This week, she's targeting games in the Southeast that will likely be sloppy due to Hurricane Florence
Turn on any news channel and you'll see the end of the world is near thanks to some chick named Flo. She's real mad and real big and real wet and she's going to cause the STORM OF THE CENTURY OMGWTFBBQ….
Of course there's always the chance the East Coast freaks out and then nothing happens. If there's one thing I don't trust, it's the severity of a Flo (this admittedly might be a reference only females will understand).
With this in mind I've decided that Florence is going to play a part in a big dog winning this week.
If you're following along with my really big dog picks this year, you know my current record is 0-69-1 (air high five), so to say I'm disappointed is a bit of an understatement. A rational human at this point might say, "You know what? It's time to punt on this. CLEARLY this isn't the year for big dogs."
But I'm not rational, so I won't be following that advice.
Enter my college football Week 3 big dog bets. This time there are 31. Now I don't know how many of these are going to be canceled due to Florence, but I imagine there's a good chance a few will be. Mind you I'm welcoming any/all cancellations because then I would have them as pushes instead of losses, which would make me feel much better about myself.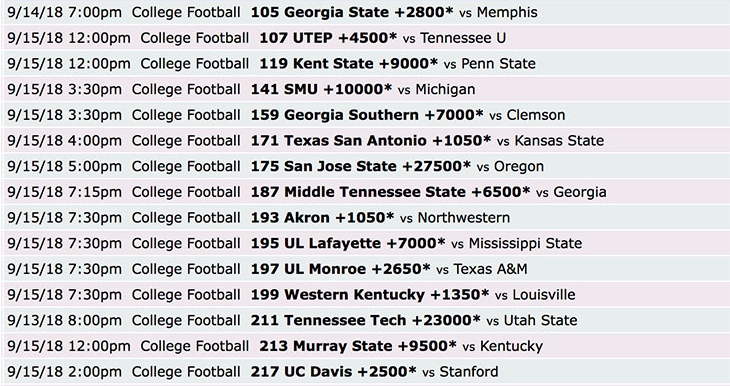 So which of my bets do I think has a legitimate chance? Well, my track record says "none of them," but I'm hopping aboard the Morehead State train this weekend. They play Austin Peay at home and I think I've talked myself into them getting an actual win. Here's my thinking:
Both teams are 1-1 and despite Austin Peay being ranked 23rd in the FCS, its quarterback has thrown for zero touchdowns.
Soooooo I'm thinking that Kentucky (Morehead State is based in Morehead, Ky.) will get hit with a ton of rain, making this matchup incredibly sloppy with a lot of fumble potential. All of that translates to a possibility (albeit it slight) that Morehead State +241/2 +1300 ML steals one thanks to terrible weather.
My next bet that I'm going to pretend has a chance is Georgia Southern +7000 vs. Clemson. This game has a very real shot at being cancelled thanks to Florence, which counts as a "not loss" — which I'll most definitely take.
But also let's quickly talk about last week and how Clemson very nearly lost despite being 12.5 point favorites vs. Texas A&M. A last-minute touchdown brought the Aggies within two points of tying the game. The 2-point conversion attempt was intercepted, but the point is that the No. 2 team in the country almost got beat by an unranked team.
That gives me all the hope (albeit even slighter) that a sloppy, muddy game could give Georgia Southern a chance to be the first big underdog winner of the season.
Please join me next week for my Dead To Me column, where Florence will become the first female added to the list…