Mountain West Conference Preview, Picks, Odds: How to Bet Each Team in 2023
Credit:
Tyler Ingham/Icon Sportswire via Getty Images and Chris Williams/Icon Sportswire via Getty Images. Pictured: Boise State quarterback Taylen Green (left) and San Diego State quarterback Jalen Mayden (right).
With all of the conference realignment and turnover in the Group of Five, the Mountain West and its current 12 members have remained intact since 2014.
Sure, one of its members has been flirting with a pretty girl on the side, but they still come home to the Mountain West for now.
Like many conferences, the Mountain West will move away from the divisional format this year, and the top two teams will reach the Mountain West Championship.
Defending champion Fresno State lost its star quarterback and the majority of its skill position players, so this conference is wide open for the taking.
Quarterback is a major question mark for most teams throughout the conference. The quarterback who can step up and outperform expectations is likely to propel his team to the championship game.
2023 Mountain West Conference Odds
| | |
| --- | --- |
| Boise State | +185 |
| | |
| --- | --- |
| Fresno State | +370 |
| | |
| --- | --- |
| Air Force | +430 |
| | |
| --- | --- |
| San Diego State | +750 |
| | |
| --- | --- |
| Wyoming | +1300 |
| | |
| --- | --- |
| San Jose State | +1500 |
| | |
| --- | --- |
| UNLV | +1700 |
| | |
| --- | --- |
| Colorado State | +2200 |
| | |
| --- | --- |
| Utah State | +2800 |
| | |
| --- | --- |
| Nevada | +5000 |
| | |
| --- | --- |
| New Mexico | +12000 |
| | |
| --- | --- |
| Hawaii | +12000 |
*Mountain West Championship odds via FanDuel.
---
Boise State (10-4, 8-0)
Win Total 8.5 · -1 Net TARP (Offense +3) · 52.9% Returning Line Starts
The favorite in the Mountain West will live or die with the maturation of Taylen Green. The redshirt freshman was forced into action last season and turned a 2-2 team struggling with its offensive identity into a dynamic, home run-hitting ground attack.
Green posted three separate games with over 100 yards on the ground and two scores. His play drew rave reviews from opposing coaches, including Air Force's Troy Calhoun, who compared the long-striding quarterback to Vince Young. Green posted a QBR of 79+ (out of 100) in four of his last seven starts.
The challenge now is to keep the positive momentum rolling.
Bush Hamdan comes in from Missouri to run the offense and has stated on the record that he'd like Green to run less in his system. Hamdan has a long track record of working with pocket passers, from Jake Browning at Washington to Matt Ryan in the NFL.
If Green runs less, that could mean more action for the Broncos' dynamic 1-2 punch at running back. George Holani surprised many when he opted to return to the Smurf Turf, and he's joined by breakout bowl star Ashton Jeanty (178 yards, TD).
The schedule is rugged in the early going, including a trip to Seattle to take on Washington and a home tilt with UCF in Week 2.
But if Green continues to progress as a passer and their defense replaces three defensive backs currently in NFL training camps, the Broncos could flirt with 10 or even 11 wins this season.
-Michael Calabrese
---
Air Force (10-3, 5-3)
Win Total 8.5 · -3 Net TARP (Offense -7) · 80% Returning Line Starts
I have always been a believer that the names on the field don't matter as much at service academies as other programs. The system and military culture allow them to easily replace players and keep things running. Literally.
This season will be the ultimate test of that theory, as the Falcons are tasked with replacing a pair of three-year starters in Haaziq Daniels and Brad Roberts.
Mountain West track champion Jensen Jones will take over at quarterback with John Lee Eldridge behind him at fullback. They will be running behind what is likely the best offensive line in the conference, returning four starters up front.
Air Force also might have one of the best defenses in the conference. This defense was elite last year, allowing just 254.4 yards per game — the best mark in the country.
The remarkable thing about this team is despite leading the nation in defense, it didn't have a single player named to the All-Mountain West team. The Falcons got it done as a unit and now return nine of the 13 players who recorded at least 250 snaps last year.
With a nonconference slate consisting of Robert Morris, Sam Houston, Navy and Army, Air Force has a great chance to reach double-digit wins for the fourth straight full season.
-Mike Ianniello
---
Fresno State (10-4, 7-1)
Win Total 8 · -7.5 Net TARP (Offense -7) · 70% Returning Line Starts
Poor Jeff Tedford is looking around his Fresno State offense like Will Smith at the end of the Fresh Prince of Bel-Air.
Along with star quarterback Jake Haener, this team also loses its leading rusher in Jordan Mims and four best receivers in Jalen Moreno-Cropper, Nikko Remigio, Zane Pope and Josh Kelly.
The Bulldogs lose over 4,000 yards of offense. Oh, and offensive coordinator Kirby Moore is off to Missouri.
The offense received the headlines last year, but the defense was excellent, ranking 31st in Success Rate and 23rd in Finishing Drives. With eight of their top 11 defenders returning, this defense should once again be very good.
Malachi Langley and Levelle Bailey are excellent linebackers, and despite losing star safety Evan Williams, cornerback Cam Lockridge led the conference in interceptions.
The big question for Fresno State is who takes over at quarterback. Last year's backup, Logan Fife, went 2-2 in relief of the injured Haener last year, but UCF transfer Mikey Keene is making a challenge for the starting spot.
Regardless of who wins this job, replacing Haener is a tall task, especially with all of the weapons gone. The defense will need to carry the Bulldogs early, so this might be a good "under" team early in the year.
However, I'm staying away from the win total.
-Mike Ianniello
---

San Diego State (7-6, 5-3)
Win Total 7 · -3.5 Net Tarp (Defense -4) · 59% Returning Line Starts
San Diego State is outside of its comfort zone heading into this season. It not only turned its offense over to a former safety-turned-quarterback in Jalen Mayden, but it needs its dual-threat lefty to deliver right away.
The reason this is the case is that the Aztec defense has taken heavy losses, and while Kurt Mattix remains one of the best defensive coordinators in the game, it's unreasonable to think the new pieces they're plugging in can play at an elite level from Day 1.
Given their schedule, which opens with Ohio, UCLA, at Oregon State and Boise State before the end of September, they'll need Mayden to help them score close to 30 points per game to remain competitive. That's a tall task, even with new OC Ryan Lindley in the mix.
They're expected to pass more, and they've added quality position coaches at running back and wide receiver to help aid in the transition. Even so, Mayden is too much of a wild card for me to advocate for over seven wins this fall.
When you sign up for the Jalen Mayden experience, you get the good and the bad — sometimes in the same game. Up 21-10 on Fresno State on the road last season, the run-first lefty accounted for four touchdowns but also threw two costly second-half picks.
They blew a late lead, and that was with a defense with better pieces than they'll have this fall.
One critical player to watch is a transfer at defensive tackle. Samuela Tuihalamaka is the key for them in the middle. The Oklahoma State transfer needs to play at an All-MWC level, or else this team could be borderline mediocre on defense for the first time in over a decade.
-Michael Calabrese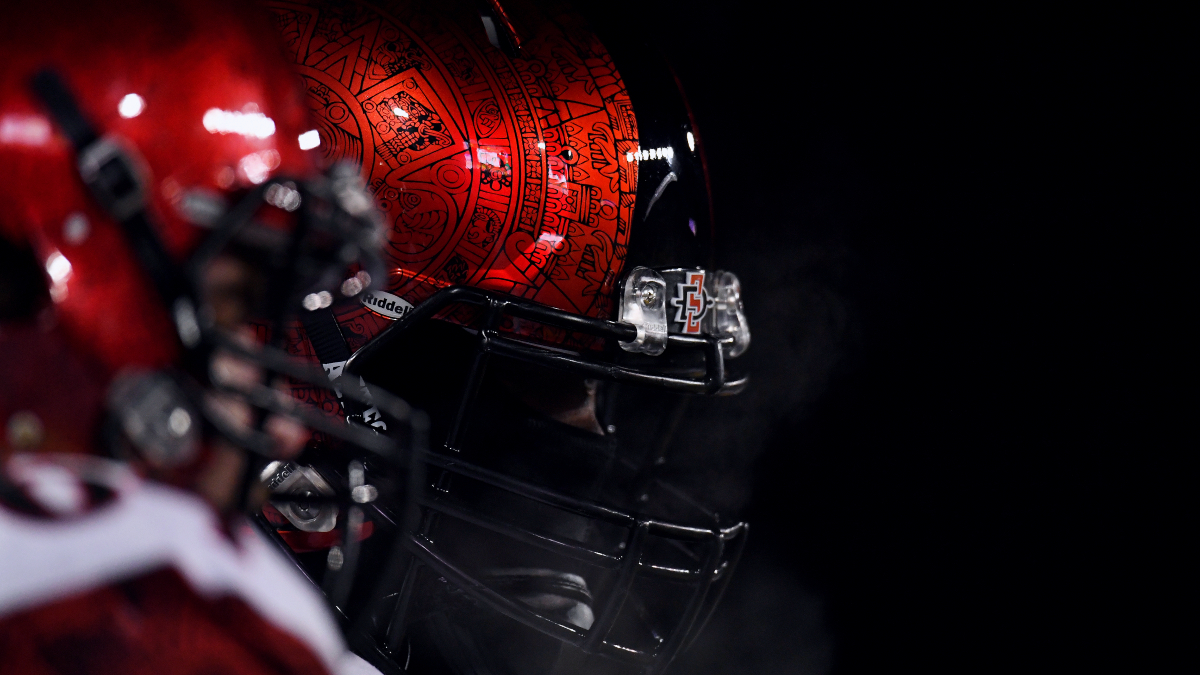 ---
Wyoming (7-6, 5-3)
Win Total 6.5 · +9 Net TARP (Offense +5) · 60% Returning Line Starts
It's apology tour time. Last season, I was convinced the Pokes would be a mere speed bump in the MWC, and that just wasn't the case. Their defense was decent in 2022 despite ghastly tackling numbers that placed them in the bottom five of FBS.
Now, with a renewed focus on the fundamentals, they bring back nearly everyone on that side of the ball (nine starters).
Their defensive ends alone inspire confidence. DeVonne Harris and Braden Siders had 26.5 tackles for loss and 15 sacks as a duo, and they're both back looking for more backfield victims this season.
Harrison Waylee is a huge get for them at running from NIU. He ripped off 179 yards and two scores against them back in 2021. He may miss the start of the season as he recovers from knee surgery, but this is a deep running back room behind him.
Dawaiian McNeely and D.Q. James have the goods and should share the load in the early going.
The big question in Laramie is, "Can the passing game get any better?"
Andrew Peasley was uninspiring and virtually weaponless last season, but that could change this fall.
Keep an eye on small-school FCS transfer Ayir Asante from Holy Cross. The track and field burner has 16 career touchdowns and is exactly what they need to spice up their three- and four-wide receiver sets.
The opening slate is brutal in the first month of the season with home matchups against Texas Tech and App State, along with a road game at Texas. And the Pokes don't have the luxury of missing the top teams in the conference, hosting Fresno and then playing Air Force and Boise in back-to-back roadies.
-Michael Calabrese
---

UNLV 5-7 (3-5)
Win Total 6 · +2 NET Tarp (Offense +1.5) · 58.3% Returning Line Starts
Barry Odom steps in for Marcus Arroyo (7-23 SU, 16-13-1 ATS) after three years of baby steps forward. Can Odom get the Runnin' Rebels to a bowl game for the first time in a decade? I'm betting yes.
Odom can work his magic on the defense, patching up a unit that showed promise last fall but gave up far too many deep shots in the passing game (92nd in 30-yard completions allowed). Most of their secondary returns, so I'm optimistic on that side of the ball.
But the big headline here is their offensive coordinator hire. After having Bobby Petrino for all of 15 minutes, the Rebels pivoted to rising star Brennan Marion and his famed "Go-Go Offense."
UNLV may remember him from one of the worst nights in the history of its program. Marion was the play-caller for the largest ATS upset in college football history when his Howard Bison upset this very same UNLV program.
His shotgun offense is no-huddle, run-heavy with big vertical shots downfield baked in. As the OC at Howard and William & Mary, he dialed up runs on 62.8% of plays. And his top receiving threat at Howard, Jequez Ezzard, averaged over 26 yards per catch over a two-year span.
But Marion isn't some FCS tinkerer without any FBS experience. Two years ago, he coached up the Biletnikoff winner at Pitt in Jordan Addison and did enough to earn a spot working with Texas on the Forty Acres last year.
Can this passing game pop? Absolutely… if Doug Brumfield stays healthy.
He started off 2022 hot, killing North Texas by going 21-for-27 for 211 yards and two touchdowns, along with 100 yards and two scores on the ground.
Then he missed almost all of October after suffering a concussion. He's missed major time in the last two years. This is a major concern for any season-long plays on UNLV.
If he's healthy, this offense will be awesome from Day 1 with stars like Ricky White on the perimeter. He could be the best wide receiver in the conference.
The schedule includes Bryant, Vanderbilt and UTEP in the non-con. I'm rolling the dice and playing UNLV's win total over and the Rebels to upset Vandy in September.
-Michael Calabrese
---
Utah State 6-7 (5-3)
Win Total 6 · -10 NET Tarp (Offense & Defense -5), T-7th Worst Nationally · 25.8% Returning Line Starts
Cooper Legas doesn't have much to work with after 23 scholarship players and eight walk-ons left the team this offseason. Yes, Blake Anderson is a hell of a head coach and is taking over play-calling duties this season. But there's not much you can point to outside of Terrell Vaughn in the slot by way of support.
Oh, did I mention the Aggies are going to run smack into Iowa and Air Force's defenses in the first three weeks of the season? Not a recipe for building confidence on that side of the ball.
Defensively, the Aggies lost a ton in their front seven, but they got lit up down the stretch last season even with the veterans they lost. In their final four games, they gave up 34 to Hawaii, 31 to San Jose State, 42 to Boise State and 38 to Memphis.
They're going to need former BYU linebacker Logan Pili and former Oregon defensive lineman Sir Mells to really make an instant impact if they hope to improve significantly on defense.
I'm in love with this under because I see very few "gimmes" on this slate. Home against Idaho State and Nevada, plus a road trip to New Mexico should all be wins. But outside of that, Iowa and Air Force on the road will be brutal, and early tilts with James Madison and at UConn are no picnic.
Toss in road trips to San Jose State and San Diego State, and I'm smelling a 5-7 campaign with the under paying out.
-Michael Calabrese
---
San Jose State 7-5 (5-3)
Win Total 5.5 · -1.5 Net TARP (Defense -5) · 100% Returning Line Starts
I have been very critical of Chevan Cordeiro in the past, but he just might be the best quarterback in this conference.
He took a massive step forward after his transfer from Hawaii and led the Mountain West with 3,251 yards and 23 touchdowns last season. He also added 265 yards and nine touchdowns on the ground.
Cordeiro and the Spartans return leading rusher Kairee Robinson, a speedy back who rushed for 10 touchdowns last year, and second-leading receiver Justin Lockhart.
They return their entire offensive line from last year, and if Cordeiro can continue to get better with his arm and his legs, this team has the potential to be one of the best offenses in the league.
Defense is where the questions lie for the Spartans. This team has to replace 2020 MWC Defensive Player of the Year Cade Hall, 2022 MWC Defensive Player of the Year Viliami Fehoko and three-time All-MWC linebacker Kyle Harmon.
The defense was really strong last year and has some good players returning, but those are massive holes to fill.
San Jose State has a brutal nonconference schedule. Three of its first four games come against USC, Oregon State and Toledo. That schedule scares me away from the win total.
However, with a wide-open Mountain West, I like taking a flyer on the Spartans to win the conference at +1500. They're extremely well-coached, the offense has talent and experience, and if the defense can step up and replace the players it lost, this team has a ton of upside.
-Mike Ianniello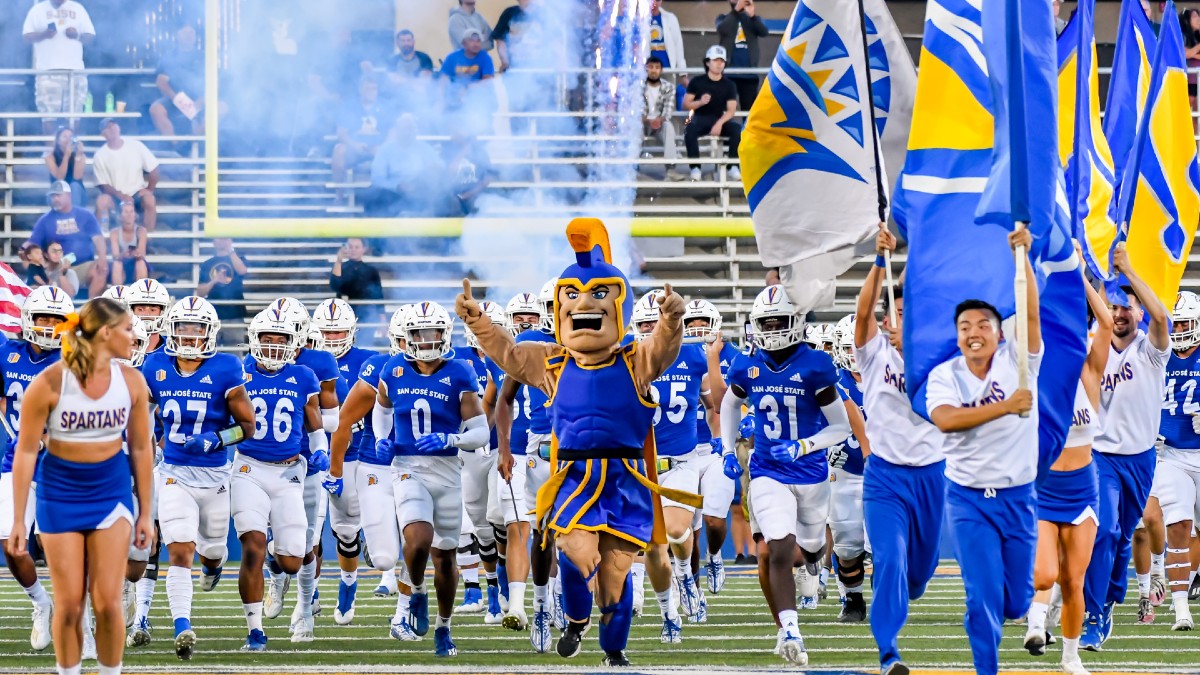 ---
Colorado State 3-9 (3-5)
Win Total 4.5 · +4 Net TARP (Offense +3.5) · 28.3% Returning Line Starts
This right here is my longshot future. The Rams to win the MWC at +2500 is a strong bet for a few reasons.
If their offensive line comes together, this offense could be the very best in the conference. Last season, the Rams gave up 59 sacks, the worst sack total in the nation. So, they went to the portal and found four players with significant experience and reworked their line.
Despite the constant harassment, Clay Millen set the NCAA record for completion percentage by a freshman at 72.2%. He's the highest-rated passer to ever sign with CSU, and he'll be throwing to a potentially elite — by G5 standards — receiving corps.
Tory Horton, a future NFL Draft pick at wide receiver, is the headliner, and there's a ton of offseason buzz around Justus Ross-Simmons. Toss in a potential stud tight end from the portal in BYU's Dallin Holker, and this team is loaded.
Want more? Jay Norvell and his staff snatched one of my favorite FCS players when they convinced Kobe Johnson to come to Fort Collins from North Dakota State. He has great vision and can hit the home run, something he did quite often at NDSU.
The defense was great against the pass last year, and it's bringing back four of its five defensive starters in the secondary.
What it needs is someone to emerge on the edge as a pass rusher opposite Mohamed Kamara. He posted 16 tackles for loss and 8.5 sacks last season. The buzz out of spring is that Nuer Gatkuoth is ready to break out.
If he does, this team will have the goods to not only make the MWC title game but perhaps also upset Washington State and/or Colorado early in the season.
-Michael Calabrese
---
Hawaii 3-10 (2-6)
Win Total 3.5 · -3 Net Tarp (Defense -3.5) · 27.7% Returning Line Starts
As I was doing my Mountain West prep and running through each team's schedule to see where the wins would need to come for a win total to go over, I just kept saying, "If you give them wins against Hawaii and…" for every team.
As I found signs of life in teams like New Mexico and Nevada and areas I could point to for improvement in those teams, I struggled to find any signs of hope or optimism for Hawaii.
The Rainbow Warriors went 3-10 in their first season under their former legendary quarterback, Timmy Chang. However, this is not the same offense Chang ran. They finished 92nd in Success Rate, 106th in explosiveness and 120th in Finishing Drives.
Now, they lose most of their running back, wide receiver and offensive line starts.
Quarterback Brayden Schager is back under center, but after finishing the year with just 195 yards per game and 13 touchdowns to 10 interceptions, that isn't exactly the best news for the Bows. Hawaii ranked just 120th in Passing Success Rate last year.
On the other side of the ball, things are equally bleak. Hawaii's defense came in at 118th in Success Rate and 131st at generating Havoc. It could not get to the quarterback or even into the backfield at all last season.
Unlike some of the other teams around them, there's no area I can point to where the Warriors are likely to improve. While other teams have a chance to step forward, Hawaii is likely to remain in the basement of the Mountain West.
Even with 13 games on this schedule, getting to four wins would be remarkable. Hawaii gets FCS Albany, but other than that, it faces three Power Five teams, and its two most winnable conference games against New Mexico and Nevada are both on the road.
Bet the Rainbow Warriors to struggle again and go under 3.5 wins.
-Mike Ianniello
---
New Mexico 2-10 (0-8)
Win Total 3.5 · +1.5 Net Tarp (Offense +3) · 71% Returning Line Starts
Unlike Hawaii, New Mexico made optimistic moves to try and improve this offseason. That process actually started in early October when it fired offensive coordinator Derek Warehime. After finishing 132nd in Success Rate on offense, New Mexico hired Bryant Vincent, the extremely popular former offensive coordinator and interim head coach at UAB.
Vincent brought along a two-year starter at quarterback in Dylan Hopkins with him. While Hopkins wasn't exactly a star at UAB, he knows this offense and is certainly a major upgrade over last season.
The Lobos will likely try to implement the two-headed running back duo Vincent had at UAB with two promising backs in Christian Washington and Andrew Henry.
The New Mexico defense was actually pretty good last year but will need to replace defensive coordinator Rocky Long and six of its top seven tacklers.
I expect New Mexico to be better on offense with the Vincent and Hopkins combination, along with two good running backs, a bunch of wide receiver transfers and an experienced offensive line.
The schedule features winnable games against Tennessee Tech, UMass and Hawaii. This win total likely comes down to games at Nevada and the season finale against Utah State.
-Mike Ianniello
---
Nevada 2-10 (0-8)
Win Total 3 · -7 Net Tarp (Offense -6) · 65% Returning Line Starts
After Jay Norvell left for Colorado State, the floor fell out for the Wolf Pack. They managed just two wins — both in the nonconference — and lost their final 10 games of the season. There's no question it was a long season in Reno.
Just like New Mexico, Nevada took tangible steps to improve.
The Wolf Pack brought in quarterback Brandon Lewis from Colorado, running backs Sean Dollars from Oregon and Ashton Hayes from Cal, wide receiver John Jackson III from USC and tight end Keleki Latu from Cal.
Based on the talent level alone, this offense should be much better — especially since it's hard to be much worse. The offensive line will probably still be a mess, but with the upgrades at quarterback, running back, and receiver, expect a better Wolf Pack offense this season.
The defense was a little better than the offense last season, but it still wasn't anything to write home about.
That's where the faith in Ken Wilson must shine through. Wilson was part of the Nevada defensive staff from 1989-2012 and proved himself to be a terrific defensive coach.
He had brief stints at Washington State and as the co-defensive coordinator at Oregon before returning to Nevada. The fan base was thrilled about his return.
I like the moves Nevada made by bringing in eight Pac-12 transfers to help improve this team quickly. The Pack have winnable games against Idaho, Texas State and Hawaii, with a win total likely coming down to games against Utah State and New Mexico.
-Mike Ianniello
How would you rate this article?
This site contains commercial content. We may be compensated for the links provided on this page. The content on this page is for informational purposes only. Action Network makes no representation or warranty as to the accuracy of the information given or the outcome of any game or event.