Orange Bowl Odds & Pick: Back North Carolina as Underdogs vs. Texas A&M
Credit:
Streeter Lecka/Getty Images. Pictured: Sam Howell.
Having narrowly missed out on the College Football Playoff, Texas A&M will settle for an Orange Bowl matchup against North Carolina.
The Tar Heels will be without their top-two rushers, and their defense will miss its leading tackler.
Collin Wilson isn't fazed by that, though. He explains why he's backing UNC as underdogs in Miami.
North Carolina vs. Texas A&M Odds
In a short two seasons, Mack Brown got North Carolina trending toward the College Football Playoff.
A visit to a New Years Six bowl represents the greatest postseason outing for the Tar Heels since a pair of Sugar and Cotton Bowl trips during the Truman administration.
Brown's hiring of Phil Longo as offensive coordinator provided the spark for an explosive offensive attack. The defense has had lapses under co-coordinators Tommy Thigpen and Jay Bateman, but the unit boasts a top-25 pass rush has tapped out a number of ACC offenses.
Texas A&M now has its best season yet under Jimbo Fisher. The Orange Bowl may be the biggest postseason game for the Aggies since 1993 when an undefeated R.C. Slocum-coached team lost in the Cotton Bowl to Notre Dame.
The pro-style attack led by Kellen Mond put up enough points to finish with just one loss on the season, as defensive coordinator Mike Elko fielded a top-20 Havoc unit.
North Carolina Tar Heels
The opt-outs will hurt North Carolina the most in the Orange Bowl.
On the offensive side, the Heels will be without wide receiver Dyami Brown and running backs Michael Carter and Javonte Williams. Both rushers accounted for 314 rushing attempts and more than 2,400 yards on the season.
The North Carolina depth chart after Carter and Williams consists of 12 attempts from Josh Henderson.
The loss of Brown as a pass-catching weapon may not have as much sting with Dazz Newsome expected to take the field.
The defense takes a similar hit in the opt-out department, as leading tackler Chazz Surratt will miss the Orange Bowl. Counterpart linebacker Jeremiah Gemmel has little experience on the field with any other linebacker in a defense that predominantly plays in nickel packages.
Plagued by tackling issues most of the season, the strength of the Tar Heels defense came in a top-30 sack unit. Tomon Fox and Tyrone Hopper provided 44 quarterback hurries as edge rushers.
Outside of the pass rush, North Carolina struggled to stop rushing attacks from moving the chains and passing attacks from gaining chunk yardage.
---
Texas A&M Aggies
The Aggies opened the College Football Playoff rankings at fifth and never moved an inch despite a one-loss season. The loss and non-cover to Alabama was enough for the committee to determine that Texas A&M was not one of the four best or deserving teams to compete for a national title.
That did not stop the Aggies from putting a stranglehold on their final four opponents.
In covering efforts against Tennessee, LSU and South Carolina, no opponent garnered more than 50 rushing yards.
Although Auburn covered the spread, Texas A&M entered the fourth quarter trailing by six and won by 11. The Aggies allowed just 1.5 yards per play in the fourth quarter, showing a defense that has the ability to completely shut an offense down if there's a lack of a passing game.
Not much has changed in the formula for Aggie football on the offensive side of the ball. Fisher continues to scheme an offense that is highly successful at moving the chains but lacks in the department of explosiveness.
With an expected points rank outside the top 100 and a pace rank of 123rd, the task of coming back on an opponent requires a Herculean effort.
Mond has led another disciplined attack that ranks top-10 in Havoc allowed with an offensive line that is third in Sack Rate.
Betting Analysis & Pick
Any team looking to run into the jaws of the Texas A&M defense as a primary way of attack may come up short. With opt-outs by Carter and Williams, it's almost certain that the Tar Heels will turn into the Sam Howell show.
North Carolina may have a better overall Success Rate by avoiding rush attempts in standard downs altogether. A standard downs Success Rate rank of fifth for the Tar Heels and an Aggies defensive rank of 56th indicates there can be some success in early downs.
---
North Carolina vs. Texas A&M Matchup Matrix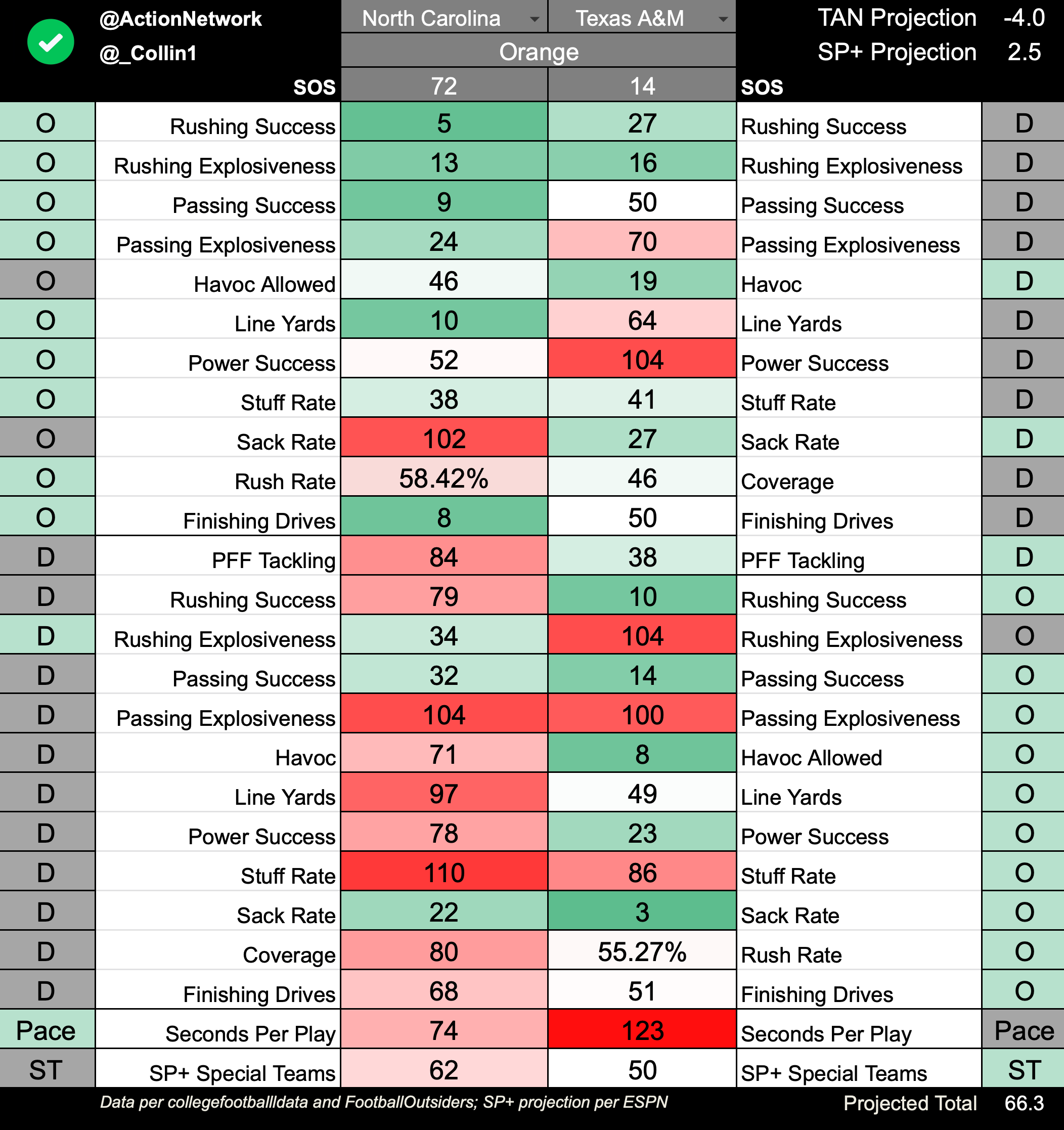 ---
Where the Texas A&M 4-2-5 scheme continually runs into trouble is against teams that frequent the pass.
Alabama and Florida combined for 90 points on the Aggies defense, but on a lower level, Arkansas rang up 31 points by boasting a 75% Success Rate in standard downs. The key was attacking linebackers Buddy Johnson and Aaron Hansford, who own two of the worst pass coverage grades in FBS play.
North Carolina will have issues without both running backs, its top receiver and tackler. Expect Mack Brown's staff to come up with a game plan to attack the Texas A&M defense over the middle, while daring the Mond and the Aggies offense to go deep.
Texas A&M can cover anything under a touchdown, but two possessions against a pass-happy explosive unit may be too much to ask.
Pick: North Carolina +7.5 or better.
How would you rate this article?