Oklahoma 2019 Betting Guide: Can You Count on Another Playoff Appearance?
Credit:
Kevin Jairaj-USA TODAY Sports. Pictured: CeeDee Lamb
Oklahoma 2019 Betting Odds
National Title: 14-1
To Win Big 12: -140
To Make The Playoff: +225
Win Total: 10 
Oklahoma Schedule, Projected Spreads
What to Like about Oklahoma
In case you missed it, Jalen Hurts was the biggest free agent in the transfer portal over the offseason. The Sooners won the sweepstakes after cycling out Heisman winners Baker Mayfield and Kyler Murray.
Although Hurts may not have as much flash as previous quarterbacks in Norman, he has a 26-2 record and a national championship as a starter. Without his heroics last season after a Tua Tagovailoa injury, Georgia would be the reigning SEC Champion.
Hurts has built a strong relationship with his projected leading target in CeeDee Lamb. Lincoln Riley may have wrinkles in the offensive play calling, but nothing like the transformation the defense is currently under.
Alex Grinch has been hired away from Ohio State as the Sooners defensive coordinator. In a previous stop at Washington State, Grinch left the Cougars with an overall havoc rating of 24th.
As a defensive coordinator and secondary coach under Mike Leach, Grinch has plenty of experience defending against Air Raid offenses, similar to what most teams in the Big 12 execute. 'Speed D' now comes to Norman, where the Sooners were 128th in defensive passing efficiency.
What Could Cause Problems
Oklahoma ranks 109th in offensive returning production, while the focus is on the departure of Kyler Murray, it is the offensive line that needs the spotlight. Four starters from 2018 were selected in the NFL draft and 160 total career starts have been lost. Offensive line coach Bill Bedenbaugh will earn his paycheck this season with a group that has almost no experience.
Teams that faced Jalen Hurts a second time did significantly better at defending the RPO. The Hurts read-option is almost indefensible with edge rushers that are undisciplined or are not hyper-athletic.
The team with the best defensive line in the Big 12 is Iowa State. Led by JaQuan Bailey, the Hurts RPO will face its biggest test of the season.
Other Nugget(s)
Oklahoma's offensive line could not have asked for a better non-conference schedule before hitting Big 12 play.
Houston loses Ed Oliver and Jerard Carter on the defensive line and their top there tacklers at linebacker; the Sooners are -24.5 in Week 1.
This convenient break could serve as a mulligan for the Sooners offensive line. South Dakota finished 4-7 in FCS last season, giving up almost 35 points per game. Although UCLA returns plenty on defense, the Bruins ranked 126th in sack rate and a defensive stuff rate of 122nd last season.
Bets to Watch
Oklahoma has taken the necessary steps to improve their program and contend with Alabama and Clemson regularly. The hiring of Alex Grinch and transfer of Jalen Hurts are major additions in the college football world.
Although the offensive line is a flashing red light, the schedule of defensive fronts provides plenty of wiggle. In the past four years, Oklahoma has lost three conference games and three College Football Playoff games.
My biggest bet of the preseason is for the Sooners to again be competing against the best in the playoff.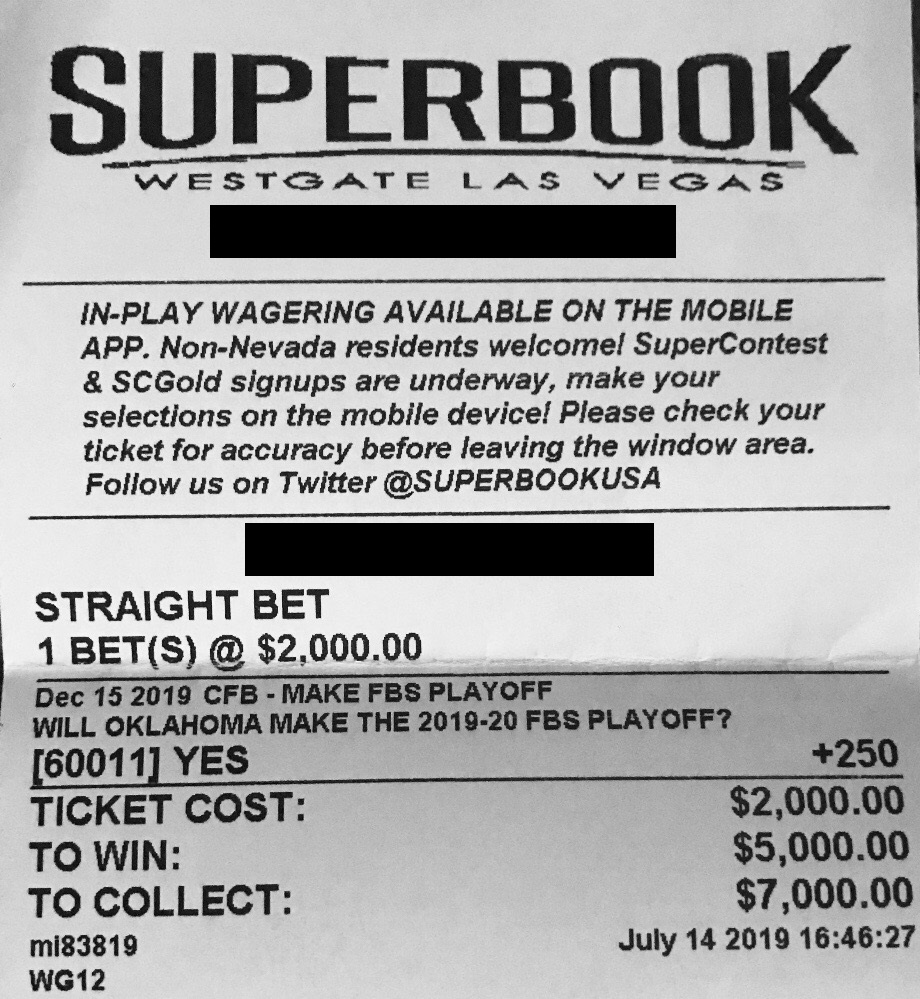 With an Action Network win total projection of 10.9, take Oklahoma Over 10 and anything Yes +150 or better to make the College Football Playoff.
How would you rate this article?