September Football Madness Betting Contest: Championship Weekend
Here's the latest update in our September Football Madness Betting Contest, with semifinal results and official finals bets.
The two finalists will make three weekend picks (sides or totals), including at least one from the NFL and one from the NCAA.
Well, the first of many Football Madness monthly finals has arrived, with PJ Walsh and Collin Wilson remaining as the last two standing. In the semifinals, PJ advanced easily with a dominant 3-0 weekend, while Collin needed to wait to ensure the Steelers didn't win by more than 14 on Monday.
PJ and Collin simply survived and advanced after rough starts to the tournament, which you see all the time in actual sports. I'm not sure if PJ can survive the voodoo magic that Collin has used to advance in back-to-back weekends via tiebreaker, but Walsh did go a perfect 3-0 last weekend.
The two losers from last weekend, myself and Geoff Schwartz, will battle it out in the bronze medal match that nobody cares about. But it does offer a chance for one of us to get our buy-in back. All four semifinalists are required by the law of me to participate in October's Football Madness, which will begin next weekend.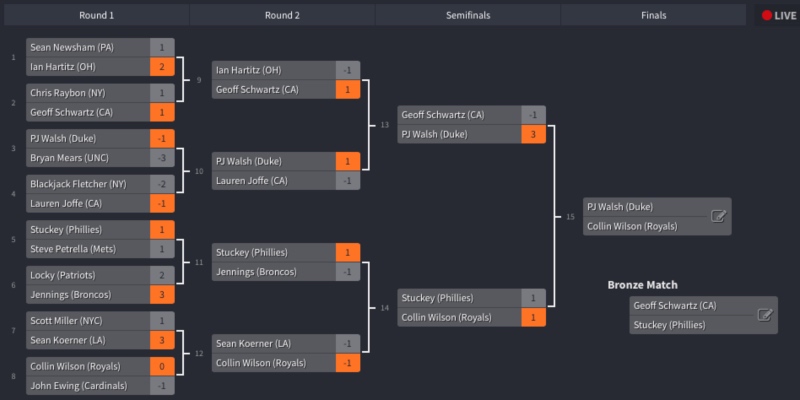 Before we get into the championship picks, here are the rules of the competition in case you need a refresher:
RULES
Each person submits three weekend bets by Friday each week.
They can only be sides or totals — based on lines locked in on Wednesday.
There must be at least one NFL and one NCAA pick; the third can be either.
Wins are worth 1, losses -1 and pushes 0.
H2H winners advance to the next weekend.
In the event of a tie, the person with the greatest margin of cover advances.
Now, let's take a look at which three wagers PJ and Collin are putting their faith in for all of the marbles.
---
GOLD MEDAL MATCH
---
The Battle of the Barbecue
Walsh (6-3): VT-Duke Under 51, Texans +1, Texans-Colts Under 47
Wilson (4-4-1): UAB-Charlotte Under 53.5, Kansas +17, Cardinals +3
PJ argues Carolina barbecue reigns supreme, while Collin thinks KC barbecue can't be touched. Let's let this weekend decide the argument once and for all.
This all might come down to the Colts-Texans game on Sunday, as PJ is rolling with two wagers on that one NFL game. Meanwhile, Collin decided to go with two college bets on Saturday and is putting the title on the line by backing Kansas football (and the Arizona Cardinals). Bold.
---
BRONZE MEDAL MATCH
---
Nobody cares
Stuckey (6-3): Clemson -25, Ravens +3, Bears -3
Schwartz (5-4): Hawaii -10, Colts -1, Browns +3
Geoff retired from the NFL, while I retired from football in my senior year of high school after tearing my ACL. Luckily, we're just picking games and not playing this weekend.