TCU vs. Kansas Betting Odds, Picks: Our Experts Debate This Week 6 College Football Spread
Credit:
Matthew Pearce and Scott Winters/Icon Sportswire via Getty Images. Pictured, from left: TCU Horned Frogs running back Kendre Miller (33) and Kansas Jayhawks safety Kenny Logan Jr. (1).
TCU and Kansas marks one of the best games on the Week 6 college football slate.
Our experts decided to break down this spread from both sides, with one taking TCU and the other taking Kansas.
Check out Mike Ianniello and Tanner McGrath's full betting debate for TCU vs. Kansas below.
TCU vs. Kansas Odds
TCU Odds
Spread
Total
Moneyline

-7

-115

69

-110 / -110

-267
Kansas Odds
Spread
Total
Moneyline

+7

-105

69

-110 / -110

+215
Before we get into this, can we just acknowledge how wild it is that, on the week of Texas A&M vs. Alabama, College GameDay is in Lawrence, Kansas? On the week of the Red River Showdown, the biggest game of the year in the Big 12 is undefeated TCU against undefeated Kansas.
I am thrilled that Kansas has finally cracked the Top 25 – only two weeks too late, but they finally made it in for the first time since 2009. This is the first week in the polls for both teams, as Kansas is ranked No. 19 and TCU sits at No. 17.
Lance Leipold has done a phenomenal job, and the Jayhawks have been the best story in college football this season. Now that I've gotten the niceties out of the way: The strength of this Kansas team has clearly been their ability to run the ball and pick up explosive plays on the ground.
Quarterback Jalon Daniels has been lethal with his legs, and he forms a three-headed monster with Devin Neal and Daniel Hishaw. The Jayhawks are averaging 218.6 yards per game and rank 12th in the nation in rushing Explosiveness.
That success will be hard to come by against TCU for three different reasons.
First, running back Daniel Hishaw is going to be out for a while. He was carted off the field late in the game against Iowa State and will not play this week. Hishaw is second on the team in all-purpose yards, totaling 259 rushing yards and 95 receiving yards. He is second in the Big 12 with 21 missed tackles forced and leads the team with five touchdowns.
Second, regardless of personnel, this was going to be a difficult matchup. This TCU defense has been elite at preventing big plays, especially on the ground. The Horned Frogs have yet to allow a rushing play longer than 25 yards all season long. Joseph Gillespie's 3-3-5 scheme is better against the pass than the run, but they don't let teams get big plays on the ground.
Lastly, even if Kansas is able to overcome the tough matchup and pick up big plays on the ground, TCU just does it better. The Frogs rank fifth in the country in rushing Explosiveness. Their 11 rushing plays of 30+ yards lead the FBS. TCU is averaging 251.8 rushing yards per game, and a whopping 7.0 yards per carry this season, second to only Alabama.
This Kansas story has been amazing. But their biggest strength is what TCU is built to stop, and also something the Horned Frogs do even better.
---
I think we know by now that the market doesn't understand Kansas.
The Jayhawks' win total was set at 2.5. Covered. The Jayhawks were 31-point favorites to Tennessee Tech. Covered. The Jayhawks were 14-point dogs to West Virginia, 8.5-point dogs to Houston, and 3.5-point dogs to Iowa State (at home).
Outright win. Outright win. Outright win.
Now, Kansas is catching a touchdown at home to TCU? Give me a break. All that money coming in on TCU is the public overreacting to a dominating win over Oklahoma. But the Sooners are a mess.
TCU is a great football team. But two things particularly scare me for the Frogs in this one.
First, TCU can't defend explosive plays. The Horned Frogs rank outside the top 100 in Explosiveness allowed. They are dead last in Passing Downs Explosiveness allowed and 125th in overall Passing Play Explosiveness allowed.
Second, TCU is horrendous at not breaking on defense. The Frogs are 109th in Points Per Opportunity allowed.
Jalon Daniels is going to motion, play-action, and RPO his way around the Horned Frogs, and it will result in red-zone plays like this.
On the flip side, Kansas is pretty good at preventing explosive plays themselves. TCU can probably grind them down, but the Jayhawks will keep everything in front of them, and TCU won't be able to cover the touchdown spread (on the road) without the chunk plays they are so reliant on.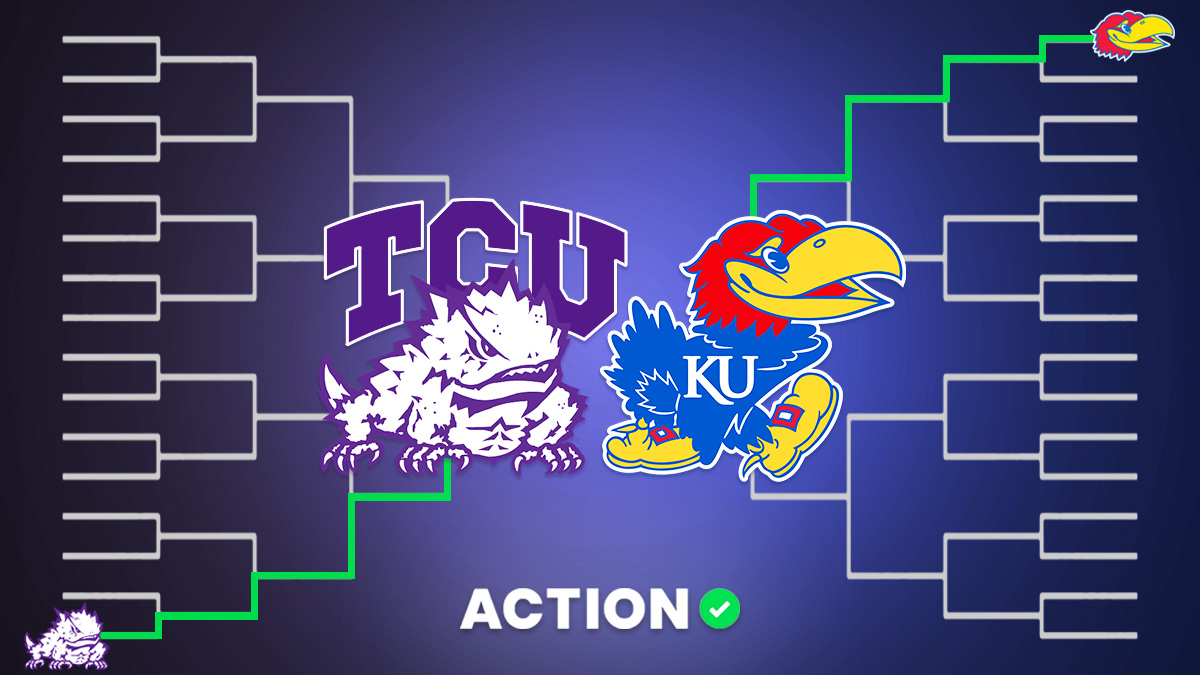 How to Bet TCU & Kansas in NCAAB
---
Ianniello: Yes, the market has been wrong on Kansas. They are much better than expected. But so is TCU. Their preseason win total was 6.5, and they are already 4-0.
TCU beat Colorado by 25 as a 13.5-point favorite, won by 42 as a 39.5-point favorite, beat SMU by eight as a favorite of 2.5, and as a 4.5-point underdog to Oklahoma won outright by 31. So the Horned Frogs are also undefeated against the spread and underrated in the market.
You say TCU can't defend explosive plays? That is just wrong. They can't defend passing explosiveness. Well, lucky for them, that isn't Kansas's strength. All the Jayhawks' big plays have come on the ground this year, and that is an area that TCU is strong at. They rank 27th in the nation at defending rushing Explosiveness.
Meanwhile, TCU will have no problem moving the ball on the Kansas defense. While the Frogs rank second in the country in Explosiveness, they are also 19th in Success Rate. They can pick up big plays, or just march the ball down the field. And when they do march it down, they rank 16th in the nation at Finishing Drives.
Ohio State is the only team in the country putting up more points per game than TCU. The Horned Frogs lead the country averaging 8.3 yards per play. This offense is elite, and Kansas's defense ranks 81st in the country in Success Rate on defense.
Jalon Daniels might be able to pick up a big play here and there, sure. But this Jayhawks defense just isn't going to be able to stop Max Duggan, Kendre Miller and Emari Demercado, or this group of receivers.
McGrath: Why do the Jayhawks have to create so many big plays on the ground?
TCU is 88th in Rush Success Rate allowed and 61st in Standard Downs Success Rate allowed. The Jayhawks just need to run the ball into TCU's soft box and move the chains consistently.
That could even work in the Jayhawks' favor. If Kansas moves the ball consistently and TCU keeps the ball on the ground, that's going to keep the clock moving. A touchdown spread becomes a lot harder to cover if that's the case.
I'm not worried about Daniel Hilshaw being out. Sevion Morrison should slide into that role seamlessly.
TCU has a killer offense, but Kansas can keep up in a shootout. And I'll happily catch a touchdown if the entire shootout happens on the ground.
---
---
Ianniello: Leipold and this Kansas offense have had a lot of success with their high-motion offense, sure. They have been able to move the ball and keep defenses off guard with Daniels using his arm and his legs and doing a lot of things pre-snap to confuse its opponents.
But this 3-3-5 defense that Joe Gillespie brought to Fort Worth is designed not to react to motion.
The Jayhawks just faced a 3-3-5 scheme last week against Iowa State, and they managed a season-low 14 points with just 213 total yards. They passed for just 101 yards and had just a success rate of just 8% on passing downs. EIGHT PERCENT.
As good as Daniels has been this season, he completed just seven passes last week and was held to just nine yards rushing. This Iowa State defense is nothing special, either. They have the same Success Rate on defense this season as TCU does.
Kansas has been able to use their RPO to big-up big plays against man-to-man defense, but this 3-3-5 zone will keep everything in front of them and not let Daniels get big plays.
McGrath: I disagree that Kansas can't create the big passing play. Kansas is second nationally in passing EPA per play. Daniels has eight completions of 20-plus passing yards, including seven Big Time Throws and three touchdowns.
Duggan only has 11 such completions, with only five Big Time Throws and a Turnover Worthy Play.
I'm not all that scared of Duggan. Despite his 11:0 TD-to-INT ratio, he's made just five Big Time Throws to three Turnover Worthy Plays. He's PFF's 55th ranked quarterback while Daniels is 13th.
I'm not all that confident in Kansas stopping TCU, but I definitely know they can keep up. Kansas is every bit as talented as TCU on offense and TCU ranks outside the top 80 FBS teams in:
Rush Success Rate
Defensive Line Yards
Pass Rush
Defensive Finishing Drives
And hey, at least Kansas can tackle. They rank second in PFF's tackling grades this season.
---

This game opened with TCU -5 and was quickly steamed up to -7, with 80% of the money on the Horned Frogs and 14 sharp moves triggered on TCU.
Both teams are undefeated against the spread this season, and while Kansas has been an incredible story, TCU's two strengths are preventing explosive runs and not being fooled by pre-snap motion. That is what Kansas lives on.
The best offense Kansas has faced all season is probably West Virginia. The Horned Frogs enter the game with one of the most effective offenses in the country and will be able to run up and down the field in this one.
Everything Kansas does, TCU just does better. They'll win by double digits here.

Let's not act like either of these defenses are that good.
But let's also not act like Kansas can't keep up with TCU. Daniels is far too electric. The running game has been far too effective. TCU ranks sixth in EPA per play, but Kansas is seventh.
Yet we're giving Kansas seven whole points. With the Jayhawks at home while College Gameday is on Kansas and the Jayhawk football fanbase as frenzied as ever about this historic football team.
I'll take those chances.
How would you rate this article?
This site contains commercial content. We may be compensated for the links provided on this page. The content on this page is for informational purposes only. Action Network makes no representation or warranty as to the accuracy of the information given or the outcome of any game or event.