The Modern Era College Football Tournament: Round of 32
Credit:
Todd Kirkland/Icon SMI/Icon Sport Media via Getty Images. Pictured: Cam Newton
In a bracket-less world, sports fans and gamblers alike are restless. Luckily, I created a break-glass-in-of-emergency tournament for just such an occasion.
In the hopes of settling a classic college football argument, I created a 68-team tournament comprised of the greatest college football teams of the modern era (1980 onward).
Each school is represented by a single team, so you won't see a handful of Miami Hurricane squads littering the field, just the 2001 national champions.
Mirroring March Madness, there are four regions (East, West, South, Midwest) with teams seeded 1-16.
The play-in games and the entirety of the first round have already been simulated using a PS3 and the NCAA '14 video game.
Each game receives a recap card and can be seen on my Twitter feed, so you can get the results there.
With the Round of 32 about to start, The Action Network is getting in on the fun. We'll be providing point spreads and totals for the remainder of the games in the tournament.
Round of 32
Midwest Region
No. 1 Nebraska (1995) vs. No. 9 Colorado (1994)
Spread: Nebraska -13.5
Total: 62.5
No. 4 Tennessee (1998) vs. No. 12 Ole Miss (2015)
Spread: Tennessee -5.5
Total: 49.5
Tee Martin vs. Chad Kelly? I'll take Tee -5.5. — Steve Petrella
No. 3 Notre Dame (1988) vs. No. 6 Utah (2004)
Spread: ND -8.5
Total: 51.5
No. 10 Kansas State (1998) vs. No 2 Oklahoma (2000)
Spread: Oklahoma -10.5
Total: 55.5
South Region
No. 1 LSU (2019) vs. No. 9 Missouri (2007)
Spread: LSU -14.5
Total: 77.5
When we look back at this past season, we'll remember one thing — the best quarterback and best offense ran through everyone.
LSU went 10-5 ATS and 10-5 to the over. They may have been technically overvalued against Georgia, Oklahoma and Clemson to finish the year, but it didn't matter. Joe Burrow's Tigers rolled anyway.
If you were betting numbers in those games, you took the dogs, and you lost each time. Gimme LSU -14.5. — Steve Petrella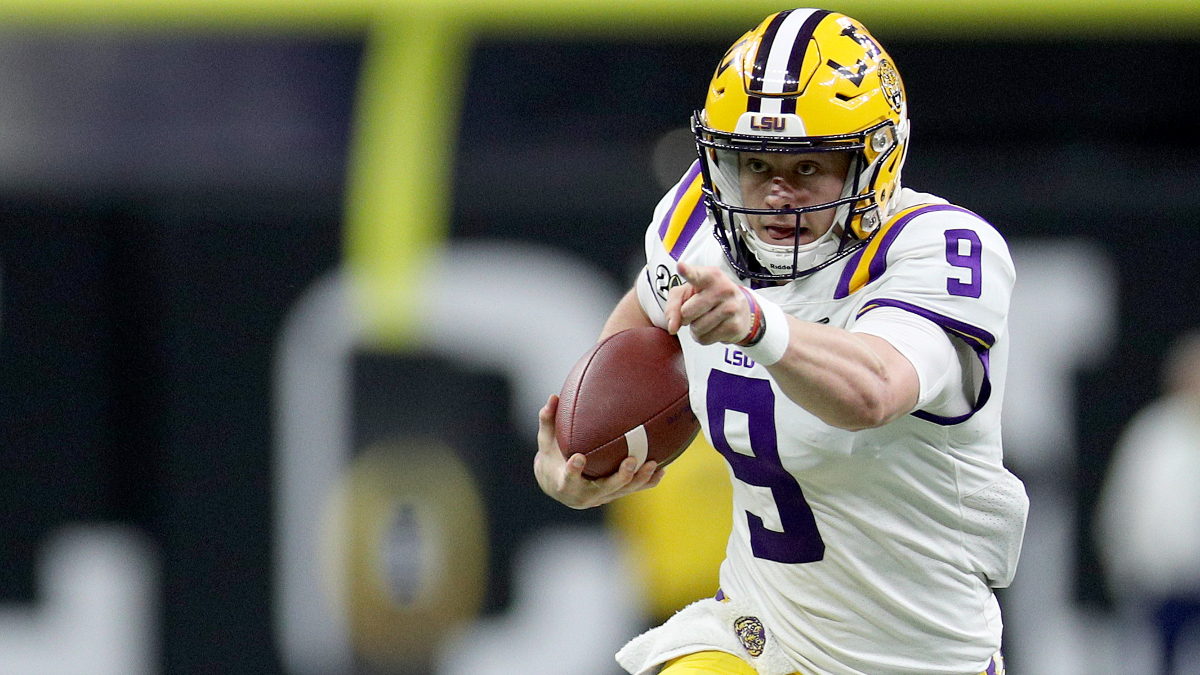 No. 4 Alabama (2015) vs. No. 5 Va. Tech (1999)
Spread: Alabama -6.5
Total: 54.5
Nick Saban's always had the toughest time with quarterbacks capable of improvising and making plays with their legs, and there was no one better at the time than Michael Vick. I wanted +7, but still think Vick makes enough plays down the stretch to get inside the number and lose a close game.
And if I know one thing about football video games, it's that you should always take the running quarterback.— Steve Petrella
No. 3 Clemson (2018) vs. No. 10 Nevada (2010)
Spread: Clemson -24
Total: 65
No. 2 Texas (2005) vs. No. 7 Texas A&M (2012)
Spread: Texas -10.5
Total: 74
East Region
No. 1 Miami (2001) vs. No. 8 Boston College (1984)
Spread: Miami -13.5
Total: 59.5
It would've been fun to watch Ed Reed, Vince Wilfolk, Jonathan Vilma, Phillip Buchanon and Antrel Rolle, among others chase down Doug Flutie.
BC put up big offensive numbers that year, but the Canes squeeze him out. I'll take the under. — Steve Petrella
No. 4 Florida (1996) vs. No. 5 Pitt (1980)
Spread: Florida -4.5
Total: 48.5
No. 3 Penn State (1994) vs. No. 6 WVU (2007)
Spread: PSU -3.5
Total: 80.5
Penn State has had some terrific defenses over the last three decades, but this is not one of them.
The Nittany Lions had the best offense in the country in 1994 with Kerry Collins at quarterback. He averaged an absurd-for-the-era 10.1 yards per attempt, the second-best mark of the decade. It was the best offense PSU has ever had, but it had just a slightly above average defense.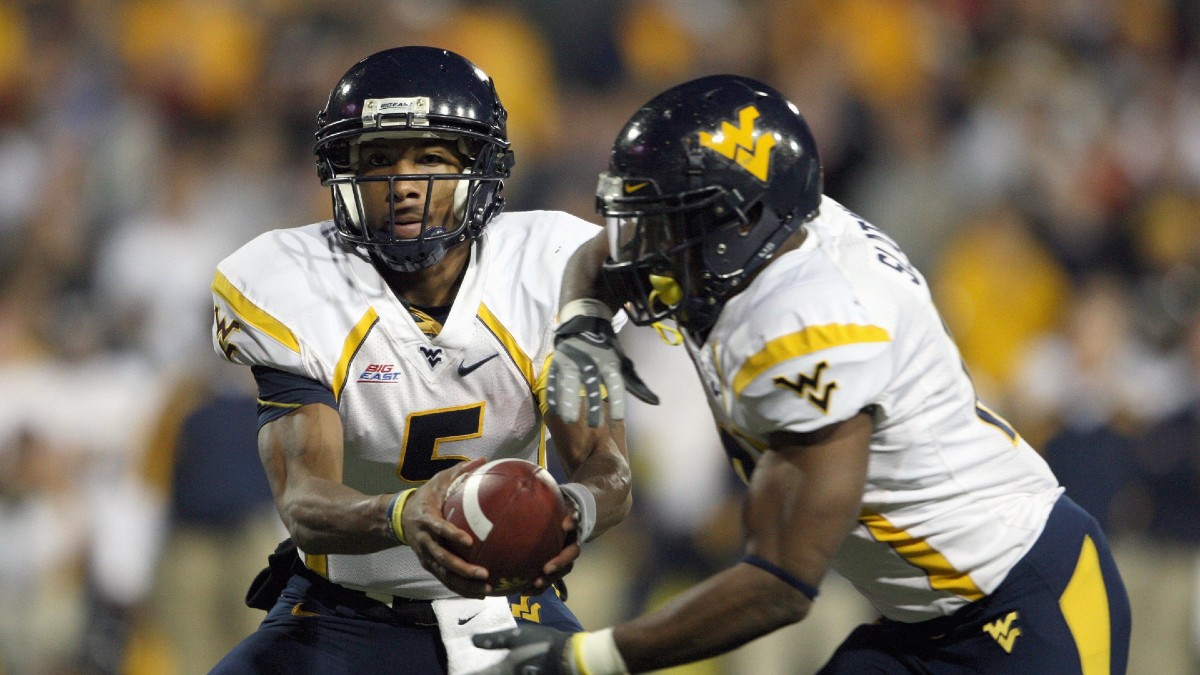 West Virginia brought a brand-new style of option to college football with Pat White under center, Steve Slaton behind him, and Rich Rodriguez calling the plays.
This thing will be a shootout. I'm taking the over. — Steve Petrella
No. 2 Florida State (1999) vs. No. 10 UCF (2017)
Spread: FSU -8.5
Total: 67.5
West Region
No. 1 USC (2004) vs. No. 9 Stanford (2010)
Spread: USC -13.5
Total: 53.5
No. 4 Michigan (1997) vs. No. 12 Washington State (1997)
Spread: Michigan -6.5
Total: 44.5
No. 3 Auburn (2010) vs. No. 6 Oregon (2014)
Spread: Auburn -4
Total: 73.5
Auburn sports one of the best offenses in the entire field, with Cam Newton as the triggerman for Gus Malzahn's offense (he was the OC, and would later become head coach). The Tigers went over in nine of their 14 games in 2010, with half of all their contests crossing the 70-point threshold.
Just like Auburn, Oregon was the No. 1 S&P+ ranked offense in its given season. The offensive firepower of a Heisman QB battle already had me considering over, but the mediocre nature of both defenses has me even more bullish on a shootout.
Oregon's defense (41st) may have been slightly better than Auburn's (44th) statistically, but the Ducks lacked a game-changer like Nick Fairley on the defensive line. I'm leaning slightly toward Auburn, but the over is a strong play. — Mike Calabrese
No. 2 Washington (1991) vs. No. 10 Texas Tech (2008)
Spread: Washington -9.5
Total: 50
The Huskies finished the 1991 season with the No. 1 offense and the No. 2 defense according to Bill Connelly's S&P+ rankings. The only thing missing for UW is an elite QB, although Billy Joe Hobert was highly efficient and had 27 total TDs against just 10 turnovers.
But the reason I love this Don James' superteam is the defense. Five starters were selected in the 1992 NFL Draft, with Steve Emtman and Dana Hall coming off the board in the first 18 picks. Emtman, a Heisman finalist, will be the difference-maker against Texas Tech, collapsing the pocket and forcing Graham Harrell out of his comfort zone.
I like UW by two or three touchdowns here. — Mike Calabrese
How would you rate this article?