Week 11 College Football Playoff Eliminator: TCU, Georgia Among 4 Teams Firmly In the Mix
Credit:
Kevin C. Cox/Getty Images. Pictured: Georgia head coach Kirby Smart and the College Football Playoff trophy.
We're officially down to three weeks left of the regular season before Championship Saturday. The College Football Playoff committee unveils its second edition of the CFP rankings later tonight.
There may be quite the shakeup in those rankings given Week 10 was filled with some surprising upsets. It's business as usual on our side, with the latest edition of Action Network's Eliminator column.
Entering last Saturday, I had eliminated 112 of the 131 FBS teams from games played in Weeks 1-9. That left us with 19 playoff hopefuls remaining heading into the final month of the regular season.
That number now decreases to 16, with three more schools sent home in Week 10.
Sixteen teams fighting for four spots have been sorted into our three distinct tiers. Let's start off by taking a look at the latest trio sent to the wayside.
---
Eliminated From College Football Playoff in Week 10
The Wildcats couldn't quite get it done at home against Texas, and while still alive in the Big 12, a third loss eliminates them from the playoff conversation.
Oklahoma State is reeling with injuries, and its first loss to Kansas since 2008 officially ends any chances the Pokes had left.
The Beavers lost a hard-fought game on Friday night to Washington. Jonathan Smith is doing a great job with this program, but for our intents and purposes, we bid farewell to Oregon State
---
Eliminated in Weeks 1-10
As always, here are the ground rules that will be in place all year:
Any loss eliminates a Group of Five team immediately. In the history of the CFP, there has only been one Group of Five team to make the playoff — last year's undefeated Cincinnati Bearcats. A one-loss Group of Five team is simply not making the playoff in the current format.
Auto-elimination for any Power Five team that loses a third game. To this point, there has never even been a two-loss team that made the playoff. There have been a few that have been close over the years, but there will certainly not be a three-loss team among the final four. Hence, why Wisconsin, West Virginia, Michigan State and others were all sent packing.
Any two-loss Power Five team that has been eliminated from conference championship contention will also be eliminated in this column. Given that we've never seen a two-loss team make it to this point, it's safe to assume a two-loss team would need to win its respective conference.
Lastly, I reserve the right to eliminate any team that simply does not have a realistic path to the playoff.
Here are the latest tiers: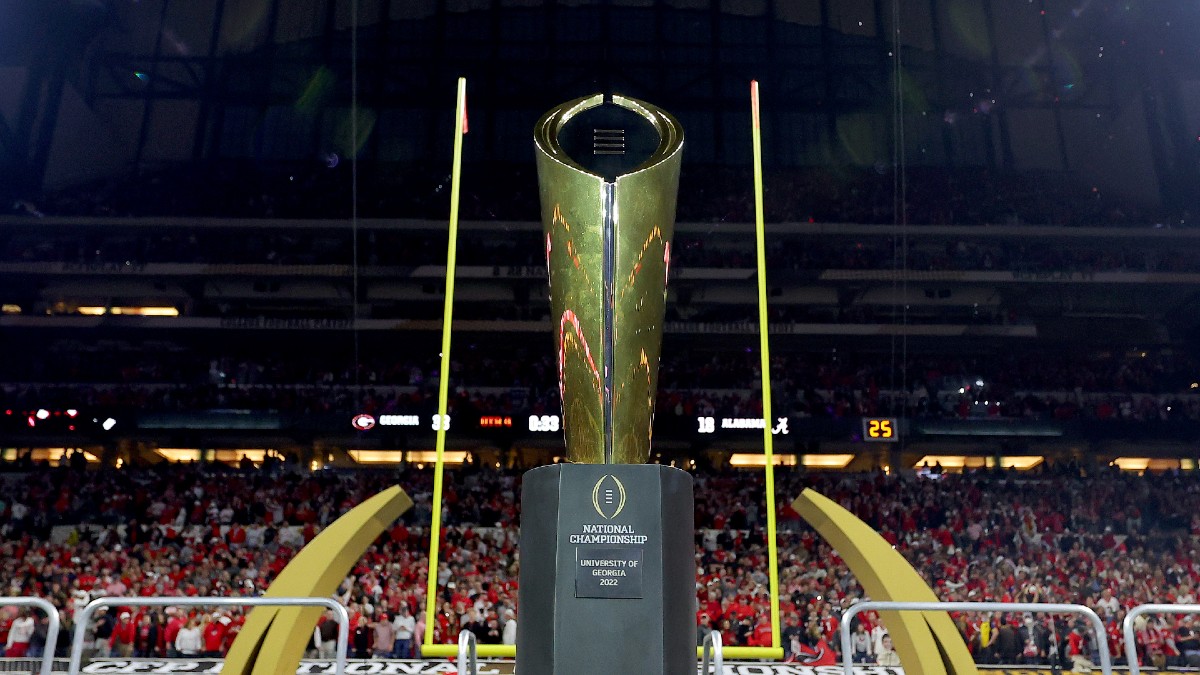 Collin Wilson's Top CFP Futures
---
All National Championship odds are as of Tuesday, Nov. 8 and via DraftKings.
---
Firmly in the Mix (4)
The four remaining unbeaten teams in college football. Win out, and there's no scenario where any is left out.

Georgia Bulldogs (+100)
The Dawgs made a statement to the country that they're still the defending champs. They're not out of the woods quite yet though with road trips to Starkville and Lexington in consecutive weeks.

Michigan Wolverines (+800)
The scenario in which Michigan could lose to Ohio State and still make the playoff got significantly more plausible after the losses from Alabama and Clemson. That said, Jim Harbaugh and his team have eyes on another Big Ten title.

Ohio State Buckeyes (+200)
I don't care that the Buckeyes struggled for stretches in Evanston in windy conditions. Ohio State remains in extremely comfortable positioning to make the playoff.

TCU Horned Frogs (+4000)
The Frogs trailed early once again and came back to win once again. Next up? A trip to Texas followed by a road game against Baylor. We'll see if Sonny Dykes can keep the dream season rolling.
---
Hanging in There (8)
Each team in this tier has suffered a loss of some variety. That said, there's still a clear pathway to the playoff — just less room for error the rest of the way.
Clemson Tigers (+5000)
The Tigers have their work cut out for them after getting dismantled by Notre Dame in South Bend. There just aren't many good wins on the resume. They'll need to win out and then get some help.

LSU Tigers (+4000)
Could this be the year we see a two-loss team in the playoff? If LSU can somehow run the table, it's hard to see the Tigers not sitting among the top four teams.

North Carolina Tar Heels (+8000)
The team nobody talks about that just keeps winning. The Tar Heels are still very soft defensively, but Drake Maye is playing at a ridiculous level right now.
Ole Miss Rebels (+8000)
We'll know a heck of a lot more about Ole Miss after this week's game against Alabama. If the Rebels win out, they'd need LSU to lose either at Arkansas or at Texas A&M to win the SEC West.
Oregon Ducks (+2500)
Another businesslike win for the Ducks, who are in a great spot following the upsets from Saturday. A couple of tricky regular season games remain, however, including at Oregon State to end the year.

Tennessee Volunteers (+1600)
The Vols suffered their first defeat in Athens, but I'm still bullish on this team's playoff chances and would recommend a wager this week. With a favorable schedule the rest of the way, I like Tennessee's chances of getting in at 11-1 even if sitting at home on Championship Saturday.

UCLA Bruins (+10000)
After losses from Alabama and Clemson on Saturday, the Bruins are getting pretty close to controlling their destiny. If UCLA can win out and get to Vegas for the Pac-12 Championship game, it will likely have the opportunity to avenge its only loss.

USC Trojans (+5000)
The Trojans get lowly Colorado this Saturday, but the schedule really picks up after that: at UCLA, vs. Notre Dame and then a likely date with Oregon in the Pac-12 Championship if they can beat the Bruins. Win all three, and this is likely a playoff team.
---
Would Need a Miracle (4)
Each of these teams still has a route to winning their respective conference. Do that, and hope for chaos in other leagues. You never know.
How would you rate this article?