Rubenstein: College Football Teams to Jump On in Week 2
Credit:
Jasen Vinlove-USA TODAY Sports. Pictured: Will Muschamp
Dan Rubenstein is back with his picks for Week 2, which he likes to call Jump Week.
It's time to jump on teams that might be underrated and jump off teams that might be getting too much love.
He's got picks on 11 games, plus his Life Pick of the Week.
If you're reading this, congratulations. You're alive, and despite any dumb picks you may have made last week (I say this looking into a mirror), Week 2 is Jump Week.
This is when teams can make huge leaps after diagnosing what went wrong against live action in Week 1 … OR it's when YOU can jump on teams receiving too much overreaction after a down opening week.
On top of that, you can jump off teams that might be a bit too inflated after a misleading first stanza.
So stretch those hammies, maybe throw on a pair of Jimmy's (and Kramer's) specialty shoes, because it's time for some verticality.
---
>> All odds as of Thursday morning. Download The Action Network App to get real-time odds and track your bets.
---
The Headliners
#3 Georgia at #24 South Carolina
Odds: Georgia -10
Over/Under: 57
Kickoff: 3:30 p.m. ET
Location: Columbia, S.C.
I love what Georgia looks to be building long term and the Bulldogs almost assuredly are going to win this game. But double-digit favorites on the road against an experienced quarterback, an offense with a good amount of potential and a pretty good defense is a tough ask when the Dawgs are replacing so much offensive and defensive production.
Can I fully buy into a Will Muschamp offense to keep things close? Of course not, so I'll play it safe here.
The Pick: Take the under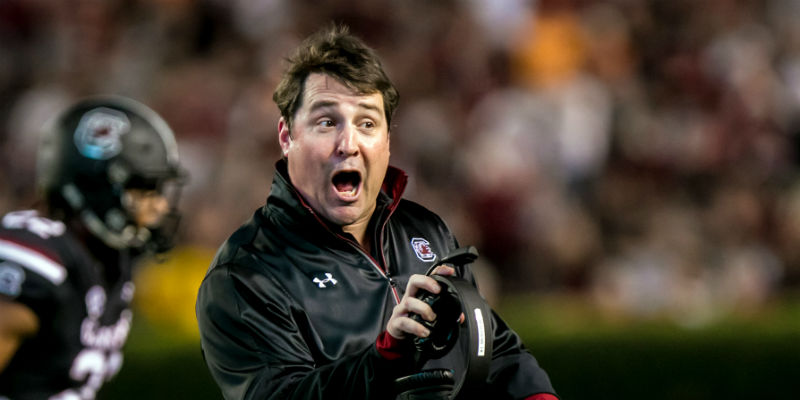 #2 Clemson at Texas A&M
Odds: Clemson -12.5
Over/Under: 54.5
Kickoff: 7 p.m. ET
Location: College Station, Texas
I'm always happy to ride with loud places and good defenses, and in this case I'm positive about the former, hopeful about the latter. Clemson is potentially great, but quarterback is still a big enough question mark for me to take double-digit points with new coaches in whom I'm confident.
There's also something in Texas A&M's recent DNA that has the Aggies peaking early, and guess what… it's early!
The Pick: Texas A&M +12.5
#17 USC at #10 Stanford
Spread: Stanford -5
Over/Under: 56.5
Kickoff: 8:30 p.m. ET
Location: Stanford, Calif.
This one was a bit difficult, with both teams featuring big offensive weapons and shaky run defenses.
USC looks like it probably has the recent edge in terms of generating points without needing huge plays, but I like the stability of Stanford quarterback K.J. Costello at home over true freshman Trojans quarterback J.T. Daniels' chances of performing at a very high level on the road to keep up with a good team this early in his career.
The Pick: Stanford -5
#15 Michigan State at Arizona State
Odds: Michigan State -6
Over/Under: 54
Kickoff: 10:45 p.m. ET
Location: Tempe, Ariz.
This is the perfect spot to avoid overreacting to last week — Michigan State struggled on the ground and gave up some chunk plays through the air, while Arizona State ran away from UTSA with big plays in the passing game.
The problem is ASU was sloppy and shot itself in the foot far too much against UTSA, an issue that isn't always fixable in a week, especially in a heightened atmosphere.
I'm seeing a nice bounce-back spot for Sparty in Herm Edwards' first big test after taking over the ASU program.
BUT …. Michigan State still isn't a team that consistently goes on the road early and comfortably beats Power 5 teams (having lost 9 of 10).
My hunch is it will be around 100 degrees at kickoff, which won't help the visiting team's quest for a comfortable win, either.
The Pick: ASU +6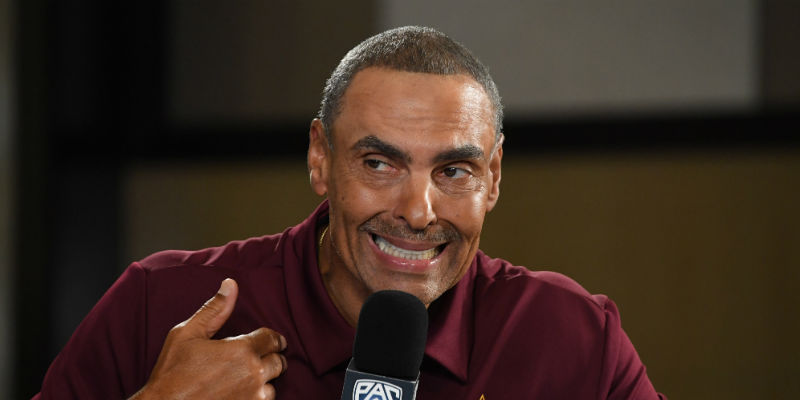 The Field
#16 TCU at SMU
Odds: TCU -22
Over/Under: 58.5
Kickoff: Friday, 8 p.m. ET
Location: Dallas
Normally, I'm happy to quickly pick against a short-week road team, especially if the home team is at least decent. But the road trip from Fort Worth is all of about 40 miles within the DFW area, so let's pump the brakes (figuratively and literally — traffic can be horrendous on I-30 if you catch it at the wrong time).
Anyhow, if you're keen on the Mustangs for that reason, please know that SMU's defense was nightmare bad last year and gave up 46 to North Texas on the road last week, including the first 36 of the game.
Covering 22 points is a lot, but this defense needs a year or two, not six days, so please know that TCU is going to hammer the Mustangs and take home the Iron Skillet (!) for the seventh straight year.
The Pick: TCU -22 and grab the over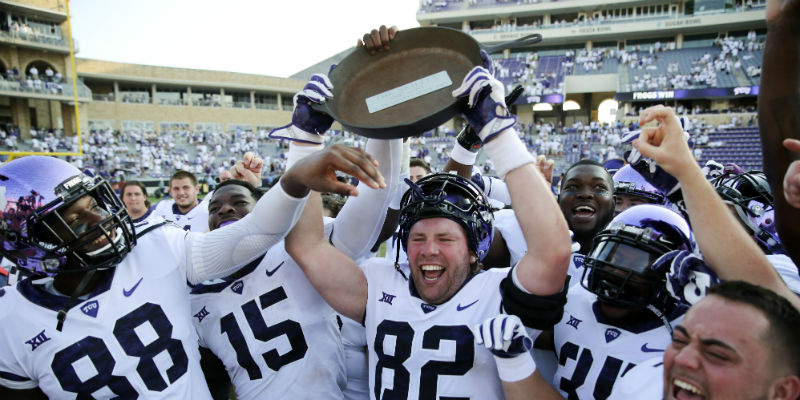 #18 Mississippi State at Kansas State
Odds: MSU -9.5
Over/Under: 54
Kickoff: 12 p.m. ET
Location: Manhattan, Kan.
They might not be great, but the Wildcats aren't as bad as they looked against South Dakota last week in a matchup they probably underestimated considering their pretty big challenge in new-look Mississippi State on deck this week.
Even with a pretty big quarterback question, Kansas State should be more consistent on both sides of the ball at home vs. a tough MSU team.
Money quickly took the spread up 2.5 points, but I'm taking those points. Kansas State returns enough on defense to keep this closer than double digits at home.
The Pick: Kansas State +9.5
Arizona at Houston
Odds: Houston -4
Over/Under: 72
Kickoff: 12 p.m. ET
Location: Houston
Two possible overreactions here — Houston's slow start after giving up 24 and trailing at the half to Rice (Rice!) before pouring it on in the second half, and Arizona losing to what will probably be an improved BYU team (albeit at home while struggling to use quarterback Khalil Tate to his full potential).
I'm rolling with Houston and the case is straightforward — I'm becoming more and more convinced of the potential of quarterback D'Eriq King and new offensive coordinator Kendal Briles, especially given how bad Arizona's defense will probably be on the road on a particularly humid Houston afternoon.
The Cougar defense has also recently done a great job of preventing big plays and if Tate isn't ripping off huge runs or passes, this Arizona team can be pretty mediocre.
The Pick: Houston -4, and a stop at Hugo's for one of the best Mexican meals of your life
Colorado at Nebraska
Odds: Nebraska -4.5
Over/Under: 65
Kickoff: 3:30 p.m. ET
Location: Lincoln, Neb.
All of the sudden, Scott Frost's cushy Akron opener turned into a potentially sticky opener against Colorado.
The easy case for Nebraska is that its fun new offense is debuting against a Colorado team that was a disaster defensively last year (though good last week) and was particularly inept on the road. And Nebraska is a tough place to play (when the Huskers are at least OK).
Let's put that all away as fact, and then point to the fact that this is an offense being run by a true freshman quarterback who will be the proxy for monumentally big expectations placed on Frost.
I'm also not the biggest fan of what this Husker secondary might look like early, particularly against what's looking like (Colorado State bump aside) an improved passing attack.
The Pick: The Over of 65, these defenses could be ROUGH
Iowa State at Iowa
Odds: Iowa -4
Over/Under: 47
Kickoff: 5 p.m. ET
Location: Iowa City, Iowa
This one features another team looking at a surprise first game cancelation because of weather. This time it's Iowa State, which now has to go on the road in a rivalry game to open the season.
Not ideal, especially when going against what appears to be at least a good Iowa defense with a rebuilding wide receiver corps. Throw in fumble luck (only one lost in 2017) starting a regression to the mean, and Iowa's in a good position to win this one cleanly.
The Pick: Iowa -4, and the under of 2.5 Kirk Ferentz visible sideline emotions 
Georgia Tech at USF
Odds: Georgia Tech -3
Over/Under: 63
Kickoff: 12 p.m. ET
Location: Tampa, Fla.
There's a lot to like about both teams, but it'll come down to how well USF is able to get off the field on defense while working in some new guys up front.
I think the Bulls will be all right and improve over the course of the game. They'll play loose because of an ability to exploit Tech's essentially new secondary with quarterback Blake Barnett.
The Pick: USF +3
Western Michigan at Michigan
Odds: Michigan -28
Over/Under: 56.5
Kickoff: 12 p.m. ET
Location: Ann Arbor, Mich.
Michigan is going to destroy Western Michigan. It's not overreaction to say we should be worried about this offense, but the Wolverines should be able to run consistently on this Western Michigan front.
This has all the looks of Michigan making a statement on the scoreboard — not for anyone else, but to help with confidence in the locker room after a week of being hammered following the Notre Dame performance.
The Pick: Michigan -28
Life Pick of the Week
Odds are you're going to have some time between interesting games, AND odds are that you like eating delicious, well-seared things. So do something productive with your day for you and your loved ones, especially if that productive thing isn't all that far from a TV.
Since I'm now inspired by the TCU-SMU rivalry, I'm reminded that iron skillets are great for getting a good char on basically everything, but like that 5-star recruit your favorite school is trying to bring in, it's gonna take some care and attention to get the job done consistently.
Now that my analogy has properly landed, watch "Bon Appetit's" Brad Leone, the single best food and cooking host on YouTube, show you how to clean and let your cast iron shine.
Good luck this week, and remember to sit somewhere comfortable and eat something crispy.